Vespa is a brand of scooter manufactured by the Italian group Piaggio.
The Vespa started its life in 1946 as a single model of motor scooter invented by Enrico Piaggio in Italy.  Today, it boasts a full line of scooters with a loyal following.
Known for its quality and handling, the biggest distinguishing feature of a Vespa from other scooters is the way it looks, as every model before the ET2 has a distinctive retro style.
The name 'Vespa' means wasp in Italian.  The brand has had a string of slogans, beginning with "La Dolce Vita" ("The Sweet Life") and today's slogan is "Not just a scooter, a way of life".
A brief history
When Enrico Piaggio left the aeronautical field at the end of World War II, he decided to tackle the mission of creating an affordable and modern mode of transport for the Italian public.  The concept, design and production of the scooter took some time to complete, but Piaggio eventually produced its first Vespa in 1946.
The first model was powered by a 98cc engine that delivered 3.2 bhp at 4,500 rpm with a top speed of 60km/h.  It was in production for two years, until the Vespa 125 came into the market in 1948.
The Vespas enjoyed fantastic sales and when it featured in the 1952 Hollywood film 'Roman Holiday', starring Audrey Hepburn and Gregory Peck, the result was sales of over 100,000 vehicles.  Vespa clubs emerged worldwide, and by 1952, there were more than 50,000 members.
Since the first Vespa was introduced, Piaggio has delivered over 144 variants of its original model.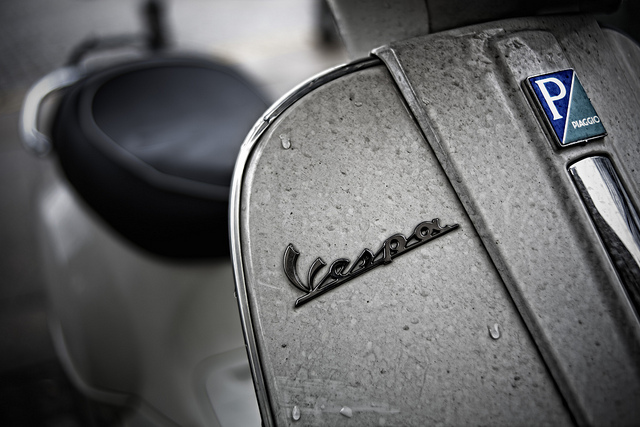 Popular models
It is no easy task to pick out the most sought after Vespa models because models become popular for different reasons.  Some models are prized by collectors because they are part of a special series, while others become highly demanded because they are extremely rare and had only been on the market for a short time when they were replaced by a subsequent version.
However, in terms of recent and current Vespas, here is a list of models to watch out for:
Vespa 946:  The Vespa 946 is a scooter which went on sale in 2015.  It features a combination of retro and futuristic styling and is powered by a 125cc 4-stroke mono-cylinder engine.  Other notable features include ABS braking and ASR traction control.
Price new: £8,500
Price used: £8,400 (since the 2015 version has just been released, any used vehicles are priced close to the cost of a new model)
Licence type required:  A1
Vespa LX 125:   A more affordable model, the Vespa LX 125 features retro design with round headlight, wide, protective leg shield and chrome detailing.  It is powered by a 125cc long stroke engine with three valves.  Other notable features include ergonomic riding position and fuel economy.
Price new: £3,000
Price used: £1,500
Licence type required:  A1
Sponsorships
Piaggio is active in giving back to the global community.  It launched the Vespa for Children project in 2013, which aims to improve health and social care for children in developing countries.
Piaggio also contributed to charitable fundraising initiatives by donating Vespas to the following non-profit organisations:
European Institute of Oncology
San Patrignano drug rehabilitation centre
Italian Association for Cancer Research
National Italian American Foundation
The Allannah Medeline Foundation
The Group took part in "Help save one life by giving a child a helmet" programme which began in Thailand and has now spread to Taiwan as well.
Reviews
Piaggio's three-wheeled scooter, the MP3 400/500 took out the Best Scooter award on US website www.motorcycle.com.