What You Need To Know About: BMW Motorrad
Bayerische Motoren Werke AG, commonly known as BMW, is a German motorcycle and automobile manufacturer which commenced operations in 1916.  Its motorcycling history began 5 years later in 1921, when it started producing engines for other companies.  Currently, BMW manufactures motorcycles under the BMW Motorrad brand.  In 2014, the Group produced around 120,000 motorcycles across all of its brands.
A Brief History
BMW began producing and selling its M2B15 twin flat engine in 1921 to motorcycle manufacturers such as Victoria of Nuremberg and Bayerische Flugzeugwerke.
The first motorcycle to come into the market under the BMW name was the R32, which had a 486 cc engine with 8.5 hp and a top speed of 95 to 100 km/h (or 59 to 62 mph).  After this, BMW experienced both successes and failures with new models they introduced.
The 50s were a particularly difficult period for motorcycle manufacturers, and the sales of BMW plummeted from 30,000 to just 5,500 in three years to 1957.  Having overcome its financial troubles, BMW went on to introduce new models while discontinuing the less successful single-cylinder models.
The two decades from the 80s to early 2000s saw BMW introducing a number of models, including the R series, F series, K series and the C1.  In 2004, BMW launched a complete redesign of its K and R series.  The F series were revamped in 2006, while the G series were introduced in the same year.
Popular Models
K1300S:  The K1300S is a Sports Tourer motorcycle with a 1,293cc engine and four-cylinder four-stroke with 16 valves.  It has a six-speed gearbox.  Priced at £10,165 new and £9,000 for used models.  Licence type A is required to ride this motorcycle.
K1600GT:  A six cylinder motorcycle with 1,649cc engine.  K1600 GT is priced from £16,020 new and from £10,000 for a used vehicle.  Licence type A is required to ride this motorcycle.
C Series Scooters: C600 Sport and C650 GT.
Both scooters have the same twin engine of 647cc.  They are priced from £9,400 new and £6,000 for a used model.  Licence type A is required to ride this motorcycle.
F800GS:  An adventure motorbike with 798cc engine.  F800GS is priced from £9,650 new and from £4,200 for a used model.  Licence type A is required to ride this motorcycle.
R1200GS:  An iconic adventure touring bike with 1,170cc four-stroke boxer engine and six-speed transmission.  They are priced at £15,350 new and from £4,000 for used models.  Licence type A is required to ride this motorcycle.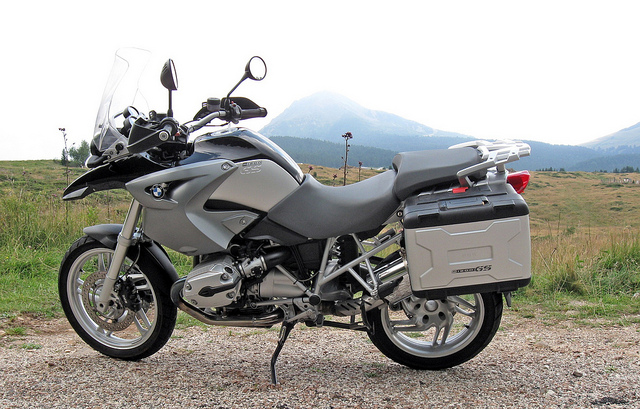 Sponsorships
BMW Motorrad sponsors a number of sporting and cultural events around the world.  It is a major supporter of golfing events, including the BMW International Open in Munich, the BMW Asian Open in Shanghai, the BMW Championship in Wentworth, England, and more recently the Ryder Cup and BMW Championship (US).
BMW also sponsors Bundesliga club Eintracht Frankfurt in football.
Additionally, it is an official sponsor of the London 2012 Olympics, and has a six-year sponsorship deal with the United States Olympic Committee.
Reviews
BMW's K 1600 GTL was named the motorcycle of the year in 2012 by the Rider Magazine.  It featured a powerful in-line engine and the best power-to-weight ratio in the luxury touring class. It also came with useful features such as the Multi-Controller and optional Adaptive Headlight.
For more information about BMW, click here.