The curtain came down on the 2018 International road racing season last weekend with the traditional year end slot on the calendar for the Macau Grand Prix and, perhaps unexpectedly, it was Peter Hickman who claimed the victory ahead of team-mate Michael Rutter.
Superb year for Hickman
2018 has certainly been Peter Hickman's year and he joined a very select group of riders who have won at the Isle of Man TT, North West 200, Ulster Grand Prix and Macau Grand Prix in the same year.
Hickman arrived at the Far East venue as clear favourite for race honours having already been victorious in 2015 and 2016, as well as finishing second 12 months ago, but he still had to go out there and do the business. As it turned out, he took the perfect set of pole position, race win and fastest lap on the Aspire-Ho by Bathams Racing BMW although Rutter certainly made him work hard.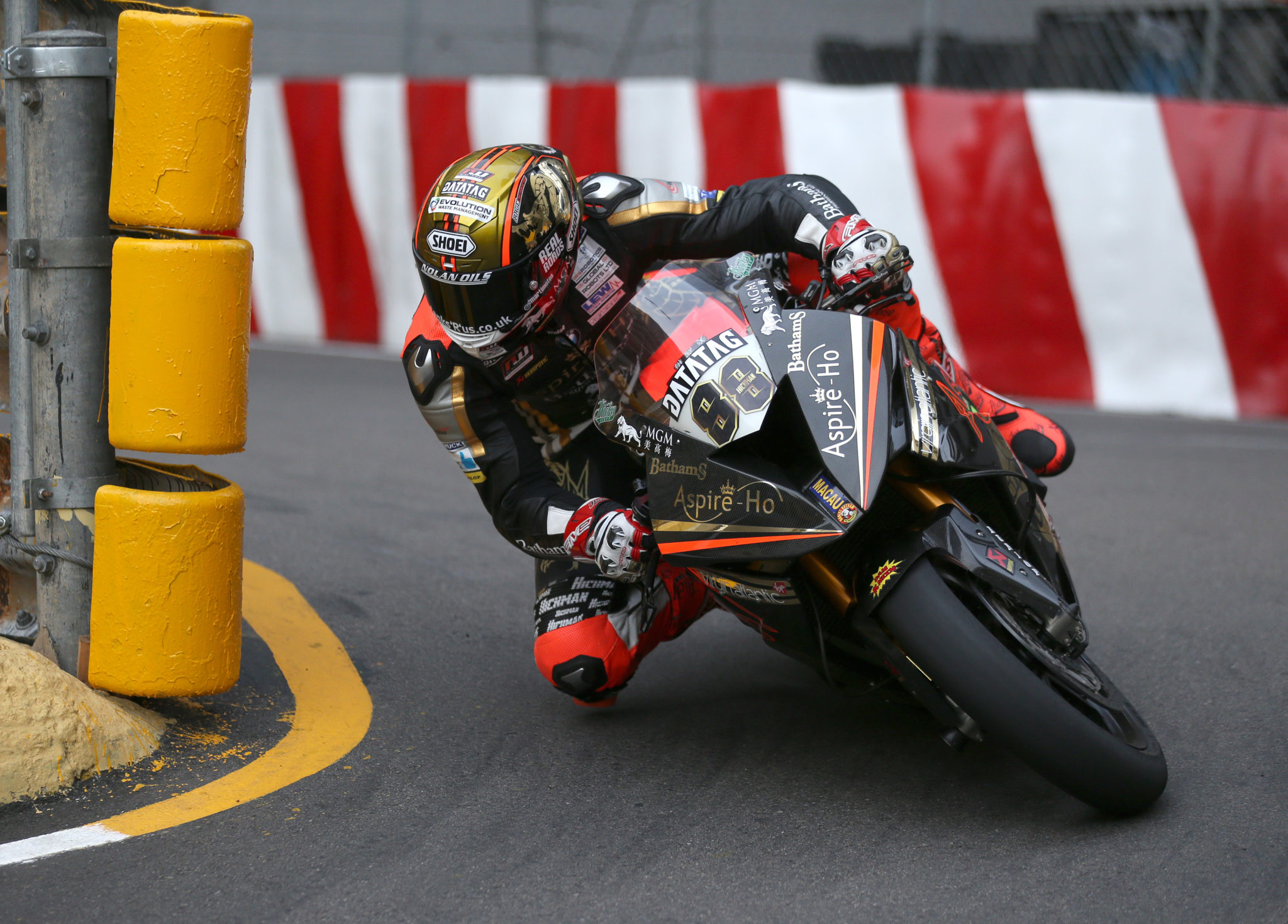 It goes without saying that Hickman has been a revelation since taking to the roads for the first time in 2014 and he's undoubtedly the number one rider currently plying his trade between the hedges. His victories at all of the aforementioned events speak for themselves whilst his outright lap record at the TT stunned the racing world and he could well sweep all before him on the roads again in 2019.
Age is no barrier for Rutter
2018 was Michael Rutter's 24th visit to the Macau Grand Prix in what's been a superb career but despite turning 46 this year, the Midlands rider again showed why he's regarded as one of the best road racers of his generation with second place behind Hickman.
The runners-up spot was, amazingly, his 19th podium since making his debut way back in 1994 and it was all achieved riding the MotoGP-derived Honda RC213V-S for the first time.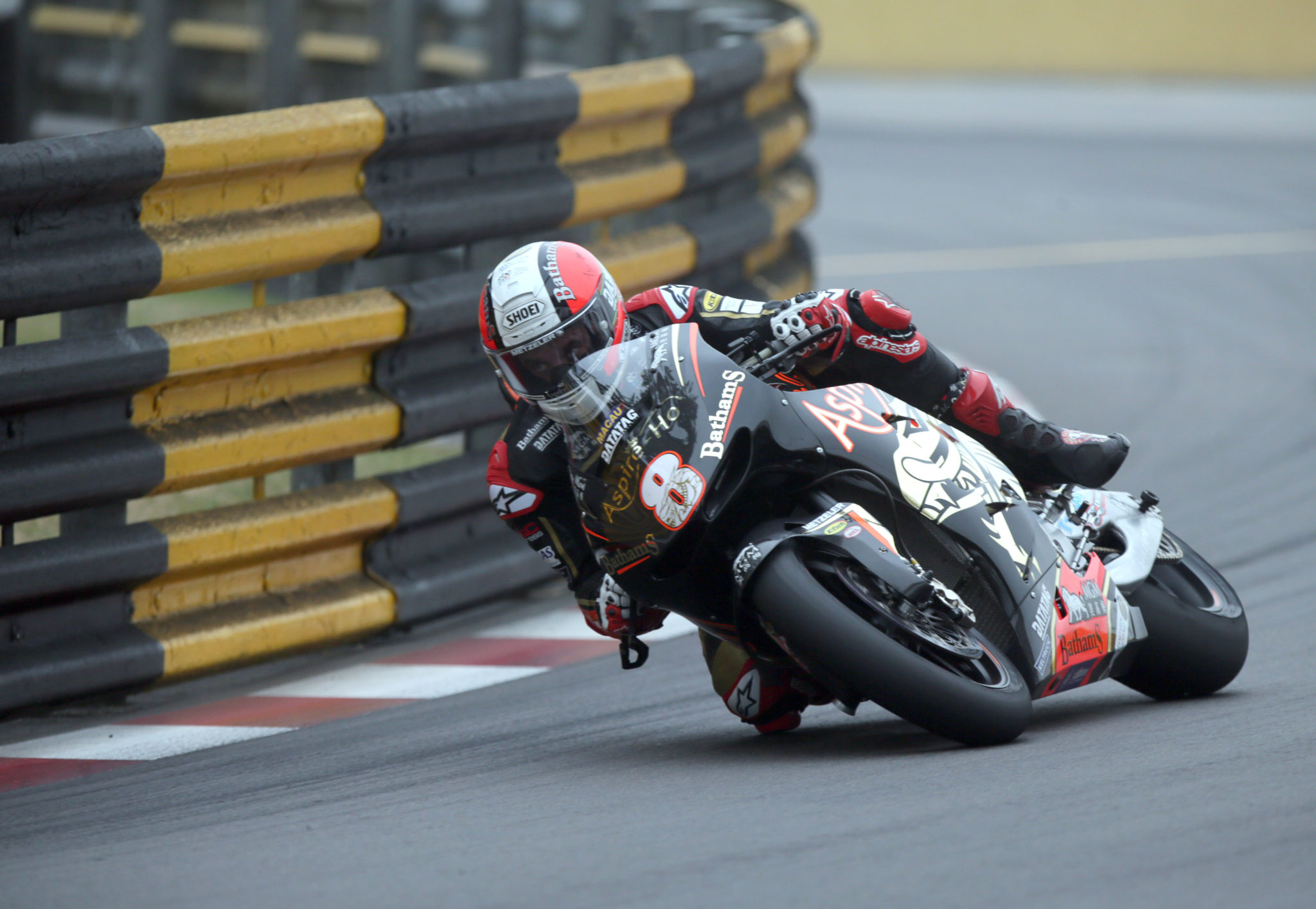 Not many people would have taken on the challenge, particularly as he only threw his leg over the bike for the first time in October, but Rutter called upon all his experience to make the project work and he was less than a second adrift of Hickman when the race ended.
Like Bruce Anstey and John McGuinness, age is clearly no barrier to Rutter and it will be interesting to see how he fares on the Honda in 2019 when he intends to ride it at the Isle of Man TT and North West 200 as well.
Usual suspects
As well as Hickman and Rutter, a number of the usual suspects were again well to the fore at Macau, further evidence that experience really does count on the roads, particularly around the 3.8-mile, Armco-lined circuit.
Its unforgiving nature is well documented but Macau regulars Martin Jessopp, Gary Johnson and Horst Saiger again finished in the top six with Jessopp taking his sixth podium since 2011 in third despite riding the unfamiliar Ducati Panigale.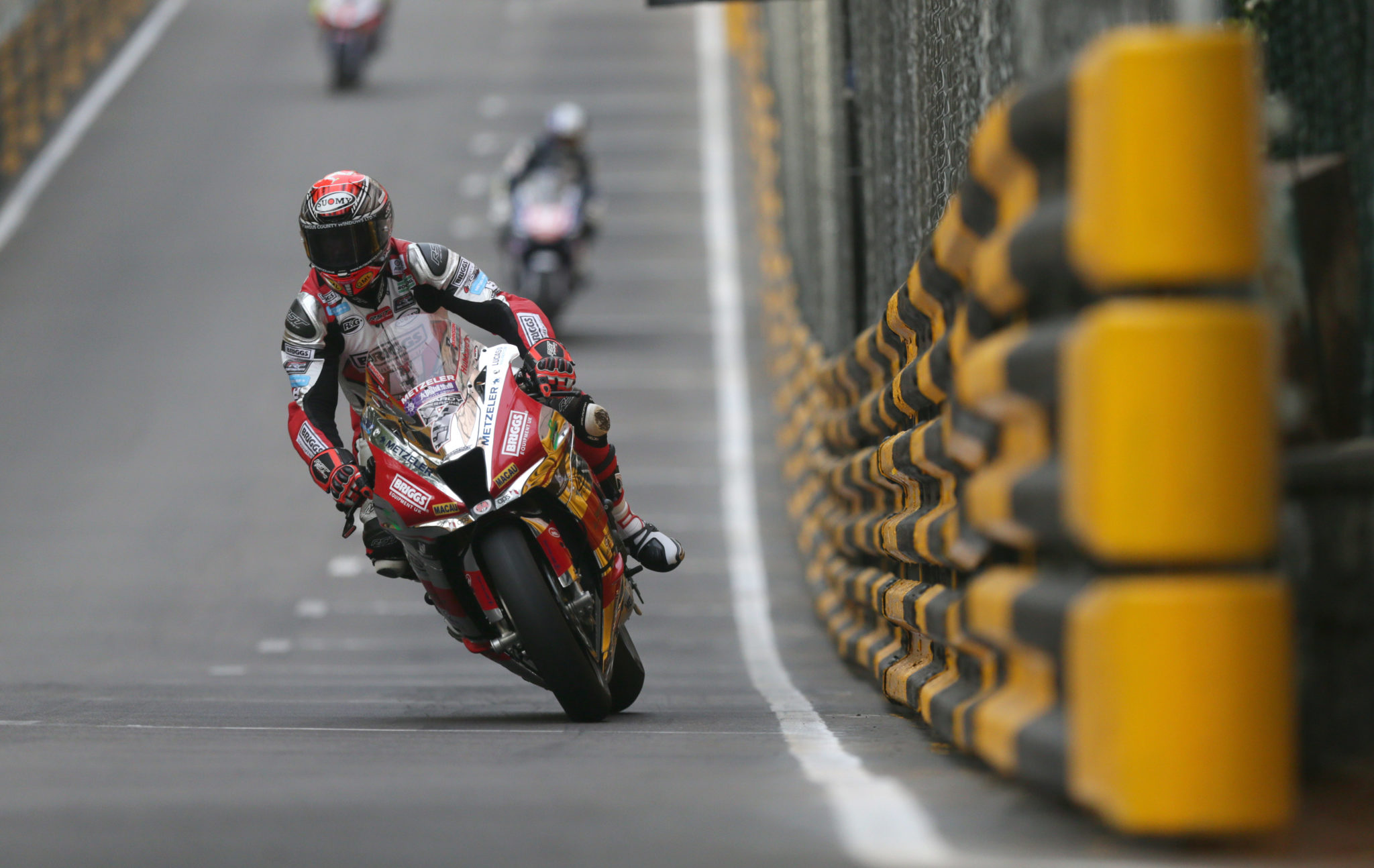 The top step continues to elude him but it was another top class ride by the Yeovil rider with the same applying to Johnson in fifth. The Lincolnshire ace was carrying a back injury which limited his preparation but he was in contention for the final podium position throughout and fifth was his eighth top-five finish at Macau since 2009.
Saiger, meanwhile, took sixth on his Yamaha R1 and it's a shame injury ruled him out of this year's North West 200 and TT although he should be back in 2019 to further prove his road racing credential to the UK public.
Webb impresses
Many people laughed when former 125cc/Moto3 Grand Prix rider Danny Webb announced he was to race at the Isle of Man TT in 2014 but he's made them all eat their words since with a string of top class results on the roads.
Diminutive in stature, Webb may physically not be suited to the 1000cc bikes but he's steadily built up his speeds around the Mountain Course and as his experience has grown, so his results have improved.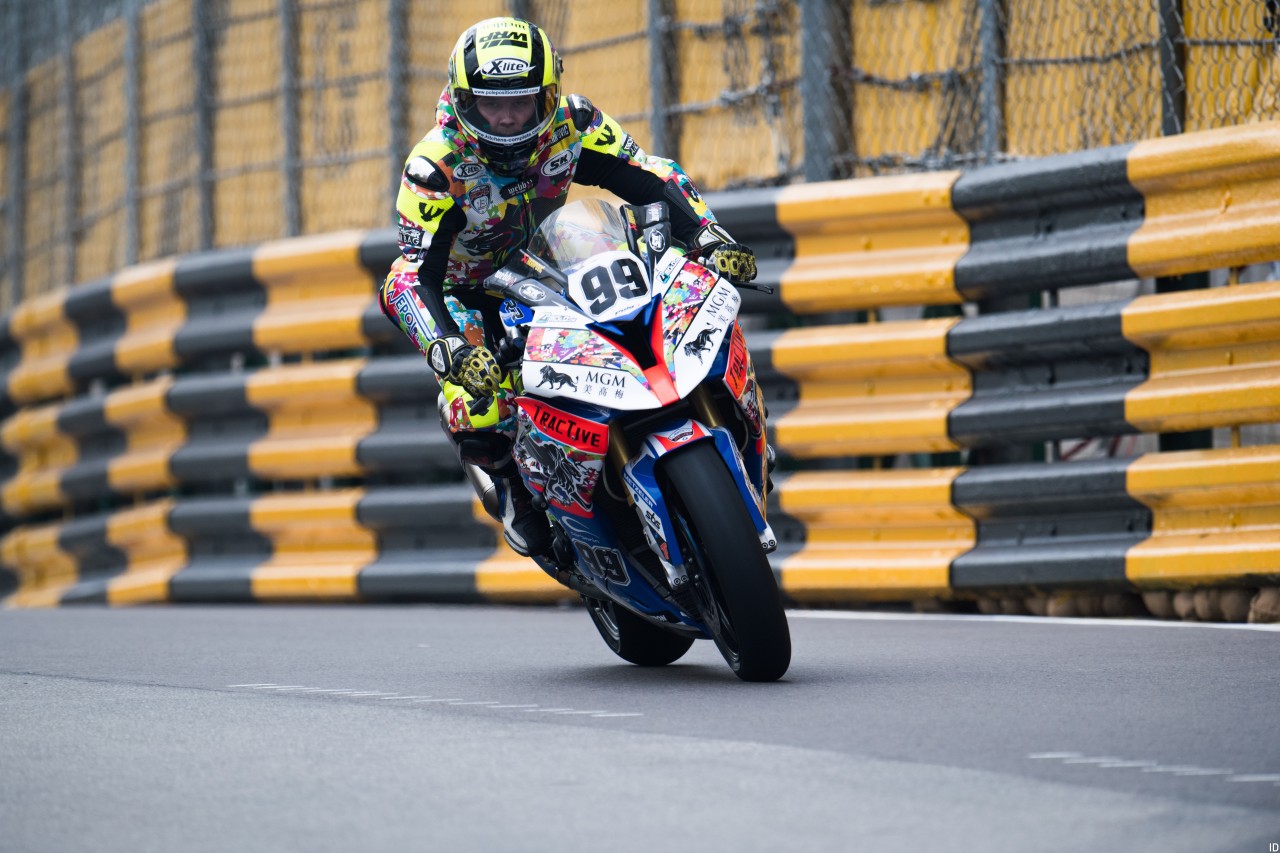 This year saw him tackle the International Road Racing Championship for the first time, competing on circuits such as Imatra in Finland and Terlicko in the Czech Republic but he left everyone trailing in his wake as he won all 12 races despite seeing all but one of the road circuits for the first time.
He's also impressed in the World Endurance Championship and he completed his season in fine style at Macau where he was making his third appearance. Tenth in 2017, he was on the pace right from the word go and all the major contenders knew he would be there on race day too.
Sure enough, he ran inside the top five from the very first turn and he finished the race in an excellent fourth place, also becoming the ninth fastest rider ever to have lapped the Guia circuit. Having found his home at the German Penz13.com BMW team, Webb will only get stronger in 2019.
Todd confirms best newcomer tag – again
Throughout 2018, Davey Todd has been the stand-out newcomer at the entire road races he's competed in none more so than the Isle of Man TT, Southern 100 and Ulster Grand Prix – and Macau was no exception.
Some may have thought the narrow streets of Macau would prove to be more challenging for him but, having become the second fastest ever newcomer in the history of the TT earlier this year, the Saltburn rider approached Macau in the same, diligent manner and it paid dividends.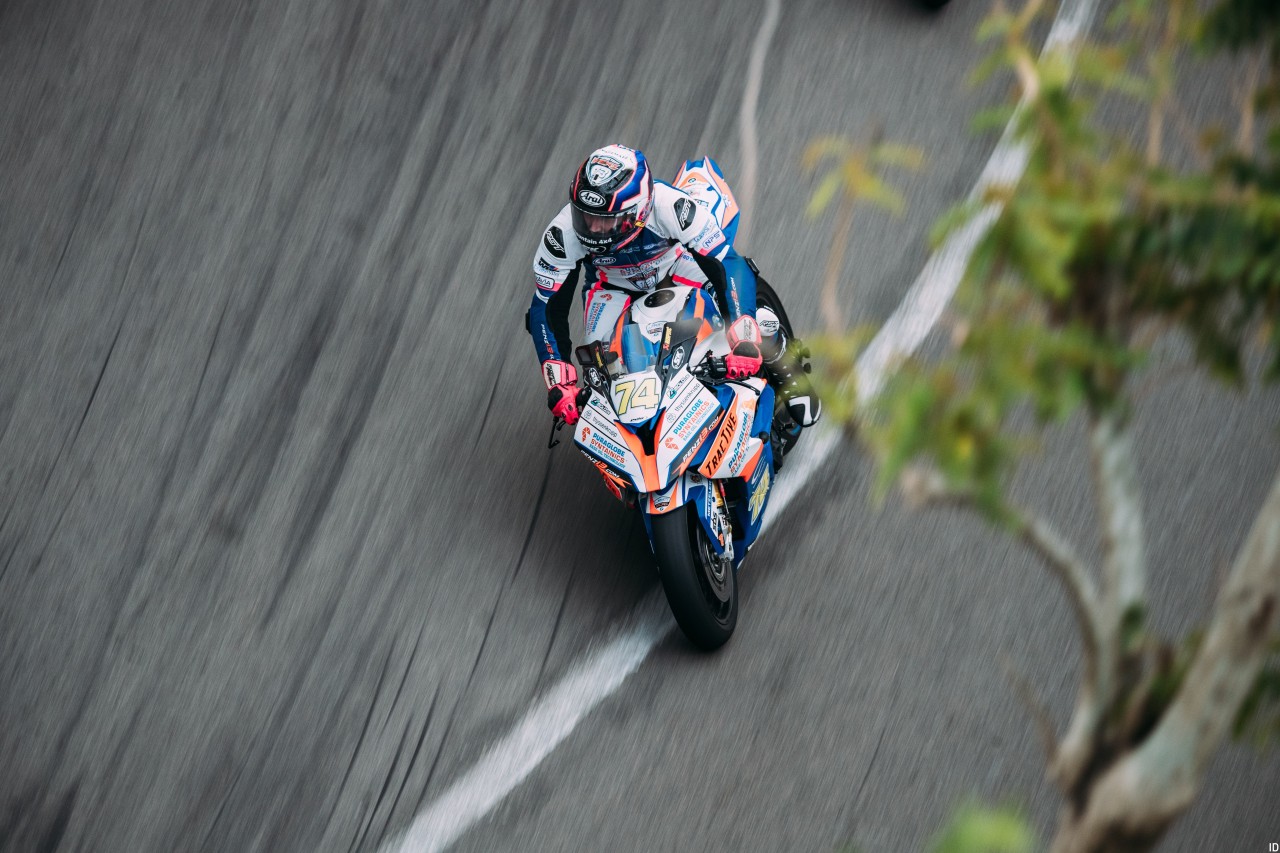 Having done plenty of preparation like he had done for all the other road circuits, the former British Superstock 600cc race winner improved his lap times in each and every session and was duly rewarded with ninth place.
His crash at the Ulster Grand Prix was a timely reminder of how unforgiving the roads can be but he quickly learnt from his mistake and his talent is without question. He certainly won't be short of offers for 2019.
Macau Grand Prix officially brings the road racing season to an end, what was your highlight of the year? 
Having started watching motorcycle races all over the world form childhood, Phil Wain has been a freelance motorcycle journalist for 15 years and is features writer for a number of publications including BikeSport News and Classic Racer, having also been a regular contributor to MCN and MCN Sport. He is PR officer for a number of teams and riders at both the British Superbike Championship and International road races, including Smiths Triumph, Quattro Plant Kawasaki, John McGuinness, Ryan Farquhar and Keith Amor. He is also heavily involved with the Isle of Man TT Races, writing official press releases and race reports as well as providing ITV4 with statistical information.