Kawasaki Ninja 300 Bike Overview
The 250cc entry level class has expanded both in sales and in engine size over recent years, with Yamaha and Honda both increasing the capacity of their smaller machines to around 300cc. And Kawasaki joined in for 2013 with the Ninja 300R, an update on its long-running Ninja 250R. 
The engine is very similar to the Ninja 250R's, with a longer stroke design adding the extra 49cc. That gives the 300 an extra dollop of bhp – up to 39bhp from 25bhp – and the motor is also much torquier, making low-down progress smoother and easier. 
The good parts of the 250R remain though – the little Ninja is still very good in terms of fuel consumption, with owners reporting up to 75mpg, and it's just as light and compact, with the dry weight around the same 165kg as the smaller bike.
The chassis is little changed from the 250, with steel frame and swingarm, basic suspension units and a single brake disc front and rear. Bodywork was revamped, but again, the similarities are strong between the models. And the 300R is also easily mistaken for a much larger bike at first glance.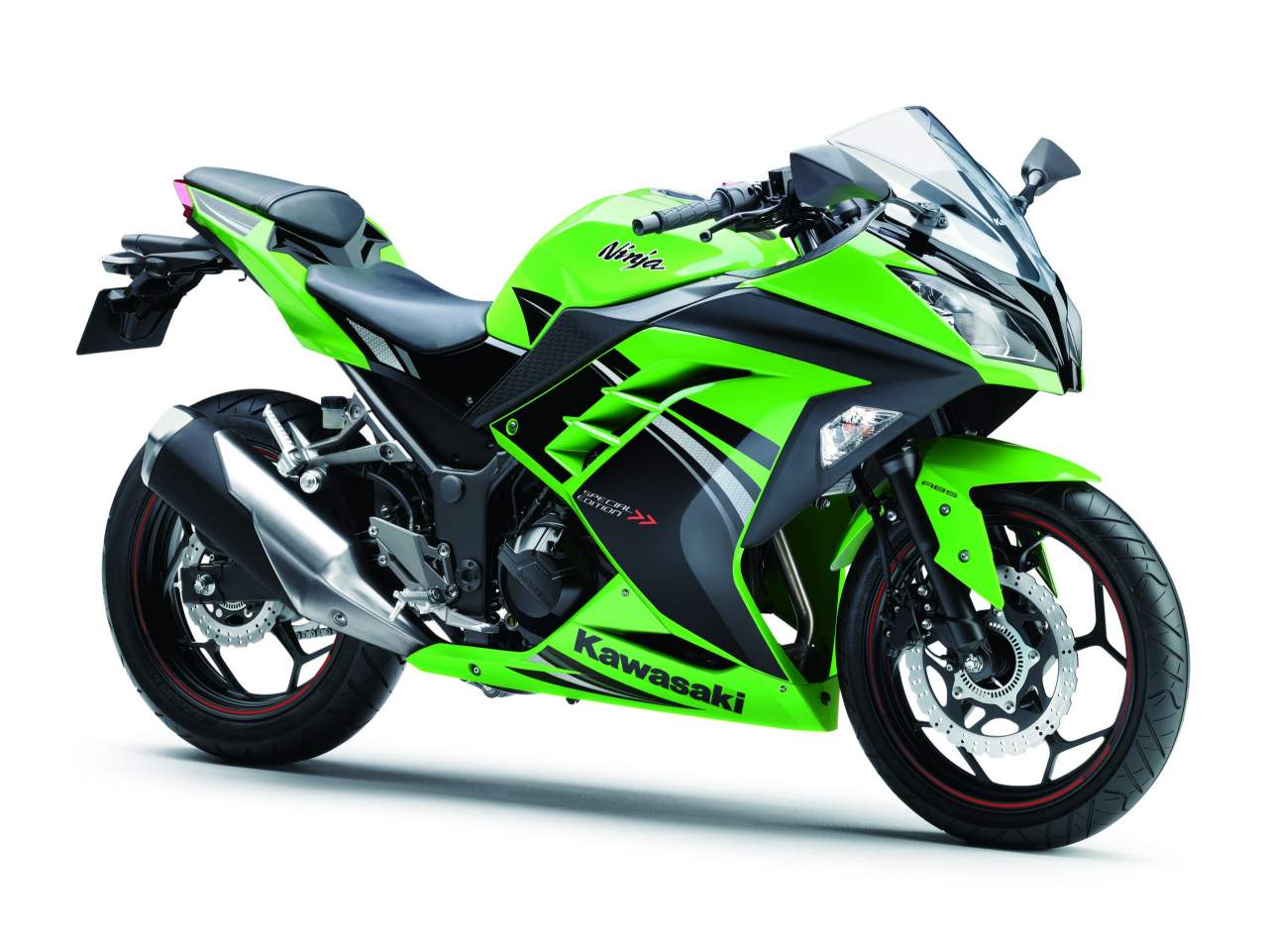 If the Ninja 250R is just a little bit too slow and steady for you, then the 300 version is well worth a look. It's got enough power to keep up with motorway traffic, while the riding position is comfy and practical enough for everyday commuting and even light touring duties.
Running costs are low, it's fairly well built and very reliable too – what else could you need?
Kawasaki Ninja 300 Bike Spec
Weight

172kg

Capacity

296cc

Average fuel consumption

75mpg

Seat height

785mm

Top speed

93mph

Engine

Four stroke, liquid cooled, DOHC
Kawasaki Ninja 300 Bike Insurance
Kawasaki Ninja 300 Bike Gallery
Owner Reviews
Pros
The bike itself is a great all rounder, solid engines.
Cons
The headlight are dim. As standard.
Read More
Comfort1 out of 5 stars
very hard seats, anything above the 70miles mark, you're going to feel it.
Build Quality5 out of 5 stars
9000 miles from New, never a problem, neither did my old ninja, not even at 44,000 miles, strong engines.
Brake3 out of 5 stars
The bike has great breaks, including abs, but in wet weather, the rear can lock up easily.
Ride Quality5 out of 5 stars
The ride is smooth, very easy to handle, cornered mine up to the edge of the tires, no problem.
Engine4 out of 5 stars
The bike has great power for it's engine side, aswell as a great eco mode that helps you stretch your fuel when running low.
Running Cost5 out of 5 stars
Cheap insure, tax is £40, and depends how much you ride for fuel consumption.
Pros
It's an entry level sportsbike on books.but it's a great package for everyone ,it's comfortable,looks great and have good gas mileage and a great performer. Build quality, looks and power delivery, fuel efficiency.
Cons
Brakes need improving and a more comfortable pillion seat.
Read More
Ride Quality5 out of 5 stars
Ride quality is so good.the power delivery is smooth and linear.great stable in corner as well,it's recommended to change stock irc tyres
Engine5 out of 5 stars
The engine is great it have smooth and linear power delivery from the parallel twin.it has enough torque at lower rpms and can be used for daily commutes ,it shows it's sportiness character Ines it crosses 6k rpm ,can catch up with a superbike on a ride and will be faster in twisties
Running Cost3 out of 5 stars
Brakes need improving and a more comfortable pillion seat.
Build Quality4 out of 5 stars
Build quality is good.the stock irc tyres not that good,it wears ununiformily causing handle wobble and the hand grip is made of rubber metarial and it gets expanded compromising smooth throttling and also the stock brake pads will worn out soon and its recommended to change stock brake lines to steel braided ones
Brake3 out of 5 stars
Stock pads worn out soon ,should upgrade to steel braided lines for the bite.but the brakes are not that bad the wheels doesn't lock up or fail to stop just the bite is absent