Proof that two-wheeled luxury is still alive and kicking!
The notion of the 'luxurious' motorbike has fallen out of favour a little in recent years. The growth of adventure bikes has replaced much of the old-skool touring fleet with hard-edged dirt-friendly tourers-on-stilts. So where you might have ridden a big shaft-drive machine with a barn-door fairing, stereo, heated grips and seat and all the trimmings 20 years ago, now you'll probably be sat on an adventure machine.
Sure, something like a Triumph Tiger 1200 or a BMW R1250 GS  has loads of touring tricks. But they're lacking a little in stuff like full weather protection and pillion accommodation, and just don't have that same luxury touch.
But BMW's kept its hand in with the RT boxer. This bike goes back to the 1970s in R100 form, and was for many years the ultimate choice for mile-munching in comfort. Troublemakers like the Honda Pan European, Kawasaki GTR and Yamaha FJR1300 came along and jostled the RT's top spot over the decades. But for many European riders, a big old Beemer remained the answer to continent-crushing touring work.
And here we are in Spain for half a day out on the latest version – the R1250 RT. It's an impressive looking beastie: a big old fairing, comfy seating, Space-Shuttle-spec control panels everywhere, and the new BMW ShiftCam engine peeping out from under the fairing.
On the move, the RT hides its mass fairly well, with none of the barge-like feeling you sometimes get on older, bigger tourers. The huge colour LCD display panels keep you in touch with all you need to know – but the retro analogue dials take up a lot of real estate, and it's not as easy to use as the newer LCD screen displays we've become used to. Ditto the rider menus for stuff like trip computer, traction, electric suspension and even the heated grips/seat – it takes a while to navigate through and some of it isn't super-intuitive.
Gallery
The music controls are a little fiddly as well: I couldn't work out how to play tunes from my phone via Bluetooth, so had to settle for Spanish pop radio blasting out of the excellent audio system. First world problems of course – and I imagine I'd get it sorted eventually, but another demerit for the user interface, as the kids might say.
As an aside, I'm sad there aren't more bikes with tunes built-in these days. Okay, a helmet headset makes more sense in many ways, but there's something hilarious about cruising along a hot sunny road with some terrible music blasting out, and it's a very rare treat. Waterproof audio tech has never been smaller, lighter or cheaper – you can buy a small waterproof Bluetooth speaker with great sound for like £50 ffs. How hard would it be to incorporate that into a bike? Sort it out bike industry folks, that'd be top.
Away from the toys (for the moment), the new engine is a corker. I've written about it at depth in the GS Adventure launch test, but suffice to say that there is far more torque and urge everywhere, particularly in the low-mid range. The performance of the RT is very sparkly indeed for such a massy machine (279kg wet), and it was easily able to keep up with the GS Adventure. The gearshift is slick, and there's even an optional up- and down-quickshifter – lovely to have on a big tourer like this.
Gallery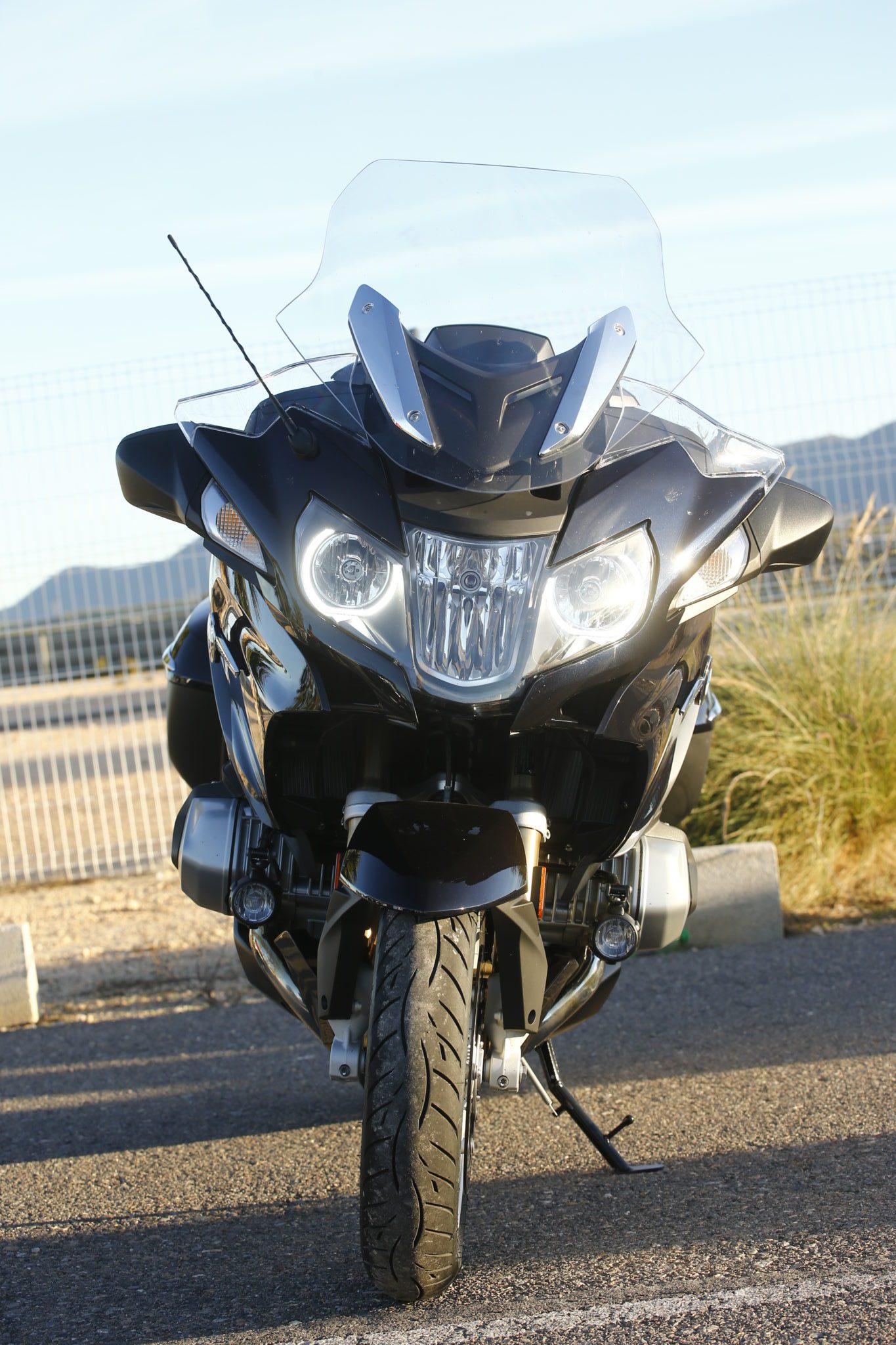 The chassis is good too. There's a load of ground clearance, and I didn't deck out anything all day. Brakes are strong with good ABS performance and a new 'hillstart' function that holds the bike steady when you stop on a hill, releasing when you pull away. BMW has moved away from Brembo calipers on the new Boxers, switching to Hayes, an American firm best known for bicycle brakes (they also supplied Harley-Davidson in the past). The new calipers seem to work just as well as the old Brembos. But it's fair to say it feels like a bit of a downgrade overall – Brembo's the name on MotoGP and WSB bikes, and it's always nice to see that brand on your bike.
The electronic suspension on the bikes I rode worked a treat, with super-comfortable damping on flat straights, yet it felt taut and responsive in the bends. That, plus BMW's Telelever makes for a very good front end, with none of the wallowing or weaving that you sometimes had in the past on softly-suspended heavyweights.
So the RT looks good, handles a treat, and is fast too, for a big boy. But it's the toys which make a tourer for me. Accessories like heated seats and grips, electric windscreen, that audio system and the extensive trip computer all just make life easier. There's BMW's excellent cruise control of course, the ESA electronic suspension is a treat, and a top box to match the stock panniers will make your pillion even more comfy and swallow up even more gear. Finally, you get a very advanced set of rider aids – traction control, ABS, rider power modes, even an optional SOS emergency call function. It's all miles ahead of the options available on the competition, and makes the RT stand out in this light-heavyweight touring class.
Gallery
Pick the fanciest version you can afford, go crazy on the spec list, add a set of BMW's excellent textile touring kit, and you'll be living the luxurious motorcycling dream in no time at all…
PRICE GUIDE: Stock bike starts from £14,415, we rode the LE top-end version, which costs £16,700. The LE features electronic suspension, cruise control, heated seat, central locking luggage, tyre pressure monitoring, quickshifter, and much more.
SPECS
Engine: 8v boxer flat twin, DOHC, variable valves, liquid cooled, 1,254cc
Bore x stroke: 102.5x76mm
Compression ratio: 12.5:1
Max power (measured at tyre): 136bhp@7,750rpm
Max Torque (measured at tyre): 106ft lb@6,250rpm
Transmission: six speed gearbox, wet slipper clutch, shaft drive
Frame: two-part subframes, engine as stressed-member
Front suspension: BMW Telelever monoshock, 37mm stanchions, electronic suspension adjust option
Rear suspension: Paralever single-sided swingarm, monoshock, fully adjustable, electronic adjust option
Brakes: Dual 320mm discs, four-piston Hayes calipers (front), 276mm disc, twin-piston Brembo caliper (rear), Motorrad ABS, optional ABS Pro
Wheels/tyres: Cast aluminium/Metzeler Z8, 120/70 17 front, 180/55 17 rear
Rake/trail: 25.9°/116mm
Wheelbase: 1,485mm
Kerb weight (fully fuelled): 279kg
Fuel capacity: 25 litres
Rider Aids: BMW ABS, traction control, rider power modes, hill start assist. Optional electronic suspension, ABS Pro, Pro riding modes, quickshifter pro.