Every now and again, a vehicle becomes an institution, rather than just a means of transport. The Routemaster bus. The VW Beetle. The London black taxicab. And, of course, the Land Rover. All of which were great products – but they also fulfilled their brief so perfectly that they actually came to define a whole sector, dominating it totally.
It's not happened as often with motorcycling. But the bike I'm here in Spain to ride today is definitely one of them. The BMW 'GS' offroad Boxer has been around for nearly forty years now, from the R80 G/S of 1980, up to the line of R1250 GS Adventures parked up outside our Almeria hotel. And it's defined the big-bore adventure sector which has become so successful in the past 15 years.
The details have varied over time – but the basics remain constant. A big flat-twin Boxer engine, with shaft drive, in a tough chassis, with long-travel suspension, built for the long haul. The original bikes were built to race in the Paris-Dakar desert race, and while pure off-road competition has moved down in importance, the latest GS is a very competent beast indeed, both on- and off-road.
For 2019, BMW's overhauled its flagship boxer engine, adding a cunning 'ShiftCam' variable valve timing setup on the intake side, and increasing the capacity by around 80cc, up to 1,254cc from 1,170cc. Other detail mods to the cooling system and a new clutch round off the engine mods, and there are new brake calipers and a slew of minor tweaks elsewhere, but the rest of the bike is largely the same as the 2018 R1200 range. Not that there's anything wrong with that – the old bike was a cracker, and its position at the top of the sales charts underlines how popular the big adventure beastie remains.
We've got a full day out on the roads, plus a short off-road section, and the weather is perfect. Not a cloud, 21 degrees, warm, dry tarmac, and a choice of two machines (we're testing the R1250 RT tourer as well – check our separate launch report on that.) Today's going to be a good'un…
Gallery
Jumping on the GSA (as we'll call it for brevity), things are actually fairly familiar to riders of the current 1200 version. The optional-for-2018 colour LCD 'infomatics' dash is now a stock fitment, so the clocks are right out of the top drawer. The switchgear is packed with controls for the cruise control, driving lights, ABS, dashboard menus, and BMW's clever settings dial on the left hand bar. You can quickly flip through all the options for riding modes, suspension adjustment, trip computers and more, and all the info you need is clearly displayed.
I've been under the rider's seat before jumping on, and set the adjustable stock seat into the 'low' position to suit my stumpy pins. While under there I found the 'master plug' which lets you access the 'Pro' riding modes – Dynamic Pro and Enduro Pro – on appropriately-equipped bikes. I slipped the little red connector into place, unlocking the extra two modes, then clipped the seat back into place. A quick tweak of the (manual) windscreen adjuster and we're ready to rock.
We set out at a steady rate, out of our golf resort hotel near Almeria, and up into the hills behind the coast. So I get half an hour or so to get into the GSA groove again. I'd ridden an R1200 GSA recently, on a job in Wales, so the general layout was quite familiar. Upright, high riding position, with wide bars, and a great view of the road ahead, good wind protection and a comfy seat. Nice.
What quickly becomes clear is how much stronger this new engine is though. The old 1200 was no sluggard, and its 125 claimed bhp was ample enough stomp. The extra 11bhp peak power gives the 1250 an extra dose of top-end buzz – but it's the extra torque everywhere in the rev range which really impresses. BMW's ShiftCam setup uses two intake cam profiles, moving between them around 5,000rpm with a cunning rotary cam drum system – a little like the shift drum on a gearbox. Computer-controlled pins engage with slots in the ShiftCam shaft, and slide the cam profiles sideways, swapping between the low-rpm and high-rpm cam noses. The low-rev profile has lower lift and duration, suitable for low-end grunt, while the high-rev cam gives full lift and duration, for superb top-end power. It's a very slick setup from the rider's seat, and you can't really notice any changes in power delivery, throttle response, or sound. Unlike other systems, like Honda's VTEC, the switchover point isn't really discernible at all.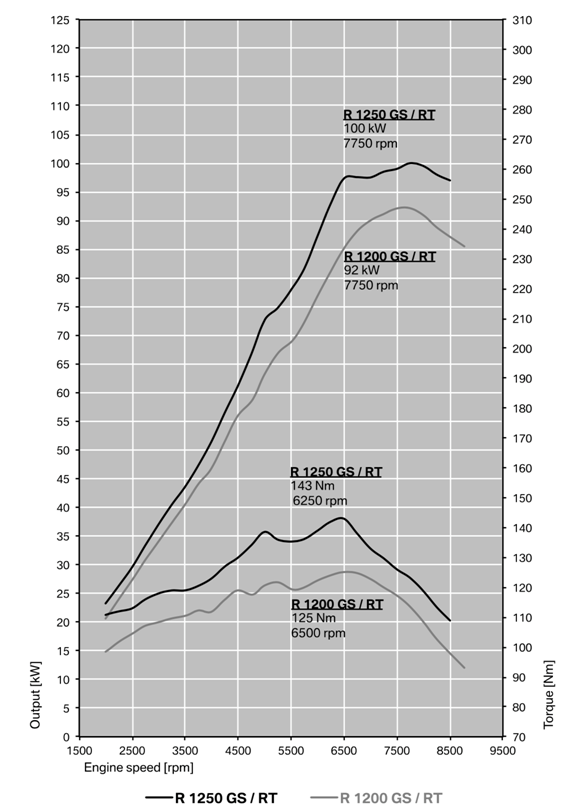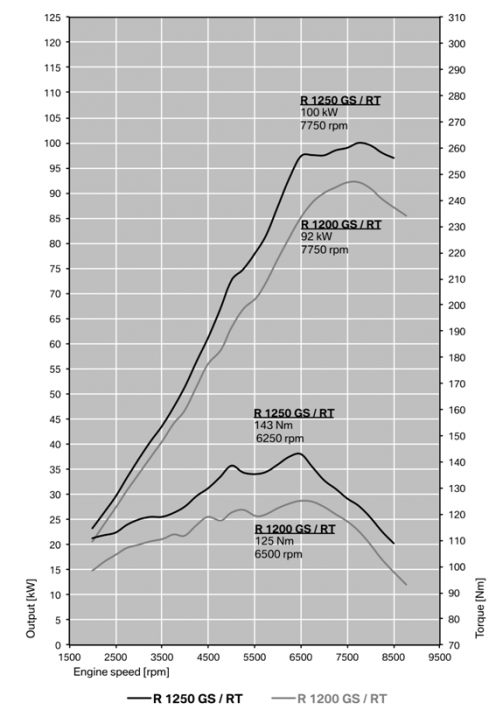 What this means on the road is that the 1250 just feels like a very grunty, powerful, sorted engine. Pulling out of Spanish roundabouts, drag-racing away from stop signs, or grunting out of slow corners, the new motor is a real powerhouse. The GS Adventure is by no means a small machine, tipping the scales at 268kg, fully fuelled. Add on me and my kit (including my weighty new Alpinestars airbag jacket), and you're getting up towards half a tonne of man, machine, and perfect harmony… Yet the big old twin motor underneath whisks you along in a dynamic, exciting fashion. Turn off the traction control (much easier on the GSA than many other machines), and you'll find the front wheel lifting everywhere on undulating roads. And an undulating wrist will snap it up in a trice too, in first, second, even third gear. The perfect near-300kg wheelie bike? Imagine.
Gallery
Away from the engine, the rest of the 2019 GSA experience is largely as you were. The new brake calipers are by American bicycle brake firm Hayes rather than the old Brembos (although the rear caliper is still by the Italian firm). There's not too much to report there – the Hayes four-piston calipers look the part, and work well, in conjunction with BMW's excellent Motorrad ABS setup. The Bridgestone A41 rubber didn't have too much work to do, considering the warm, dry conditions, but provided excellent grip and feedback, and were super-stable right up to nearly 140mph. The bikes we're riding today are Rallye TE versions, with BMW's electronic suspension setup, so the damping and preload is automatically adjusted according to riding modes and conditions. It's a great system, and gives outstanding wheel control on the road, together with a plush comfortable ride when cruising along.
We've stopped for lunch at Almeria Circuit (the organisers of the event for BMW also run the track here), and we get the chance for an off-road ride on the GSA. Two of our bikes are whisked away to the tyre bay, and fitted with Metzeler Karoo 3s – proper off-road rubber. Engage Enduro Pro mode, and we're off for a 45-minute jaunt round the farm tracks which criss-cross the local countryside.
There's nothing too taxing, luckily for me and my meagre offroad skillz. But there's a few tricky bits in amongst the dry, dusty, rocky dirt roads. One section is stacked with loose boulders, and I hold my breath as I pick my way through gingerly. The GSA does a solid job though: the extra suspension travel and 19" front wheel, together with smooth low-down power and the safety net of the off-road-friendly ABS settings keeping me upright.
Gallery
As ever, if you're not a total off-road expert and want to do hardcore enduro/dirt riding, then a smaller, lighter machine will almost always be a better option (especially when you have to pick the thing up…) But for stuff like this – riding on unsurfaced gravel roads, crossing waterways, it's perfect for less-talented dirt riders like me.
Back on the roads, and we're heading homewards. The last 20-30 miles of the day are a riot, enjoying that big, lazy, grunty engine, and checking out all the BMW bells and whistles in depth. The new LCD dash is a treat, and has Bluetooth capabilities to link to your phone, satnav and helmet headset for perfect integration. Cruise control should be compulsory on every bike these days, and stuff like tyre pressure monitoring and extensive trip computer functions just make life so much simpler. When do we need fuel? 75 miles? Excellent, no need to stop before getting back then. As it gets darker, the new LED headlights and optional driving lights turn dusk to day, and though we don't need them today, the adjustable windshield, hand guards and heated grips will be a real boon on UK roads.
Back at the hotel, and our day is over. But the dominance of the GS is clearly very far from over. Its position as a genuine legend in the two-wheeled world's adventure class might have looked under threat from more powerful, better-equipped machines in recent years (Ducati Multistrada, I'm looking at you here…) But with this new engine, and the continual ratcheting-up of its equipment options and high-tech rider aids, BMW looks to have made sure its flagship adventure machine will remain hanging around the top of the class for a while yet.
Gallery
Price: £18,100 (Rallye TE as tested), £14,415 (basic GSA model)
SPECS
Engine: 8v boxer flat twin, DOHC, variable valves, liquid cooled, 1,254cc
Bore x stroke: 102.5×76
Compression ratio: 12.5:1
Max power (measured at tyre): 136bhp@7,750rpm
Max Torque (measured at tyre): 106ft lb@6,250rpm
Transmission: six speed gearbox, wet slipper clutch, shaft drive
Frame: two-part subframes, engine as stressed-member
Front suspension: BMW Telelever monoshock, 37mm stanchions, electronic suspension adjust option
Rear suspension: Paralever single-sided swingarm, monoshock, fully adjustable, electronic adjust options
Brakes: Dual 305mm discs, four-piston Hayes calipers (front), 276mm disc, twin-piston Brembo caliper (rear), Motorrad ABS, optional ABS Pro
Wheels/tyres: Tubeless wire-spoked/Bridgestone A41, 120/70 19 front, 170/60 17 rear
Rake/trail: 24.9°/95.4mm
Wheelbase: 1,504mm
Kerb weight (fully fueled): 268kg
Fuel capacity: 30 litres (11.8 gallons)
Rider Aids: BMW ABS, traction control, rider power modes, hill start assist. Optional electronic suspension, ABS Pro, Pro riding modes, quickshifter pro.