Racing as part of one of the biggest track races in the UK takes a lot of hard work, not just for the rider, but the whole team involved.
It may be Jordan who battles through the BSB Superstock 600 rounds but he has a team of fantastic people working behind him, including his Dad – Keith.
Read Keith's blog… 
"I wanted to do a blog on what's involved for a dad at racing in BSB with Jordan and Team HARIBO Starmix. I thought to myself that's easy, I have loads to talk about…..well erm. Basically I do practically everything apart from ride the bike…seriously though I will explain my involvement throughout a typical race weekend…
Thursday
We set off usually around 3 or 4pm so we can get into the riders camping area, as it's a timed thing. Once we have set up the camper and get ourselves ready, it's off to meet the rest of the team. We then drop off our transponder to the race awning, this is fitted to the bike and captures Jordan's lap times.
Jordan will head out with a team mate or James the crew chief to do a track walk or cycle around the circuit on the Thursday evening. Meanwhile back at the camper, I will be cooking a decent meal for us, usually a pasta type dish and making sure there is plenty of hot water for Jordan to grab a shower once he's back, then it's an early night all round.
Friday
It's an early start on a Friday morning as 'Free Practice' is around 9am, and we pitch up with the team about half an hour beforehand. All the sessions are important as time on track is limited at BSB, not like club racing where you get loads of track time and 4 races over a weekend.
My job is to make sure Jordan has everything he needs and is ready to go out on track.
Once he goes out on track, I'm in pit lane with the pit board. The information being relayed to him is his position in that session with his time off the pole position, followed by his time left on track.
I'm always nervous when he's on track, I don't think any Dad can honestly say he's not.
As the sessions get more critical and more important I wouldn't say I get more nervous, just the tension starts to build. I obviously try and control this, as I don't want to show this to Jordan.
Sessions can vary with Jordan doing 5-6 laps on a used tyre in this session. He may come in for some adjustments to suspension, gearing etc. Once this session has finished its back to the race awning, no Parc Ferme after this session.
Each bike has a log of what's been done with settings and other changes, so after each session Jordan has a section where he can fill in comments on what the bike is doing, any changes he would like to make.
Once he's done that he will then go off to get his equipment scrutineered by the BSB officials, also pick up his tyre stickers for the weekend.
Giving Jordan advice over the weekend is hard, and very easy for me to say do this, and then do that. It's more of reminders and key points, like get a good start, get in your rhythm etc.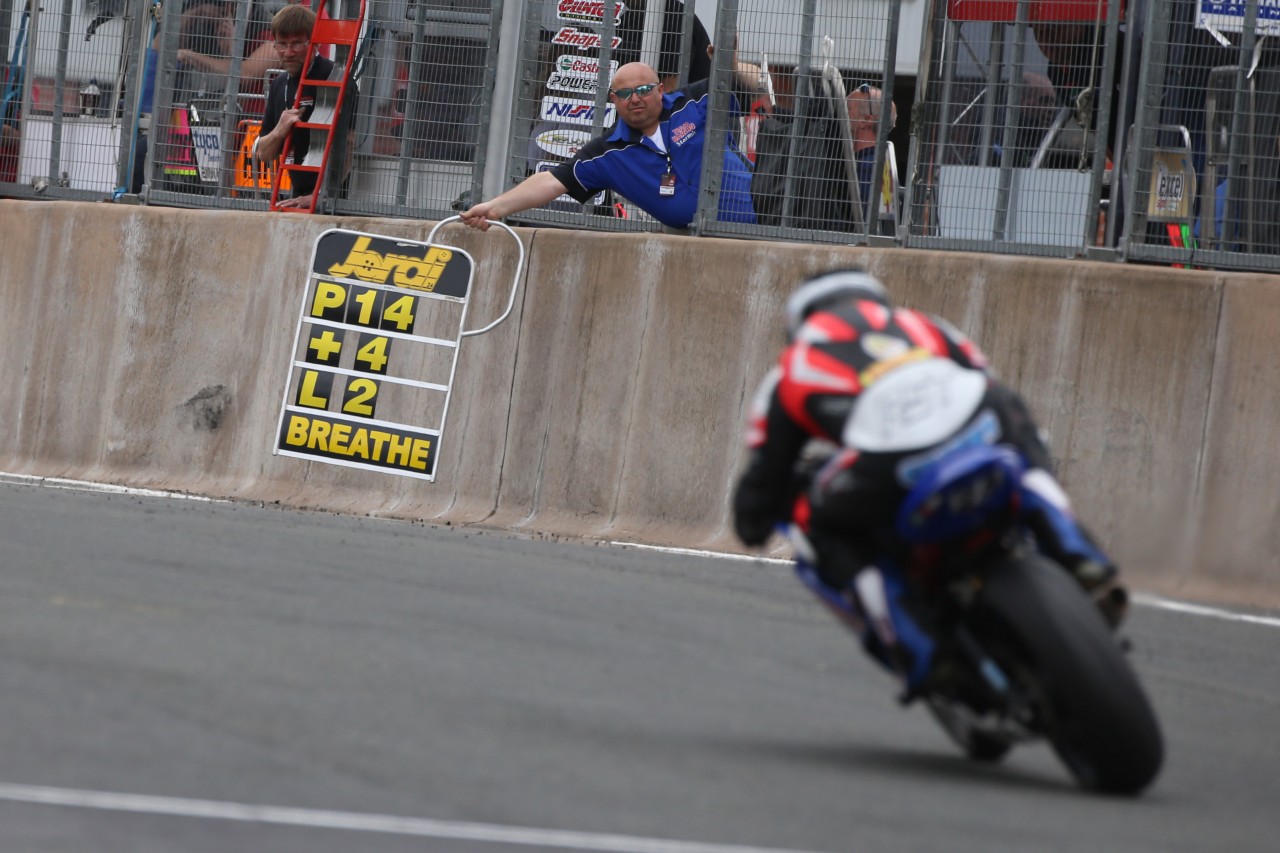 About 4 hours later we are back on circuit for our first Qualifying (Q1) session. So in between all of that I make sure that Jordan has eaten well and kept hydrated. This is vital for his time on track and also helps with his ongoing battle with arm pump.
Again we are always at the race awning around 30 minutes prior to going on circuit. I will always ask him has he done the various things, these range from nasal strip, to where he needs to go quicker. We always talk about getting a tow from a slightly quicker rider, and over the last few rounds it's worked well.
So again I'm on pit lane with the trusty pit board.
After this session we have to go to Parc Ferme, Jordan's bike is left there with the others for around 30 minutes, various checks are made i.e tyre stickers and dyno checks.
Once the times are produced we go through the sector times and talk through where he can improve, most of the time you are talking about 3 or 4 tenths of a second in some sectors. As I don't watch him on circuit, due to being in the lane pit lane, it's always good to talk to him through each sector.
I make my suggestions, but still I'm just Dad, what do I know?!
It's back to the camper and again my vast knowledge of catering skills come into action, this would normally be some meat and veg. Once this is done with, it's washing up for me and keeping the camper tidy.
Jordan is the world's worst for leaving stuff lying around, but then all teenage boys are – girls are worse I've heard!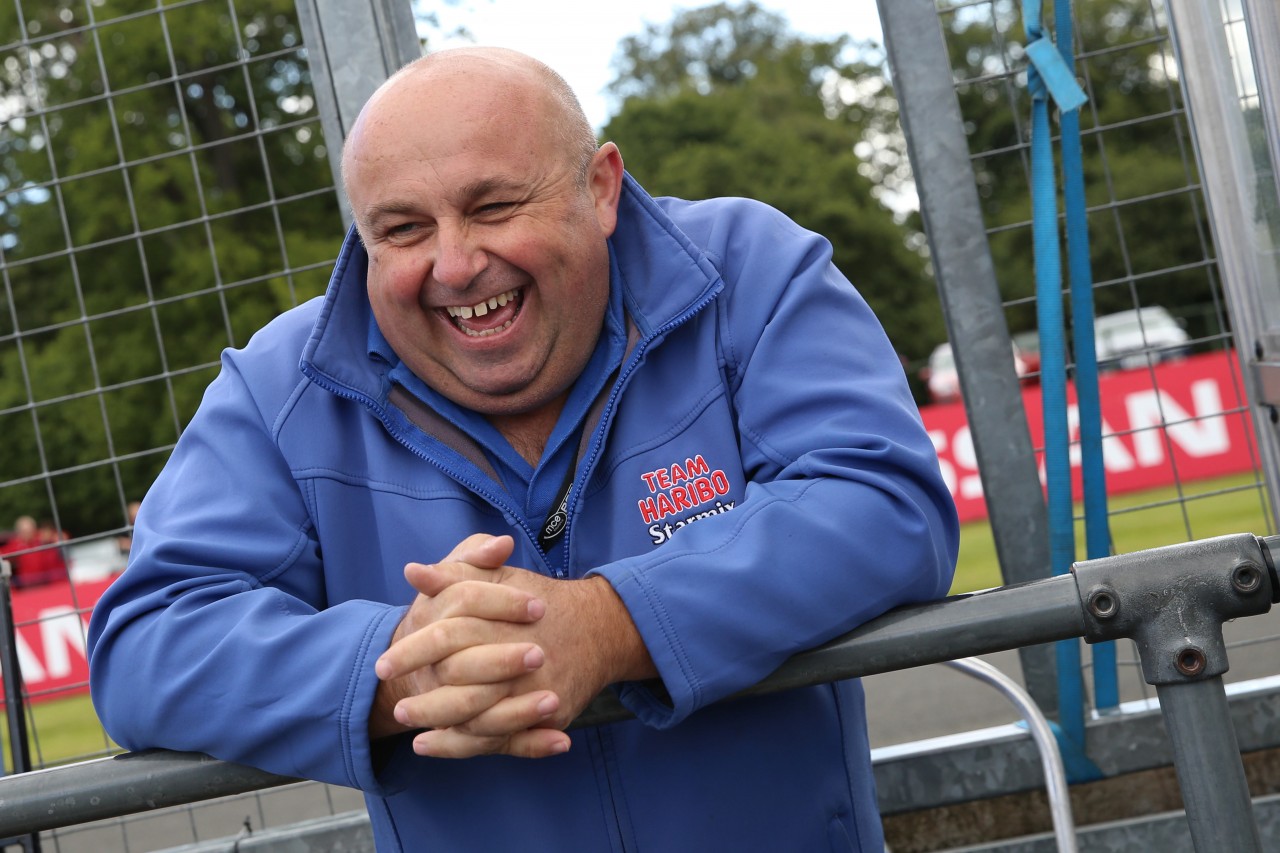 Saturday
Saturday is Q2, which is normally around 1pm so we get a fairly easy morning with a breakfast that I prepare. He's not the quickest to get out of bed, so constant moaning normally works – I learnt that from the wife (hope she doesn't read this).
Again, I'm on pit lane duties, so pretty much as before. We then go through the times, it's a fairly relaxed time after this.
With qualifying over with you've got your position whether it's good or bad.
On a Saturday night we normally go out with Jordan's team mate Chrissy Rouse and his dad, so no cooking for me! We feel this is a good team building exercise, discussing things that have happened throughout the weekend, where they would like to finish.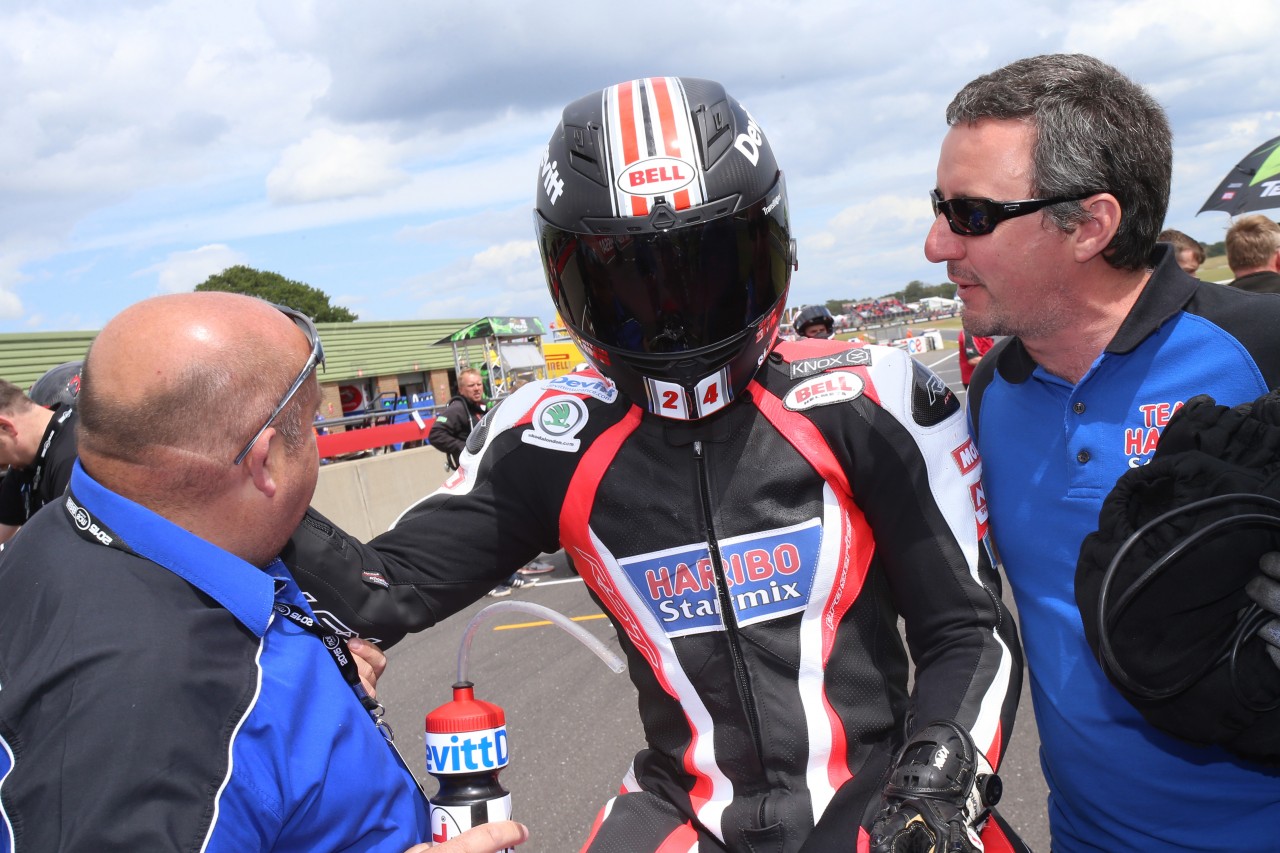 Sunday – Race day
On race day, it's normally an early one with warm-up at around 9am, for 8 minutes on track. This allows the riders to check their bikes, make any other alterations to the bike. Jordan never wants to have the pit board for this session, so I get to go and have a look at him on track…
I love this part; it's my treat of the whole weekend.
An early lunch is in order as we need to be ready for our 2pm track time. I will go to the grid with the two mechanics, it's a fairly tense time and I don't really say much to Jordan, he knows what he wants to do and what his game plan is.
Once the 3 minute warning is sounded, the tyre warmers come off and I give a good luck hand shake to Jordan.
I never ever watch the start and will always face the garages, with both fingers crossed and my back to the circuit for the start.
I hate the start of the race; I don't know why I just can't watch it.
Once he's away I can then get on pit wall and do my signalling for the race.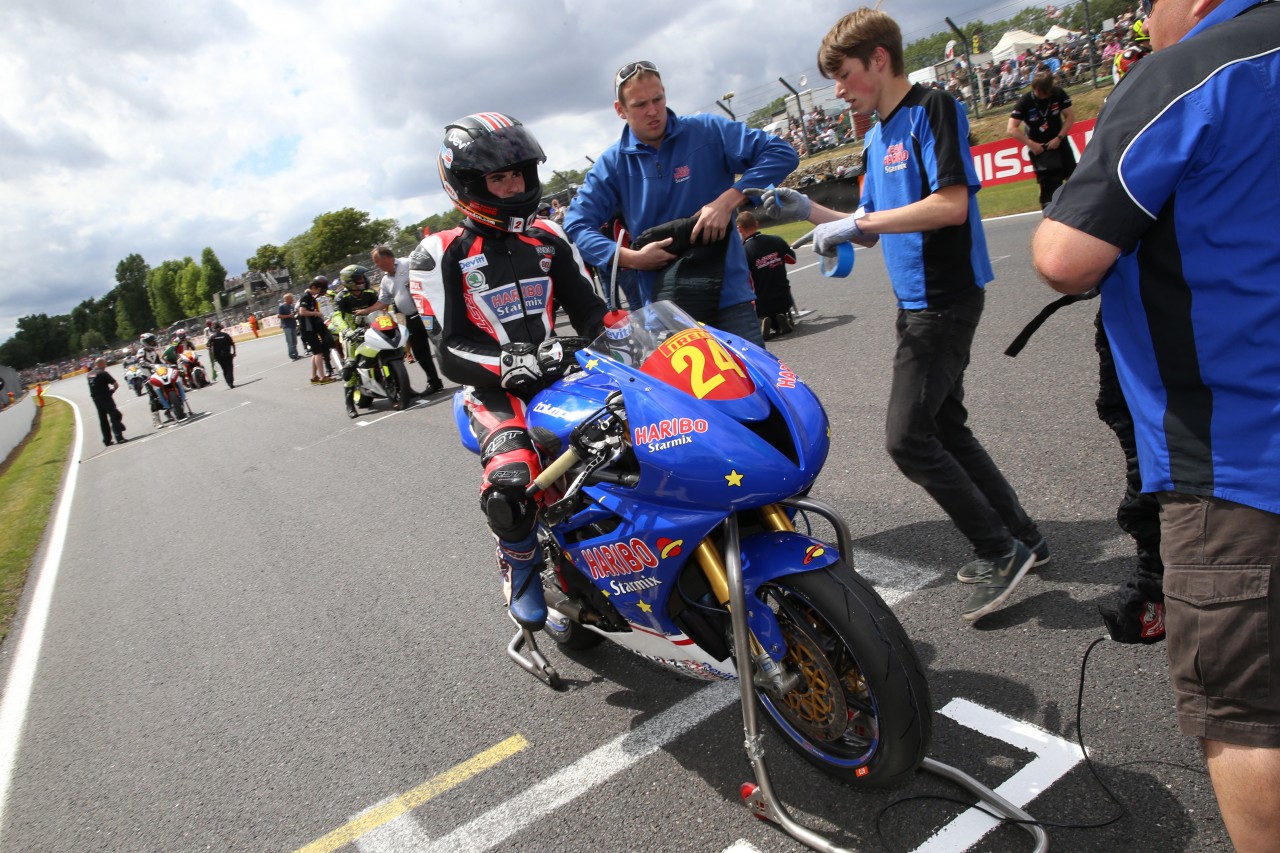 There are various emotions that you go through in weekend are one of the hardest things to deal with – you have highs and lows when racing.
People have asked me how I deal with him crashing and maybe hurting himself or even worse. Of course we are all aware of the dangers of this wonderful sport and yes I do think about it, but I wouldn't change it for the world.
I still talk about my racing days, and I made a lot of friends doing it. It still lives with me now.
One thing is for sure, you never lose the passion for racing, it's in your blood, if it's not in there then you shouldn't be doing it.
Gallery