As BSB heads into the three Showdown rounds that will decide the 2015 champion, we ask is the unique BSB points-scoring system fair? And has it actually made for better racing?
The regular part of the British Superbikes season is over and we're now heading into the three 'Showdown' rounds at Assen, Silverstone, and Brands Hatch.
Unique format:
The Showdown format is now in its sixth year and is unique in motorcycle racing (although some American car racing championships run a similar system). Every other bike racing championship works on the principle of riders trying to score asmany points as they can throughout the season and the one with the most points after the final round is the winner. Nice and easy.
The British Superbike Championship system is a bit more complicated…
The British format:
The first nine rounds work just like a normal championship, apart from the fact that the first, second and third placed finishers are awarded 'podium credits' as well as regular points. So, while a race win nets 25 points, a second place nets 20, and a third place is worth 18 points, a race winner in BSB also gets 5 podium credits with the other two podium men getting 3 credits and 1 credit respectively.
It's all about the podium credits:
These credits are crucial when it comes to the last three races of the season – what's known as the Showdown rounds. The six riders with the most points from the regular part of the season become 'title contenders' and are all awarded 500 points as they enter the last three rounds. That puts them well beyond the rash of anyone else in the championship so they are the only riders with a chance of actually becoming champion. The only way a rider can have an advantage going into the Showdown is to have collected more podium credits than his rivals over the season.
So, who's got the most credits?
This year sees Josh Brookes (Yamaha) going into the Showdown with 53 podium credits while Shane Byrne (Kawasaki) has 51, James Ellison (Kawasaki) has 22, Tommy Bridewell (BMW) and Dan Linfoot (Honda) have 7, and Michael Laverty has none – he made the showdown through consistently finishing in the points but without having achieved a rostrum.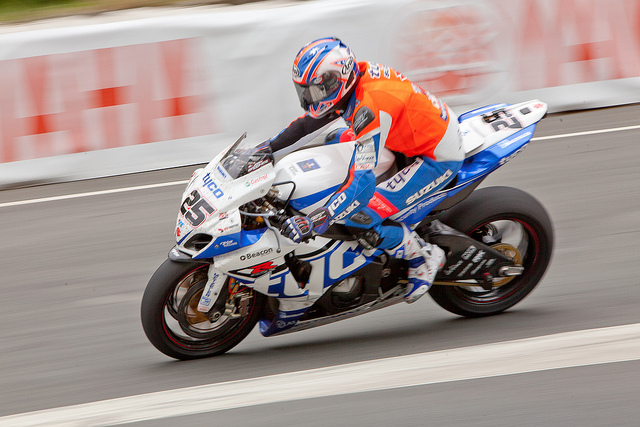 Fighting 'til the bitter end:
This rather complex points system was brought into play after Leon Camier's total dominance of the 2009 season when he won the championship with four races to spare. This saw a drop in attendance figures as there was little interest in the outcome of the final races. A Showdown system would ensure the championship went right down to the last round and all but guaranteed a close finish.
For the most part, the Showdown format has been a success and has provided some amazing last-round shoot-outs, none finer than the 2011 battle between Tommy Hill and John Hopkins which saw the title decided in Hill's favour by just 0.006 seconds and two measly points.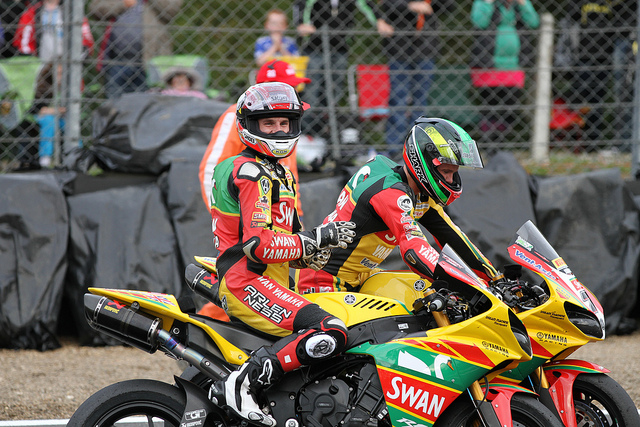 Looking back:
There's no arguing with the facts on this point – the Showdown system has succeeded in creating closer championship finishes. In the last running of the standard points-system championship in 2009, Camier won the title by 136.5 points. The following year the gap between first and second place was 24 points, in 2011 it was two points, in 2012 it was 28, the following year it was 7 points, and last year it was 62 points after Ryuichi Kiyonari crashed out of the final round.
Fair system?
But while such close-fought action is great for the spectators and BSB's substantial TV audience, it hasn't always been favoured by the riders. The unique points-scoring system has meant that some riders who injure themselves early in the season can easily sit out a round or two and still stand a chance of getting into the Showdown where they can then start all over on a near-level playing field.
Conversely, if a rider has led the regular part of the championship by a big margin  but then has one small crash or DNF in a Showdown round, all his hard work will have been for nothing – as happened with Kiyonari's last-round crash at Brands Hatch in 2014 that effectively cost him the title.
But it's the same for everyone and most riders have benefited as much as they've lost out over the last six years that the Showdown system has been in place.
Mixing up MotoGP:
But if the Showdown system has been deemed a success, why have other championships not adopted a similar system? Can you imagine a Showdown system in MotoGP where – according to the current standings – we'd see Valentino Rossi, Jorge Lorenzo, Marc Marquez, Andrea Iannone, Andrea Dovizioso and Bradley Smith going into a final three rounds all equal on points and with everything to play for?
MotoGP needs livening up:
As things stand, MotoGP doesn't need a Showdown system to manufacture a close-fought championship – Valentino Rossi only has a slender 12-point lead over his team-mate Jorge Lorenzo anyway. But the system would go some way to livening up a very dull World Superbikes season.
Kawasaki's Jonathan Rea has built up a seemingly unassailable 144-point lead in the championship with three rounds still to go. But with his team-mate, Tom Sykes, now back on form on his ZX-10R, the season might have had a very different outcome if the pair started on level points going into Spain, France and Qatar with it all still to play for.
BSB – best motorcycle race series in the world?
The British Superbike Championship has led the way with technical rules and format changes in recent years. From control tyres and control ECUs to EVO-spec engine rules and a ban on electronics, the organisers have managed to create a fiercely competitive and relatively affordable championship that's widely considered to be the best domestic motorcycle race series anywhere in the world.
MotoGP and WSB now also run control tyres and MotoGP will be switching to a control ECU in 2016.
How long before one – or both – championships adopt the Showdown system too? After all, it's great for spectators and it's the spectators who ultimately pay for the racing.
How did your results compare to your fellow bikers? Do you think the Showdown format should be adopted by other races? Let's discuss below!
Stuart Barker is a freelance motorcycle journalist and author. A former MCN reporter and features writer, he is now editor of the Official Isle of Man TT and Classic TT programmes and has contributed to most major UK motorcycling titles including MCN, Bike, Ride, Superbike, Two Wheels Only, Fast Bikes, Classic Bike and Classic Racer. His books include biographies of Barry Sheene, Steve Hislop, Niall Mackenzie, David Jefferies and Evel Knievel as well as a centennial history of the TT races.