Spain is a biker's heaven, if you like a challenge. Full of mountains and rocky roads, unlike neighbouring France – which is green fields and rolling countryside.
Spain is red dust and remote towns, fine food and wine and plenty of open stretches of coastal roads which allow you to really put your foot down, whilst appreciating the stunning surrounding scenery of course.
Motorbiking in Spain is much like biking in any foreign country and there are certain steps that you should take to prepare for your trip and to make sure that you fully understand the rules of the road and don't get into any unnecessary trouble whilst you are touring through Spain.
The Language:
One of the things you will quickly discover, especially if you plan to stick to the less populated areas of Spain is that those who speak English are few and far between.  If you are staying in a hotel in a larger city then you are almost certain to find the hotel staff to be English speaking but in the remote mountainside towns, you will probably be out of luck.
For that reason it is a good idea to brush up on some basic phrases and words which you may need; as well as buying yourself a good dictionary.  There are also several good apps you can download to help you, although check these can be used without the need for signal or 3G or you may find yourself out of luck.
Where to Ride:
Spain is over double the size of the UK so there are plenty of options of wonderful open roads and places to ride.  There are many helpful websites online which can help you plan a route depending on how you are arriving in Spain i.e. by ferry or by biking through France for example.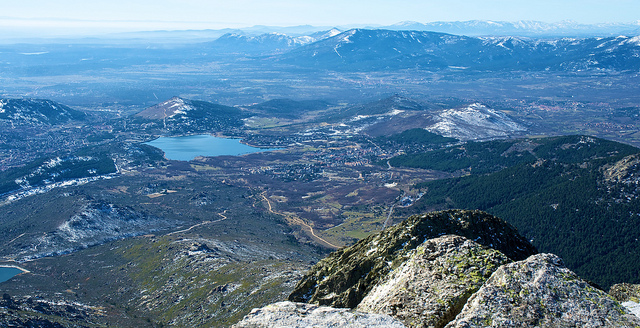 In Spain they drive on the opposite side of the road to the UK; and traffic coming from the left is required to give way to incoming traffic on the right unless there are signs which indicate otherwise.  'Ceda el Paso' or a yellow triangular sign with a red border means traffic on the other side of the road has right of way.
At roundabouts, give way to any traffic coming from the left.  All motorcyclists are required to have their headlights on at all times, and must wear a helmet.  It is also worth noting that in Spain drivers tend not to stop at a zebra crossing unless there are also traffic lights; be aware of this and try to avoid slowing down or stopping suddenly (as you would in the UK); you may end up upsetting other road users.
Make sure you have the relevant insurance before you set off on your journey; check with your current provider or arrange for separate international cover with a reputable company such as Devitt Insurance.
Driving Offences:
There have been recent changes made by the Spanish government to improve Spain's road safety record so even if you have biked through Spain before you might want to re-read the rules.
Speed limits: Temporarily reduced from 120kph to 110kph
There are an increasing number of checkpoints across the country where, if you are stopped, you can expect to have to produce valid documentation (such as your passport) and possibly even have a breath test as well.
Other recent changes include the ability to imprison a driver for 3 months for an offence, on the spot fines with possible imprisonment for those who cannot pay.
Have you been fortunate enough to experience a biking holiday in Spain? What advice would you give to someone planning such a trip?