With bike season in full swing, many people are naturally thinking of where they can venture to enjoy great weather, good company and the feel of the open road beneath them.
Whilst the UK has many beautiful routes culminating in picturesque spots you might be considering taking your bike further afield and for that, there is no better place than France.
From the quiet roads to the stunning scenery, fantastic food to the friendly people, there is much to discover by taking a motorcycle holiday in France; we can almost guarantee that you will fall in love with the country and will want to return time and again in the future.
However, as with any trip abroad there are some things you need to bear in mind and prepare for ahead of your journey and a motorbike touring is no different.
Here are our top tips on how to stay safe and make the most of your tour this summer:-
Staying safe on the road has to be the number one priority when taking a touring trip across any country, foreign or on home soil.  Of course the rules are slightly different for every country so it is worth reading up on these and keeping them at the forefront of your mind during your trip.
Keep to the right:
Many of the road signs are the same or similar to those in the UK which shouldn't make it too difficult for you to understand priorities and the rules of the road on which you find yourself.  However, it is important to note the major difference between biking in France and biking in the UK which is that they drive on the right.
Although this is a well known fact it can often be more difficult for bikers to remember this; rather than getting caught out by travelling the wrong way around a roundabout, for instance, you might want to give yourself a visual reminder, such as placing some tape on your left hand mirror.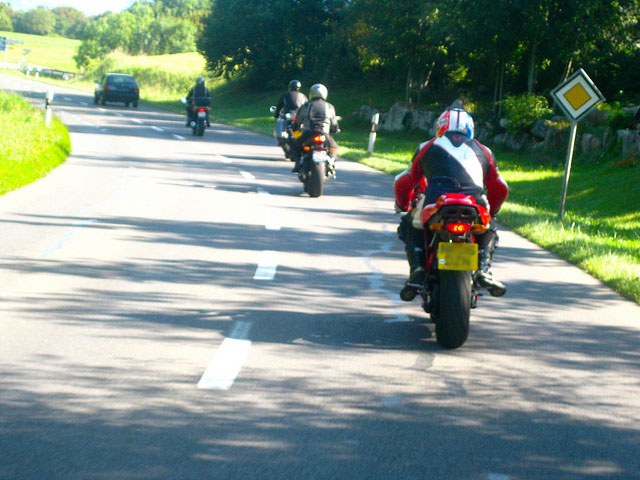 Riding with earphones:
Up until very recently it has been legal to ride with earphones in France however a new law has been passed and it is now illegal to ride or drive while wearing earphones. If you are caught, in France, using earphones whilst riding or driving you will be hit with a €135 (£95) fine and three points on your licence.
Hands-free speakers fitted to your helmet, however, are completely legal, so it's important that you are prepared with the correct headset before you set off!
Giving way:
Another important rule to bear in mind is that rights of way are different; in France unless indicated otherwise you give way to the right.  This covers everything from roundabouts to cars coming out of side roads; of course there are exceptions such as when on a road displaying a sign with a yellow diamond.
Equipment to carry:
In terms of equipment you must carry, it is a legal requirement in France that all bikers carry spare bulbs and breathalysers and that your helmet is fitted with reflective material visible from the front, left and right.
Reflective clothing:
Prior to January 2013, bikers were also required to wear reflective clothing but this has since been abolished.  However, in January 2015 new measures were proposed in which those travelling on motorcycles would be required to wear reflective jackets in the event of a breakdown.
Whilst this rule has not yet been implemented, it might be worth purchasing and carrying reflective jackets for yourself and those travelling with you just to be on the safe side.
Insurance:
It goes without saying (we hope!) that you will organise the relevant insurance before you begin your touring trip.  This means applying for an EHIC (European Health Insurance Card) which will allow you to receive free or reduced cost healthcare whilst abroad and also ensuring that your motorbike insurance covers you whilst you are in France.
Dipped headlamps:
When biking, you must have dipped headlamps both day and night and it is important to bear in mind that motorway (autoroute) speed limits; 130km/h is permitted in dry weather and 110km/h in wet weather.  Unlike in the UK where speed limits are regularly and obviously signposted this isn't always the case in France.
Speeding:
If you are caught speeding in France you will be expected to pay a fine on the spot and may even be escorted to a cash machine if you don't have the required amount of money on you. A serious speeding offence may see your bike impounded or your licence confiscated, which would make travelling on somewhat difficult.
Drink driving:
Drink driving laws are incredibly strict in France, with current moves to make them even stricter; anything more than a single spirit measure could also see your bike being impounded and yourself being repatriated back to the UK.
Planning Your Route:
Once you have got the difficult stuff out of the way such as learning the rules of the road and ensuring you have the right equipment to take with you, you can move onto the best and ultimately most enjoyable part of your trip: the route you will take through France.
There are many route planners online which can help you determine where you wish to go and if there are any specific places you might want to visit during your time in France.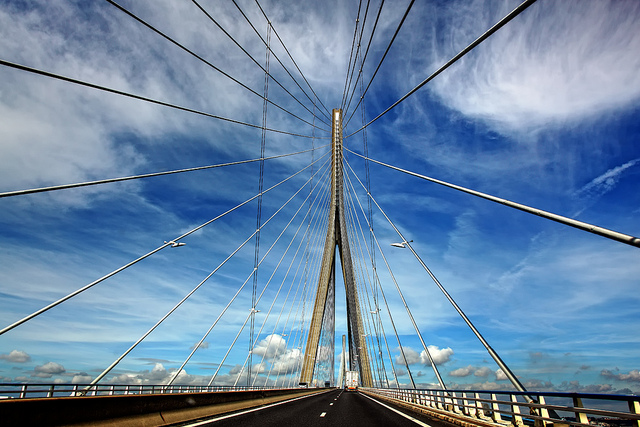 Is your bike up for it?
Be realistic about how much mileage you can cover in one day and whether your bike is up to the challenge; modern touring bikes are much more capable of handling long road trips than a vintage bike so you may need to factor this in when planning how long you will ride for and when and for how long you will stay in one place.
First timer?
If this is your first touring trip abroad we would suggest not trying anything too adventurous and perhaps sticking to the north of France.
Although the south of France is generally considered to be the more picturesque you can still find much to explore and enjoy in areas such as Normandy and Pays De Loire; it will also mean that you don't have to worry about making it back in time for your crossing back to the UK and can take your tour at a more leisurely place.
Of course you may want to push yourself or simply extend your trip into France and there are many other beautiful parts of France which are well worth visiting.
Where To Stay:
Whilst it is entirely up to you where you stay during your visit, our recommendation would be to seek out motorbike friendly establishments.  This will ensure that you can get advice on the best routes to take from the locals as well as receiving any help you may need in the event that you are having difficulties with your bike.
Have a look online at different forums and communities for advice on the best places to stay when abroad.
Are you planning a tour this summer? Perhaps you've already done one this year?
What advice would you give to someone planning a biking getaway?