Norton is a British motorcycle brand with a strong racing tradition.  It tasted its first win at the Isle of Man TT in 1907 through rider Rem Fowler, followed by wins at Brooklands and other European races as well.  These outstanding race track performances helped to establish Norton as a builder of quality road and race bikes that excelled in performance and reliability.
Formerly Norton Motors Ltd, the company is now known as the Norton Motorcycle Company with its headquarters in Donington Park of United Kingdom.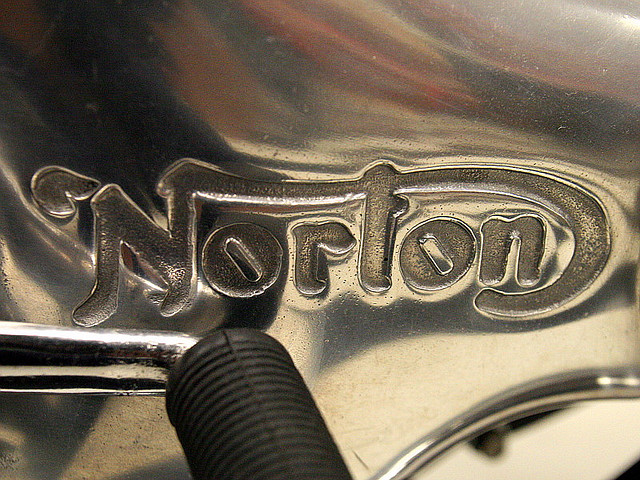 A brief history
A British motorcycle manufacturer, the Norton Motorcycle Company began in 1898 when James Lansdowne Norton founded the company as a manufacturer of "fittings and parts for the two-wheel trade".  This meant supplying parts for both motorcycles and ordinary bicycles.  However, within four years, Norton began producing its own motorcycles fitted with engines of Swiss and French origins.  Its first motorcycle with a Norton engine came onto the market in 1908.
Norton began stamping its famous logo onto its bikes from 1916.  Success ensued and by the mid-1930s, Norton was producing nearly 4,000 road bikes annually as well as racing bikes.  The Isle of Man Senior TT race was won by Norton an impressive ten times between the wars.   However, it withdrew from racing to focus on road bikes during the Second World War and became a supplier of British military motorcycles.
Racing successes continued post-war and the famous Featherbed frame was developed for Norton in 1950. Despite its popularity and Norton's performances on track, Norton suffered financial decline and was bought out by Associated Motorcycles (AMC) in 1953.  Following the change in ownership, an improved Norton Gearbox was developed and used on its larger models.
As the British motorcycle market as a whole went into decline due to strong competition by Japanese manufacturers, AMC became insolvent then reformed as Norton-Villiers in 1966.  Three years later, the firm introduced the Commando which became the bestselling motorcycle of its day.
Ownership of Norton changed hands a number of times, and it was under US ownership for 15 years.  After this, UK businessmen and owner of Norton Racing UK Ltd Stuart Garner secured the Norton brand and developed operations at Donington Park in Britain, which is where the company is based today.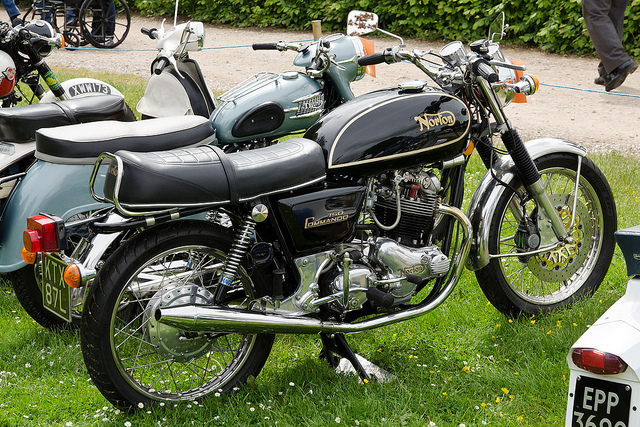 Popular models
Norton Commando 961, 2014: This new limited edition Commando is sure to turn heads with its stunningly stylish looks.  It features 961cc air-cooled, 2v parallel twin engine with 5 gears, steel tube double cradle frame and a top speed of 130 miles per hour.
Price new: £16,000
Price used: £14,980
Licence type required:  A
Norton Domiracer, 2014: This new limited edition Domiracer is a true piece of British history.  Only 50 have been produced, meaning they are collectors' items attracting hefty price tags.
Price used: £35,980
Licence type required:  A
Sponsorship
Norton Motorcycles is not known to be heavily involved in community sponsorship programs.
However, Norton owners clubs around the globe participate in sporting and charitable events.
Reviews
The Commando 850 won Motorcycle News "Machine of the Year" award for five years straight from 1968 to 1972.  It had a 745cc air-cooled engine, 4-speed transmission and a top speed of 115mph.