It's been a busy month in the BSB with three rounds in four weekends and whilst there are still seven more rounds to go, the form of Jason O'Halloran is looking ominous for the rest of the field.
O'Halloran's masterclass
The McAMS Yamaha rider was in imperious form at Thruxton repeating the hat-trick he'd recorded at Oulton Park a month earlier and it was a masterclass of riding. He dominated all three races with healthy margins of victory and it's hard to look past him taking this year's title.
Sandwiched in between those two hat-tricks was another victory at Brands Hatch and two more podiums and the only blemish on his card so far is a second race spill at Knockhill when he was fighting his way through the pack from a lowly grid position.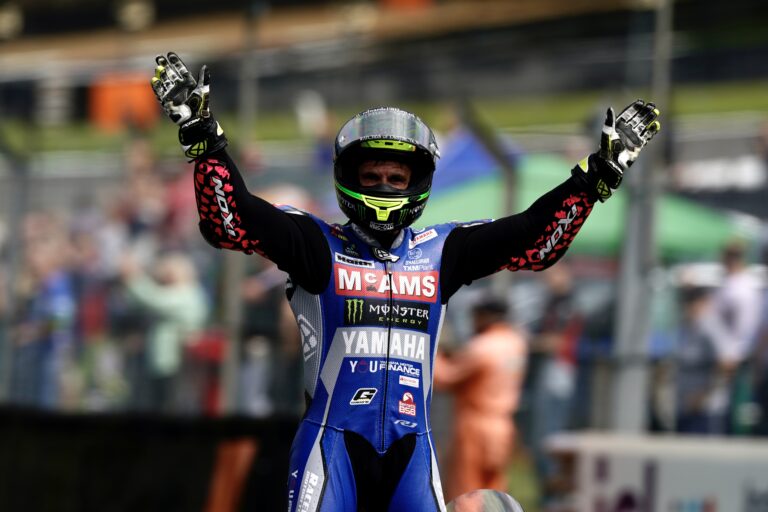 Aside from that, it's been a near faultless season thus far and it doesn't matter what the circuit or what the conditions, the Australian is always at the front and his confidence is sky high. To put it simply, he's riding a crest of a wave and it's a wave that is currently showing no signs of stopping.
Both the rider and team are working in perfect harmony and that's a formidable combination that the opposition have got to try and change.
Iddon loses ground
O'Halloran's main challenger all season has been Christian Iddon with the VisionTrack Ducati rider leading the title chase after his rival's crash at Knockhill. The status quo was maintained at Brands with the duo matching each other's results.
However, it all changed at Thruxton. O'Halloran's hat-trick was clearly the main factor but, after finishing a good second in race one, Iddon's run of 33 points-scoring BSB rides came to an end the following day when he was taken out of a podium position by an errant FS-3 Racing Kawasaki of Lee Jackson.
He could only manage ninth in the following wet race and he's now 42 points adrift in the championship table but also 16 points behind in podium credits, 39 to 23, which riders carry over to the beginning of the Showdown.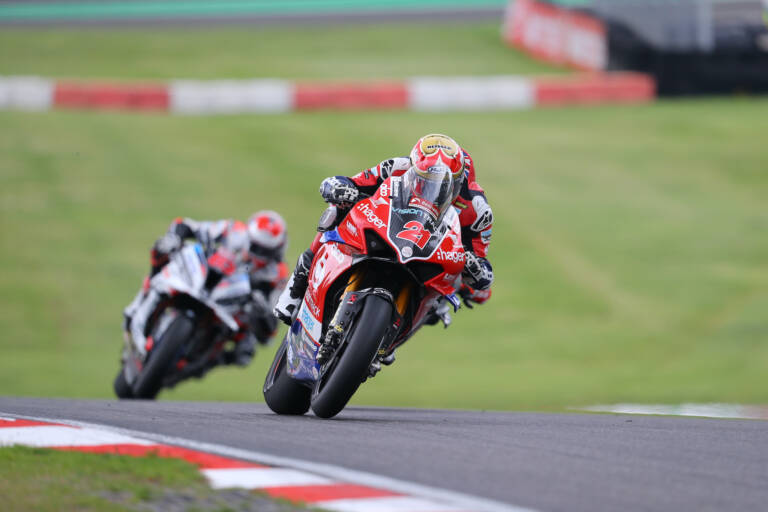 The crash was a hefty one but ever since he joined Paul Bird's team, the Tyneside-based rider has been a front runner so there's no reason why he won't be able to bounce back straightaway.
He's already a shoo-in for the Showdown but with two wins to O'Halloran's seven, he knows he needs to start beating the Yamaha man more regularly so that when the final three rounds get underway, he's as best placed as possible.
Chasing pack
The best of the rest continues to be Tarran Mackenzie on the second Yamaha and Synetiq BMW's Danny Buchan, the duo currently sitting in third and fourth respectively in the championship table and tied on 14 podium credits.
Mackenzie, team-mate to O'Halloran, saw his run of podiums, which stretched to five races, come to an end in the opening race at Thruxton with a long lap penalty and red flag combining to leave him in ninth place.
He bounced back in the second to finish behind his team-mate, the first ever McAMS Yamaha 1-2, before opting for full wets in the final race. That proved to be the wrong decision as he slipped back to seventh but he's in the mix at every round, something that hasn't always been the case in previous years.
Certain circuits continue to ask more posing questions but the 25-year old is putting himself in the best possible position and the consistency he needed is now there. But he'll look at O'Halloran's seven wins to his solitary one and know what needs to be done.
Buchan, meanwhile, hasn't been able to repeat his Knockhill victories, but he's been close at each round since with no less than three fourth places at Brands and then a good second in the final race at Thruxton last Sunday.
The latter proved to be a challenge for the Essex rider and the new M1000RR with a disappointing 13th in the opening race but with continued changes to set up, he moved forward, firstly with a seventh and then the runners-up spot.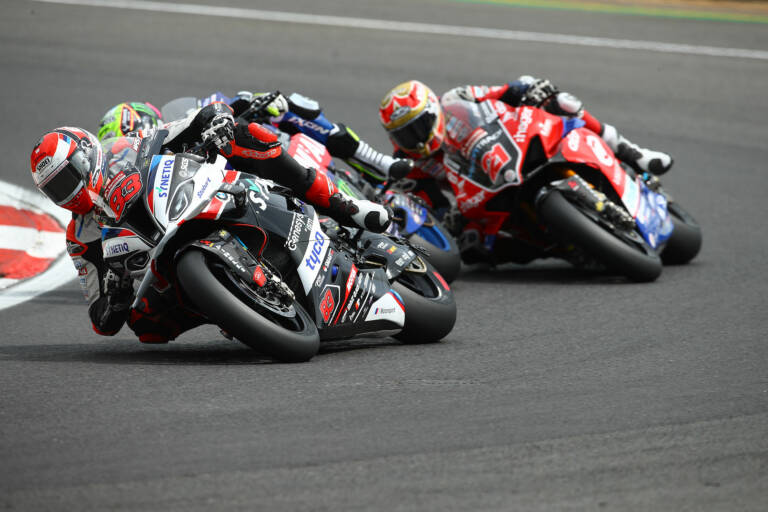 As he's said himself, he's in it for the long haul and will no doubt be a title contender come the Showdown but again, more wins will be required.
Brookes' woes continue
Whilst team-mate Iddon is fighting for the title, the same can't be said for reigning Champion Josh Brookes with the defence of his crown looking all but over.
The Australian has been a shadow of his former, and illustrious, self so far this season and is currently languishing in 12th in the championship table, the recent Thruxton meeting seeing him take disastrous 14th, 16th and 17th place finishes. To go from a multiple race winner and champion to a non-points scorer is unheard of so the issues are clearly many.
A lack of side and exit grip from the rear as well as poor front-end feel have been cited as the main problem areas but neither of these are issues Brookes hasn't encountered or overcome before. Changes to the bike have been made constantly but further, specific changes, primarily to the electronics, haven't despite his requests.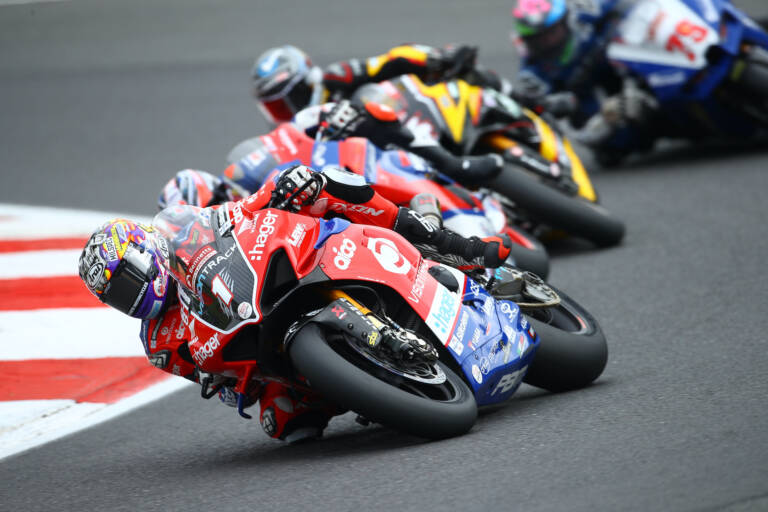 There's four rounds, and 12 races, still to go before the Showdown commences which means there's plenty of points still up for grabs even if he is currently 30 points adrift of the all-important top eight. The problem is, he doesn't look anywhere near getting those points with his body language on track tentative rather than aggressive.
You don't become a bad rider overnight though and it's believed a team meeting took place after the Thruxton meeting where the issues and concerns were thrashed out. Team boss Paul Bird described the discussions as 'constructive' so time will tell if they truly were.
Young guns
The likes of O'Halloran, Iddon and Buchan have been competing in the various British Championships for more than a decade but at Thruxton, some of the countries' young guns also impressed, none more so than Ryan Vickers and Danny Kent.
Vickers is now in his third year in BSB and with the RAF Regular & Reserve Kawasaki team and it's testament to the faith and patience shown by the latter, that the 21-year old is now reaping the rewards.
When the now 21-year old moved from the National Superstock 600 series to BSB in 2019 many thought it was too big a jump and several crashes in that first season perhaps proved that.
Last year saw glimpses of what Vickers could do, with a fifth at Donington Park but he still crashed too often. Those mistakes have been eradicated this season and he's only failed to score points in one of the 12 races.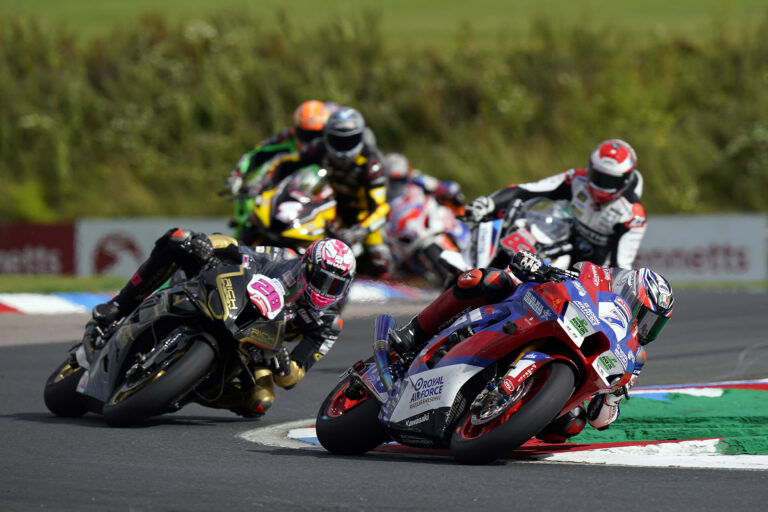 That came in the second race at Thruxton when he crashed on the final lap whilst challenging for a podium position but either of side of that were career best fourth-place finishes, one in the dry and one in the wet. He's now challenging for one of the top 8 Showdown positions and has every chance of making it in come September.
Maiden podium
Former World Moto 3 Champion Kent is slightly older at 25 and has a lot more racing experience than Vickers but not in BSB with just a couple of rides in 2019 prior to this season.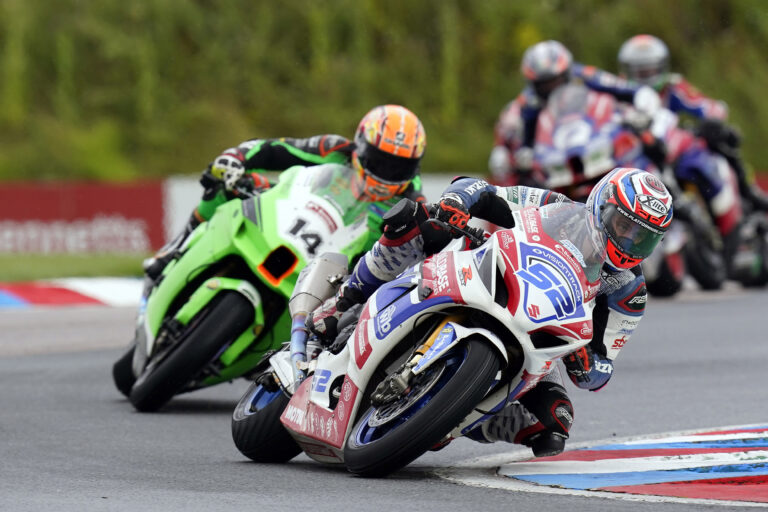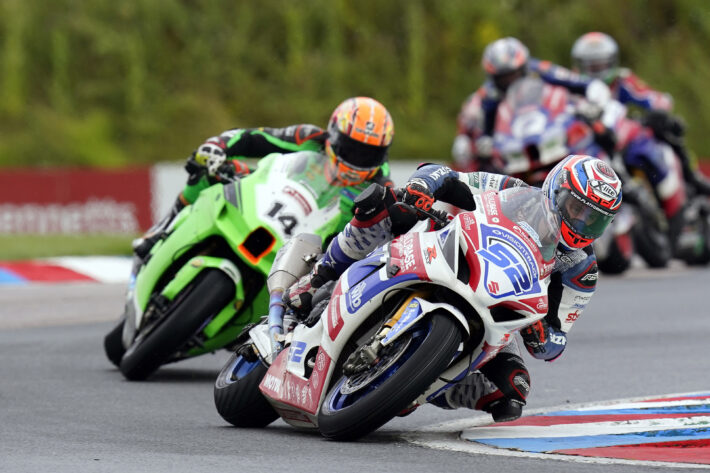 That was on an uncompetitive bike but he's now with Buildbase Suzuki run by the highly experienced Stuart and Steve Hicken and after a rocky start – which saw him score just four points in the first six races – he's now making major strides forward.
Changing his style to get more used to the Superbike characteristics, most notably the engine braking, he cracked the top ten at Brands Hatch on two occasions and was fast from the word go at Thruxton.
Quick in both the wet and dry, taking a best finish of sixth in the latter, he claimed his maiden BSB podium in the wet when he placed third and it could well have been victory if he'd pushed harder in the opening laps, only his lack of experience preventing him from doing so.
It's true that Thruxton is Kent's local track but having only ridden there once before, home advantage couldn't be used as a factor and with some of his more favourable tracks coming up, it'll be interesting to see if he can become a regular front runner.
Back on the box
Another rider who's seen his fortunes take an upturn of late is Glenn Irwin with the Honda Racing rider taking his first podium of the season at Thruxton.
He could quite easily have left with two podiums had it not been for a monster crash in the opening race at the Hampshire venue, but it didn't alter his speed the following day and he's now just seven points off the top eight.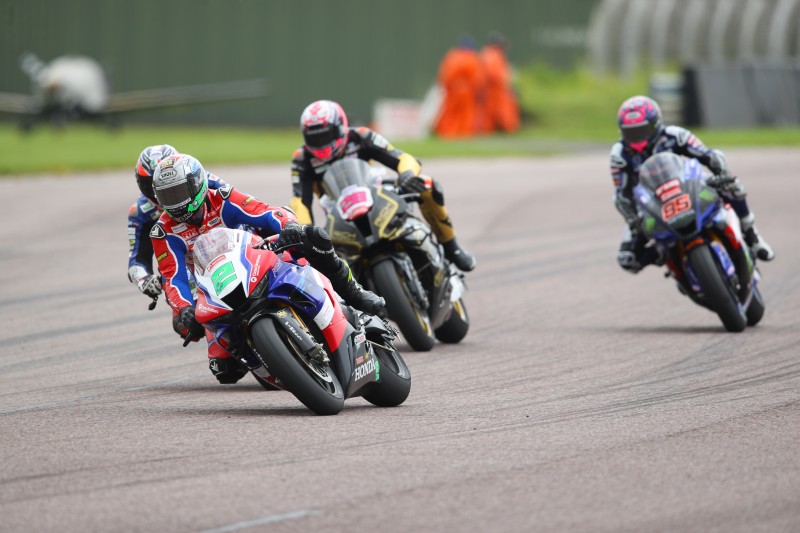 The Honda has always worked well at Thruxton and the same's true at the next round, which takes place on the Donington National circuit, so the Ulsterman will be hoping another good haul of points will be the outcome to further catapult him up the championship table.
Having started watching motorcycle races all over the world form childhood, Phil Wain has been a freelance motorcycle journalist for 15 years and is features writer for a number of publications including BikeSport News, Classic Racer and Road Racing Ireland, as well as being a regular contributor to MCN and MCN Sport. He is PR officer for a number of teams and riders at both the British Superbike Championship and International road races, including PBM Ducati, RAF Regular & Reserve Kawasaki, Dafabet Devitt Racing, John McGuinness, Lee Johnston and KMR Kawasaki. He is also heavily involved with the Isle of Man TT Races, writing official press releases and race reports as well as providing ITV4 with statistical information