BSB: Redding steals the show at Assen
The opening round in the Showdown phase of the 2019 British Superbike Championship ventured across the water to Holland at the weekend and, as many had predicted, the meeting was dominated by Scott Redding from start to finish as he took over the lead in the title standings.
The Be Wiser Ducati rider never looked like being beaten around the Assen circuit and with Tommy Bridewell crashing out in race one, it looks like the only rider to stop the former MotoGP rider is team-mate Josh Brookes although fourth in the second encounter saw him relinquish his Championship lead.
Redding rules
Having competed on the Dutch circuit every year since 2008, Redding arrived at Assen comfortable in the knowledge he didn't have a circuit to learn and could instead concentrate on bike set-up. Everyone has been saying all year long that he would come into his own at the final three rounds and although he still had to go out there and deliver, the way he dominated in practice, qualifying and the two races themselves will have surely have disheartened the opposition.
The 26-year old was on lap record pace within just a handful of laps on Friday morning and never looked back, more often than not lapping half a second quicker than the rest of the field. Bridewell got close to him in qualifying but he was clearly riding hard, too hard, as he crashed out of the first race when he lost the front at half race distance.
Redding now leads Brookes by 14 points and although there are still 125 available, the next round takes place at Donington Park, venue of his maiden GP win in 2008 and the scene of a hat-trick earlier this year. More twists and turns can be expected but the signs are looking ominous for Brookes, Bridewell and co.
Work to do
Although he'd crashed out of the final race at the previous round at Oulton Park, Brookes arrived at Assen leading the championship and the man most likely to take the fight to Redding, particularly having dominated proceedings at the circuit in his championship winning season of 2015.
However, he never truly got near and for the first one and a half days it was a battle just to get into the top ten. Seeing the Australian languishing in down in 17th place midway through the final practice session was strange, to say the least, as he struggled with the front end feel of the Ducati Panigale V4R.
The Paul Bird Motorsport team haven't won six BSB titles for nothing though and they found something during qualifying that allowed him to get somewhere close to his full potential. Second and fourth place finishes weren't ideal or what he'd expected but as he said afterwards, the gap is still only 14 points.
The British weather, fickle at best at this time of the year, will surely have a say in the outcome in at least one race between now and the end of the season and although he knows he has work to do and can ill afford any mistakes in the final five races, he's still very much in contention.
Little too late
If Brookes lost ground to Redding, then his fellow Showdown contenders fared even worse with Bridewell's and Danny Buchan's second race podiums coming a little bit too late in proceedings to help their cause.
Bridewell's previous win at Oulton Park gave him the impetus he needed heading into the Showdown but, 25 points off the lead before racing had even begun at Assen, he knew he needed more victories.
He looked strong throughout qualifying and in the early part of race one but lost the front when he least expected it. Just as Brookes had paid the price for pushing hard at Oulton, the same fate befell Bridewell and with it, his title hopes pretty much disappeared.
The gap to Redding is now 51 points so he'll need a miracle to come out on top as will Buchan and the duo now look set to dispute third place overall with just four points separating them after the Dutch round.
Assen woes
Sixth placed Peter Hickman was seen as the rank outsider for honours, a fact borne out by his brace of eighths at Assen, but he didn't struggle as much as the remaining Showdown contender Tarran Mackenzie who came away from Holland with just 12 points to his name.
The McAMS Yamaha rider looks a different person to the one that won at Silverstone at the beginning of the year and he simply hasn't recovered from his mid-season blip when he crashed out at both Brands Hatch and Thruxton. Indeed, you have to go back to Snetterton in July to see his last podium finish.
The Yamaha is still clearly a potent machine, with team-mate Jason O'Halloran finishing in the top six in four of the last five races, including taking a podium at Assen, but Mackenzie has a lot of head-scratching to do before the last two rounds as his season is in serious danger of tailing off with a whimper.
Battling team-mates
It's been another relatively disappointing season for former champions Honda Racing as, for the second year running, they've failed to get a rider into the Showdown. Both Xavi Fores and Andrew Irwin have starred at times, the Spaniard taking four podiums this season, including three at Donington, and Irwin winning at Thruxton.
Consistency, or a lack of it, has been their downfall but they do currently occupy the leading two positions in the battle for the Rider's Cup, the trophy awarded to the rider who finishes in seventh overall – in other words, the best of the rest.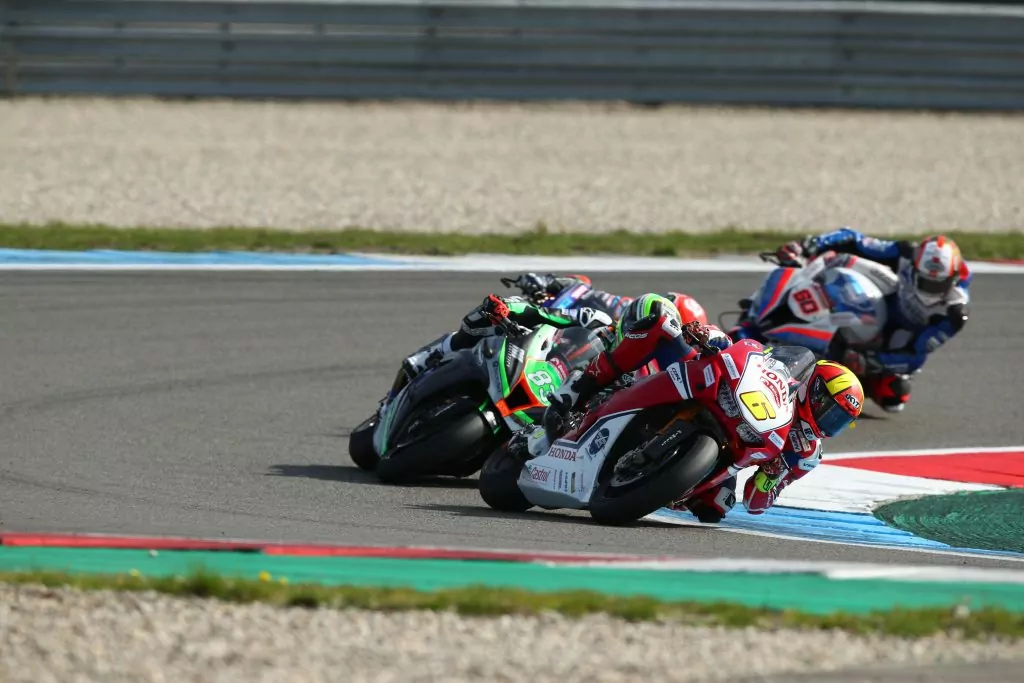 A strong showing at Assen, where his World Superbike experience came into play, saw Fores take fifth and sixth place finishes and move up to seventh at the expense of his team-mate who never really recovered from a crash in qualifying.
The duo are, perhaps, favourites for the Rider's Cup but with O'Halloran in good form and closing in, Fores will need another podium haul at Donington next time out to keep the Australian at bay and ensure the Louth-based team don't go completely empty-handed once more.
Stapleford stars
One of the biggest surprises of Assen was the form of Luke Stapleford with the Buildbase Suzuki rider backing up his front row qualifying position with strong performances in each of the two races.
The former British Supersport Champion is having his first full season in BSB and, to be fair, has struggled with his best result prior to Assen being a fifth at the opening round at Silverstone in April. With just five top ten finishes to his name prior to heading across to Holland, few would have expected him to be at the sharp end all weekend.
However, he still holds the Supersport lap record at Assen and it's one of the few circuits he's visited regularly in recent years when he's been contesting the World Supersport Championship. Clearly at home around the 2.82-mile circuit, fourth and fifth was an excellent return for the 28-year old as he mixed it with the Championship contenders all weekend.
With Bradley Ray's podiums at Oulton Park and Stapleford's good showing at Assen, Stuart and Steve Hicken's team are ending the year with a flourish and, if their recent form continues, they could yet have a say in where the British title goes.
Having started watching motorcycle races all over the world form childhood, Phil Wain has been a freelance motorcycle journalist for 15 years and is features writer for a number of publications including BikeSport News and Classic Racer, having also been a regular contributor to MCN and MCN Sport. He is PR officer for a number of teams and riders at both the British Superbike Championship and International road races, including Smiths Racing, Quattro Plant Kawasaki, RAF Regular & Reserve Kawasaki, Dafabet Devitt Racing, John McGuinness, Lee Johnston and KMR Kawasaki. He is also heavily involved with the Isle of Man TT Races, writing official press releases and race reports as well as providing ITV4 with statistical information.