Devitt proudly sponsor Jordan Gilbert, BSB Superstock 600 Racer for Team HARIBO Starmix. Jordan tells his passion for two wheels and racing has progressed over the past 18 years. Starting out riding a push-bike unaided at the age of 2 to racing on the UK's biggest circuits on a regular basis. Read his story now… 
"Ever since I was a child I always remember having a bike in or around the house, not necessarily a motorbike, but something with 2 wheels. It all started at the age of two when I decided to jump on my brother's bike and learn how to ride myself, obviously failing several times in the process but after getting the hang of it, I didn't stop. I was making ridiculous jumps out of planks of wood or riding round the local areas –  I had become addicted to two wheels.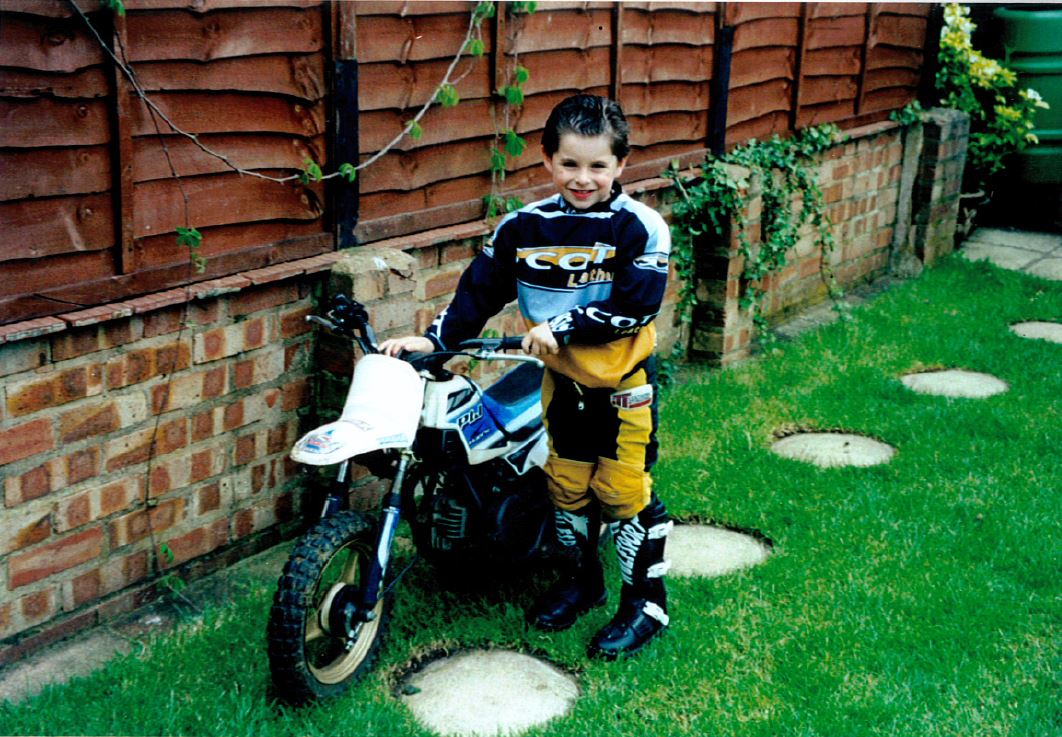 A few years later and this is where engines come into play. Dad decided to buy me a quad, it was a good little bike, (forgotten completely what make it was, but it was a quad), but at three years-old I couldn't get enough of it. As time went on, my brother got a Yamaha PW50 crosser, and at the time this was a beast in my eyes. I couldn't help but want to ride it – turns out I wasn't bad at it either!
I was riding motocross bikes for 5-6 years going from: KTM 50cc, to Husquvarna 60cc, to KX65, to a KX85. All motocross bikes. It seems as though I was destined to go down the muddy route or racing, but it took a sharp turn onto tarmac racing.
My brother (Ben) had a friend who got a mini moto, only one of those terrible Chinese bikes, but either way – it was the roots and an entry into tarmac racing. After messing about on that a few times it was inevitable.  Ben and I decided to get some ourselves – the best thing we have bought so far! Believe it or not, they kept breaking down, and after a few careful throws of the mini motos into the skip by our Dad, we decided we needed something better, a little bit more, well….Italian!
I got a Gemini and Ben got a Pasini. After competing in a few races, we thought that this wasn't really good enough.
As my Dad had been a keen racer himself, he wanted me and Ben to compete on the big bikes, and so we bought two Aprilia RS125's, the slowest race bike ever, but at the time it felt meteoric. I competed in the Superteens class for two years while Ben only competed in one before moving up a class. I had a few race wins and other good results, but never winning the championship. I had outgrown the bike in those two years anyway.
Minitwin year: the biggest learning curve to date. A 650cc twin-cylinder engine. It felt like I was shifting a wardrobe around the track. With only 72bhp and the bike being as heavy as it was, it was tough. I took to the bike well though as we had a good pre-season test in Almeria, Spain. In a year I had many junior class wins and a lot of class podiums, even an overall podium, but never an overall win.
Then the Team HARIBO Starmix opportunity came along. We had to take it! So we did! Despite Ben having to give up his racing for me (that's something I will always be forever grateful for) we knew we had to do it. For three years now I have been riding for Team HARIBO Starmix. A tough three years to say the least. Hopefully a few more good results to come!
Want to keep up-to-date with Jord's racing? Follow him on Twitter now.
Gallery