Yamaha XJ6 Diversion Bike Overview
If you're in the market for an affordable, practical but fun middleweight machine then take a look at the Yamaha XJ6 Diversion.
The 600cc machine offers 77bhp, 43mpg and a 200 mile tank range making it an affordable commuter that you can always depend on or the first steps on a 'big' bike for you. The lower seat height of 785mm means it can be great for all types of riders, and it can easily be adjusted too.
There's no extra thrills when it comes to the XJ6 Diversion, what you see is what you get. It is kitted out with the old Fazer engine, there's not been any reports of any issues or recalls with the XJ6 Diversion. The model does come with a few extras including centre-stand as standard, multi-function LCD dash and preload adjustment for the rear shock.
Price for a new Yamaha XJ6 Diversion start from £6,000.
Yamaha XJ6 Diversion Bike Spec
Top speed

140mph

Engine

16v, inline- four

Weight

211kg

Average fuel consumption

43mpg

Capacity

600cc

Seat height

785mm
Yamaha XJ6 Diversion Bike Insurance
Yamaha XJ6 Diversion Bike Gallery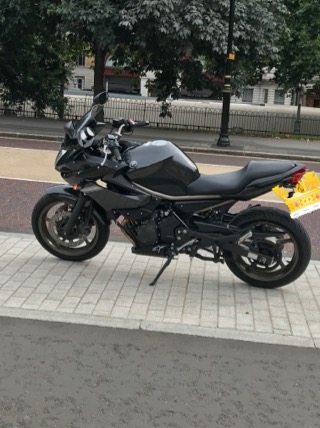 Owner Reviews
Pros
It's easy to ride, very forgiving even if you in the wrong gear it will pull away at a roundabout etc. Good commuter. Narrow enough to filter in heavy traffic. I bought it after I passed my test and planned to upgrade to faster/better bike but liked it so much that I kept it much longer. It still makes me smile on every ride.
Read More
Ride Quality4 out of 5 stars
Perfectly balanced bike and once I fitted PR4S rubber it really stuck to the road. It could of done with better aftermarket shocks as sometimes feels a little bouncy at the back.
Engine3 out of 5 stars
Not bad for a 600cc and she can hold up motorway speeds with ease. I wish there was a sixth gear though as sometimes it feels like it needed it.
Running Cost5 out of 5 stars
Gives over 100 miles per £10 worth of fuel. Major service is around £300. Road tax - £62!! Per year insurance is low low low compared to other brands or even an MT07.
Build Quality5 out of 5 stars
Very good build quality. Starts first time every time all seasons. I've done over 5000miles in a year without a problem. It also doesn't have traction control, rider modes, tft screens so I guess less technical issues to resolve.
Brake4 out of 5 stars
Nissin calipers and brakes all round. It will stop. The lever is adjustable for a personalised preference on position.
Pros
Great value, very usable
Read More
Ride Quality4 out of 5 stars
No feather weight but not heavy. Smooth ride, OK for fast riding but not far racing
Engine4 out of 5 stars
Not a huge bhp figure but good torque
Running Cost5 out of 5 stars
Cheap to service and reliable. Good mpg.
Build Quality5 out of 5 stars
Excellent, no rust, no problems
Brake3 out of 5 stars
Good enough