Suzuki RF600 Bike Overview
There were a few weird and wonderful looking bikes back in the 90's, and the Suzuki RF600 was no exception. Launched in 1993, with production running for four long years, the RF600 was one of your budget middleweight bikes; ideal for someone who's building their confidence to move up the ranks.
The RF600 is known for its reliability, great sound and excellent if you're looking for a bike on a budget. It can be the ideal commuter bike that still has a little bit of punch if you're looking for a weekend adventure, you can get a decent 40mpg.
Notable mentions on the Suzuki RF600 include great sized glove box and lots of underseat storage (super handy if you're a commuter), great mirrors and enough room to carry a pillion as well.
Suzuki RF600 Bike Spec
Top speed

147mph

Weight

195kg

Average fuel consumption

40mpg

Capacity

599cc

Seat height

775mm

Engine

Liquid cooled, 16v transverse four, DOHC
Suzuki RF600 Bike Insurance
Suzuki RF600 Bike Gallery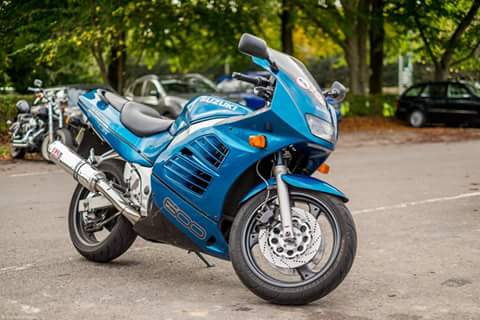 Owner Reviews
Pros
Good all round road machine
Cons
Slightly lower centre of gravity
Read More
Ride Quality5 out of 5 stars
Good for short journeys, it's no tourer
Engine5 out of 5 stars
Not a rocket ship but fast enough to scare me
Running Cost5 out of 5 stars
Only a fair weather biker so not really worried about fuel consumption
Build Quality5 out of 5 stars
Very reliable. Has never let me down in 10years.
Brake5 out of 5 stars
Good braking for a road bike