Ducati Multistrada 1200S Bike Overview
The base model  Ducati Multistrada 1200 is a brilliant bike as it is, and makes a top all-rounder with a heap of performance and tech thrown in too.
But Ducati always likes to offer a higher-spec option, and this is it, the 'S' version of the MTS1200 Multistrada.
'S' versions go back to the 996 and 748 models in the late 1990s – before that, fancy versions were called SP (Sport Production) or SPS (Sport Production Special). The 'S' version generally got some fancier chassis parts over the base bike, while an 'R' version would also get some engine tuning, normally to help with racing.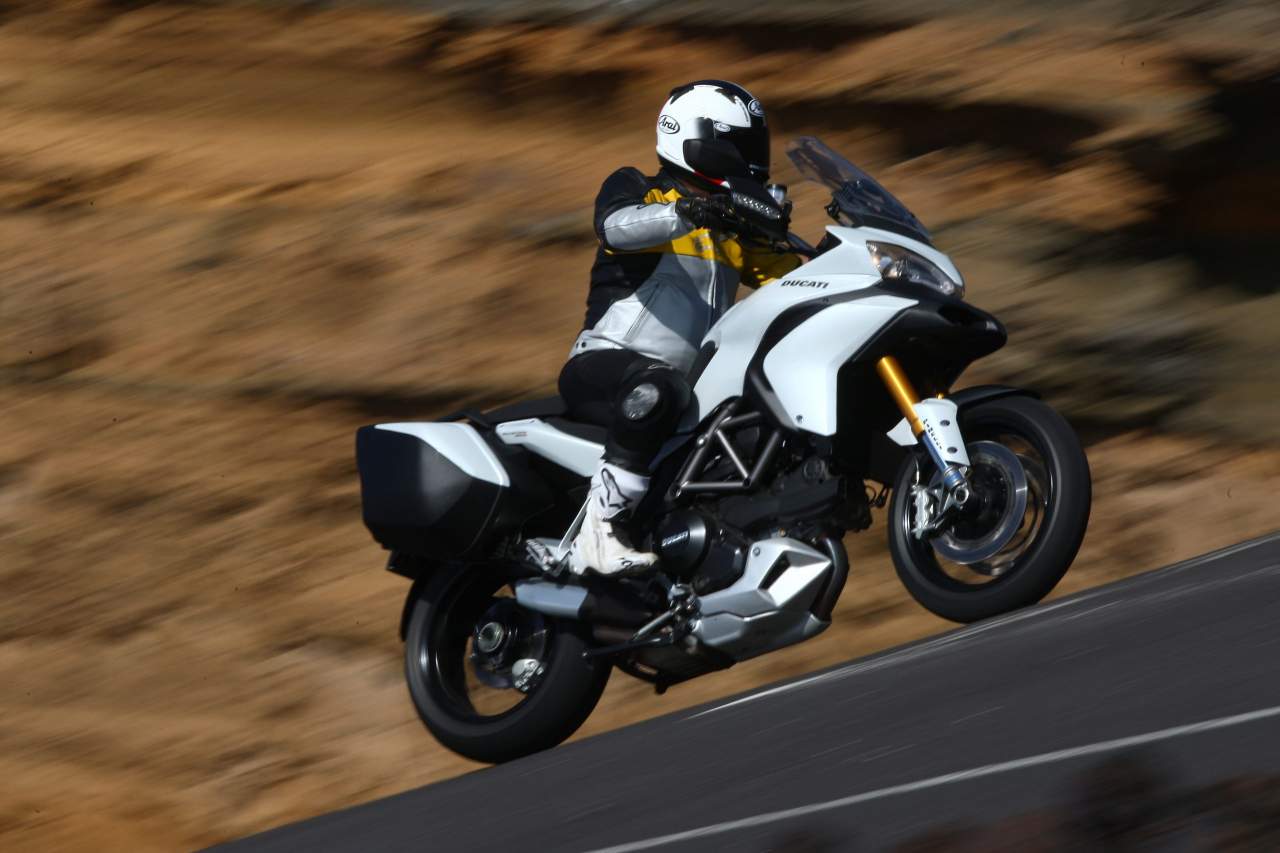 The Multistrada isn't used for racing, so there's no 'R' version, but the 'S' follows the same path as earlier bikes. Ducati fitted Öhlins forks and shock to the bike, bolted on lighter wheels, and ABS (which was optional on the base bike) as standard. Even better, the Öhlins suspension was the electronically adjustable semi-active version, making the 1200 S even more capable on road and gentle dirt road riding.
If you're looking for a used version, hang on for the S if you can. The slightly extra cost is more than repaid by the ABS and electronic suspension.
Look at the Ducati Multistrada 1200s in action…
Ducati Multistrada 1200S Bike Spec
Top speed

148 mph

Weight (dry)

193 kg

Average fuel consumption

53 mpg

Seat height

803 mm

Capacity

916 cc

Engine

Four stroke, DOHC, 4v
Ducati Multistrada 1200S Bike Insurance
Ducati Multistrada 1200S Bike Gallery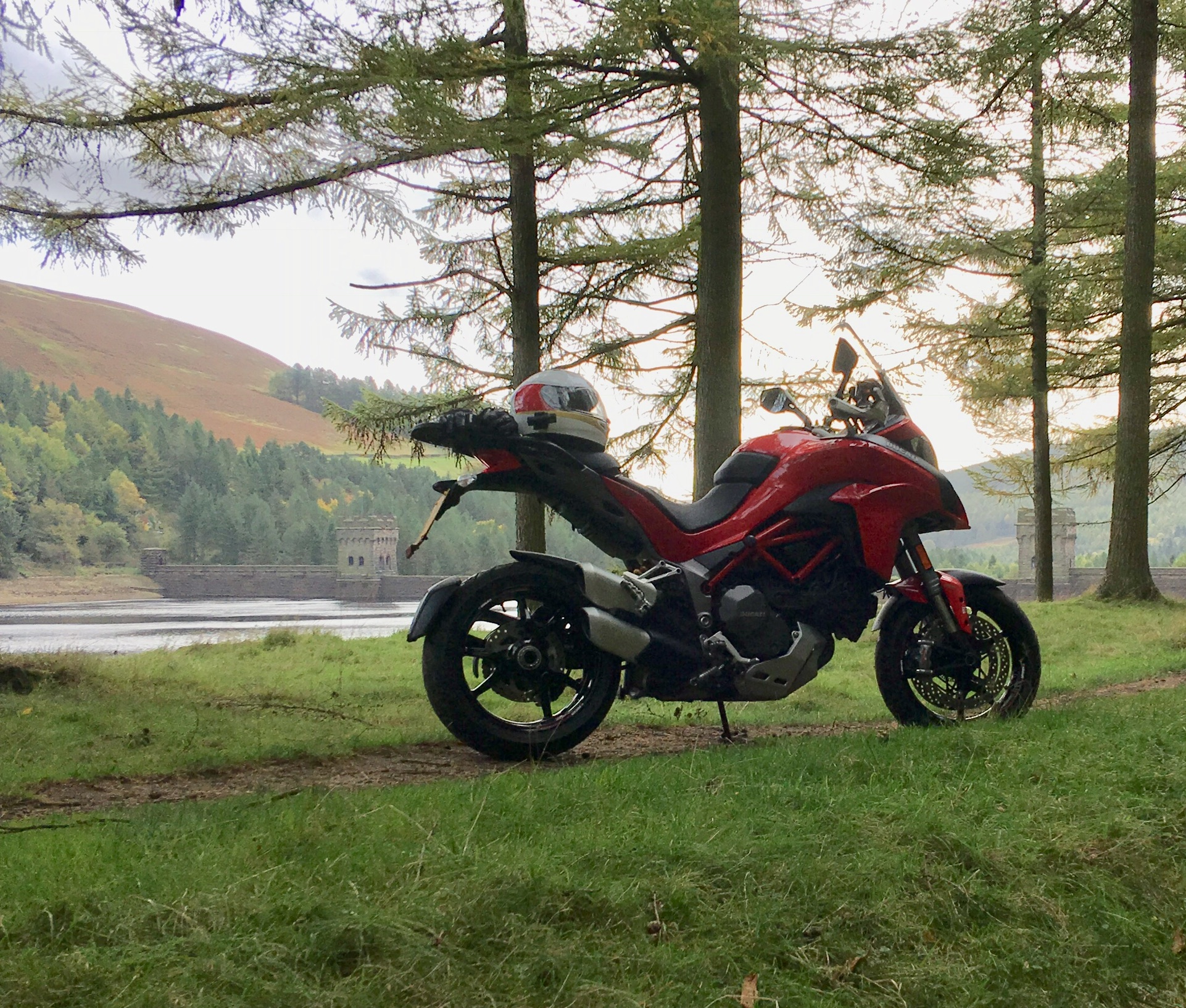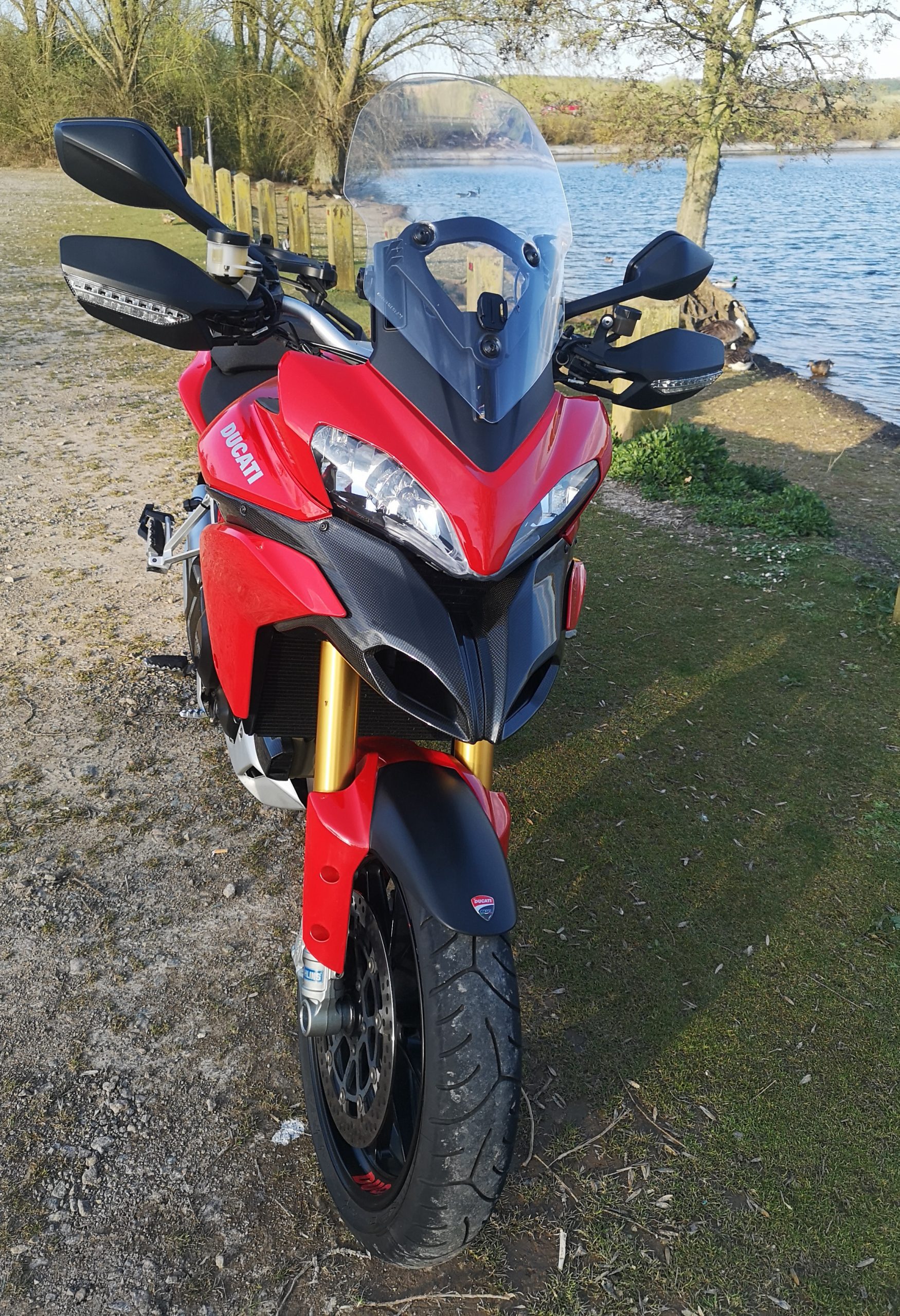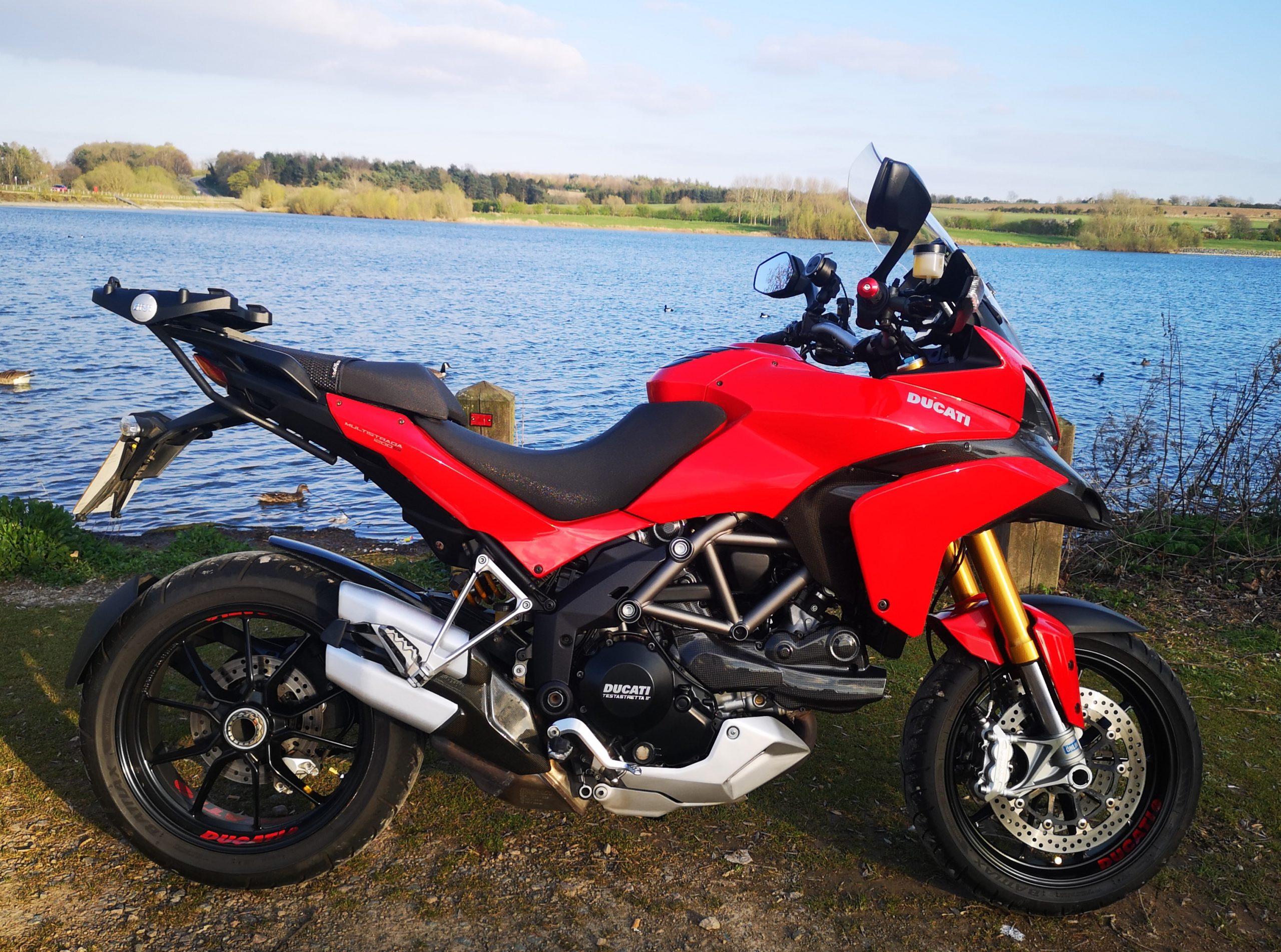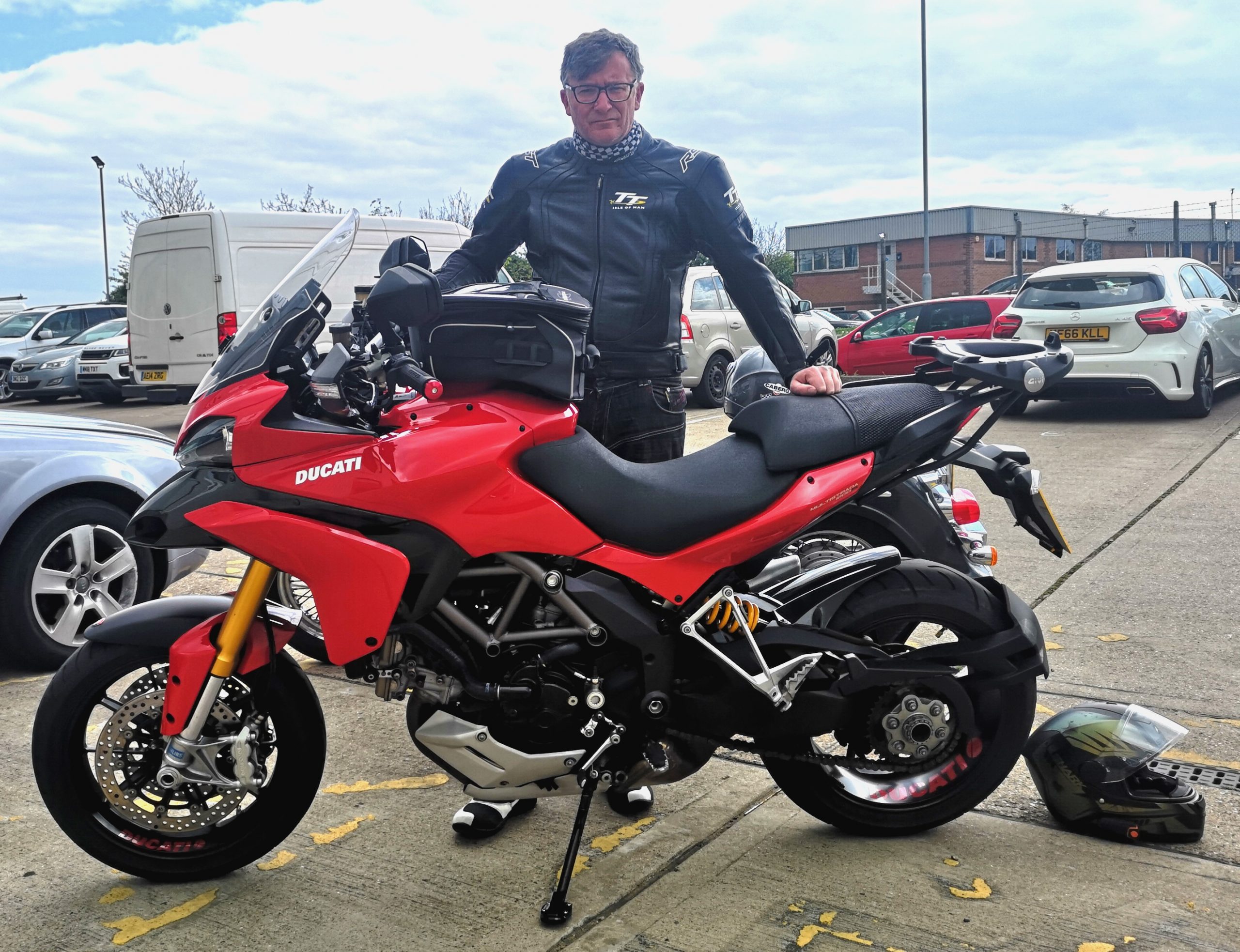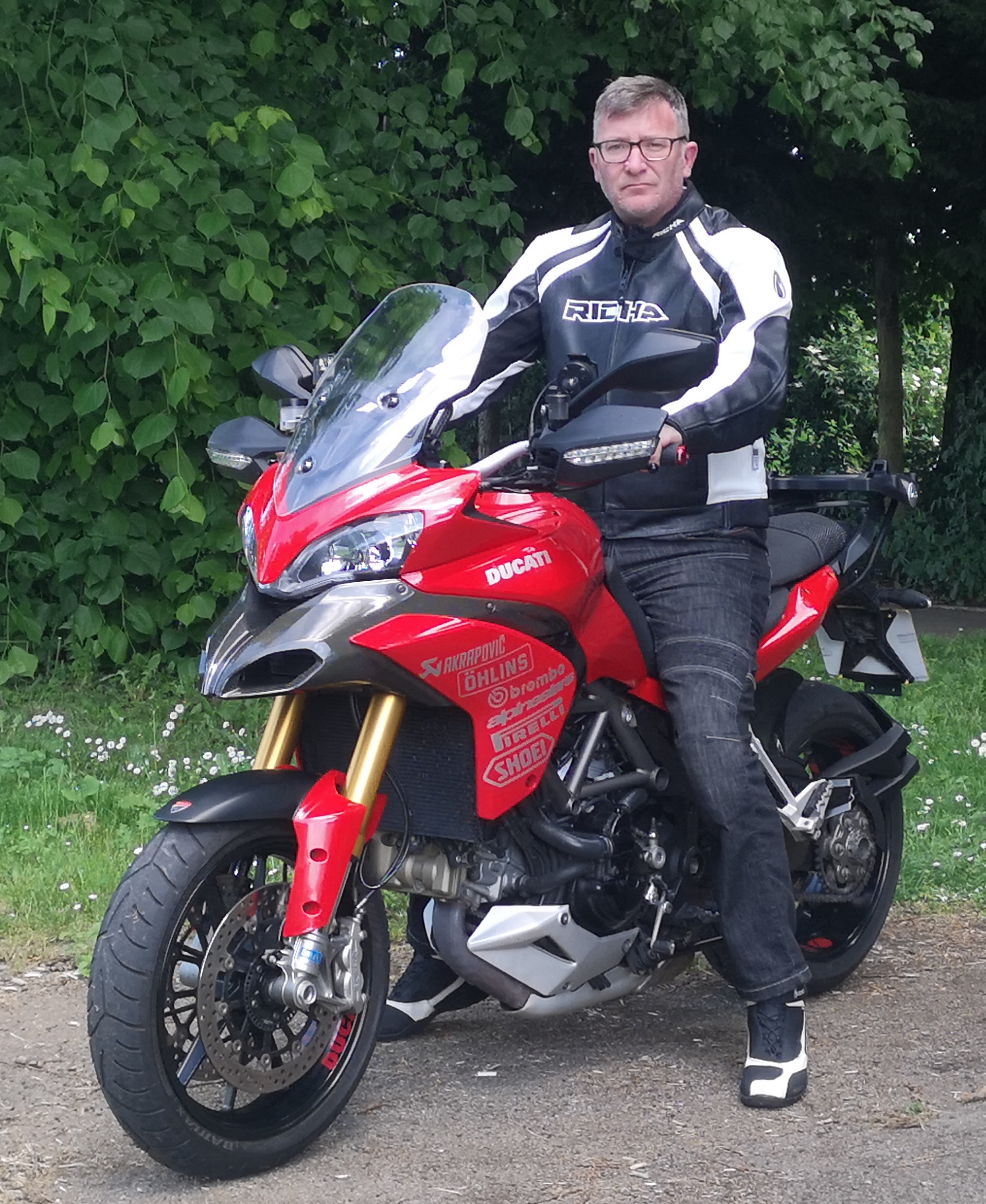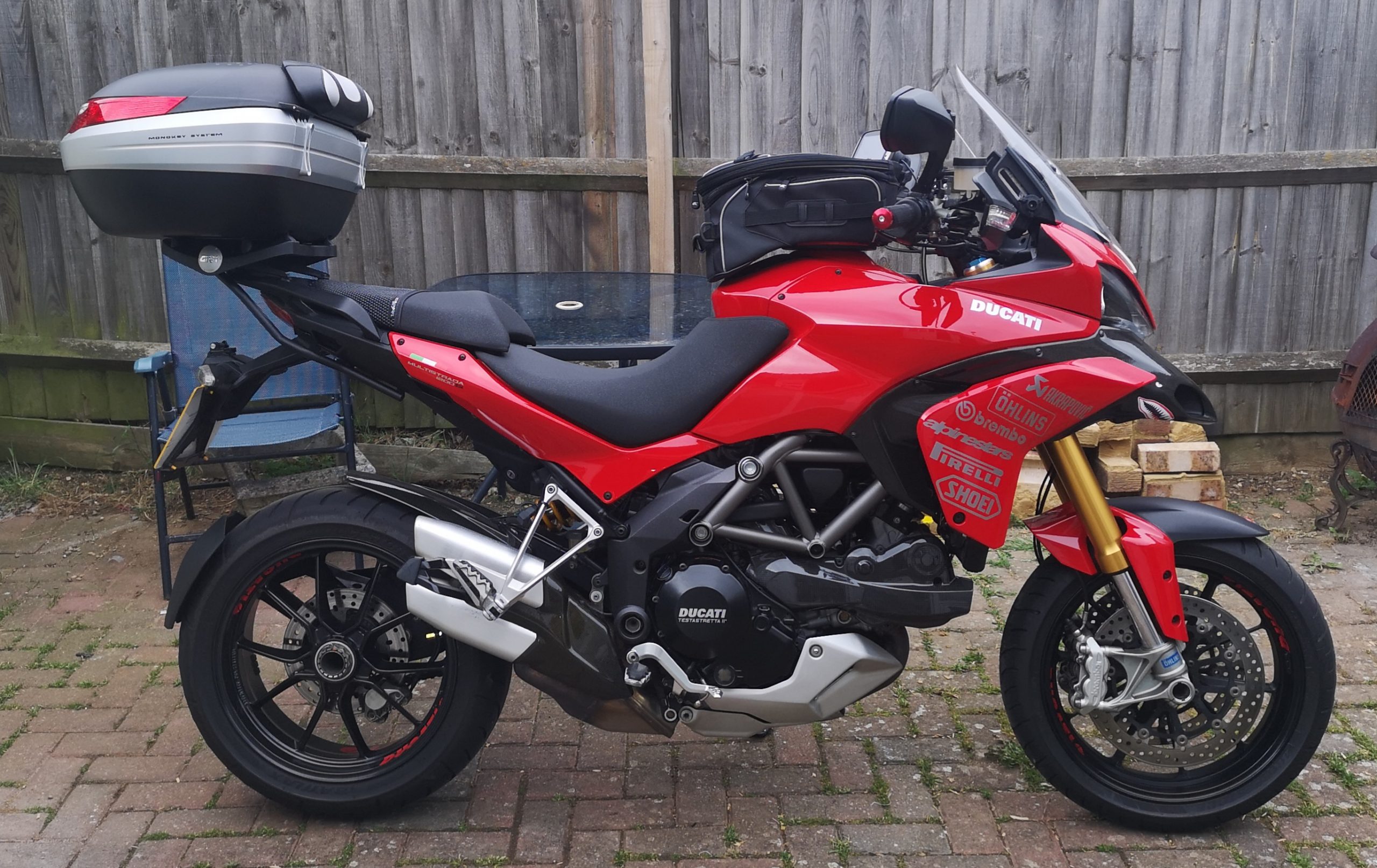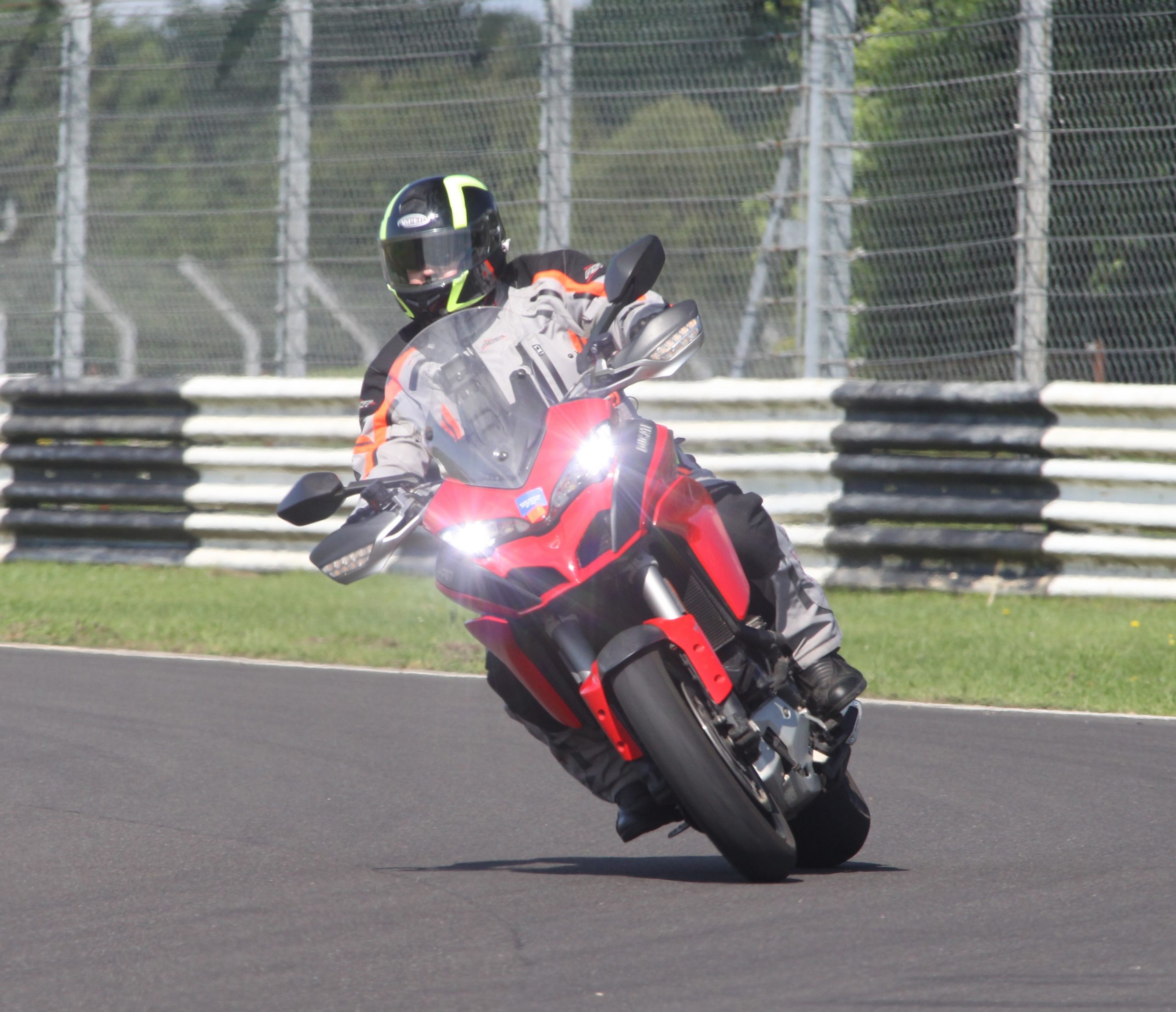 Owner Reviews
Pros
The best thing about the Multistrada is its flexibility. Tour, bimble, scratch, it really does live up to its name. It even has 'Enduro' as one of its riding modes, but in my opinion there are better choices if you want to ride on green lanes or off-road.
Cons
The worst thing is the heated grips - they simply aren't warm enough, even on the highest setting.
Read More
Comfort4 out of 5 stars
The Multistrada is a very comfortable bike, no matter what type of ride. Over the past 4 years I've taken mine to Scotland, through Holland, France, Germany, Italy and Austria. At 6'3" I can need to squeeze onto most bikes, but the Multi is always comfy. Only on longer motorway stretches do my long legs start to want to stretch. I've never taken a pillion, but the rear seat looks as padded as the rider's and the distance to pillion pegs doesn't look too small.
Build Quality4 out of 5 stars
Build quality is very good, and you certainly feel you're onboard a quality machine. The only problems I've had are with the front discs, which warped and were replaced under warranty after a few months of ownership and the cat box, again replaced under warranty after 3 and a half years (I took out an extended warranty) as the exhaust flapper valve developed a habit of sticking. Both issues were sorted out without question from dealer and Ducati.
Brake4 out of 5 stars
Braking performance is superb from the twin Brembo M50 front calipers and discs. Less impressive is the Brembo rear brake, but we have come to accept this from modern motorcycles and the laws of physics and motorcycle weight transfer when braking cannot be denied. Having said that, I have known better rear brakes on bikes. Grip from the non-OE Michelin Pilot Road 5's is superb and makes for confident braking.
Ride Quality4 out of 5 stars
The ride quality is really plush. The DVT engine is a lot smoother than older Ducati's and as such is a lot less lump and this adds to the ride comfort. The semi-active suspension is the main reason (along with the nicer dash) that I opted for the S version over the standard model. The suspension is further adjustable within the standard settings and I've made a few tweaks to this to personalise it to my favoured set up (useful considering our harsh B roads in the UK!) It corners very well and only gets upset if a really large bump or hole is hit mid-corner. The bike is reasonably heavy but the weight disappears once you're riding and it's very easy to ride.
Engine3 out of 5 stars
With around 150 bhp available (depending on which reports you read), performance is not lacking. I've only given 3 points, however, as I recently took a KTM 1290 GT for a test ride and THIS made me realise what a big powerful V-twin should feel like!
Running Cost4 out of 5 stars
The Multi is perhaps a little more thirsty than other bikes I've owned, but I didn't buy it for its economy. Insurance is high-ish but at 56 years old insurance costs tend to be a bit more acceptable than for a teenager!
Pros
Great bike, a step up from the Suzuki DL1000 I had before. Did the same trip as last year across Spain for 10 days, the Multistrada was a dream across the mountains, never missed a beat. Ducati seem to have sorted out the reliability and build quality issues (or maybe Audi did?).
Cons
Its a little wide and heavy….and expensive.
Read More
Ride Quality5 out of 5 stars
The electronics just sort it out…..try the enduro mode…great fun on a dirt track!!
Engine5 out of 5 stars
I love twins, and Ducati do the best ones!
Running Cost3 out of 5 stars
Its a little wide and heavy….and expensive.
Build Quality4 out of 5 stars
Much better than before, no issues from new. After 6000 miles, only a rubber mount for the panniers has departed from the bike.
Brake5 out of 5 stars
Brembo, what can you say…….
Pros
Power, comfort, sports capability as well as a serious touring machine – the normal Ducati passionate attachment. A brilliant serious touring bike with heels of character that you can have serious fun with when the other half isn't on the back.
Cons
Mine is a 2010 that I bought from new and the OEM luggage accessories were somewhat lesser quality than the bike, though I assume that has all been improved in time as has the bike.
Read More
Ride Quality5 out of 5 stars
An all in one bike and a serious fun track bike if you want!
Engine5 out of 5 stars
Awesome, Tourer or full on adrenalin fun if you want.
Running Cost4 out of 5 stars
Can get a little expensive.
Build Quality5 out of 5 stars
Up there with its main rival the BMW GS1200 Adventure
Brake5 out of 5 stars
Brembo, say no more.
Pros
Comfort and tech. Bought this bike to tour two up, also wanted to have a little fun when on m6 own, this bike has fulfilled both completely
Read More
Ride Quality5 out of 5 stars
Skyhook suspension is brilliant
Engine5 out of 5 stars
Brilliant engine
Running Cost5 out of 5 stars
Good fuel consumption, servicing costs are acceptable compared to BMW and HONDA
Build Quality4 out of 5 stars
Have few issues, gear position sensor, recall for fuel tank replace, recall for top hose replace
Brake4 out of 5 stars
Rear brake is a little wooden, front brakes are perfect
Pros
I love the looks the power and comfort the fact I can put on the luggage and tour 2 up and also take it all off stick her in sport mode and embarrass my sport bike riding mates.
Cons
The only thing I'd change is the low speed lumpyness.
Read More
Ride Quality5 out of 5 stars
Very light for its size and power. Not smooth in low revs but ducutis love being revved. Corners on rails. Traction control, abs and wide bars are a very good combination.
Engine5 out of 5 stars
Stonking 1200cc 150bhp engine. Not great at low speeds through towns or filtering,even when you dial down the bhp to 100. But as soon as you open her up I dare you not to smile. Fantastic pick up in any gear.
Running Cost4 out of 5 stars
No more expensive than any other bikes really. Belts now last over 10k miles. Mpg on a 70mph run can be in the 50s open her up and it can drop to 30ish. £20 to fill up.
Build Quality4 out of 5 stars
Good build quality. Nice deep paint. Lots of rider aids and premium parts. All of which have never let me down. Touch wood.
Brake4 out of 5 stars
The bremo brakes are top speck along with the abs and traction control stopping in any weather or speed never fazes you.
Pros
It does everything well. Multi use machine.
Read More
Ride Quality4 out of 5 stars
For a big bike it handles really well. Weight is not an issue . A very well balanced bike.
Engine5 out of 5 stars
Pulls like a train.
Running Cost4 out of 5 stars
Does depend on riding style.
Build Quality2 out of 5 stars
It's a Ducati!
Brake4 out of 5 stars
Brembo.
Pros
An overall competent bike that simply gives me pleasure in riding. I think on the go the nimbleness of the bike is one of the outstanding features
Cons
The bike is sadly a tad top heavy, at 5' 8" I have to keep my attention on the bike when moving it around when parking etc.
Read More
Ride Quality5 out of 5 stars
Once up and running the bike performs remarkably well for an "Adventurer" style. I have done both IAM slow riding courses and IAM track days and it is nimble, with a substantial steering lock that Duacti's have never been particularly renowned for
Engine5 out of 5 stars
The bike has 4 modes, all of which have been used. Around town the "Urban" model delivers a sensible 100 Hp with a nice and consistent delivery of power. The "Sports" mode, like the "Touring" modes, unleashes 160 Hp and that really does allow the bike to perform well. Loads of traction and wheelie limits brought into each mode, all of which can be modified by the rider.
Running Cost4 out of 5 stars
Given a 4 - Ducati's can be high maintenance compared to others but I have not had the bike long enough to give an accurate grading.
Build Quality4 out of 5 stars
So far I have had no issues. The build quality looks good but basic jobs have been over complicated by the design and the amount of fairings etc. that need to be removed - hence the 4 rating
Brake5 out of 5 stars
Brembo brakes have a nice proportional feel in traffic etc. On the track I used the standard brakes to the maximum and the feel was excellent. I can't fault these. However, the rear brake is known to have overheat issues with the fluid being close to the exhaust. Worst case is that it may require the occasional bleed to de-gas. The rear brake takes some getting used to but there is plenty of adjustment to get a suitable operation.