Pre-season testing is a crucial part to any racer's season. The opportunity to run consistent, fast laps whilst ironing out and overcoming any set-up issues or deficiencies of a new or different machine – as well as adjusting to, possibly, a new team and mechanics – is one that will ultimately pay dividends as the season progresses. However, like any high speed sport, there's a tightrope upon which each racer is walking and, occasionally, it's not possible to stay on that tightrope.
You have to ride fast in testing otherwise there's little point in doing it – you'll never find any problems whilst touring round on half throttle – but that brings with it risk, just as it does in practice and qualifying on a race weekend, and it can sometimes change the course of how the Championship season will unfold.
Reigning British Superbike Champion Shane Byrne has been one to find that out this last month, suffering a broken hand at Cartagena, Spain whilst one of the British Supersport Championship favourites, Graeme Gowland, fared even worse at Guadix with a broken femur the outcome. It's not the first time such incidents have occurred and it certainly won't be the last.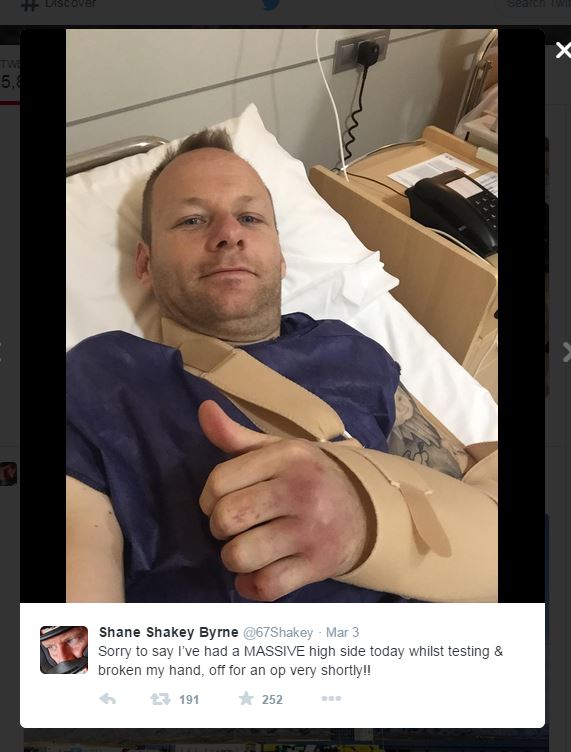 Byrne's injury will heal quicker and the 'Showdown' rules in place in BSB mean victories in the opening rounds aren't as crucial as what they once were. He'll be aiming for the race wins, naturally, but if they don't come, third, fourths or fifths won't be the disappointment they could have been. Consistent finishes will keep him in the mix so that when he's fully fit, wins, podiums and the all-important podium credits will come his way.
For Gowland, whose crash occurred on just the second day of his test programme, he faces a task which is considerably more uphill.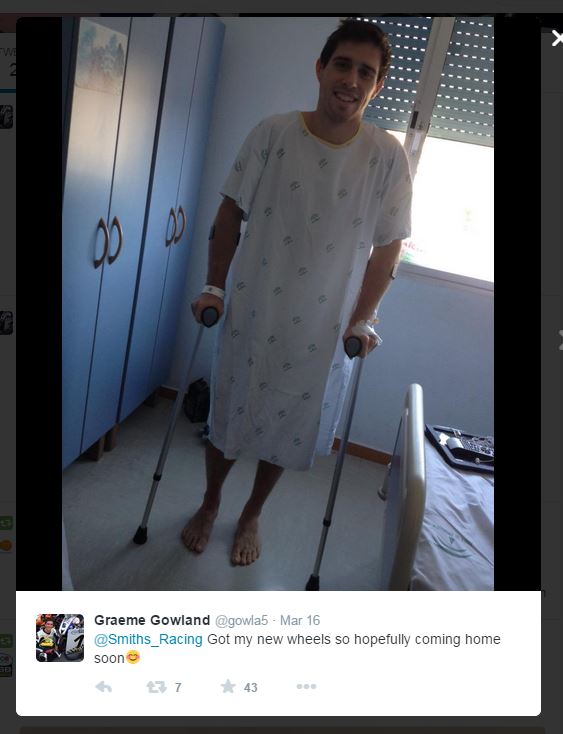 With different rules in Supersport, every point is crucial and although there are two races at each of the 12 rounds and plenty of points up for grabs, he could find himself with a 100-point deficit after just the opening two rounds. Even if he makes it on to the gird in time for Donington Park's opening round at Easter, he won't be anywhere near fully fit whilst he'll have had no test time compared to that of his rivals.
Hopefully it won't be the case but his season could be over before it's even begun which illustrates the fine line between success and failure for a motorbike racer each and every time they take to the race track.
Having started watching motorcycle races all over the world form childhood, Phil Wain has been a freelance motorcycle journalist for 15 years and is features writer for a number of publications including BikeSport News and Classic Racer, having also been a regular contributor to MCN and MCN Sport. He is PR officer for a number of teams and riders at both the British Superbike Championship and International road races, including Smiths Triumph, Quattro Plant Kawasaki, John McGuinness, Ryan Farquhar and Keith Amor. He is also heavily involved with the Isle of Man TT Races, writing official press releases and race reports as well as providing ITV4 with statistical information.