Jordan Gilbert and the HARIBO Starmix Team took to Snetterton race circuit for an official BSB test day. Jordan had his fair share of trials and tribulations throughout the day but has he finally found a cure of the dreaded Arm Pump…. 
"I've raced at Snetterton before and have always enjoyed it.  So I was quite looking forward to being on the track again just for a day's testing, we would get four sessions over the course of the day.  My first was a 40-minute session; it gave me plenty of time to recall the Snetterton straights, turns and my braking points etc., to get well settled-in before then trying for some seriously fast laps.
For my first attempts I used the racing lines and braking points that I'd used here before.  I then started trying a different combination of lines.
During that first session I lapped at 1 minute 57; that was OK for starters.  
The other thing I needed to consider was my tendency to develop Arm Pump.  I needed to work out whether (at the BSB race meeting here in June) will I need to specially prepare and pre-stress my arms and my blood circulation before each BSB session?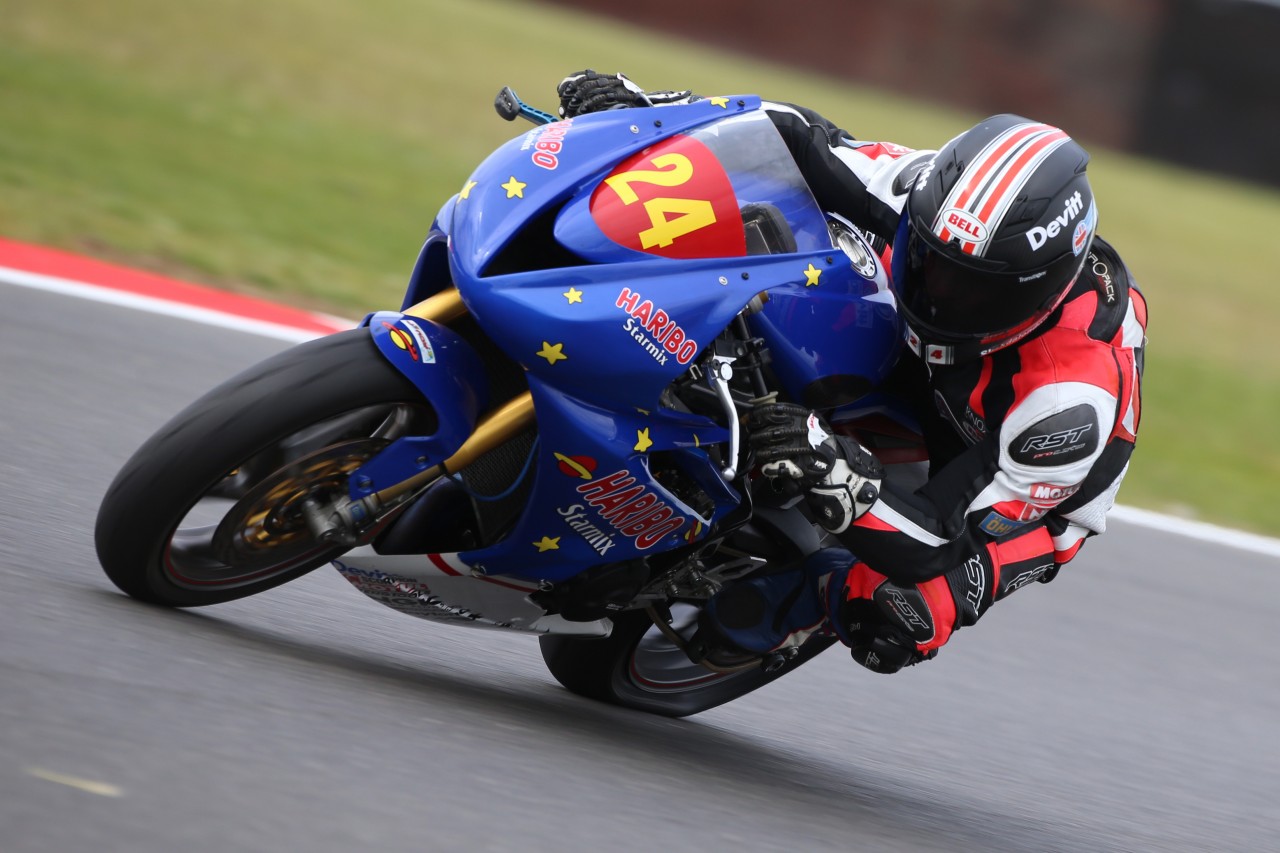 So in my 2nd session I focused on how much pressure my forearm muscles would need to bear.  As I rode the track in Session 2 I figured that, as Snetterton has the longest straight of all the BSB circuits, and as there are some other fairly-long runs between the many turns, I reckoned that my forearms could and would hopefully stay fairly relaxed out there – provided I remember to breathe and take in the essential oxygen. 
When you're out there forcing your bike around the turns it's quite easy to momentarily forget to breathe, it's almost natural to hold your breath while negotiating tricky turns – just like you do when driving a car through a tight gap. If your blood is robbed of oxygen at times of physical and mental stress, it's likely that Arm Pump will quickly develop.
Anyway, my arms didn't play up at all throughout the day's sessions.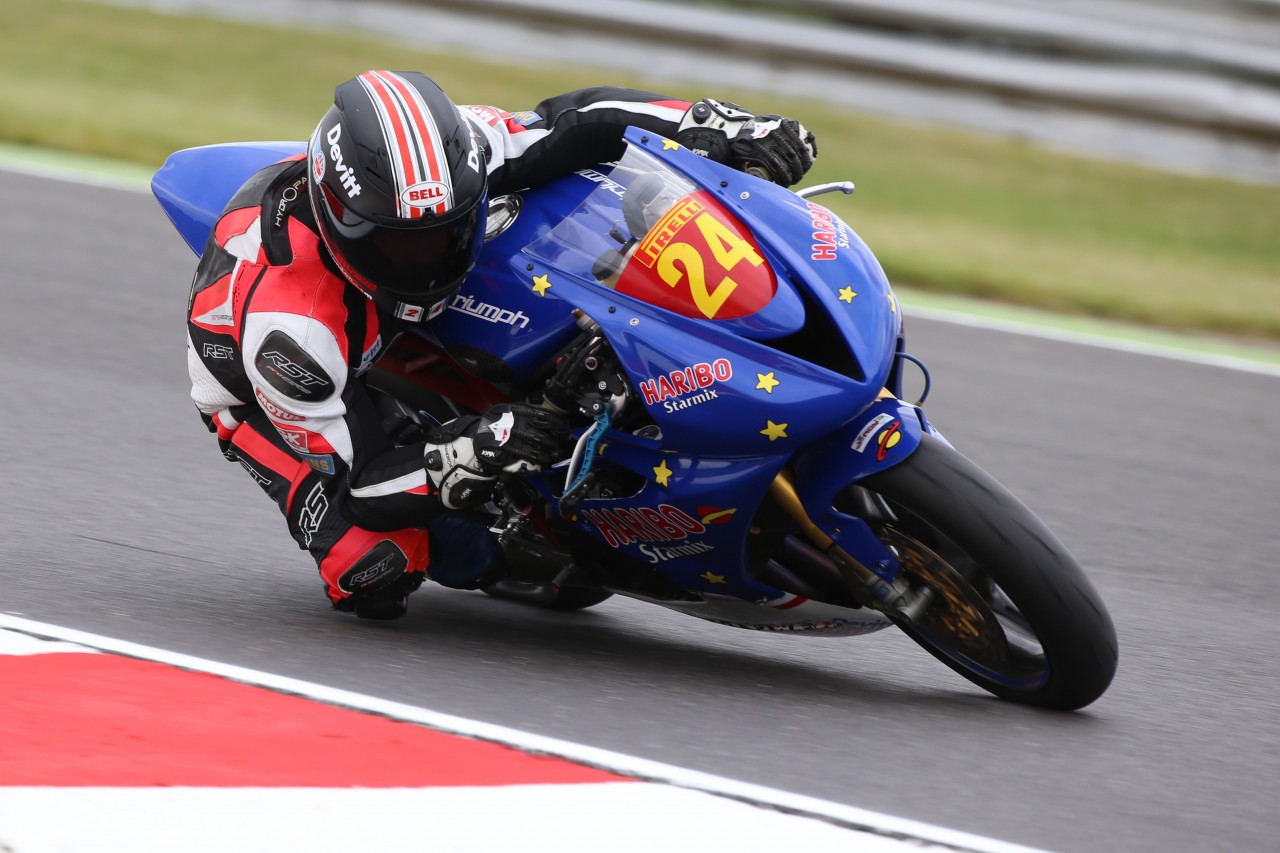 Progression:
I went into the 3rd session after having made a few changes to the bike's set-up.  We altered the gearing slightly and changed a few things to the front suspension – to stabilize while braking, and to help absorb some of the bumps in the tarmac.  These changes worked really well.  I was now able to push-on over the bumpy sections and I felt more confident on the faster sections and the heavy braking parts.  It was now much easier for me to push on.
I managed a time of 1.54.5 which is around 0.7 off where I wanted to be, so I was happy with that.
I knew that, with a bit more pushing in certain areas, I could get down to my target time.  
I went out again and for my 4th and final session of the day, and went a little bit quicker but by this time the tyres that I had on were well past their best, so I came in and we fitted new tyres.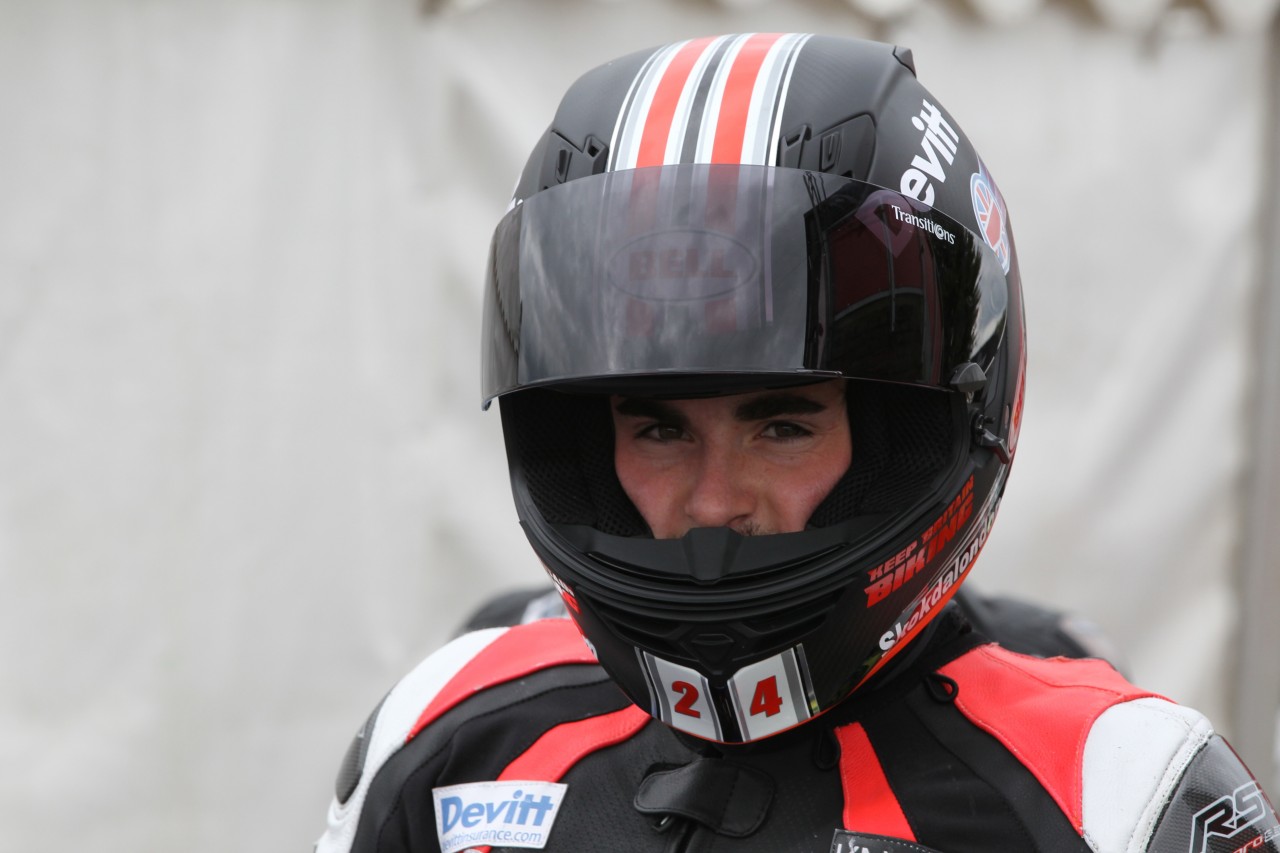 For the last session I wanted to really push to reach my target time.  I pushed hard for five laps and then decided to go for it, but I then realised that I was now pushing too hard around Oggies – it's a fast left-hand corner – the bike lost grip on the rear tyre and it threw me off the side.  I landed on my head and neck, and then my back. my left leg and hip took more impact.
This was one of the heaviest crashes I've ever had.
Initially my body felt quite numb, but I was now really hurting.  As I lay on the side of the track, the pain gradually started to subside; I felt some bumps and bruises; nothing worse than that thank-goodness.  My hip and neck were the sorest points but soon didn't cause me too much pain.
The bike however was looking a lot worse off than me. 
Crashing usually comes straight out of blue and takes you by surprise.  When it starts to happen at high speed, you have very little chance of saving it.  This crash was sadly one that I couldn't save, the rear came around on me and bucked me sideways and up in the air; it was like a high side but it didn't spin me all the way around.
I decided to let the bike do its own thing – I was thinking 'maybe if held on, it would settle and it wouldn't throw me completely off'.   But it wasn't to be.  The bike had its own idea.  After the rear wheel suddenly regained grip, the bike chucked me clean off."
Check out the full gallery of Jordan during the BSB 2015. 
Gallery