James Jackson, Racing Principal: it's our first BSB race meeting of the season; it's a long and tedious 4-days, but our 17-year-old rider Jordan Gilbert is ready. After pre-season testing – in Spain and in the UK – Jordan's skills have strengthened significantly and he is ready to get out on the track and see what he can do. 
Free Practice (FP): we end the session 20th fastest out of 42 riders; even at 20th Jordan is only 1.5 seconds off pole; so they are clearly on the pace.
Quali.1 (Q1): was bright and dry.  But with heavy rain forecast for tomorrow's Q2, this was probably our only opportunity for fixing our positions on the start grid, Jordan qualified 20th.
Q2: the forecast had been spot-on.  It was cold, wet and miserable.  And some forecasts predicted more of the same for raceday.  So we went out and raced for a good wet-race lap-time too.  The two wet-sessions before ours had resulted in literally half the field of riders falling off.  Unfortunately we were no exception.  Jordan slipped off – just a gentle fall – but was able to remount after a safety check on him and the bike.  The lap-times were never going to change tomorrow's grid positions.
The Race: it was a beautiful day.  During morning warm-up we could see that the many changes we'd made during the weekend would do well for our rider.  Jordan's race start was good and strong and he was quickly up to 14th – from his 20th start position.
But it then went horribly wrong for; Jordan got involuntarily-collected in someone else's accident.  He had no option; there was nothing he could do; his bike had been knocked from under him.  Jordan's race was over.  Five riders went down, and then two more,…  Red Flag.
The race restart saw seven riders missing; safe but missing; it was now a 14-lap race, rather than the planned 22-laps.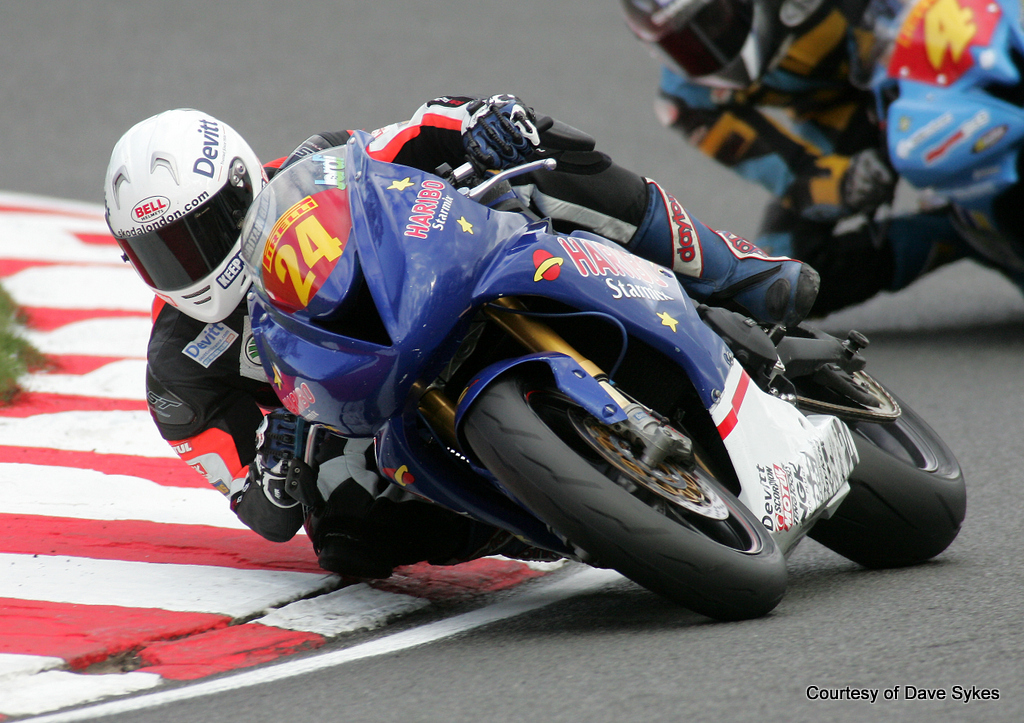 Jordan Gilbert #24: I was eager to see just how much stronger I would perform here, versus last season.  And how would I compare?  I've put in lots of pre-season training and testing to ensure that  I get a strong start.
FP: The bike just needed some tweaks here and there.  I made a reasonable start to the season by finishing 20th fastest – out of the 42 riders on track.
Q1: It was dry – as had been forecast.  But, as Quali 2 was outlooking 'wet', I worked on the basis that it would be my only dry Quali. session. We made some good changes to the bike's setup and gearing; the new gearing meant I'd need fewer downshifts, and that in turn, would made the bike more settled.
I cut my laptime considerably.  I was happy with my Q1 times.  I qualified with a time of 48.6 seconds; that was some three seconds faster than my best time here last year, yet it left me back in 20th on the start grid.
Q2: this was the wet session we'd anticipated.  I headed out just to get some wet practice – in case tomorrow's race was wet.  And I had a slight 'off'; after completing some six laps, there I was, heading down from Druids to Graham Hill bend… I knew it was slippery (as I'd seen the many fallers in the earlier sessions), so I took it easy to make sure I got round the corner.  But, just as I exited the corner and picked the bike up on a closed throttle to the fat part of the tyre, I opened the throttle ever so slightly and the next thing I know: I am on the floor.  It all happens too quickly to be able to remember everything about how and why it happens.  But luckily it was only a gentle "off".  After getting Cy and James to wave the wand and fix the bike in double-quick time (and getting me and the bike re-scruitineered), I managed to compete three more laps before the session ended.
The Race: On the grid, higher up than was usual for me last season, I was both excited and apprehensive.  At 20th on the grid I felt I could achieve some race-points.  (You get points if you finish between 1st to 15th.)  After completing the essential pre-race warm up laps, I was SO ready to go.  I got a cracking start,  gaining three places immediately and then more on the way into Paddock Hill bend.  As we were braking into Druids I broke very late – to prevent a challenge from another rider up the inside of me. This plan worked well, until I then saw a bike "up the inside of me into the right hand turn" after another attempt from this rider, I allowed him room… I sat-up my bike up just slightly to avoid a collision and as he came past, I saw him lose grip and I then saw my bike slide away from beneath me.  My race was over.  Darn it!  Things like this happen very often in this sport, but we have to move on and concentrate on staying strong and positive. I know now enough to be able to further improve my qualifying performance.  The nearer to the front that I can qualify, the better the quality of those riders around you.  Despite my only completing a quarter of a lap, I now know that I could have achieved a solid top 15 finish. The team and I know that I could have scored some race-points and put myself on the TV leader-board for the Superstock 600.
I'm really pleased to be back with Team HARIBO Starmix team for my second season and it's great to have Charlie as my team-mate.  I know that with my determination and new level of fitness and focus, plus the team's continuing help, I will repay them and my sponsors with some strong results this season – as a thank you for the consistent support that they have always shown me.
Derek Sanders, Commercial Principal: we've been very quiet on the web and on email updates too as we've been putting all effort and resources into getting our two riders up to peak fitness and letting them stretch their skills out on the tarmac. 
The fitness side of our team is led by our young Jack Groves – Jack has ridden for the team as a stand-in rider in previous years; he runs a business called RaceFit http://www.theracefitprogramme.com/  Jack's been working with Jordan and Charlie through the winter months and his guidance has already made a massive difference.  We have no doubt that our race results will get stronger as the season progresses.
Here we are in Cartagena, Spain (in the first week of March).  From the left you'll see: Cy (at 6'3") our lead mechanic for Jordan, then 5'9" Jordan, then our James, then new recruit Charlie (he's also 6'3"; he might be tall, but he tucks in so well on the bike (if he wants to brake, he just 'sits up' J),.. and finally our technical lead for Charlie, Scott is on the far right.
Many thanks and kind regards, Derek
For Derek Sanders and James Jackson
Ride Now Racing Ltd – a not-for-profit company dedicated to supporting talented young riders.
Racing as Team HARIBO Starmix in BSB Junior Superstock 600
Preferred tel: 07711 058 777 (mobile) or 0208 287 2857 (home/fax/voicemail)