O'Halloran dominates
The latest round of this year's British Superbike Championship took the riders and teams to the high-speed Thruxton circuit, and it served up three, thrilling races.
Fast circuits yield great racing and that's exactly what we got at the Hampshire venue with Yamaha's Jason O'Halloran dominating with a stunning hat-trick.
Back in contention
A month ago, O'Halloran was slipping further out of contention but a brilliant weekend at Thruxton, where he became the most successful Yamaha BSB rider ever has turned that around and he's very much back in the title race.
The gap to championship leader Tommy Bridewell is now 50.5pts which is a lot more manageable than the gap of almost 100, which it was after the previous round and that only goes to show how quickly fortunes can change in the BSB series.
Much was expected of O'Halloran coming into the Thruxton meeting as it's a circuit that has suited both him and the R1 Yamaha in recent years. All Yamaha riders have performed well, and O'Halloran's three victories made it eight wins in the last nine races to take place at the venue, which only highlights his dominance.
It also moved him to a BSB career total of 26 BSB wins, moving him ahead of the previous best Yamaha rider, Niall Mackenzie, who took 24 wins.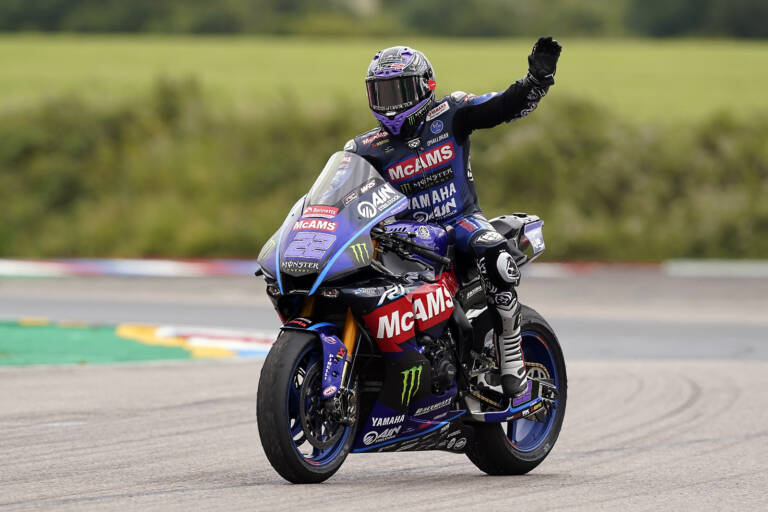 When it all clicks, O'Halloran is a class act and his performances at Thruxton were simply sublime, especially races and two and three.
Held over the longer distance of 20 laps, six more than Saturday's Sprint race, O'Halloran ran as low as tenth before moving his way through the pack, saving his tyre perfectly – crucial around the abrasive 2.35-mile circuit – to hit the front with just a handful of laps to go.
He timed it to perfection, even if he did cut it close in the final race, and it was as good a hat-trick as you're likely to see.
"It's been the best weekend of my career and coming off the back of a couple of average rounds to bounce back like this is exactly what we needed," he said.
Disappointing weekend for Ducati
For the third year in a row, Ducati riders struggled at Thruxton with Bridewell, BeerMonster Ducati team-mate Glenn Irwin and Christian Iddon on the similar Oxford Products Racing machine all fighting for points at the lower end of the leaderboard. Irwin and Iddon took a best finish of ninth each, but Bridewell fared a lot worse.
At a circuit he's always found it difficult to replicate his form from elsewhere, he only picked up five points from the three races – two 14th's and a 15th – which saw his lead over Irwin in the title standings cut by eight points to 26.5.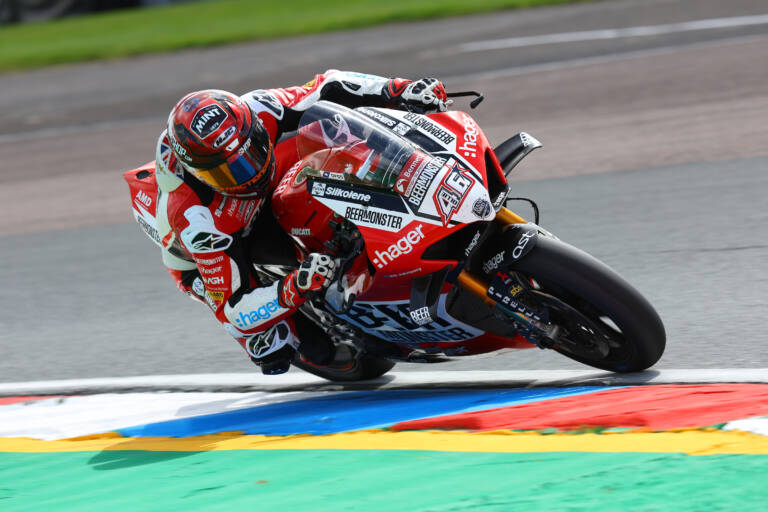 Edge grip was the main issue and whilst both he and the team knew it would be a tough weekend, the results were worse than what he'd anticipated. Indeed, if it wasn't for Danny Kent and Jack Kennedy crashing on the final lap of the final race, he wouldn't have scored a point at all.
Iddon's podium from 2021 is the only one the Ducati V4R has to its name at the circuit whilst Bridewell – in his long BSB career which now stands at well over 350 races – has never finished higher than fourth. It's clearly a circuit neither he nor the Ducati gel with.
Every bike has strengths and weaknesses and perform better at certain circuits, BeerMonster Team Co-ordinator Johnny Mowatt succinctly said Thruxton highlights their weaknesses more than anywhere else. Just as the Yamaha R1 is in its element at Thruxton, the Ducati isn't.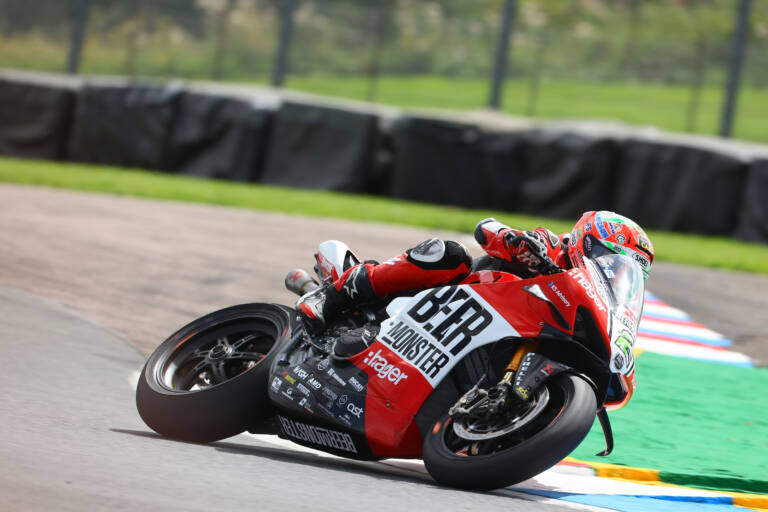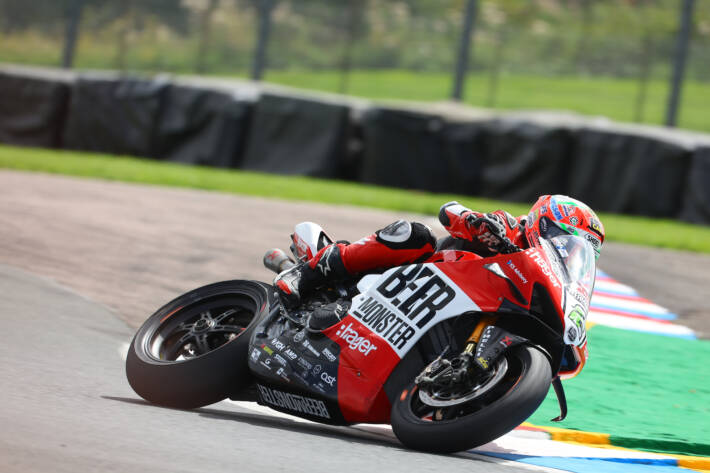 Although the results weren't anywhere near what was expected, Irwin was the more upbeat rider as he reduced his deficit to Bridewell in the standings which was an obvious aim at the start of the weekend.
The team-mates also know they've four of their best tracks remaining this year – Cadwell, Oulton, Donington and Brands – so will be confident of reasserting their authority at them. But as Irwin pointed out, their performances have invited O'Halloran into the title race.
Title hopes gone?
Just like Ducati, the BMW's also struggled around the Thruxton circuit, none more so than former champion Josh Brookes. After moving from PBM Ducati to FHO Racing BMW, the Australian was a firm title challenger early in the season, winning two of the first four races but aside from a strong showing at Snetterton, the wheels have come off since.
A poor round four at Knockhill was offset by a double podium at Snetterton, but he only managed one top ten finish at Brands last month and it got even worse at Thruxton with just one points-scoring finish which was 15th in race one, a lack of grip again the reason given for his lowly results.
The venue was kind to him in his early BSB career, with a career total of nine wins, but more recently it's been a struggle.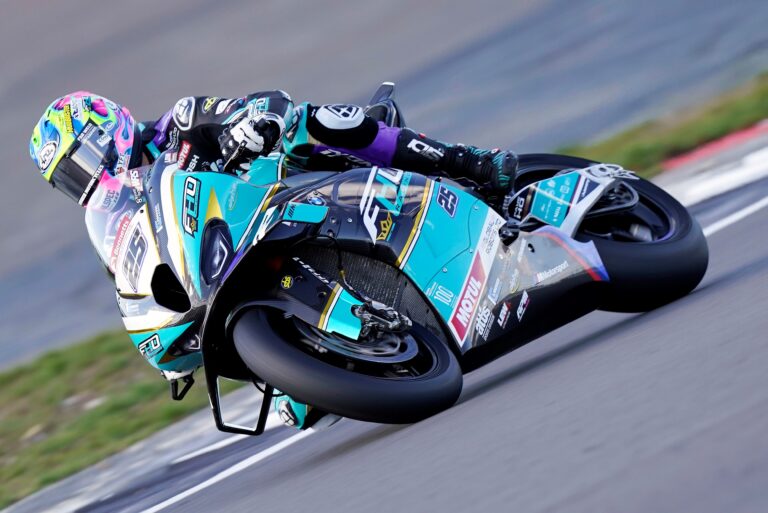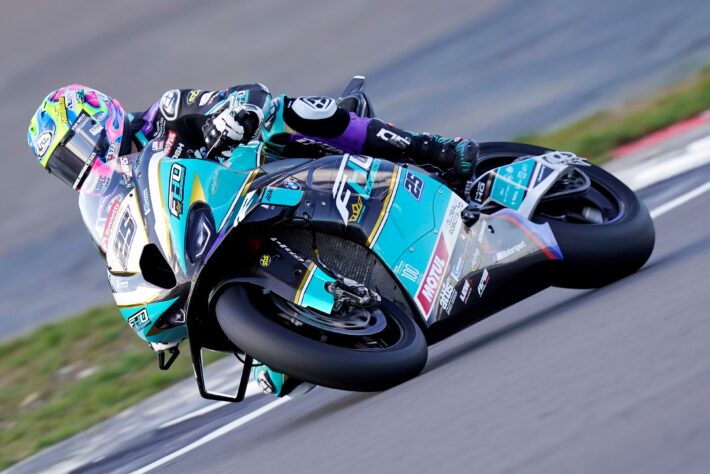 Indeed, in the last three years, he's scored just four points in nine races and just as he struggled on the Ducati in 2021 and 2022, he struggled on the BMW this year.
Finishes like 17th and 20th are far from the norm for the Australian and his tail off in form this year has been quite spectacular with Thruxton the latest disappointment.
"I can't really explain what's happened this weekend as I don't really know," Brookes, honest as always, said. "Obviously we would expect far better than the results we've had this weekend, there's no way we could even imagine to finish where we have but from the very first session of the weekend the BMW wasn't performing to the level that it needs to."
With ten points from the last seven races, when the likes of Bridewell and O'Halloran have scored 60+, his title hopes have surely gone.
Youngsters shine
One of the highlights of the weekend was the performances of youngsters Charlie Nesbitt and Max Cook with both running in the leading group in all three races.
The series continues to be spearheaded by riders who've contested the series for years, so it was good to see a potential glimpse of the future.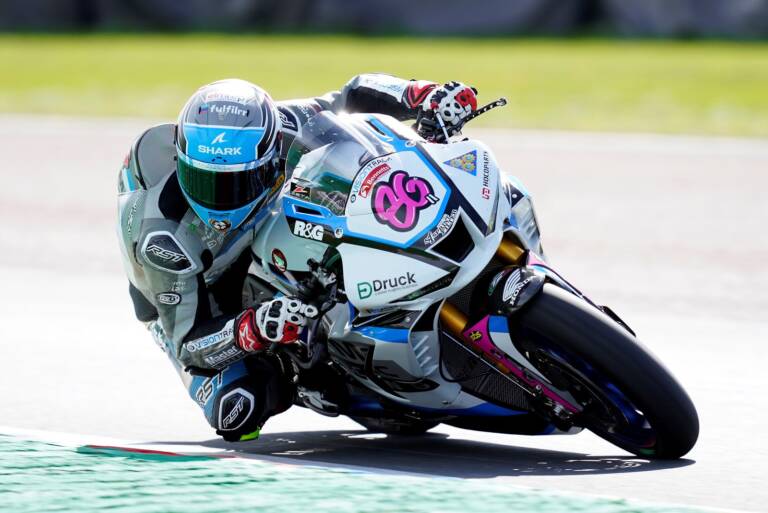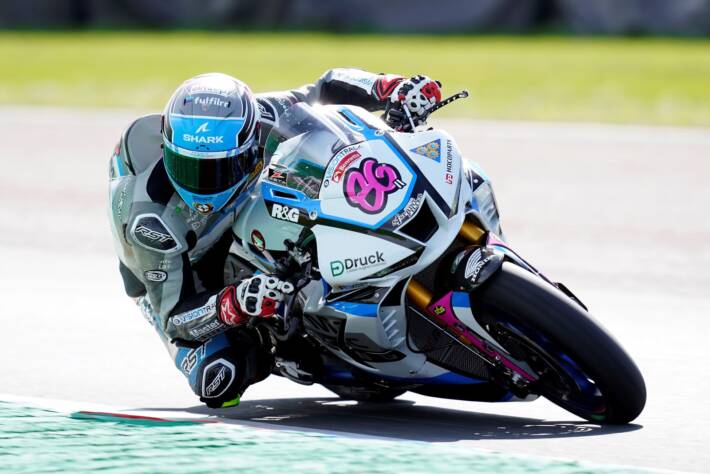 Nesbitt, 22 finished eighth overall in last years' Pirelli National Superstock Championship, winning at Cadwell Park and taking five podiums, so with a full season on the 1000cc machines under his belt, hopes were high coming into the season.
The former British GP2 Champion looked on course for a podium at Knockhill two months ago before crashing out in all three races but he'd clearly learnt from the experience and put in three quality rides at Thruxton to take a podium on each occasion.
Riding for the renowned Hawk Racing team has also stood him in good stead so it will be interesting to see what he can achieve in the second half of 2023.
Cook, meanwhile, won last year's National Junior Superstock Championship, for 600cc machines, and bypassed both the Supersport and Stock 1000 Championships to go straight into BSB this season.
It's a big move and a bold one and has bitten riders in the past, and bitten them hard, but the 19-year old has been stringing together an impressive season.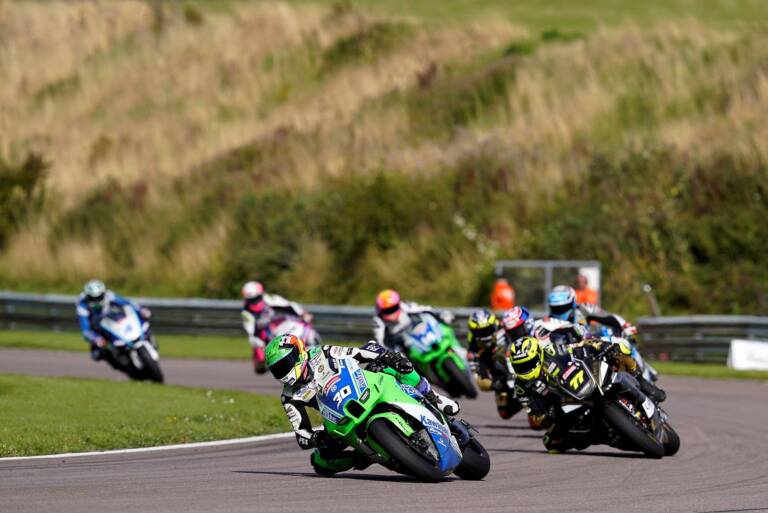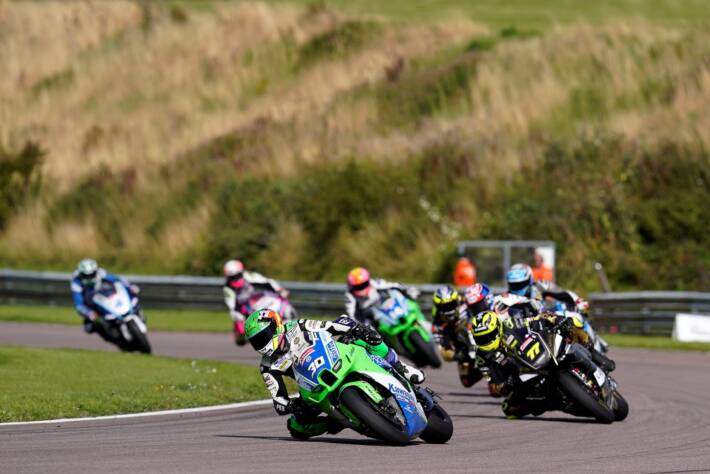 He scored points as early as the second round, improving his performances ever since and, crucially, not crashing. That can dent confidence quickly, but Cook has been doing the opposite, finishing all his races and building momentum.
Thruxton clearly suited the FS-3 Kawasaki but Cook still had to ride it and he looked comfortable leading, which he did for several laps. Two fourth place finishes were the ultimate outcome, and it bodes extremely well for the rest of the year.
Thruxton thills
Thruxton is a unique circuit in that only one meeting takes place a year and the teams aren't allowed to test there either.
That puts everyone on a level-playing field but also presents bigger challenges than elsewhere primarily due to the abrasive nature of the circuit and the fact the bikes spend more time on the edge of the tyre than anywhere else on the calendar.
Finding out what works and what doesn't comes on a race weekend and time is of the essence.
It's also fast, very fast, and the net result of that is superb racing. Every race for every class at the weekend was a belter with big groups of riders contesting the race wins. It's a trademark of all fast circuits.
Just as Germany had Hockenheim, Italy has Monza and Australia has Phillip Island, the UK has Thruxton. Fast and flowing, every year's the same and whilst the infrastructure may not be the best – some elements are tired to say the least – it's inclusion on the calendar is a must every year.
Having started watching motorcycle races all over the world form childhood, Phil Wain has been a freelance motorcycle journalist for almost 20 years and is features writer for a number of publications including BikeSport News, Classic Racer and Road Racing Ireland, as well as being a regular contributor to MCN and MCN Sport. He is PR officer for a number of teams and riders at both the British Superbike Championship and International road races, including PBM Ducati, John McGuinness, KTS Racing and Jackson Racing. He is also heavily involved with the Isle of Man TT Races working with the race organisation, writing official press releases and race reports as well as providing the TV and radio broadcasting teams with statistical information.