Suzuki GSX1400 Bike Overview
It's a bit of a surprise that there aren't more Suzuki GSX1400s around – because it was a fantastic bike, with a stonking engine, great looks and top-notch build quality.
Sold between 2001 and 2008, the GSX14 was a premium 'muscle bike', priced above Suzuki's more basic Bandit 1200 roadster, with its own unique engine, and premium chassis components.
It went up against the likes of Yamaha's XJR1300, Honda's CB1000 and the Kawasaki ZRX1200, with classic good looks, big inline-four engine and commanding riding position.
The 1,402cc air-cooled engine features a 16-valve DOHC head, dual-valve fuel injection and a six-speed gearbox (though it could get by with just five for sure). It's designed for low-down torque and smooth midrange rather than top-end power, but it puts out a decent 107bhp, and will still hit the wrong side of 145mph, (if you can hold on).
The chassis is built around a standard steel tube frame design, with a gorgeous box-section alloy swingarm, fully adjustable twin-shock rear suspension and conventional front forks, plus dual front brake discs with six-piston calipers. There's no ABS or traction control option available – you're completely in charge on a GSX1400…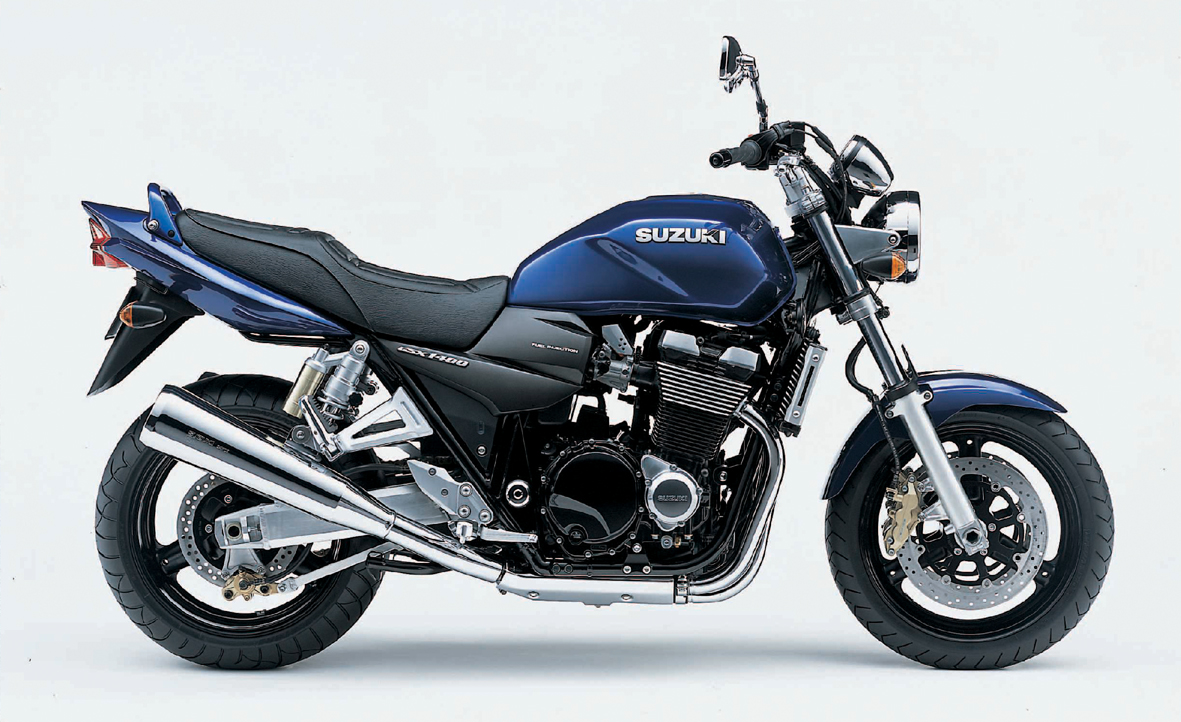 Riding the GSX1400 is a real treat. The engine is a massive powerhouse, especially down low and through the midrange, and it's super-smooth. It's super-stable, even at speed, but handles far more easily than you'd expect from a 228kg (dry) machine. Sportsbike tyre sizes mean you can fit really sticky rubber, the brakes work well if looked after, and there's scope to get more power out of the massive engine easily enough: exhaust and fuelling mods can add 10-15bhp, while firms like Big CC Racing in the UK can supply stronger internals and turbocharger kits to more than double the stock output…
The GSX1400 is becoming a rare sight – but they are out there, and you can get a nice one from around £3500 upwards.
Suzuki GSX1400 Bike Spec
Capacity

1402cc

Top speed

145mph

Weight

229kg

Average fuel consumption

42mpg

Seat height

790mm

Engine

Four stroke, air cooled, 4v, DOHC
Suzuki GSX1400 Bike Insurance
Suzuki GSX1400 Bike Gallery
Owner Reviews
Pros
Lovely to ride on long distances.
Cons
Strength of the frame
Read More
Comfort5 out of 5 stars
Good all rounder
Build Quality5 out of 5 stars
Good frame could have been a bit stronger as when you accelerate you can feel it moving.
Brake5 out of 5 stars
Very good.
Ride Quality5 out of 5 stars
Excellent
Engine5 out of 5 stars
Plenty of power
Running Cost5 out of 5 stars
Can be very economical but depending on how you ride.
Pros
Comfort and smoothness. It's big, it's heavy and very comfy. Super torquey engine which could tow a caravan. Good bottom end grunt.
Cons
Handling is suspect on bends. Headshake from the front end. A steering damper is needed. I love the GSX1400.
Read More
Ride Quality5 out of 5 stars
It's a very heavy bike, but super smooth on the move.
Engine5 out of 5 stars
Solid as a rock, unburstable engine
Running Cost4 out of 5 stars
Handling is suspect on bends. Headshake from the front end. A steering damper is needed. I love the GSX1400.
Build Quality5 out of 5 stars
Built like a tank, never broken down and very reliable.
Brake5 out of 5 stars
Super brakes, front and rear.