Some brands are simply timeless in their appeal. Porsche cars, Rolex watches, Leica cameras, Tiffany jewellery – these firms all produce the best that money can buy, with cachet and style that marks them out from more mundane outfits.
Ducati is probably the most obvious member of that elite class in the motorcycle world. It's not alone – MV Agusta, BMW, even Honda and Kawasaki all produce high-end exotic bikes that deserve massive plaudits. But Ducati has that cut-through into the mainstream that makes the difference. Your non-biking mates would probably pick a 20-year-old 998 over a BMW M1000RR or even a Honda RC213V-S if you asked them which was the fanciest machine of the two…
So – Ducatis are gorgeous, super performing bikes, and we love them all. But here's our pick of the top ten Ducati bikes of the past 30-odd years. We've gone eclectic – just like Ducati's recent range – with the Monster roadster and the Diavel cruiser as well as the latest Panigales and Multistrada. Give us a shout if you think we've missed any!
Monster
Nowadays, every firm offers a sensible-but-capable naked roadster with lively engine performance, a solid chassis setup and sweet looks. Back in the early 1990s though that wasn't quite the case: you could pick up something like the elderly 'universal Japanese machine', bikes like Kawasaki's Zephyr or Suzuki's GSX1100. But modern naked bikes like the Suzuki Bandit, Honda's Hornet or Yamaha's Fazer were still a few years away.
Enter the genius of Ducati designer Miguel Angel Galluzzi. He took a selection of parts from all over the Ducati range, with trellis frame technology from the 851 superbike, the air-cooled two-valve 90° V-twin engine from the 900 SS Supersport, plus a dash of cool design, to make the original Monster 900 – 'Il Mostro' – in 1993.
It made 80 bhp – nothing remarkable at the time – but was light and lithe, with a 184kg dry mass and super skinny profile thanks to the V-twin engine layout. Showa USD front forks and Brembo four-piston front brakes, plus an adjustable rear monoshock gave good handling, and the Monster was an instant hit.
The combination of slick styling, solid performance and cheap entry into the world of Ducati ownership was a great combination. And the sales success generated by the Monster paid for Ducati to go onto greater things, with the 916 superbike and domination in World Superbike racing.
A 750 and a 600 version followed a couple of years after the original M900, and throughout the late 1990s and early 2000s, a slew of excellent Monsters followed. From entry-level 400s aimed at small-capacity markets, to the 130bhp 998-powered S4Rs, the Noughties Monsters were well, er, naughty…
The 2010s saw even more advanced Monsters, with the 1200S and R offering supernaked performance from Panigale-based V-twin engines, plus loads of electronic riding aids. The Streetfighter V4 might have taken over at the top-end of Ducati's naked range, but the original Monsters still have loads to offer.
Gallery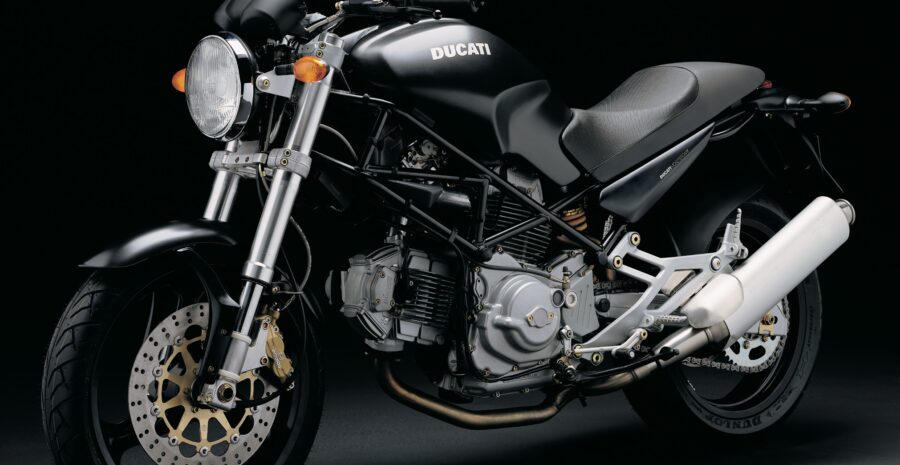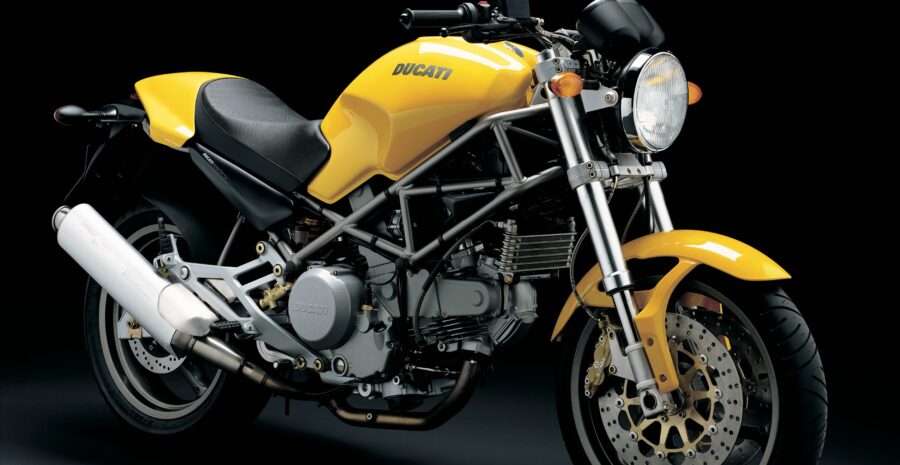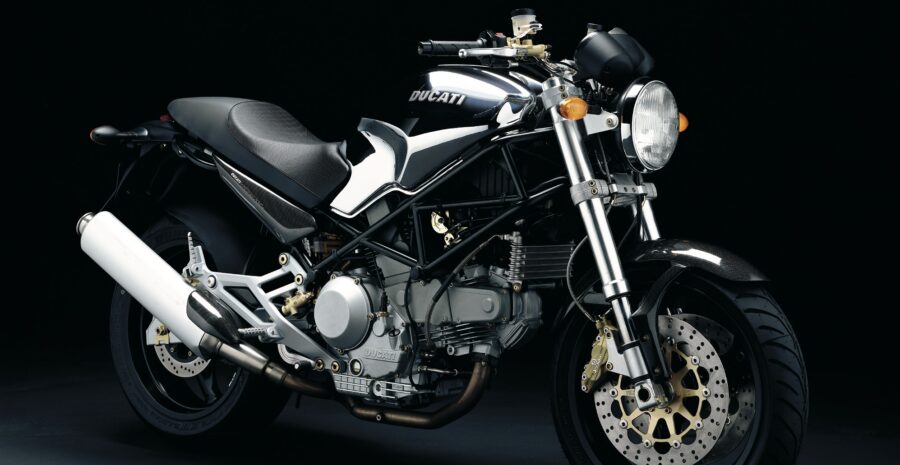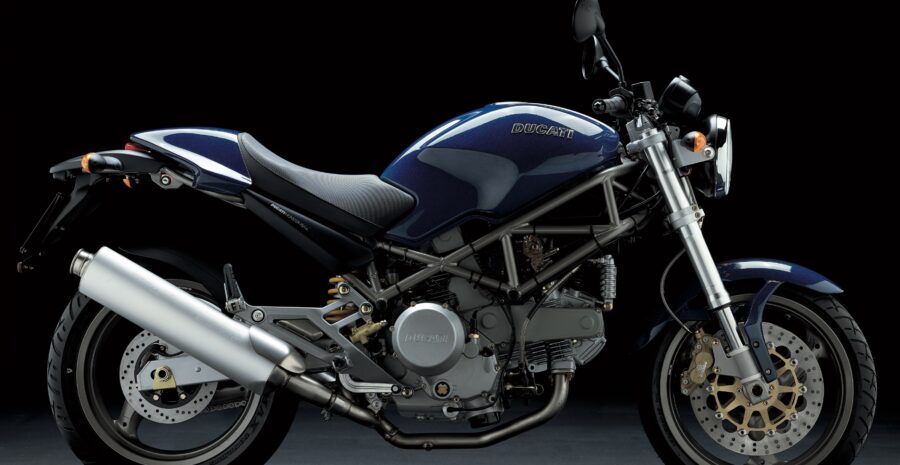 Hypermotard
The original 'Supermotard' was actually a French term, referring to the riders of 'Supermotos'. These were large-capacity dirt bikes fitted with 17" road wheels and race tyres, superbike brakes and tweaked suspension, then raced round asphalt race tracks.
Supermotos were a big hit in the late 1980s and early 1990s, and the factories soon caught up with bikes like the Yamaha TDR250 and TDM850 – though home-brewed machinery from the likes of Husqvarna and Husaberg remained the connoisseur's choice.
Ducati was a little late to the game – but it made up for that by launching a totally crackers entry – the Hypermotard 1100 – in 2007. It used the firm's air-cooled desmo V-twin, in 90bhp 1,078cc twin-spark form, bolted into a compact steel trellis frame with a single-sided rear swingarm and long-travel USD forks.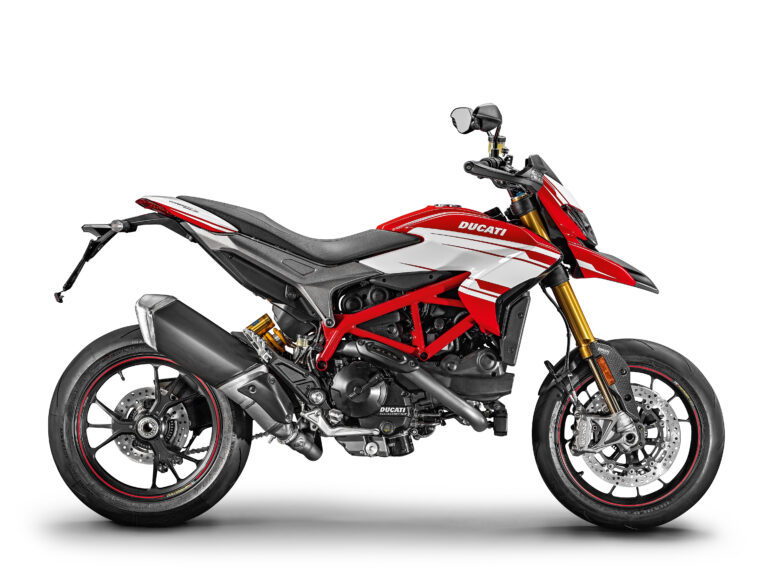 With no electronic rider aids, it was a bit of a handful, wheelying at the slightest provocation, and was generally a bit of a hooligan machine.  The riding position was utterly minimal, with a plank for a seat and zero wind protection, and it had the practicality of a chocolate Akrapovic. But for instant hilarity and huge hits of adrenaline at the drop of a hat, it couldn't be beaten.
Ducati's kept the Hypermotard range as a vital part of its range ever since, with a smaller 796 version, and ever-increasing sophistication in terms of rider aids, engine perfomance and chassis design. The current version, the 950, uses a water-cooled motor that makes 114bhp, weighs 178kg dry and has a full suite of electronic rider aids. It's a long way from the original handbuilt Supermotos of the 1980s…
Gallery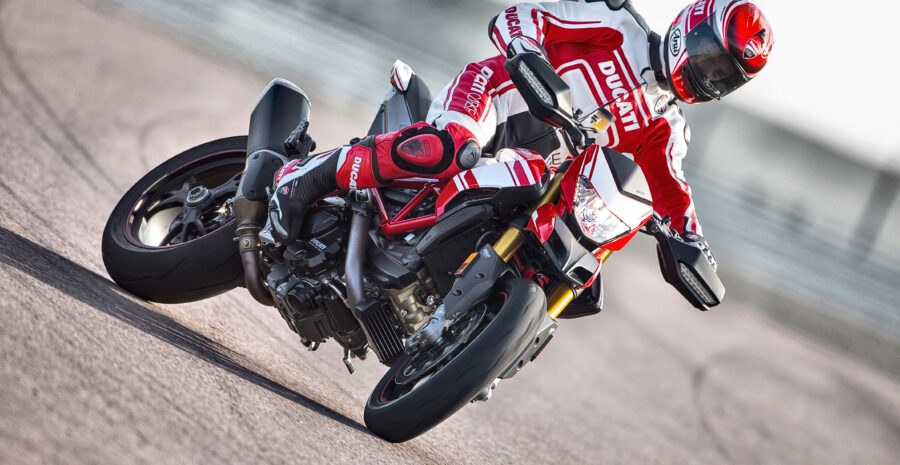 Multistrada 1200
The BMW R1200 GS is the archetypical adventure bike of the 21st century of course – but Ducati's Multistrada 1200 (MTS1200) has also played a big part in moving that sector on.
When it first appeared in 2010, it offered a far higher performance version of the 'big-bore adventure tourer' model, with a 150bhp version of the 1198 Panigale engine, single-sided swingarm, Brembo brakes, and on the 'S' version, electronic semi-active Öhlins suspension.
It was much lighter than a GS too, and the performance on the road was amazing. As a cross-country mile-muncher, little could touch it, with excellent comfort at speed on the motorway, and the agility and suspension to take on twisty, bumpy back roads at pace. The S version added a load of high-tech gadgets to make life easier, and with factory hard luggage fitted and decent pillion seating, it made a solid touring tool.
Ducati had another big success on its hands, and kept the MTS1200 updated all through the 2010s, with more power from a variable valve engine, Sachs Skyhook semi-active suspension and other updates keeping it on top in 2015. A smaller 950 version was launched in 2017 that gave a less-serious, lighter option, and is preferred by many riders as a more fun bike.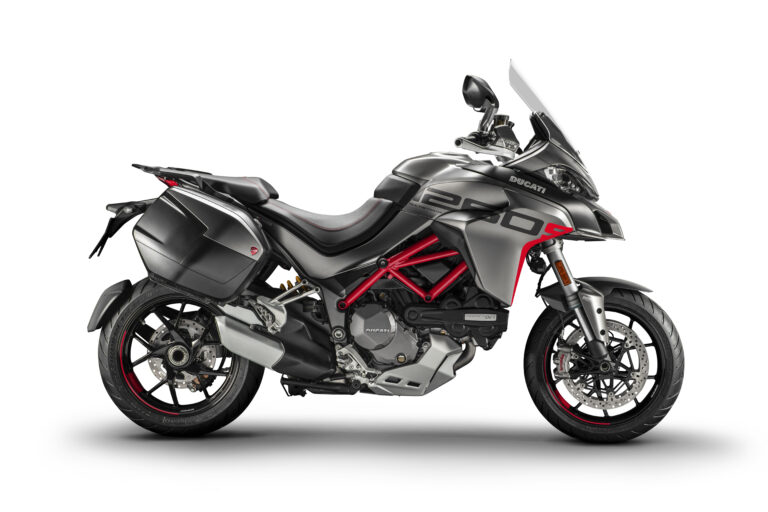 The final update for the big V-twin Multistrada came in 2018 with the stonking 1260, which used a long-stroke 1,262cc version of the 90° V-twin engine. It was utterly hilarious, with almost unbelievable levels of grunt from the super-torquey engine tune. On a dyno, the waves of vibration from the huge low-down grunt can overwhelm the measuring electronics, and on the road you're grateful for the wheelie and traction control…
It was arguably a step too far though – and Ducati's move to the V-four layout for 2021 made a lot of sense. Getting 160bhp out of a 1200 twin was pushing the limits of rideability on a touring machine, and the new Multistrada V4S is far more civilised.
Gallery
Diavel
If you needed any more proof of how serious Ducati was about becoming a massive player in the bike world, the Diavel provided it.
No longer content with simply being a niche European player turning out posh superbikes and chi-chi naked roadsters, the Diavel gave the firm an entry into the huge American cruiser sector when launched in 2011. A long, low, sleek hot-rod of a bike, the Diavel has echoes of Harley-Davidson's own V-Rod in the design, but is also, unmistakably, something different.
Being Ducati, there was no chance that this bike would be anything other than a superb performer. This is the firm that had put a 150bhp superbike engine in a big traillie the year before, so it wasn't going to mess about here. The engine, like on the Multistrada, came from the 170bhp 1198 Panigale, with a bit of a retune taking power to 'just' 162bhp and 95 ft lb of torque.
This huge grunt was managed beautifully by a steel tube trellis frame, single-sided swingarm, and a massive 240-section rear tyre. All-up weight was just 210kg, which, together with that peak power output, instantly catapulted the Diavel to the top of the performance cruiser class.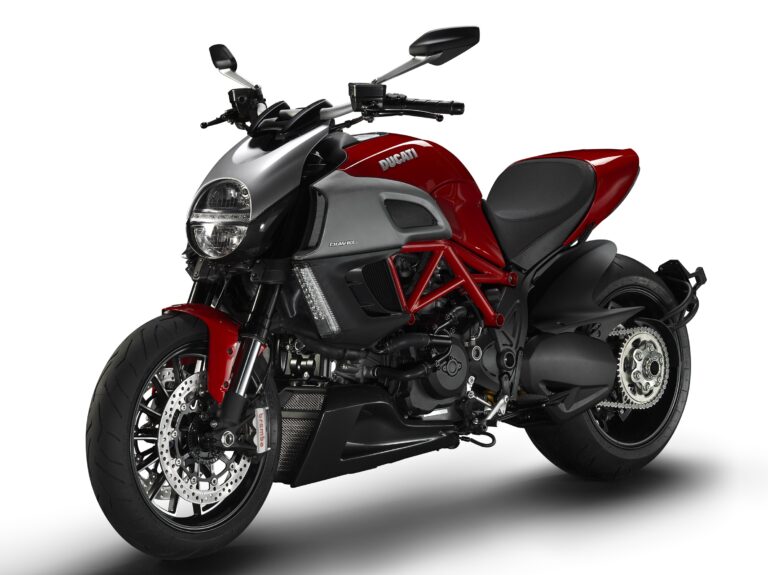 The best bit was how well it handled though. High-end USD forks and rear monoshock gave great chassis performance, the Brembo brakes were stonking, and the low weight distribution and seat height made it easy to boss around town and on twisty back roads.
The 2016 XDiavel variant gave a more foot-forward custom riding position and a belt final drive, while an update to the 1260 motor in 2018 gave the Diavel even more stomp, as well as a chassis overhaul that sharpened up the handling.
Ducati has released loads of special editions of the Diavel – from Carbon, Titanium, Chrome and Dark versions to the current Lamborghini homage. All of them offer various custom looks, and are well worth a look if you fancy something different. What doesn't change is the superb performance from this crazy custom cruiser…
Gallery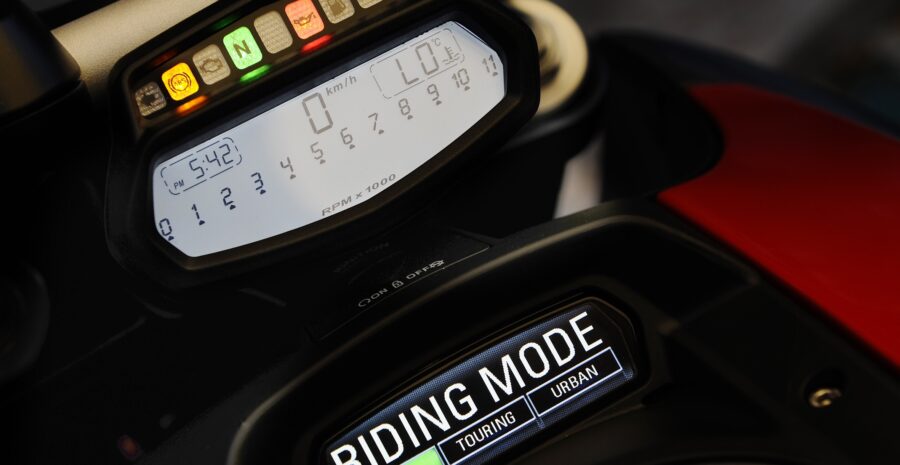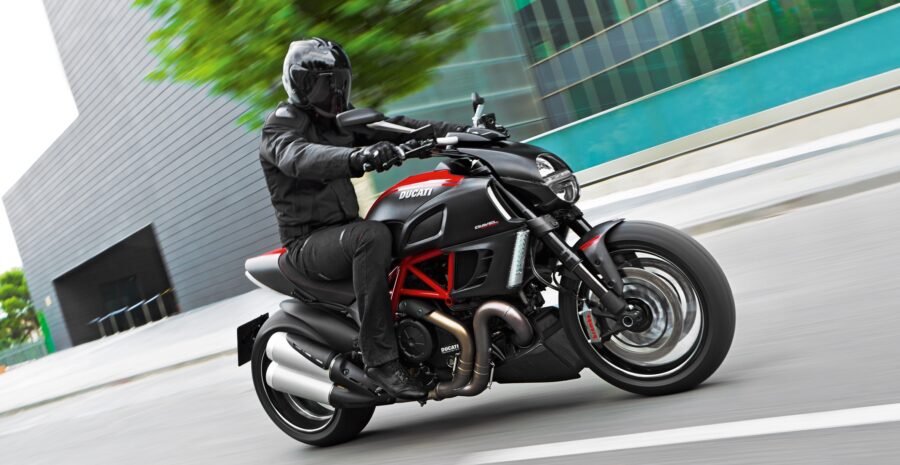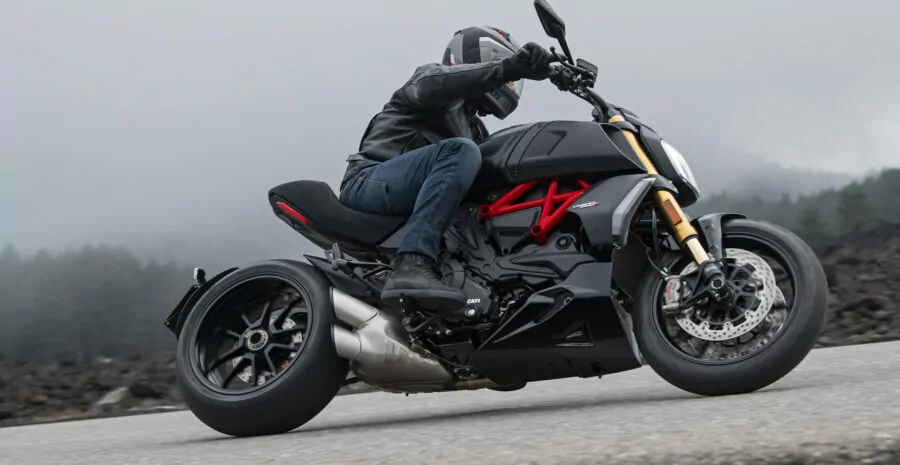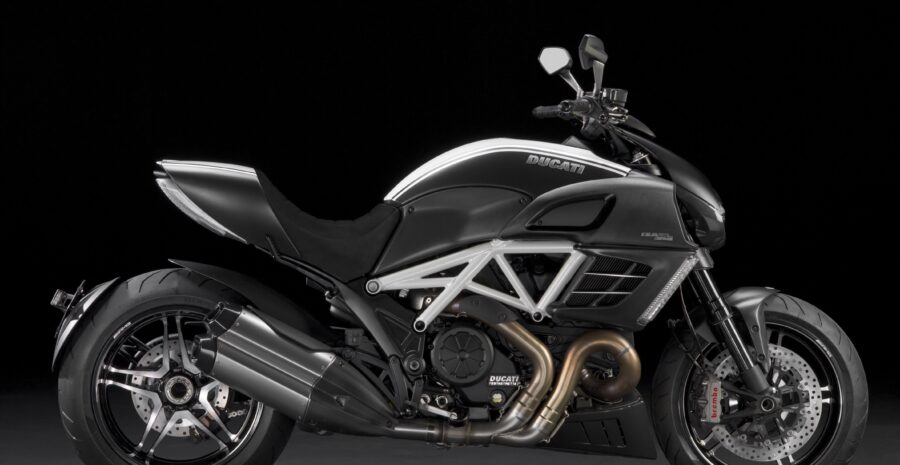 916
The bike which made the modern Ducati brand in many ways, the 916 is one of the genuine milestones in moto-design. It has a beauty which operates on two levels – it is a fantastically attractive piece of art in terms of its lines, curves, shape, colour.
It would be beautiful if it had a 500cc parallel twin engine under its fairing. But that surface beauty was matched to the exquisite engineering that was part of the design too. From the simple three-spoke wheels through the steel tube trellis frame, twin under-seat silencers and single-sided rear swingarm, every part of the original 916 looked right.
The man behind it, Massimo Tamburini, is the godfather of modern Italian bike design in many ways. But he had his work cut out with the 916. Ducati was not a well organisation in the 1980s, limping along as part of the Cagiva group, until Claudio Castiglioni turned it around in the early 1990s.
So Tamburini didn't have the scope to commission all-new engines or chassis technologies: he had the steel tube trellis frame designs of the 851 superbike, and the fledgling version of the desmodromic eight-valve V-twin engine developed by Ducati's engine guru, Massimo Bordi.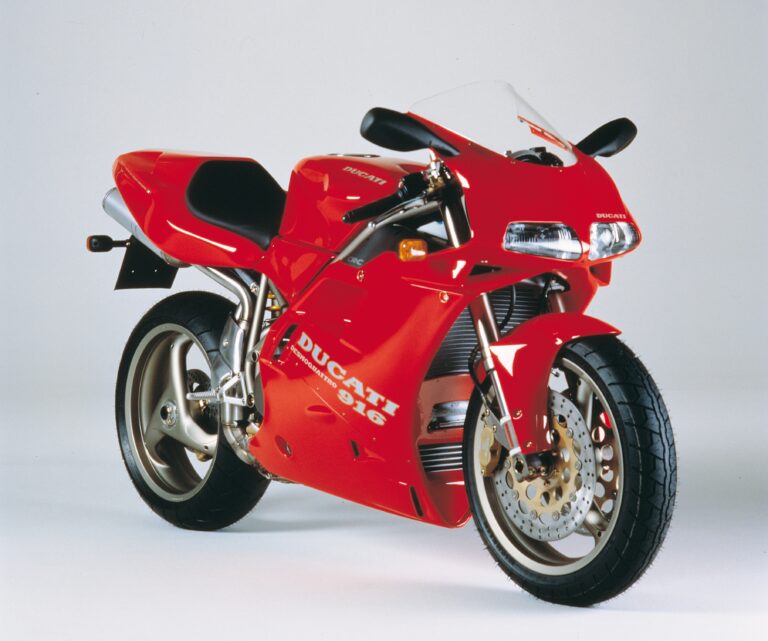 A genuine moment of alchemy then. Of course, the 851 engine and chassis was hardly base metal to work with – the 888 version had won the WSB titles in 1991 and 1992 under Doug Polen. But it was a long way from the pure gold magic of the 916 in terms of looks, styling and sales potential.
The 916 ruled for the rest of the 1990s and beyond. Favourable regulations in WSBK meant twin-cylinder bikes could run up to 1,000cc capacity against the Japanese 750cc fours, and that, plus Carl Fogarty, and the undoubted chassis performance of the 916 race bikes kept it on top, winning in 1994, 95, 96, 98, 99 and 2001.
Later in the 1990s, Ducati updated the engine with larger capacity, to 926cc and 955cc for the racebikes and limited-edition SP homologation specials, and to 996cc for the roadbikes in 1999 and 998cc in 2002 for the final edition before the 999 took over.
That bike's slab-sided styling, dual-sided swingarm and curious vertical stacked headlights lost Ducati a lot of fans, and while the 999 was a better bike on track and road, Ducati pulled it within four years in favour of the 1098. A bike with the performance and capability of the 999 – but design and styling which definitely came from the 916…
Gallery
Streetfighter V4
Ducati's Monster range had seen off the Streetfighter in 2009 – the 1099 and 849 V-twin supernakeds missed the mark in showrooms, and Ducati returned to the Monster brand with the 1200S and 1200R from 2016-on. But with the arrival of its new V4 Desmosedici Stradale engine in the Panigale V4S, Ducati had the chance for another go at the Streetfighter.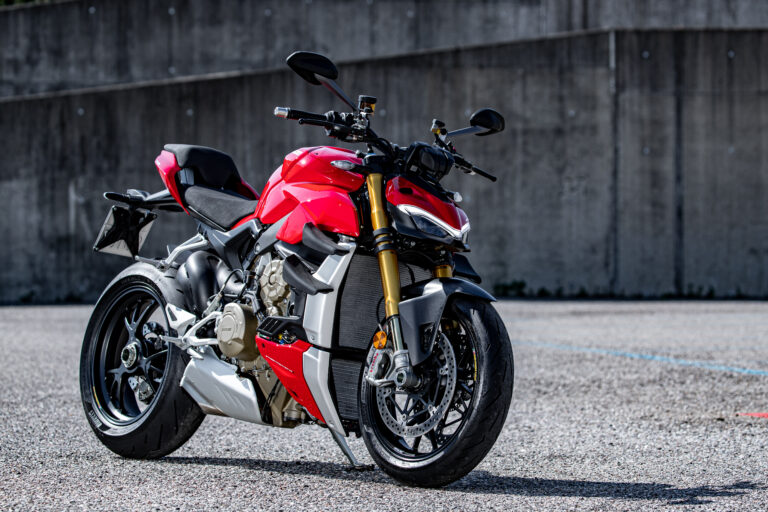 The V4 S Streetfighter was launched in 2020, and the effects of the COVID-19 pandemic obviously overshadowed its impact. But it was clear that this was a super-serious attack on the hyper-naked class, taking on the likes of Aprilia's Tuono 1100, Kawasaki's supercharged Z H2 and the BMW S1000R. Performance is stunning – 205bhp – and not far off the power of the Panigale superbike.
Weight is also super impressive: just 201kg ready to ride. Add in top-spec chassis kit on the S version from Öhlins and Brembo, a set of saucy carbon-fibre aerodynamic wings and high-end finish and quality, and you have a very tempting naked superbike indeed. The price is steep of course – around £20,000 new – but then the best always costs that little bit more…
Panigale V4 S
Every now and then, bike firms have to bite the bullet and introduce a step change in their products. And for Ducati, that came towards the middle of the 2010s, when its V-twin superbike range was reaching the limits of engineering sense. The firm had been making bigger and bigger capacity twins, and stretching the bore/stroke ratios even further to allow higher revs to maintain peak power against the 999cc inline-fours.
That ended up with the Panigale 1299 – a 1,285cc V-twin with an astonishing 116mm bore size – (Rolls Royce Merlin Spitfire engine pistons are only 21mm bigger). It put out 205bhp (215bhp on the final Superleggera version) but it was becoming a handful to ride. Ducati needed to change.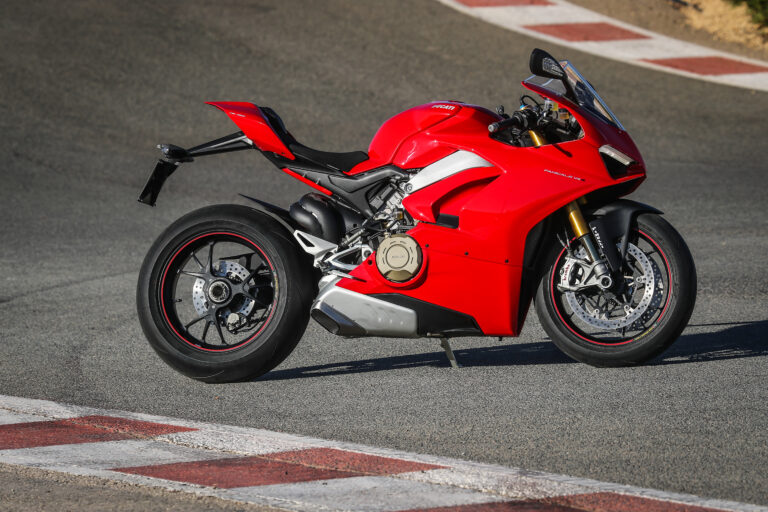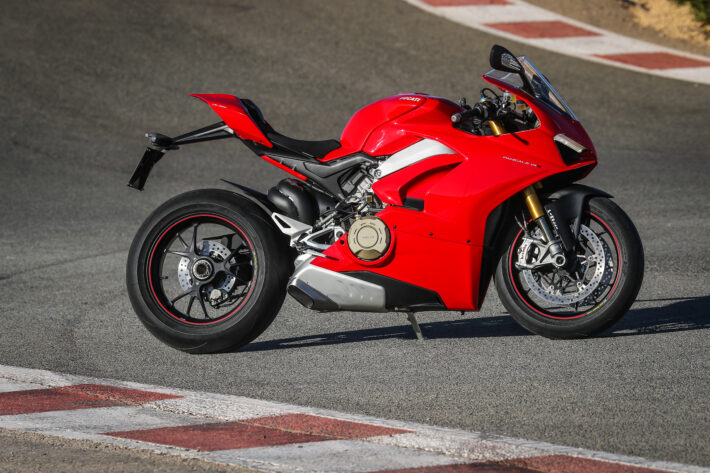 That change happened in 2018, when the new Panigale V4 was launched. But it came from the firm's past – the Desmosedici RR MotoGP replica. Ducati took the V4 engine out of that pure racebike, detuned it a bit, then bumped the capacity up to 1,103cc from 999cc to get back the peak power without the extreme revs and race tuning needed on the GP replica.
The result – the Desmosedici Stradale – was a class-topping powerplant that simply knocked all the other four-cylinder superbikes for six. Okay, Ducati had cheated a bit by building an 1100 for a 999cc sector. But there are no race regulations for road use, and Panigale V4 S owners weren't complaining when they had a genuine 210bhp – far more than former litre bike kings like the Kawasaki ZX-10R and Yamaha R1M were managing – and massive torque too.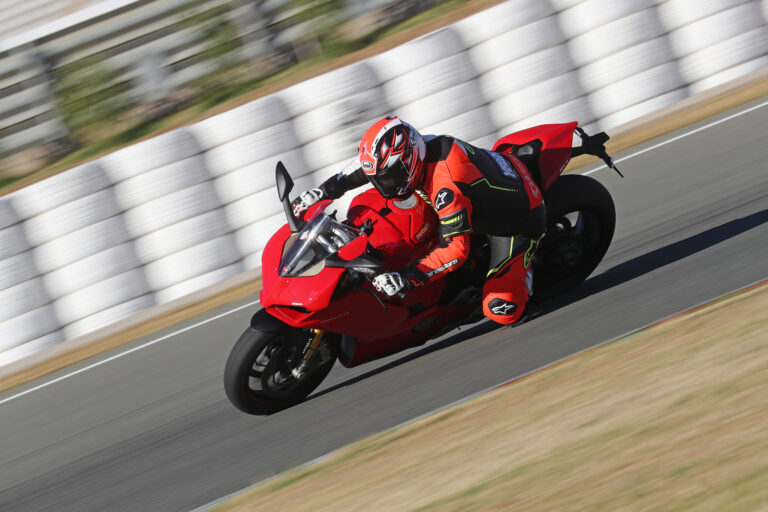 The engine isn't the whole story of course. Ducati put all its skills into building a top-spec chassis, with electronic semi-active Öhlins suspension on the S version, new Brembo Stylema front brake calipers, single-sided rear swingarm and a minimalist aluminium frame design.
The electronics package was also stunning, with cutting-edge IMU-assisted traction control and ABS setups, wheelie control, launch control, and even drift control, to adjust the level of yaw when the back end starts spinning up. Later versions added carbon aerodynamic wings to the front fairing, and overhauled the electronics and fuel injection for better rideability. Wild stuff.
Aprilia bumped its RSV4 superbike up to an 1100 in 2019, putting it on a more even footing in terms of power, while Honda's 2020 Fireblade came close to the V4 in terms of peak power from just 999cc. But it's fair to say that the Panigale V4 remains at the top of the pile in terms of pure, unlimited sportsbike performance…
Scrambler
Not so much a model as a sub-brand, the Scrambler gives Ducati a friendly, easy, entry-level marque, rather like BMW has done in the car world with its MINI model range. A range of three air-cooled V-twin desmo motors – 400, 800 and 1100 – powers retro-styled roadsters with classic off-road styling and mild dirt abilities.
The basic engine and frame package is rejigged with different bodywork and running gear to give café racer, dirt-track, classic roadster and scrambler style machines.
These variants are all geared up for owner customisation – with Ducati offering a massive range of optional accessories and bolt-on goodies – and the performance is deliberately set at a gentler level, so that the firm's Monster and Streetfighter range won't lose any sales.
The 400 is for beginners really, making just 40bhp, while the 800 puts out a creditable 75bhp, and the 1100 makes 85bhp. Nothing earth-shattering of course, but the power is delivered in a pleasingly torquey fashion, and the chassis designs are more than up to handling it. Wet weights are decent too – around 205kg for the 1100, 185kg for the 800s and 180kg for the 400.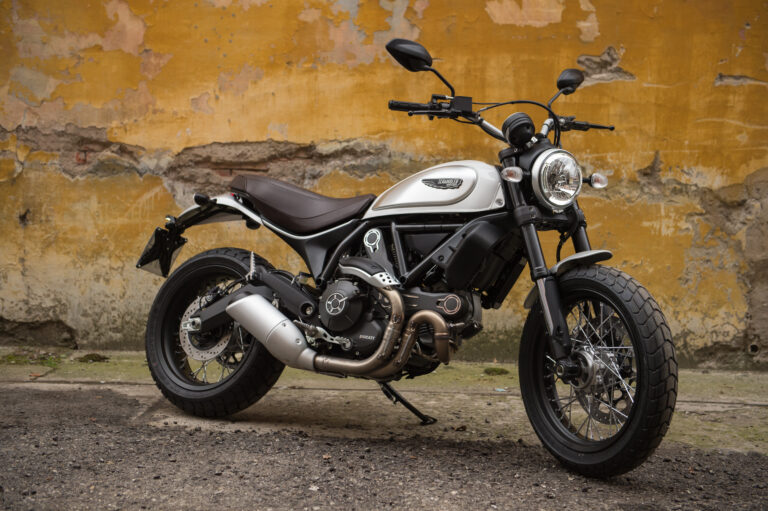 The Scrambler range could have been a bit 'meh' for experienced riders, but Ducati put a fair bit of effort into making them good quality, attractive and capable machines. Best of all, they're actually loads of fun to ride.
You might scoff cynically at the gorgeous models riding Scramblers on Californian beaches in the promo videos – and you'd be right to do so. But get yourself on a Scrambler for a couple of hours, and we defy you to try and keep a grin off your face…
Panigale 1299
Even if you do take the cynical view that it was only World Superbike rules that made them so successful, you can't argue that Ducati's big twin superbikes were one of the truly great moto designs.
From Doug Polen's 1991 title-winning 888 racebike through the legendary 916/996/998 and high-tech 999s up to the 1098 and later Panigale models, these bright red thoroughbreds have thundered their way to the top of racing, with amazing sales success alongside. And the 1299 is the final iteration of it – the last hurrah for the eight-valve, desmodromic 90° V-twin powerplant before the Panigale V4 usurped it.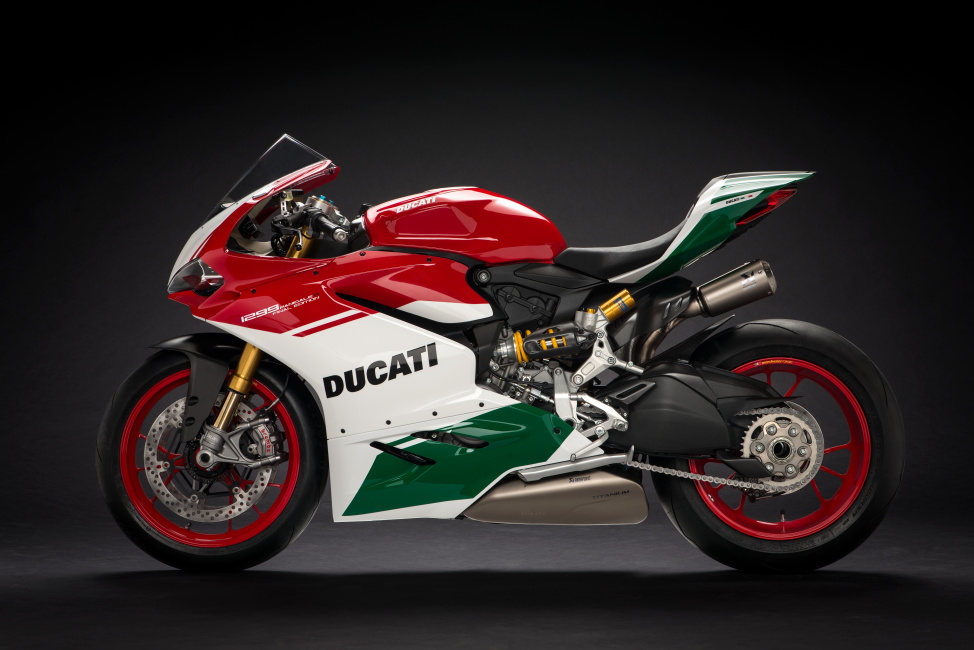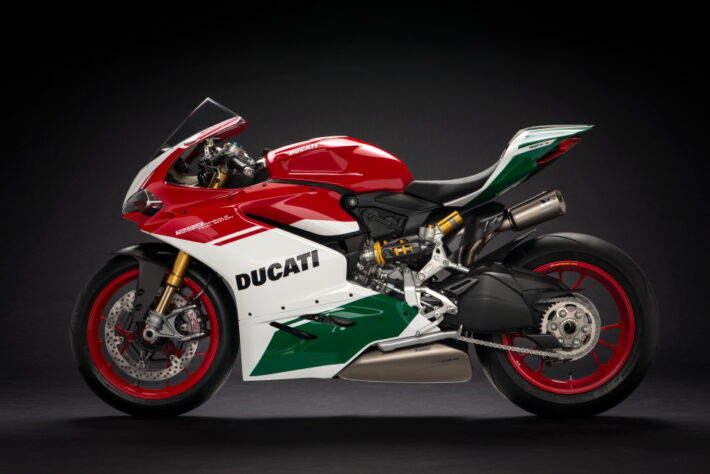 And what an ending. A 1,285cc capacity, with cavernous 116mm bore and super-short 60.8mm stroke, pumping out a claimed 205bhp, with 106.7ft lb of torque. An engine with scary amounts of power and torque, made faintly civilised by the application of enormous amounts of computing power, controlling an advanced traction control system. An IMU inertial measurement unit allowed wheelie control and cornering ABS, while Öhlins semi-active electronic suspension helped put all that torque down to the Tarmac.
It weighed a freakishly light 191kg ready to ride, though if that wasn't enough for you, the firm sold a limited-edition Superleggera variant with carbon fibre, titanium and magnesium parts cutting the wet weight to just 167kg. Madness – but brilliant madness.
Gallery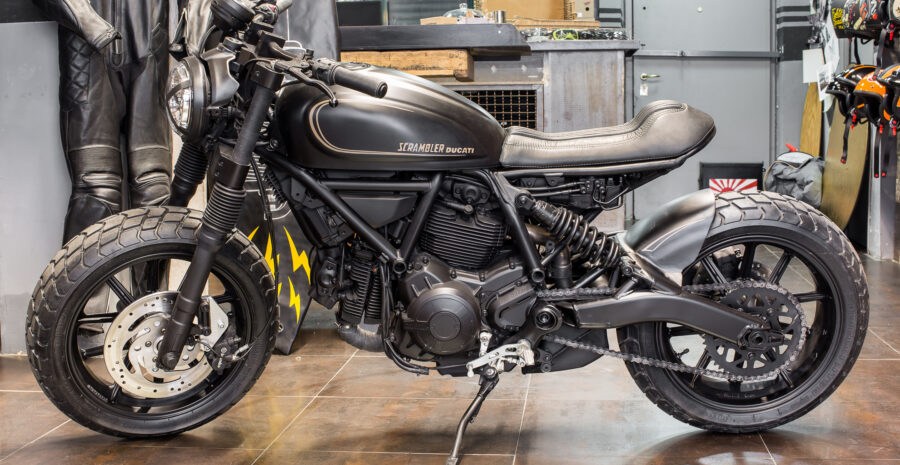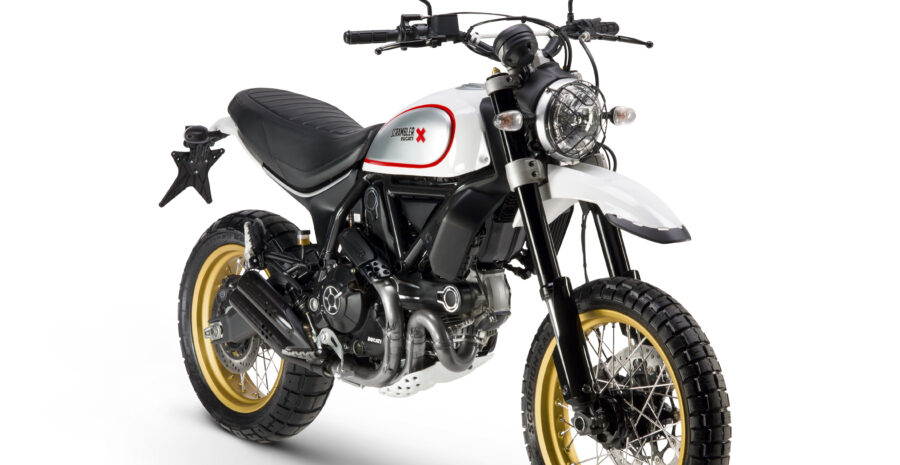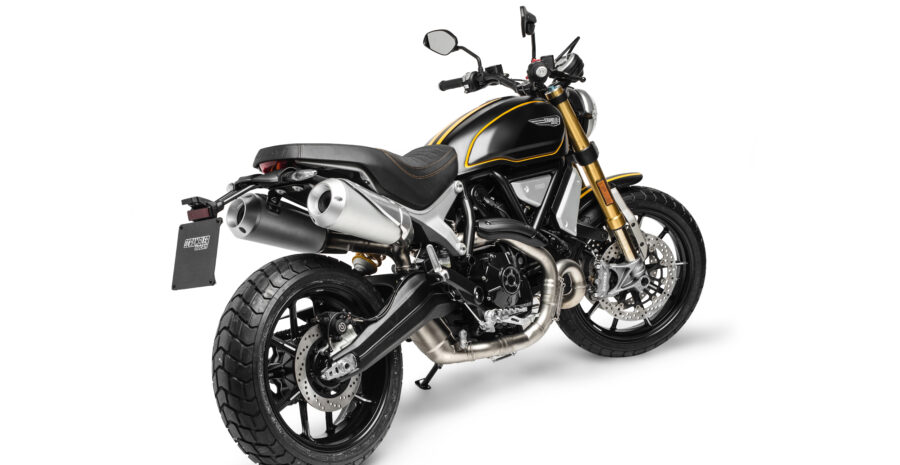 Desmosedici RR
In 2007, we'd had five years of four-stroke machinery in the premier class of GP racing – and 20 years since the last two-stroke 500GP replica roadbikes were on sale (the Yamaha RD500LC and the Suzuki RG500). Two-stroke roadbikes were dead, killed by emissions regs – but the GP bikes were four-strokes now, so a road-going replica was possible. MotoGP is a prototype class though, and in theory, there shouldn't be a road-going version of the race bikes.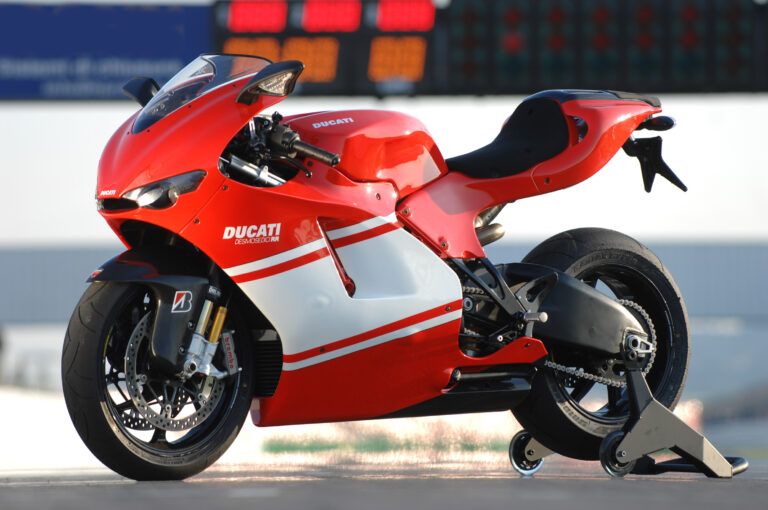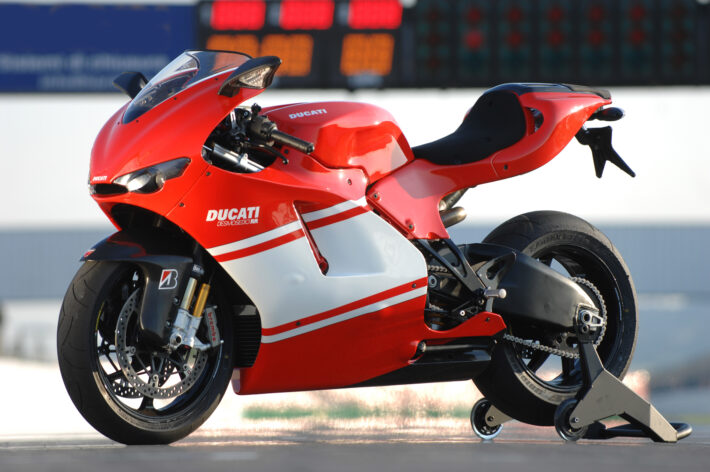 That didn't bother Ducati though, which announced the Desmosedici RR race replica in 2006 (the class had moved to 800cc, so technically a 990 road version was now within the rules…) Limited to just 1500 copies, the RR would be a barely-disguised racebike for the road, using a version of the MotoGP bike's 989cc V-four desmodromic 16 valve engine (Desmosedici is Italian for 'desmosixteen' of course).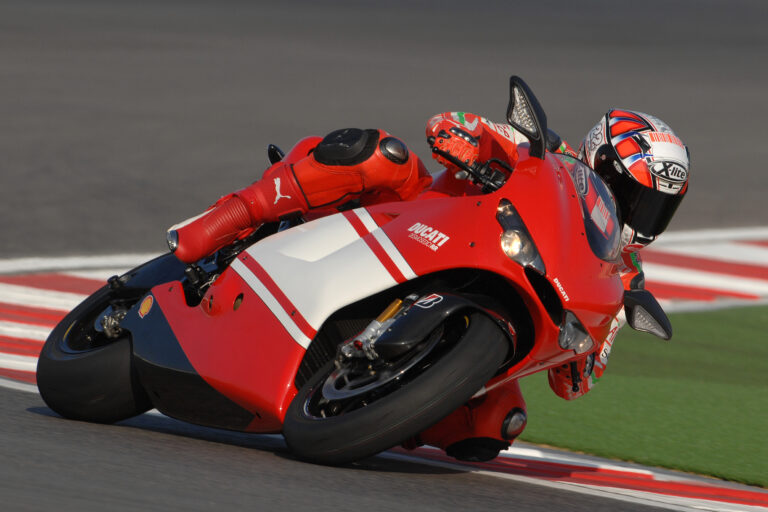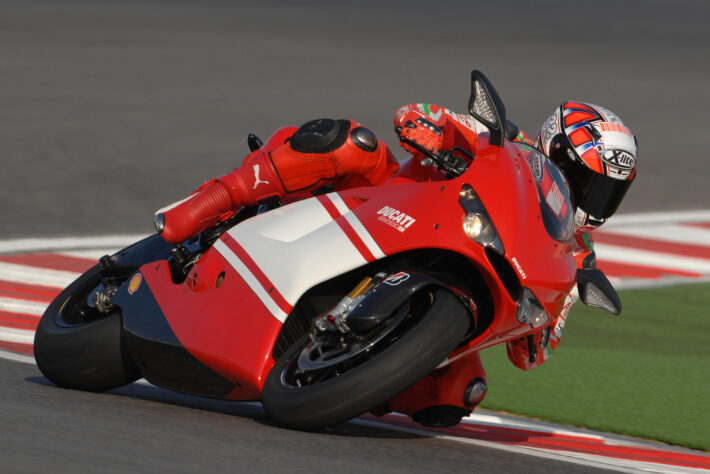 The result was a £40,000 collector's item, with superlative performance. The motor made a claimed 200bhp – a lot of ponies in 2007 – while the Öhlins suspension and Brembo brakes were proper racing parts rather than the fancy roadbike gear you normally see on high-end sportsbikes. Wet weight was around 193kg, very impressive for a road-legal bike at that time, and stuff like the carbon-fibre fairing, forged magnesium wheels and proper racebike LCD dash were utterly jaw-dropping.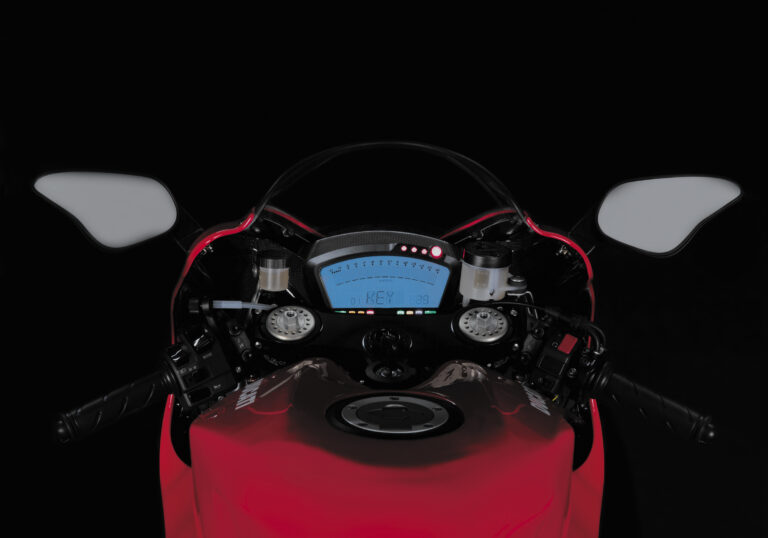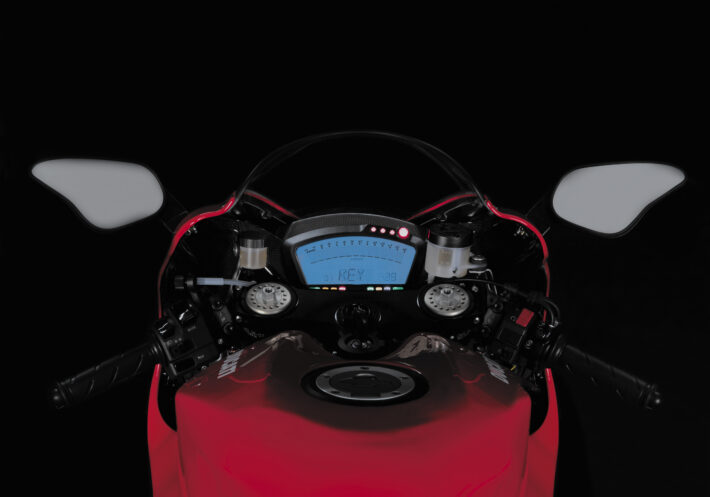 A stunning piece of work then – though Ducati's V-twins came close to the RR's power output a few years later. By 2009 the WSB homologation special 1098R was making 180bhp and 99ft lb – less peak power but more torque.
Not even the fanciest of the V-twins could match the Desmosedici in terms of chassis kit, desirability or pure exotic charm though – and that's the same story even now, nearly 15 years later.