As every proper Kawasaki fan knows, the big K was the first firm to sell a production (ish) forced-induction motorcycle, back in the 1970s.
Its 1978 Z1R TC was a limited-run turbocharged version of the Z1R inline-four superbike, imported to the US, then retrofitted with a bolt-on turbo kit by the American importer. It bumped peak power up to 130bhp, almost doubling the stock output, which made for a rather, er, lively ride.
Especially since it kept the stock 70s-spec chassis that only just coped with the standard engine…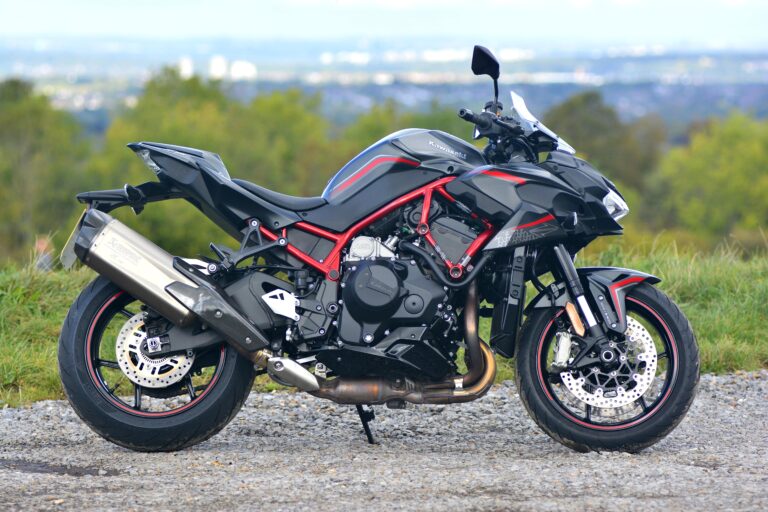 Later, Kawasaki's 1983 750 Turbo offered a much more refined, factory-developed blown motor, with GPz-type chassis performance to match, and was the pick of the early 1980s crop of turbo bikes. Suzuki's XN85, Yamaha's XJ650 and Honda's CX500/650 all added forced-induction to existing models for a few years, but by 1985 the industry had moved on.
Outright power wasn't a problem by then – water-cooled, 16-valve DOHC inline-four engines like Kawasaki's ZZ-R1100 were touching 150bhp by the early 1990s – and the extra costs and complexity of a turbocharger meant factory machines would stick to normal aspiration for the next thirty years.
By 2015 though, Kawasaki had another go. Its expertise in gas turbine design (parent firm Kawasaki Heavy Industries makes combat jets, ships, trains, rockets and satellites) helped it come up with a supercharged engine for the 2015 H2 Ninja superbike. The notion was for a 999cc motor with forced induction to match the power and torque of a 1,200cc or 1,400cc design, in a smaller, more efficient package.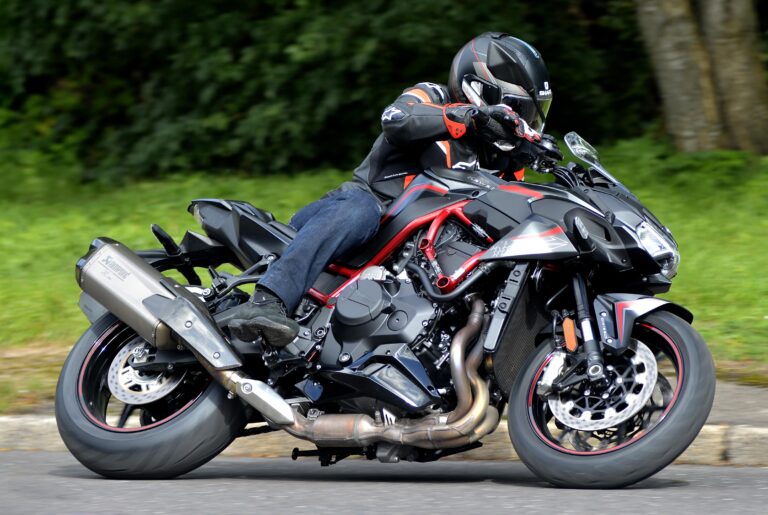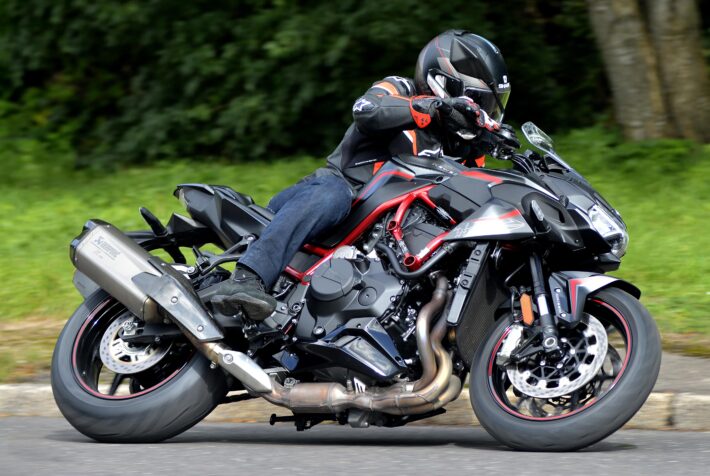 The H2 has done well enough to prove its worth – but has come up against stiff competition from 1,000 and 1,100cc superbikes with the same or more power, in lighter and/or cheaper form. Kawasaki used the same basic engine in the excellent H2 SX supersports tourer, which has replaced the ZZR1400, and for 2020 it has also shoehorned the 999cc supercharged lump into a supernaked machine – the Z H2.
We borrowed one from Kawasaki UK for a couple of weeks in early autumn to see how it performed on the highways and byways of the south east.
I'd seen the Z H2 in the flesh when it was unveiled at the Milan show last year, so was prepared for the, er, striking looks. At first glance, it's obviously not a conventionally-attractive machine (they have the Z900RS Café for that though)…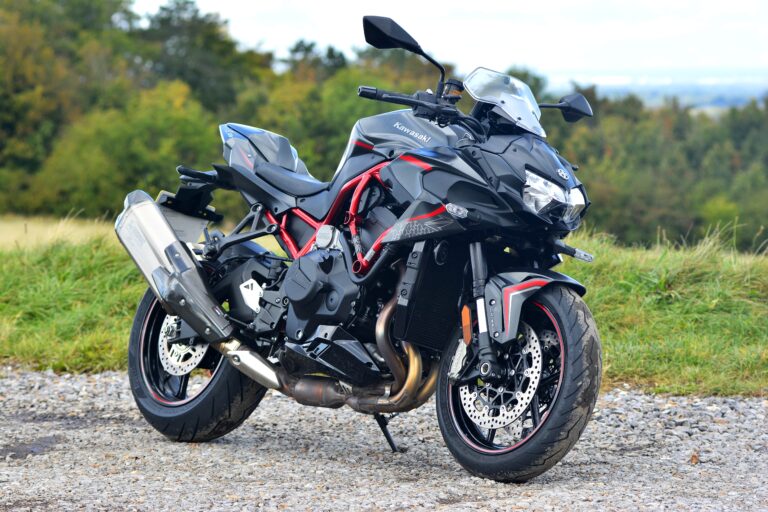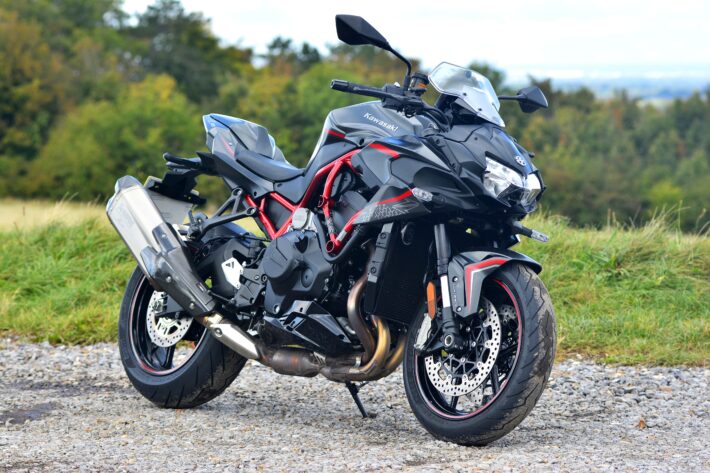 There's a lot of mass, sometimes in what looks like the wrong places, and the insectoid top fairing that extends way out in front of the steering head takes a bit of getting used to. Parked up outside Kawasaki Motors UK though, it's already starting to grow on me.
The quality components helps here: the red-painted steel tube frame, Brembo calipers and Showa suspension all look the business, and the massive braced rear swingarm is lifted off the ZX-10R, so has plenty of racetrack chic.
Jump on, and things fall right into place. If you're been on any recent high-end Kawasakis – the Versys 1000 SE, H2 SX or the like, then the navigation switchgear, LCD dash and menus will all be familiar. There's a lot to cram in, from power and traction settings, through quickshifter, cruise control and even a phone app to hook up, but Kawasaki's made a decent fist of keeping it as simple as possible, once you get into the swing of things.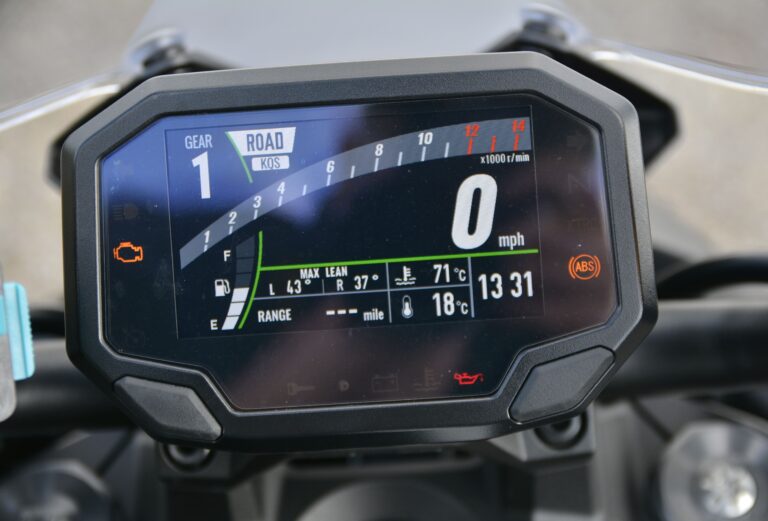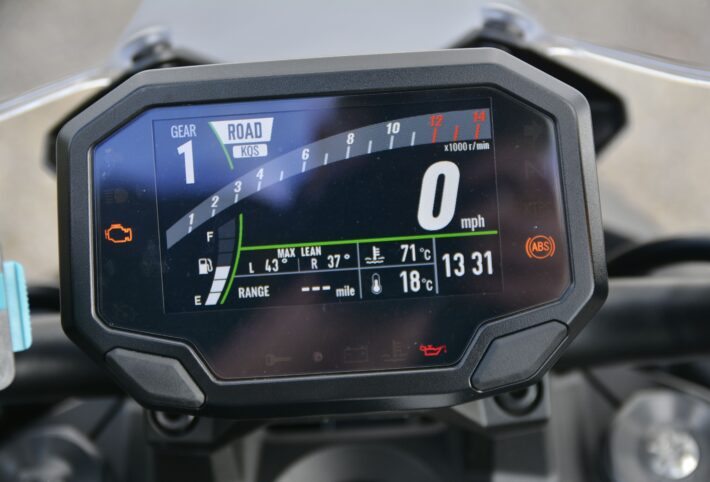 Pulling away from the tiny village industrial estate where KMUK lives, things remain simple and easy to work out. The not-inconsiderable mass of the Z H2 (239kg wet, erk) is nowhere to be seen or felt once under way, and it's easy to trickle through mini-roundabouts and up towards the motorway heading back to London.
Now, I remember that on the way here, I'd seen a speed camera on the overpass not far from Kawasaki. So I was being very careful with the throttle coming up onto the slip road – so careful that I got buzzed by a raucous, loud-piped German hot hatch, who undertook me far too close and far too fast, nearly clipping my leg.
I pulled up alongside once we hit the motorway, to give the driver a Paddington Bear hard stare. It's fair to say that he seemed to be lacking in contrition – so then I egged him up the wrong side of three figures, before braking hard and pulling into the slow lane, as he sailed on, into the speed camera's line of fire. Sorry 'mate'.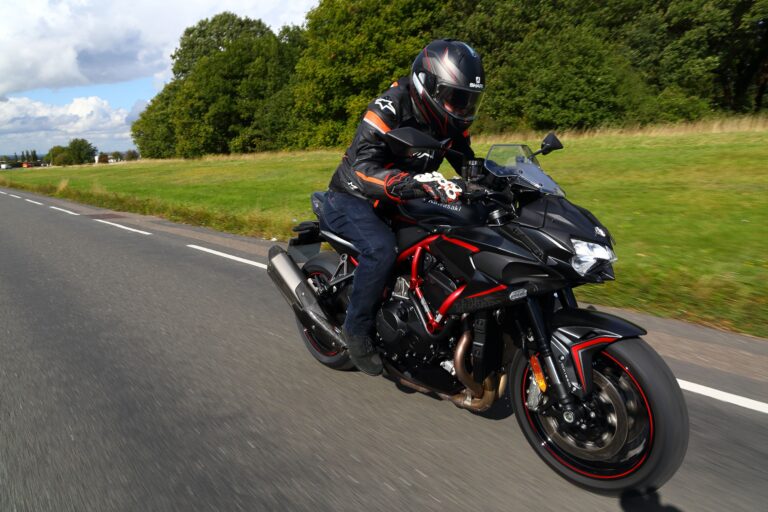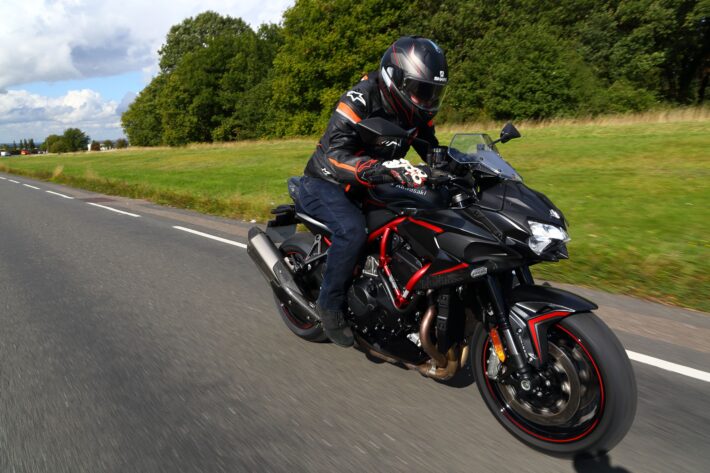 Of course, the Z H2 is a monster on the motorway, if you keep the speed below instant-jail territory. There's some serious grunt from that engine, and at full throttle in third gear, doing motorway speeds, it really does make you go a bit slack-jawed at the relentless, stunning acceleration.
Blink, and you'll have doubled the limit before you know it. I'm riding the 'Performance' edition of the bike on test, and it has a small flyscreen, which does lift the wind pressure off you a little, well past three figures.
The riding position is comfy and relaxed too, and once you add in the cruise control, I'd have no worries taking it for a moderate day of motorway munching.
That makes the usual tedious quarter-lap of the M25 a breeze, with big, booming leaps of grunt propelling me forward between the speed camera gantries, and the blow-off valve chirruping like a gigantic manic budgie under the tank every time I roll off the gas.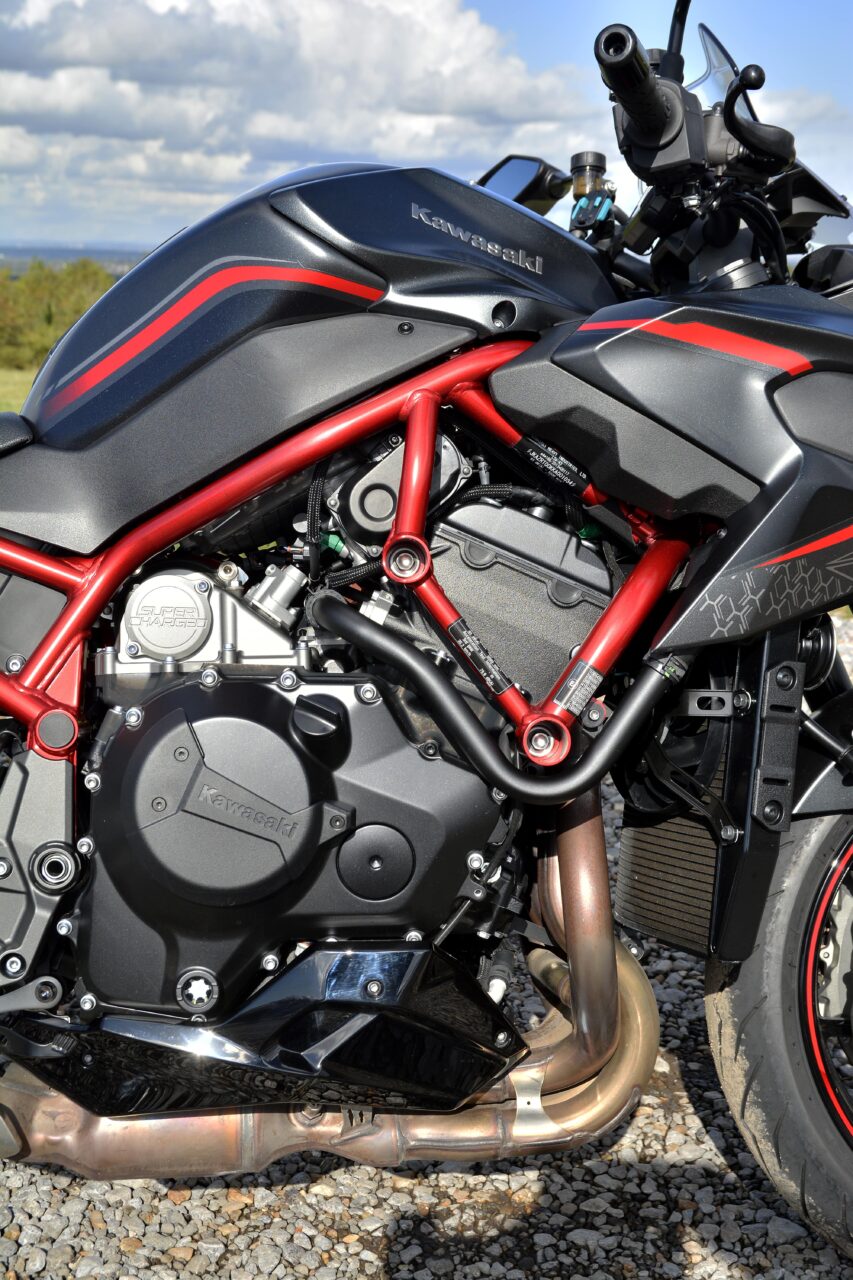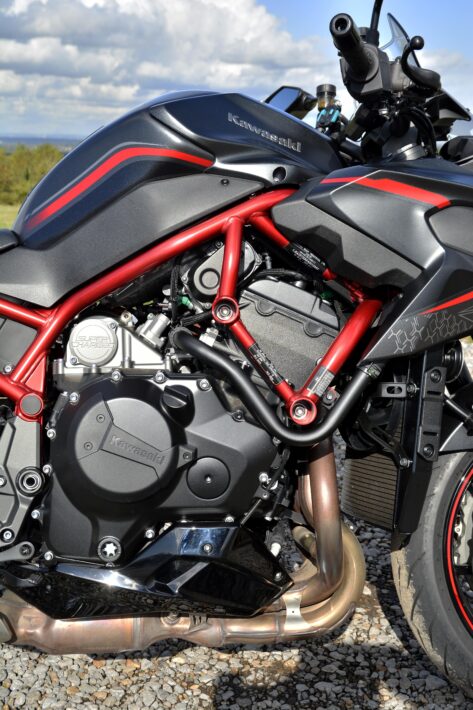 I have a fiddle with the cruise control once I settle down a bit, and am reminded once again that it's such a useful thing to have nowadays, on any bike. One minor complaint is the rather squashed feel to the handlebars and teeny cockpit area – I've got my iPhone in my excellent Ultimate Addons mount, and there's barely any space to fit it between the switchgear, hydraulic reservoirs and display panel. First world problems…
We make it home without mishap and the next few weeks also bring no nasty letters in the post from the speed camera authorities, which is something of a miracle. The sheer power and grunt available, plus the smooth nature of the powerplant, means you're not always aware just how fast you're going.
Having said that the big Zed does keep you away from the sort of 'unintentional' 150mph+ antics that a faired superbike permits – the naked design stops you unwittingly cruising for long at that sort of pace.
Parked up outside my house, and I have another look around the Z. There is a lot of bike here: everywhere you look there's componentry squeezed in, and that half-fairing nosecone section is a substantial piece of engineering, rather than a simple aerodynamic fairing.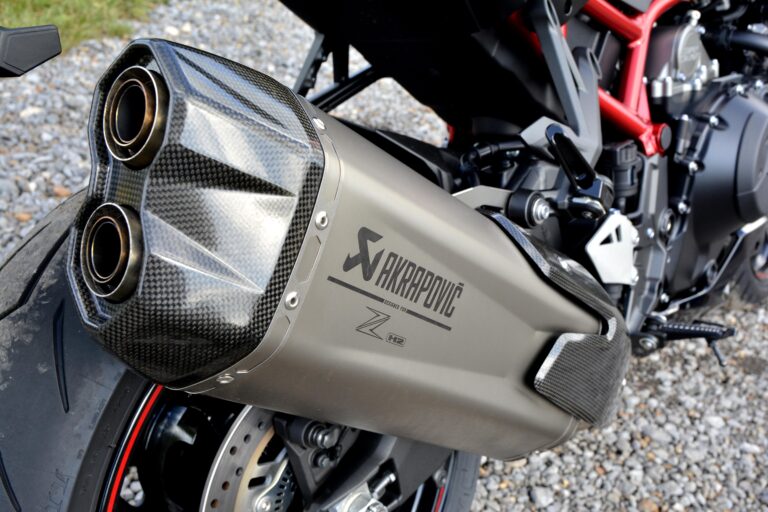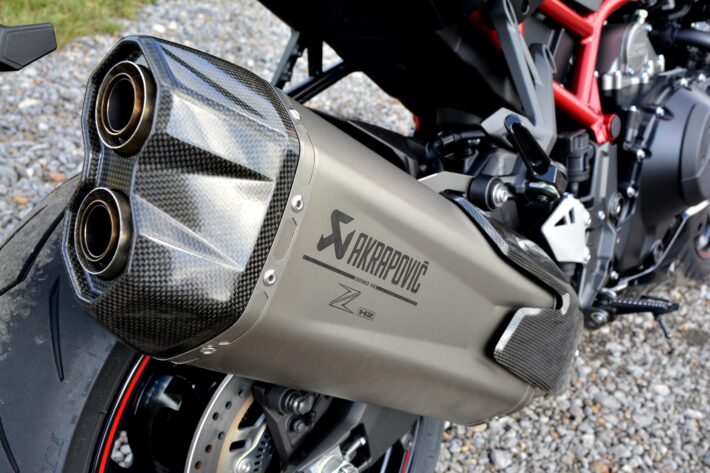 Over the next couple of weeks, we spend a fair bit of time together, including a trip down to Big CC Racing in Wokingham for a dyno run, where the Z H2 makes a creditable 175-ish bhp. I also spend a day with top snapper John Goodman, where I check out the chassis through some favourite photo bends.
It's a bit of a mixed bag on medium-speed corners – the engine is sweet, with smooth power and progressive delivery, and the brakes are well up to the job. But I'm not feeling completely at home mid-corner, with a bit of vagueness appearing. If I didn't know how good the Pirelli Diablo Rosso III tyres normally are, I'd be wondering about them, but the lack of confidence comes from somewhere else.
Rather, I think the suspension could do with a bit of an upgrade, at the back in particular. Getting on the gas out of one particular bend causes a bit of fuss at the rear tyre more than once, where you'd expect it to dig in and grip.
Nothing horrendous, and probably something you can forgive on a heavyweight machine like this, where the straight line performance is more important than track-level cornering finesse. But it's certainly an area where you could make some improvements I reckon.
Am I a proper fan of the Z H2 then? Yes, is the short answer.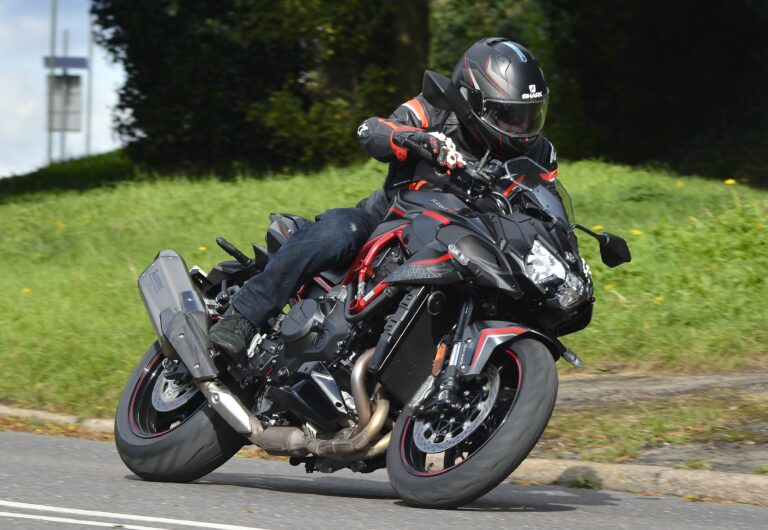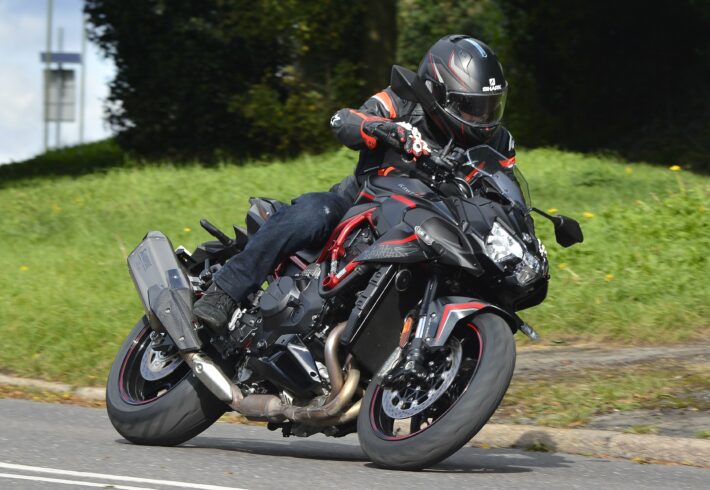 It's great fun to ride, with huge engine performance, super-distinctive looks and great technology in terms of rider aids. The weight isn't a big problem until you start to try pushing harder on twistier roads, and although I didn't get the chance to ride the Z H2 on track, I reckon it would be a bit of a handful there.
Part of that is down to the middle-of-the-road suspension kit: a new rear shock and an upgrade to the front forks would make a difference if you simply must have premium supernaked chassis performance on par with Yamaha's MT-10 SP or Aprilia's Tuono Factory. These, and Ducati's V4S Streetfighter, are different beasties though – and are all missing the huge grunt, whistling blow-off valve and undeniable coolness of that big, bold, blown engine…
TECH HIGHLIGHTS
Engine
Kawasaki's 'Balanced Supercharger' engine focuses more on low-down and midrange than outright power, making it more suited to the supernaked class. The foundation is a standard inline-four 16-valve DOHC layout, with some tweaks to suit the integrated supercharger.
Compression is a little lower than normal for a performance motor at 11.2:1, and it's packed with extra oil cooling jets for the pistons, transmission and supercharger installation, as well as larger coolant channels round the cylinder head.
Pistons are cast rather than forged – Kawasaki claims these are tougher at high temperatures and pressures, and the casting process lets the firm add in lightening cavities and thinner sections to cut weight.
The exhaust valves use an Inconel superalloy to deal with the heat and the supercharger impeller is precision CNC-machined from a forged aluminium block.
Power on the dyno
The Z H2 has 15bhp less top-end power than the H2 superbike, making around 175bhp at the back tyre on the Big CC dyno. That dyno is a little Scrooge-like in terms of power figures, so you might see higher numbers from more generous dyno shops. Nevertheless, it's a lot of power, similar to what you might see from a Suzuki Hayabusa on that dyno.
Big CC easily gets 500bhp from an intercooled, turbocharged 1000cc engine, with race fuel, forged pistons, billet rods and super-strong engine internals. But the Z H2 is restricted by road legality, pump fuel, the lack of any intercooling, and the choice of a supercharger rather than a turbo.
Frame/swingarm
Kawasaki's stuck to the trademark steel tube trellis frame here, as used on the H2 Ninja and H2 SX, finished in green or red depending on the colour scheme.
It's heavier than a cast aluminium design could be, but marks the H2 range out as a bit special. It also allows more cooling air in around the engine and supercharger area compared with a deep twin-beam alloy frame.
For the rear swingarm, Kawasaki dropped the pricey, heavy single-sided design seen on the other H2 models in favour of a double-sided arm, with suitable modding to the frame design in the pivot area.
It's come from the ZX-10R, and will be cheaper and lighter, though Kawasaki says it's there to keep the Z H2 style in keeping with the rest of the family – Z1000, Z900, Z650 etc.
Suspension
The forks and shock are fairly basic kit on a bike with this performance: Showa Separate Function Big Piston Fork up front and a standard rear monoshock.
Both are fully adjustable, but are a level below the high-end units on the H2 Ninja or the semi-active Öhlins setups like on Ducati's Streetfighter V4 S and Aprilia's Tuono Factory. Those bikes are much pricier options of course.
Brakes
Brembo M4.32 four-piston radial mount calipers and a Nissin master cylinder, with Bosch cornering ABS. It's high-end kit, though the calipers aren't the very latest Stylema designs.
Electronics
A Bosch IMU is at the heart of a comprehensive rider aids package, so you get cornering ABS and traction control, plus wheelie control and launch control as well as cruise control. A neat up/down quickshifter also features, and it's all controlled via a slick full colour LCD dashboard and comprehensive switchgear.
Accessories
The Performance edition of the Z H2 starts from £1k more, and adds in an Akrapovic silencer, a small flyscreen, pillion seat cover and tank pad, all of which are available separately. Other factory bolt-on options include heated grips, USB and power sockets, a tank bag, crash protection and comfort seat options.
Price: from £15,149 (October 2020), Performance edition as tested from £16,149
Engine: DOHC 16v, inline-four, l/c, 998cc, supercharged
Bore x stroke: 76x55mm
Compression ratio: 11.2:1
Carburation: EFI, 40mm throttle bodies
Max power (claimed) 197hp@11,000rpm
Max torque (claimed) 101ft lb@8,500rpm
Transmission: six speed gearbox, wet slipper clutch, chain drive
Frame: steel tube trellis
Front suspension: 43mm USD SFF BP Showa fork, fully adjustable
Rear suspension: aluminium braced swingarm, Showa monoshock with full adjustability
Brakes: twin 320mm discs, four-piston Brembo M4.32 monobloc radial calipers (front), 260mm disc, dual-piston caliper (rear), cornering ABS.
Wheels/tyres: cast aluminium/Pirelli Diablo Rosso III, 120/70 17 front, 190/55 17 rear
Rake/trail: 24.9°/104mm
Wheelbase: 1,455mm
Kerb weight : 239kg
Fuel capacity: 19 litres
Equipment: LED lighting, cruise control, up/down quickshifter, IMU-assisted cornering ABS and traction control, colour LCD dash, Bluetooth phone connection, rider power modes