NEXT year a Swedish firm with a unique take on motorcycling will open a new flagship London store – shining the spotlight on the world of 'clean, green' electric bikes.
'Cake' offers an intriguing range of battery-powered machines which – observers say – owe as much to bicycle culture as motorcycle culture, with stylish, minimalist design, lightweight construction and an approachable, unintimidating, stripped-back aesthetic.
It couldn't come at a better time. In February, the Motorcycle Industry Association will share a platform with the Government, in London, to announce how the UK will – gradually – transition towards electric motorcycles over coming years.
It's a big moment – marred only by a surprise announcement from the Government in December that grants towards the purchase price of new electric cars and motorcycles were being slashed.
The moped grant has been reduced by 90 per cent of the previous maximum allowed and the motorcycle grant by 66 per cent, according to the Motorcycle Industry Association (MCIA) which – in something of an understatement – denounced the move as 'disappointing'.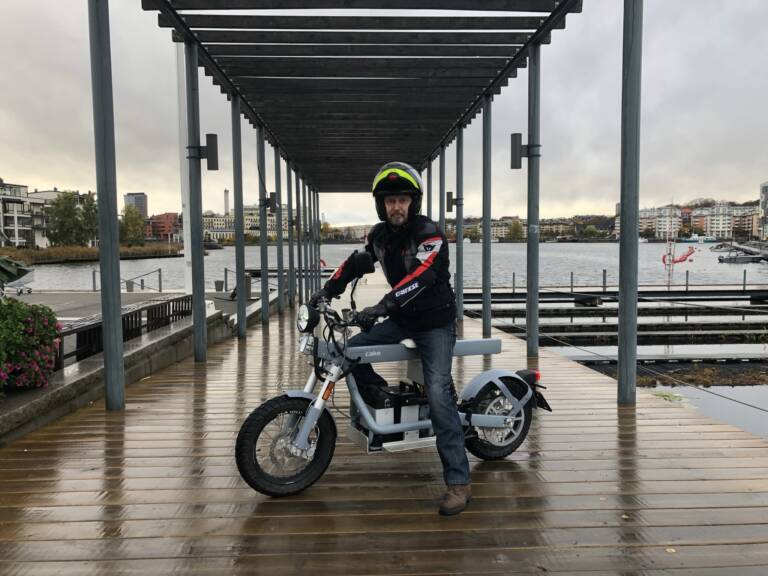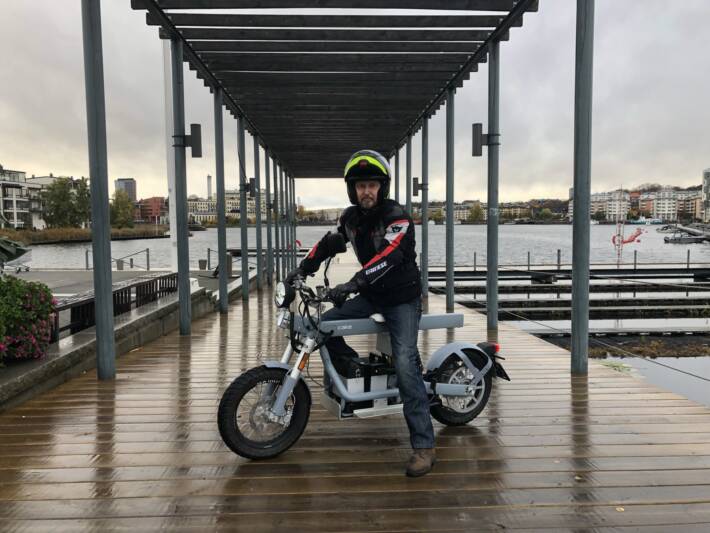 Better news is that motorcyclists won't, it seems, face the 'cliff edge' affecting the car industry, which will be banned from selling new petrol and diesel models in the UK from 2030.
But major change is nevertheless on its way and the bike industry will be expected to do its bit to help slash carbon emissions, and move over to zero-emission forms of transport.
In anticipation of the changes – and to meet growing consumer demand – many new manufacturers have entered the UK's electric motorcycle market in the past decade, although Cake is probably the most unusual.
The bikes – from the land of Abba, Ikea and Spotify, and refreshingly designed to attract a new type of customer to motorcycling, range from small 'enduro' style machines that can be ridden on and off-road, to compact off-road race models, bikes resembling sturdy city delivery and 'utility' bicycles – right through to scooters and powered two-wheelers aimed firmly at tradesmen seeking an alternative to the white van.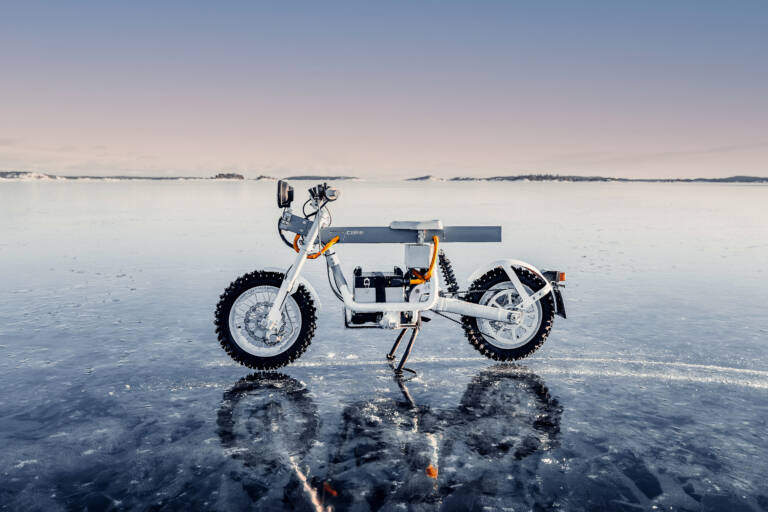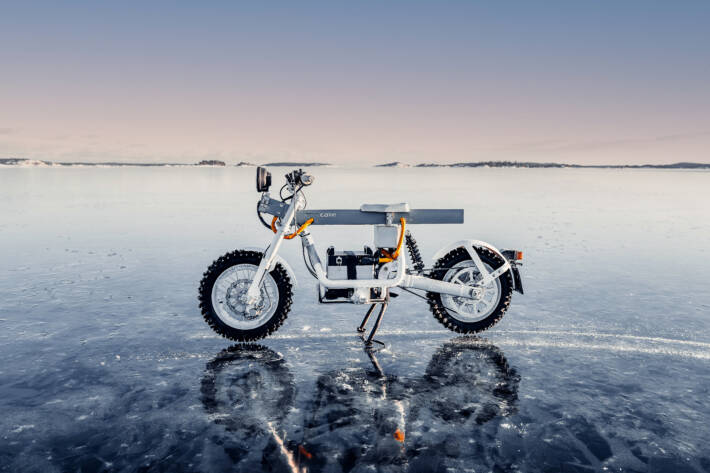 But what other offerings are out there for riders who want to forsake the internal combustion engine and go electric? And how do you go about it?
What licence do you need, where can you charge up and for how much, how much do electric motorcycles cost, are they really a serious option to the established petrol-engined market, and what machines are available today? Here, we answer all the questions for you.
E-bikes
The first thing to get straight is that electric motorcycles have nothing to do with e-bikes, or electric bicycles, which are more or less regular bicycles with the addition of a motor to assist your progress, up to a road-legal top speed of just 15.5 mph.
These can be ridden by anyone without insurance, licence, training or registration – just like ordinary bicycles. And, just for the record, those 'e-bikes' you've seen speeding along public roads above 15.5 mph – and without the rider even pedalling – are plain illegal.
Electric motorcycles are, by contrast, more powerful, faster – and far more legislated. To ride an electric motorcycle on the road it must be registered (ie have a number plate), while you need the appropriate licence (linked to the machine's power), an approved crash helmet and insurance.
You also need to follow the same rules of the road that apply to any other motorised vehicle. You'll probably want to wear the same protective gear that other bikers wear too.
Invasion
According to Tony Campbell, chief executive of the Motorcycle Industry Association, which represents 170 companies, the latest electric motorcycle invasion began about 10 years ago, spearheaded by American firm Zero, which still dominates the larger-sized EV bike market today, with a wide range of machines for different purposes and lifestyles.
The less costly end of the market meanwhile – for urban, commuter-style or delivery bikes – is dominated by imports from the Asia Pacific region, where small, electric scooter-style motorcycles have revolutionised transport, and where more than 300 million were reported to be in use in 2019.
Clearly, it made sense for these manufacturers to seek out additional markets in Europe too, hence the wide range now on offer in the UK, most bearing names never before seen in motorcycle showrooms.
Today more than 60 manufacturers offer a range of around 180 different battery-powered motorcycles for sale here, both online and from showrooms, some just minor variations on a theme, offering lesser or greater levels of power, range, and equipment, many offering a more serious challenge to the world of petrol motorcycles.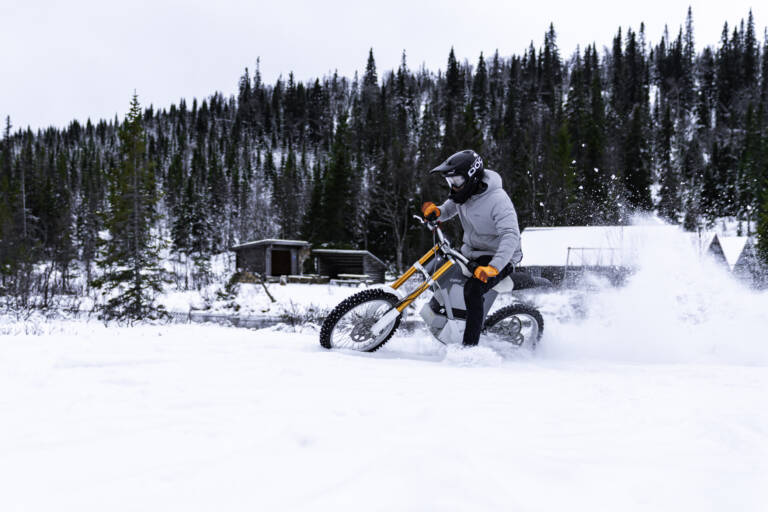 They range in price from around £1,648 for Super Soco's 25mph CU Mini (including the Office for Zero Emission Vehicles Funding grant) to the sophisticated Harley-Davidson Livewire, costing from £28,995, offering 105bhp and a fun, high quality ride.
It's worth noting that industry pundits predict UK Livewire prices might fall, aligning them with a possible price reduction in the US, following the 'LiveWire One brand' now coming online in the US. We asked HD UK, who say it's still 'business as usual' with nothing likely to change before late 2022/23.
The electric bike sector is also seeing new start-ups. A great example is the new MAEVING, made in Coventry, with its modern retro look, but using all the latest electric motor and battery tech.
There is – of course – a vast and widely differing range of other battery-powered bikes available in between these two extremes and – if you can get your hands on them – even specialised 'small-batch' electric bikes that are way more expensive (anyone up for the fully-enclosed, 150mph Swiss-built Mono Tracer, for a cool £78,546?).
Advantage
One particular advantage of the smaller, urban models – apart from the fact they are relatively inexpensive, generally easy to ride (there's no need for gears or a clutch on an electric motorcycle), unintimidating, nimble and easy to manhandle – is that their batteries tend to be smaller, therefore more easily removable.
This means that they can be carried inside for charging, as, for instance with Super Soco's £4,349 CPx 'super-scooter', equivalent in performance to a 125cc two-wheeler.
Some machines – like the CPx – can be supplied with two batteries, allowing one to be charged at home or in the office while the other is in use. Some bikes – like the CPx – can carry both batteries, in effect doubling their range.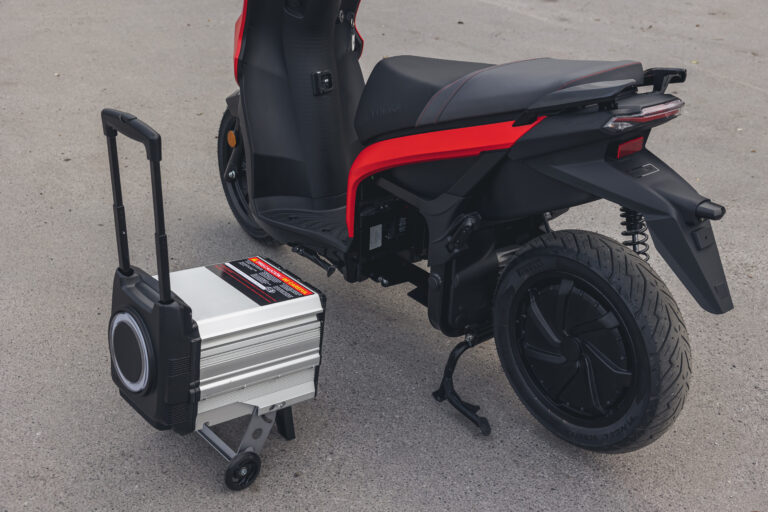 With some batteries weighing in at around 20kgs each, however, you wouldn't want to carry them far.
Large electric motorcycles – such as Harley-Davidson's Livewire, for instance, or Zero's flagship £19,590 SRS, however, tend to have fixed, built-in batteries. These can also be charged from a household plug, with the appropriate cable.
Alternatively, some electric bikes can also be plugged into public chargers at the roadside or in supermarket or motorways service area car parks.
Is anyone actually buying electric motorcycles?
Electric motorcycle sales are charging up nicely in the UK, with the latest UK figures showing impressive year-on-year growth of 170 per cent over 2020.
Total electric motorcycle sales are relatively low, with 4,467 units sold in the past year to September, compared with 92,574 bike sales overall. Steady growth in the electric sector is a certainty, and the MCIA's Tony is pragmatic about this.
"As an industry we have not been able to bring in the wave of young new motorcyclists we had hoped to attract.
But electric motorcycles are opening up a whole new market for the industry; younger people who might not have turned towards a conventional motorcycle, but who, for practical or environmental reasons, will turn towards an electric bike. It is good news."
Are electric motorcycles more expensive to buy?
Despite the super-low price of the Super Soco Mini (above), they can be more expensive. There tends to be a premium for buying electric, partly because of economies of scale; ie they sell in smaller numbers.
Also, any new technology tends to be more expensive, at first, to cover development costs, although prices tend to reduce later on. However you could be eligible for the Government's – now severely diminished – plug-in motorcycle grant, which will help trim the price.
Do electric motorcycles cost less to run than a petrol-powered equivalent?
According to the website Begin Motorcycling, overall, electric bikes do currently cost more to run than a petrol equivalent, overall, thanks in part to higher insurance costs. This will also depend on whether you charge at home, which is less expensive than using a public charger.
However insurance costs are expected to fall, as increasing numbers turn to electric motoring, and servicing costs should be cheaper, as there are fewer moving parts. One advantage is that you don't have to pay road tax, a saving of between £21 – £96 a year. However you still have to go through the 'taxing' process, to achieve a zero rating.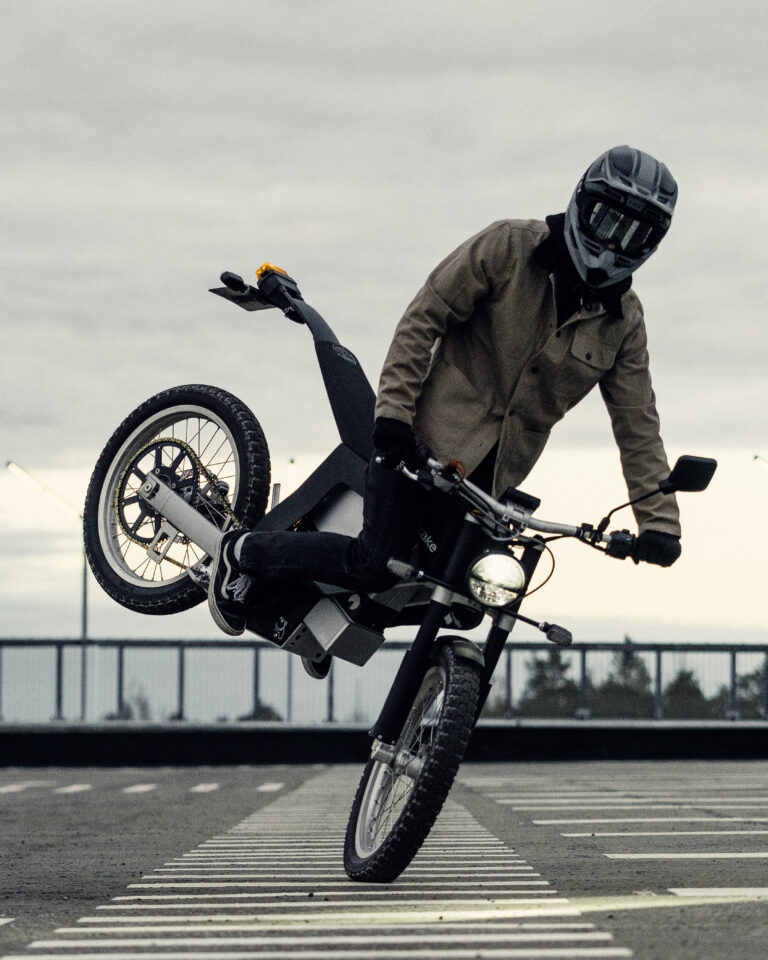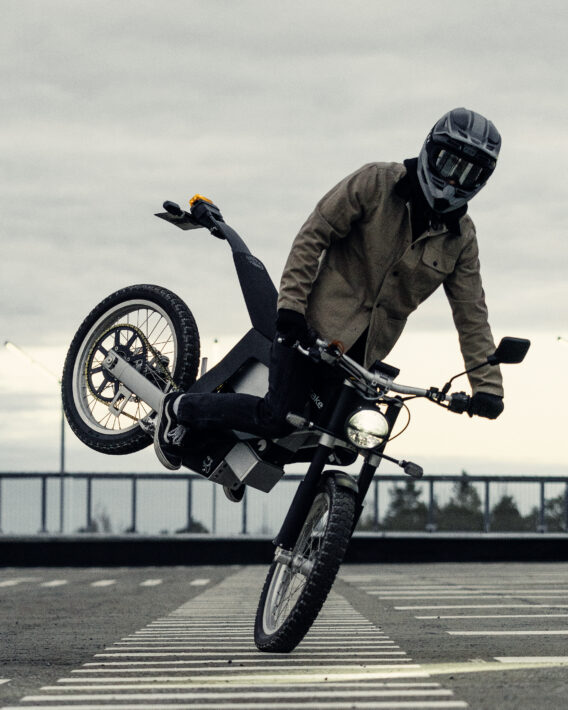 What about fuel costs? According to insurance bulletin Insurance Edge, this is where riders can make big savings. Motorcyclists can, they say, easily spend £5-£15 on fuel a day at the petrol station compared to between 20p and 50p when charging up.
They add that, over a few years, the savings on fuel and road tax could claw back the extra cost of buying a battery powered bike vs a petrol machine.
What about range?
This varies tremendously. The £3,110 Niu MQi GT SR for instance – the equivalent of a 50cc petrol scooter with a 'step thru' frame and seat for two – is claimed to have a range of 'up to' 50 miles, suggesting that depending on riding conditions it may fall some way below this.
Factors such as cold weather, riding style, wind-resistance, the weight of the rider and use of ancillaries – such as heated grips – also make a big difference.
But with many urban motorcycle commuters travelling only nine miles a day, according to Statista, that may not be a problem. Bigger bikes – with bigger batteries – can travel much further, rivalling even petrol-powered versions. Take Zero's SRS, for example, claimed to have a potential range of 227 miles (with the 'Power Tank' and 'Extended Range Charging Cypher Upgrade), or a stop/go 'city' range of 156 miles.
Unlike petrol-powered bikes however, which can be refilled in a couple of minutes, recharging an electric bike takes much longer, often demanding several hours.
Even bikes that can use higher-speed chargers will take at least 40 minutes to charge; and of course charging points can still be harder find than a standard petrol forecourt – at least for now. There may also be a queue, when you get there…
Harley-Davidson, by way of example, says that typically, its LiveWire can charge to 80 per cent battery capacity in 40 minutes on a public fast-charger, or to 100% in one hour.
On a standard cable from a domestic three-pin socket, however, users would need to charge overnight, as this could take 10-11 hours.
If you're thinking of moving over to electric – and want to go touring – you'd better get used to the idea of enjoying a cuppa (or a nap), while your bike soaks up the amps….
Will I need an account to charge my motorcycle at public charging points?
It varies. Some public charging points have a monthly subscription fee, some charge a £1 connection fee in addition to the cost of the electricity, some require an account and, increasingly, some providers are fitting contactless payment facilities, for pay-as-you-go ease.
Generally however, topping up at a public charging facility is more costly than charging up at home. One way to find the location of public charging points – and to plan long journeys in advance – is to consult ZapMap.
What licence do I need to ride an electric motorcycle?
It's complicated. Some electric models can be ridden on L-plates by 16-year-olds because they're restricted to 30mph. Other models require full motorcycle licences because of their power output. To find out in detail, check out this UK Government website.
What are electric motorcycles like to ride?
This, of course, is the million dollar question. For many riders, the very essence of a bike is the roar of the exhaust, the vibration from the engine, the thrill of the carefully timed and controlled detonation of fossil power.
There's none of that on an electric bike. What you get, instead – at least in bigger bikes – is prodigious amounts of oomph from zero revs, delivering extremely rapid, smooth, linear – and near silent – acceleration. The handling of the best electric motorcycles is on a par with competitive petrol-powered machines, too.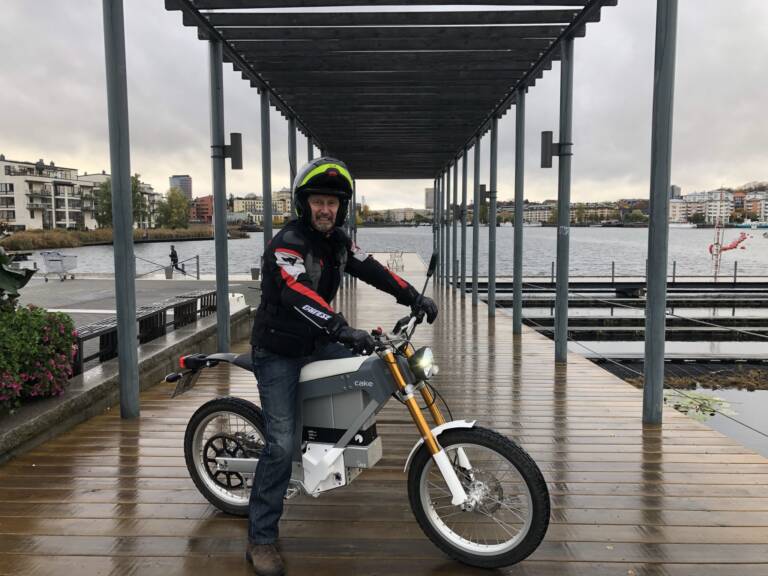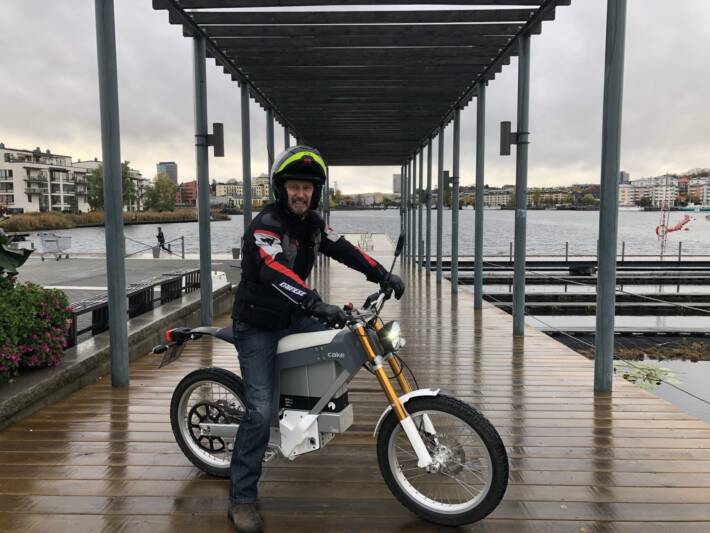 Even smaller, commuter-style electric bikes can be surprisingly nippy… before 'topping out' at a maximum speed of, in the case of the Niu, just 28mph, ensuring that it can be ridden with a Provisional AM licence (with CBT), that would also enable you to ride a 50cc petrol model.
Will real bikers like them?
Yes. And no. Dyed-in-the-wool petrolheads might struggle to adapt to the brave new world of electric motorcycles. Others will embrace it. And as the charging network improves – along with technology – 'topping up' will, slowly, become less of an issue.
Will it feel the same, strapping on your panniers, a tank bag and tent, and heading for a two-week tour on the Continent – or riding 'the long way down'? Probably not. At least for the foreseeable, unless you're particularly patient, adaptable, and have plenty of time on your hands, and plan your trip via a network of charging points.
Some critics maintain that the UK won't even be able to generate enough electricity to power the new transport revolution, and that there will not be sufficient chargers in place for some time to come. Time will tell.
The future
"This is where we are, and electric propulsion is the direction of travel. We have two choices: get on board and be part of the future, or sit there and deny, and end up being viewed, as the tobacco industry was, 20 years ago. So says Tony, of the MCIA.
He adds: "At the MCIA, we are working very hard at presenting the sector as a provider of solutions when it comes to decarbonisation." In fact, studies show that the motorcycle sector is responsible for only 0.46 per cent of the UK's transport carbon output.
"However we understand that percentage will increase if other sectors go down and we don't move forward. But we are still part of the solution, not the problem."
Will the sale of new, petrol-powered motorcycles be banned from 2030, like sales of new petrol and diesel cars?
All eyes are now focused on that major announcement that will be made by the MCIA, ZEMO (Accelerating Transport to Zero Emissions) and the Government's Department for Transport in early February.
What is expected to emerge is that smaller machines – such as electric mopeds and scooters – will feel the wind of change first, with new rules phasing out the sale of petrol-powered versions likely from 2030 onwards. This, believes Tony, will eventually lead to clearer dividing lines between commuter/urban bikes, and what he terms 'leisure' bikes.
It is likely that larger, petrol-engined bikes will enjoy a longer grace period, possibly remaining on sale until 2040. The thrust of the Action Plan to be revealed next year will, says Tony, not necessarily be 'anti internal combustion engine' but 'anti non-zero-emitting', raising the enthralling possibility that the industry might, at some future point, to develop a non-polluting ICU engine. Hydrogen, perhaps? Tony hints at some form of 'synthetic fuel', but that depends on the energy firms making a significant step forward in this area.
This chimes with the views of the National Motorcycle Council, which is keen for any new legislation to be 'technology neutral', allowing the industry to come up with best new solutions, preserving a strong element of choice.
"Right now we have a fantastic opportunity to expand the marketplace – and we are going to seize it," says Tony. Another factor forcing change, he anticipates, is the 'disappearance' of traditional filling stations, which will be replaced by new-look charging stations as more motorists transition to electric cars.
This could force up the price of petrol – and make the prospect of a 'cartridge' style battery, allowing riders to quickly swap a depleted battery for a charged one, much more appealing.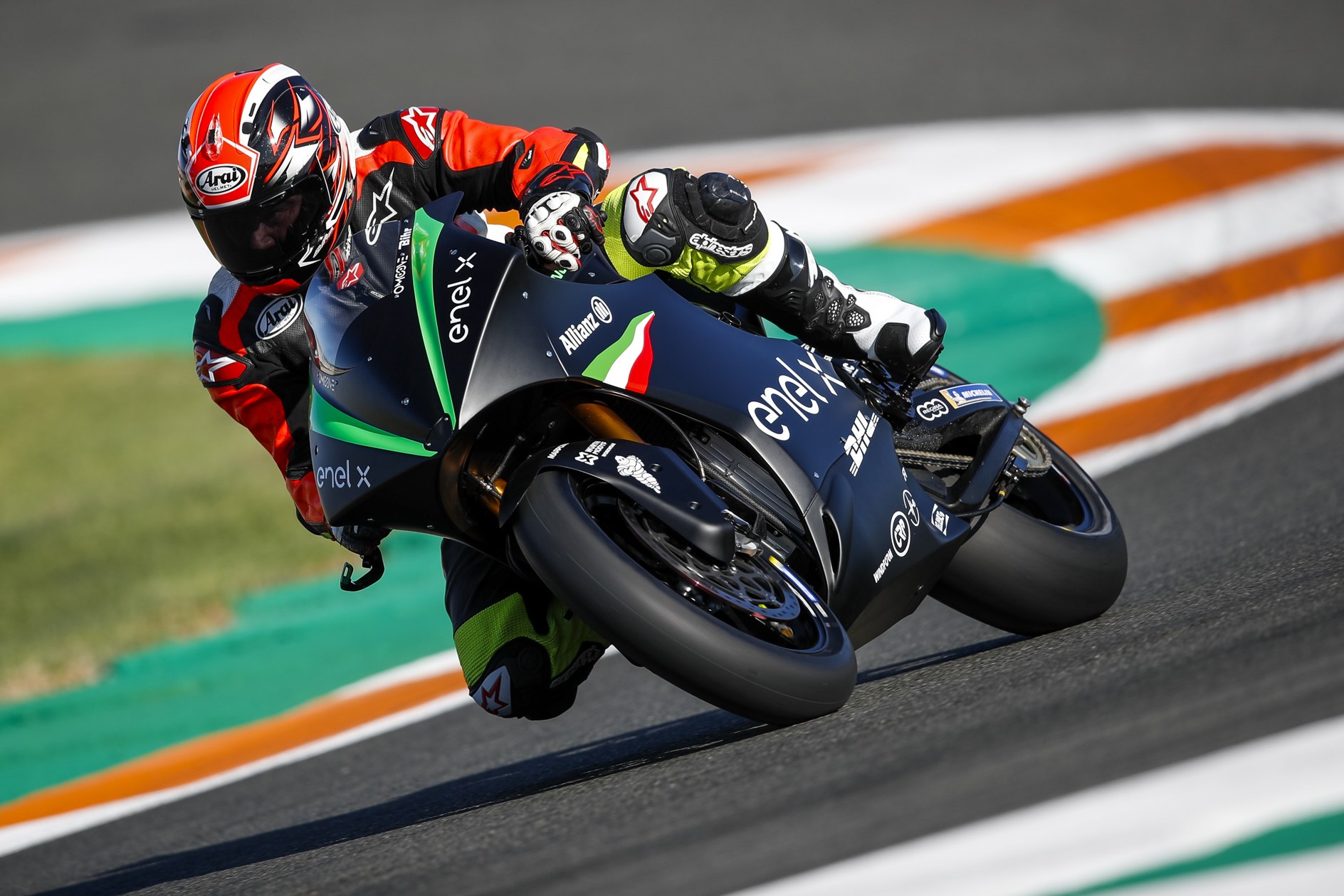 Meanwhile, the 'refuelling' industry is looking at ways of monetising those precious minutes that all motorists will have to spend, as their car or bike sits on a forecourt, during recharging.
"However you look at this new world, it's coming, and we are excited about it at the MCIA," says Tony. "The market stagnated as we followed the 'grey pound'. Now we are attracting new customers and will increasingly be seen as part of the transport solution.
"We believe people will quickly come to like what is a different sensation, the ease of maintenance, the lack of emissions. There will be die-hards who don't adapt – but there will be many who also welcome change."
Adds Tony, following the Government's December announcement: "It was both surprising and disappointing that Government decided to reduce the Plug- In Grant without notice in such a drastic way. The moped grant has been reduced by 90 per cent of the previous maximum allowed and the motorcycle grant by 66 per cent. The impact this will likely have on the market and knock-on cost to the customer will be significant. MCIA are currently working closely with the Department for Transport on the Motorcycle Sector Strategy that will be launched during early February. A key action within this strategy will be to carry out an urgent review of incentives to ensure the take up of Zero Emission Scooters and Motorcycles continues to grow."
What kind of electric machine can I buy?
There are far too many electric bikes on sale for us to list them all, so we've picked just four examples of electric bikes available in the UK today, to give you a flavour of what's on offer. They span the market from small to large. 
Entry level
Some of the most popular electric motorcycles come from Vmoto's Super Soco range.
Its entry model is the newly-announced CU mini, costing just £1,648 (including the Office for Zero Emission Vehicles Funding grant).
It has a 600-watt motor, front and rear disc brakes and a top speed of 25mph, making it AM licence-compliant. It can be ridden with a valid CBT certificate or by those who obtained a car licence prior to 2001.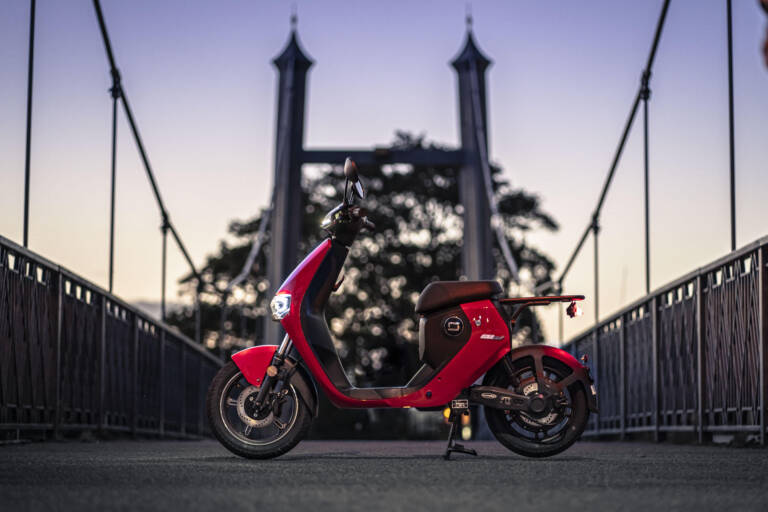 It has a removable lithium-ion battery weighing just 7kg, and it can be charged at home or work from any standard three-pin UK plug, with a claimed range of up to around 25 miles between charges. It has keyless ignition, along with inbuilt alarm and tracking features.
Coupled with the Super Soco app, the bike can be tracked in real time from a mobile device. For comparison, the importers say that the CU mini's top-selling petrol equivalent is the Lexmoto Echo.
125cc equivalent
This handsome, retro-looking bike is manufactured in Coventry, by Maeving, and it cost £4,995 (including the old grant: Maeving is currently working out how much it will cost following the Government's decision to slash grants for new electric vehicles).
Its makers describe it as 'a British electric motorcycle with a removable battery that you can charge from any plug socket.'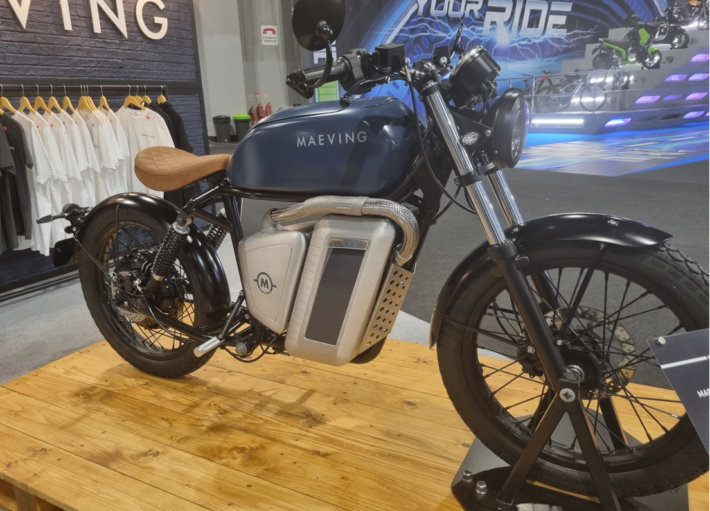 Claimed to 'balance primitive appeal with tomorrow's technology', its claimed range is from 40 – 80 miles. Its kerb weight is just 98 kgs, it has a top speed of 45mph and comes with an 'anti-theft tracker'.
The makers claim, on their website: "buy your bike from the makers. We'll deliver it to your door. We'll service it at the door."
Mid-range, 6-700cc equivalent
If you're looking for a supermoto-style machine, roughly equivalent to a 600-700cc bike, Zero's £12,070 (including grant) 35Kw (46hp) ZF7.2 could be the one. Its makers claim a 100-mile range, a top speed of 127mph, and it weighs in at 135 kgs. It is A2 licence compliant.
The seat height is 32.9 inches, and it has a five-year, unlimited miles, power pack warranty. In keeping with its looks, this Zero has 178 mm suspension travel at the front, and 227mm at the rear. Described by one motorcycle reviewer as 'the most fun offering in the Zero lineup'.
Harley-Davidson Livewire
The Livewire is the one that put electric motorcycles on the agenda for dyed-in-the-wool bikers.
Costing from £28,995 (including grant) it is described by its makers as 'a bolt of lightning that electrifies the urban grid'. Whatever that slogan means, it's an impressive, dynamic-looking machine, with a claimed 146-mile range. It offers the equivalent of 105hp.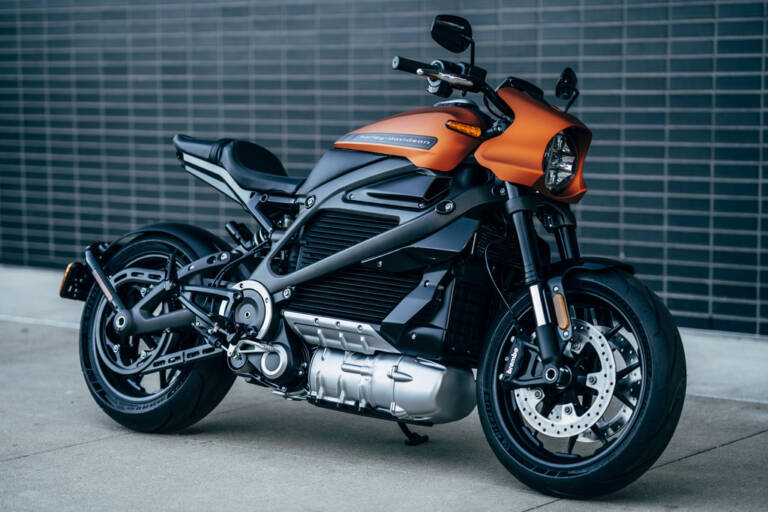 Its makers say that a Level 3 Fast Charge station will deliver an 80 percent change in 40 minutes, or a 100 per cent charge in an hour. It has different ride modes, a top speed limited to 110mph, and weighs in at 251kgs.
To find out about other electric motorcycles on sale in the UK, just enter the term in a search engine… and prepare to be dazzled by the sheer range.
Pricing
We went to press just as many manufacturers were scrambling to re-align prices, following the Government's Plug-In Grant announcement, so keep an eye out for changes to advertised prices, and those quoted here. Check dealer and manufacturer websites for any updates.
David Williams @djrwilliams