NORMALLY we're not too bothered about another new electric scooter. Small firms, importing no-name utility products from the Far East, with little in the way of backup, warranty, spares support or the like are ten-a-penny at the moment. And while the product itself might be fine, there does seem to be a bit more of a risk from that sort of purchase.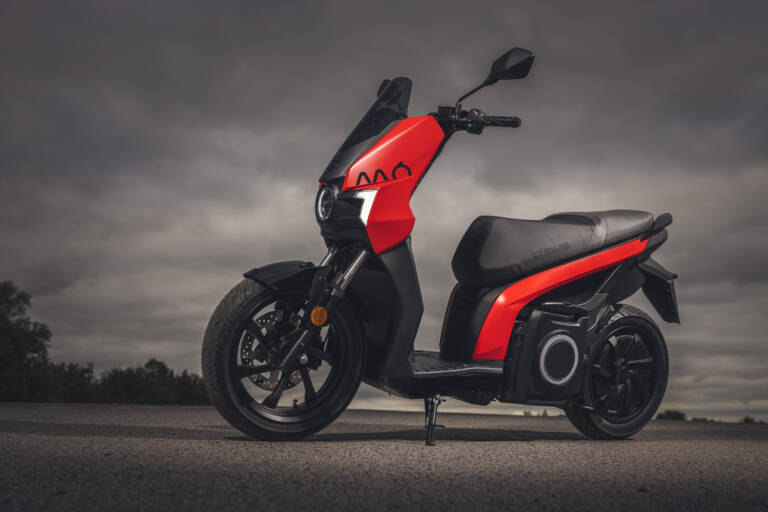 But what if you could buy one, for commuting, from one of the biggest vehicle makers in the world, through a mainstream dealership, with all the backup that comes with it? Sounds much more tempting – and that's just what we have here.
But it's not come from the name you might expect – Honda, Suzuki, BMW or similar. Rather, it's come in the other direction, from the SEAT car company in Spain. SEAT is the Iberian arm of the Volkswagen-Audi group, and normally sells slightly lower-spec versions of VAG's four-wheelers – think of it as the sunny Skoda.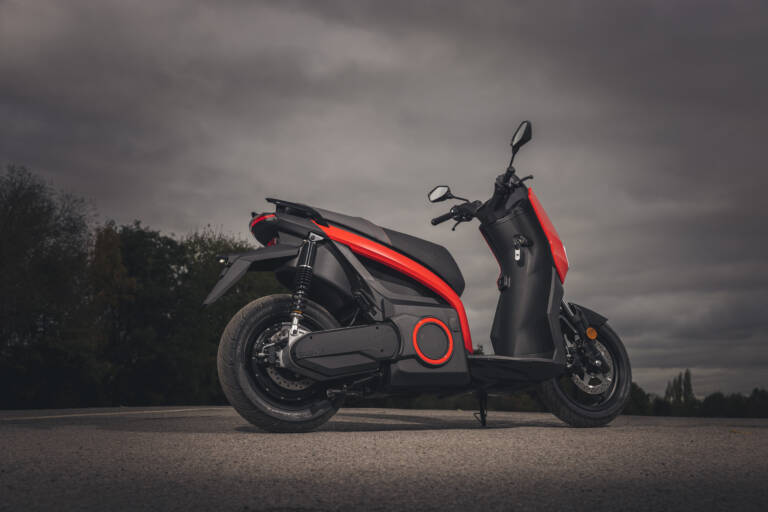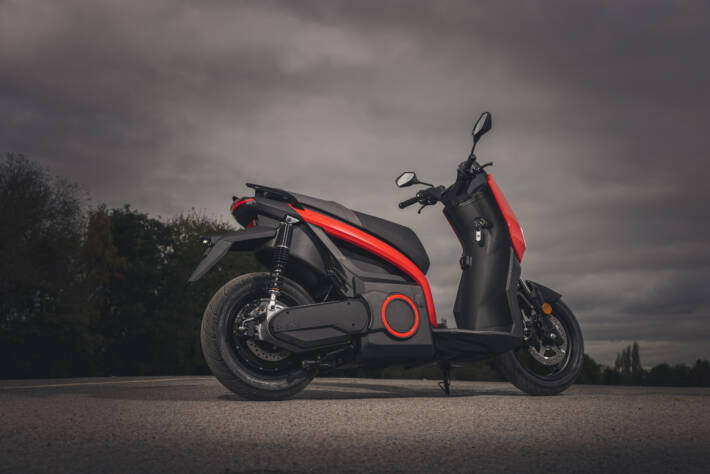 The firm has seen the writing on the wall for cars in cities though, and has come up with this electric scooter as an option for urban commuters faced with ULEZ zones, car bans, pricey parking and snarled-up traffic jams.
We got a chance to ride the new scooter in Essex, at an off-road training centre in Hornchurch. The very nice SEAT people took me round the scooter, and filled me in on the background. The first thing to say is that this is a rebadged bike – SEAT has contracted the Spanish 'Silence' firm to build a special SEAT version of its own scooter, with the car firm taking over the importation, sales, backup and everything else.
So the SEAT MÓ has the same cunning removable battery design as the Silence scoot, which is perhaps its most obvious feature. The battery is the heaviest part of an electric vehicle drivetrain, though it's cancelled out a bit by the much lower weight of an electric motor compared with a petrol engine and gearbox.
The problem comes when you need to charge it without access to an outside charging point. So on the MÓ, the whole battery slides out of the side of the frame on rollers, extends its own trolley wheels, and you just extend the suitcase-style handle then wheel it indoors to charge at any mains socket. It's a clever design, and works well – the battery weighs around 88 pounds or 40kg, the weight of a healthy 12-year-old boy, and would be almost impossible to manhandle without wheels unless you're Geoff Capes.
The battery charges completely in 6-8 hours, and has a maximum claimed urban range of 85 miles – more than enough for any practical 125cc scooter commute I'd say. Add in the option of charging the removable battery at your workplace and I reckon you could even manage a 100 mile round-trip commute each day, with an eight-hour charge at your desk – if you could stomach the 60mph maximum speed of course…
Battery demonstration over, I get a chance to ride the MÓ round the test track. On paper, the SEAT scoot has 125cc-level performance, weighing in at a decent 152kg and making 12bhp peak power. But electric vehicles have a much stronger torque response than petrol engines, giving maximum grunt almost immediately, without waiting for a tiny 50mm piston to pick up speed and get into its power band.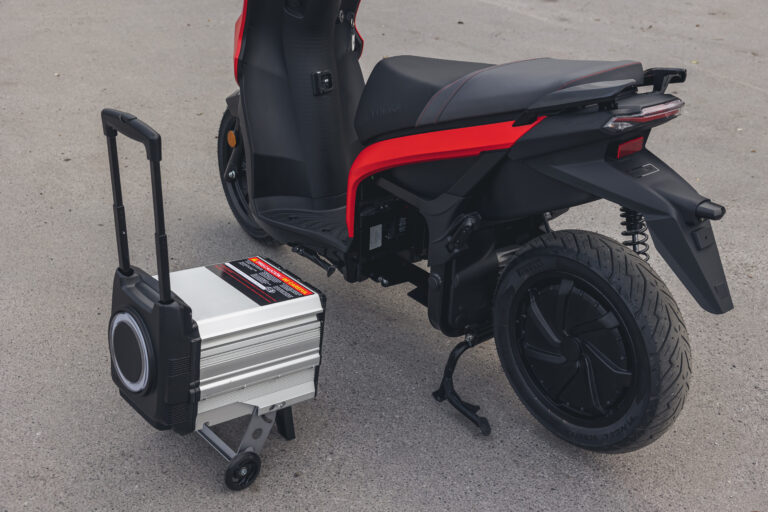 As a result, the MÓ feels really lively off the line, and gets to its maximum speed of 60mph really quickly. I'd not be racing any Nissan GTRs away from the lights in Kensington on one, but on the short 300 metre straight at the test track, you could – just – hit 60mph on the speedo before hitting the brakes for the next corner. Impressive stuff, and not at all the dull powertrain you might expect.
The MÓ handles well too. It comes with grippy Pirelli Angel GT tyres, which are an excellent fitment, and has an air-assisted rear monoshock plus conventional front forks. There's a 15" front wheel and 14" rear, which helps with stability, and there's an overall premium feel to the ride. Add in plenty of room on the footboards, underseat storage big enough for two helmets, optional top box and higher windscreen, and the MÓ could definitely cope with speedy middle-distance commuting in comfort.
There is a but though.
The MÓ doesn't have ABS, but uses a CBS combined braking system instead, which links the front and back brakes to lower the chances of locking a wheel. That's allowed on smaller bikes by law, though it's becoming less common, with the Japanese bike firms all moving to 'proper' ABS on their 125cc and smaller machines.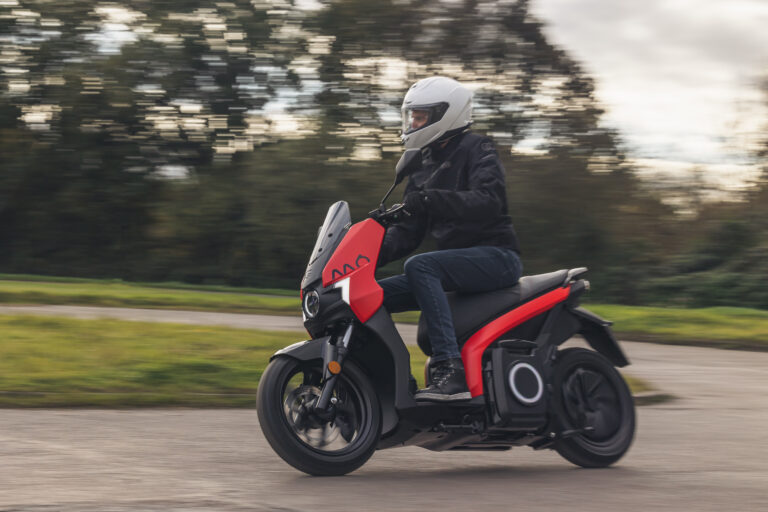 The brakes themselves work well: the right lever applies the front brake and also engages the regenerative braking on the motor, which takes energy from the back wheel and recharges the battery with it. The left lever just works both disc brakes with no regen.
Today, the track is a bit damp, and there are lots of fallen leaves, and if you brake really hard, with both levers, the back wheel starts to lock up. The front always feels solid, but the back end can just begin to slide when you hammer the brakes. It wasn't a big problem, but could be disconcerting for novice riders, especially considering the MÓ's likely to be used by those novices on slippery city streets with U-turning taxis, pedestrians stepping out – all stuff that can lead to sudden emergency stops. I'd like to see a proper ABS setup on any updates to the MÓ.
Apart from that though, I was sold on the MÓ. It goes well, has plenty of kit – USB sockets, LCD dash, built-in 3G sim slot for smartphone comms and tracker, and looks good too. It has a reverse gear, which is superfluous for a 152kg machine but fun to use, and there are three riding modes – sport, city and eco which give more or less performance as you desire.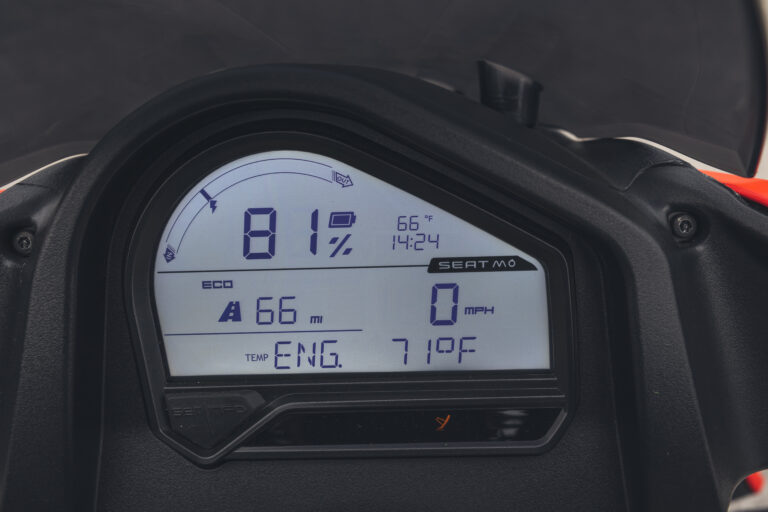 The removable battery is a game-changer for folk in flats or houses without drives/garages, and is a decent anti-theft move too: who's going to steal an electric bike with no battery in it? Seat will sell you a spare battery too, for around £1,100, which is probably aimed more at delivery driver fleet managers, but might make sense for some users, who could leave one charging at work and swap over each day. For me, living in SW London, with an old non-ULEZ bike in the garage, it would be very handy for daily use, keeping me off the trains and Tube, and getting around town with no worries about the congestion or ULEZ zone.
What will it cost then mister? Well, the MÓ isn't cheap at £4,996 with the UK government's £1,500 electric bike purchase grant factored in. That compares with £3,299 for a Honda PCX125 scooter. You'll have to do the sums for your own needs, but there will be savings on fuel (especially if you can charge up at your work for free…) and engine servicing, plus £21 a year road tax. So you'd need to do a lot of miles to cancel out the extra purchase cost. But if you've decided that electric commuting is the thing for you, and are happy with the 125cc performance, then the MÓ is definitely worth a look.
There's a national network of SEAT car showrooms setting up to sell the MÓ, with demo bikes available for test rides. More info: www.seat.co.uk.
SEAT MÓ SPECIFICATIONS
Price: £4,996 with UK government zero emissions grant
Powertrain: Brushless electric motor
Power: 9.4bhp (7kW) continuous, 12bhp (9kW) peak
Torque: 240Nm
Removable 5.6kWh Lithium-Ion battery with integral 55W heater
Top speed: 59mph
0-31mph: 3.9 seconds
Range: 85 miles (maximum claimed, urban)
Suspension: RWU front forks, air-adjustable rear monoshock, single-sided swingarm
Brakes: CBS combined braking system with motor-charging regeneration braking, 260mm front disc, 240mm rear disc
Recharge time: 6-8 hrs via 240V UK 3 pin connection
Tyres: 120/70 15 (front) 140/70 14 (rear), Pirelli Angel GT
STANDARD EQUIPMENT
Battery Management System (BMS)
600W on-board charger
LCD display: Speed, SOC (State of Charge), remaining range, temperature, time, 2 x trip recorders
LED daytime running lights + integrated turn signals
Three riding modes: City, Sport, ECO
SIM connected to smartphone app
USB port
Reverse gear
Centre stand
Side stand
Weight: 152kg