We compare two scooters, both great but which one will win this battle? 
Vespa GTS 300 v BMW CE 04
Vespa GTS 300
In 1979, I was playing semi-pro volleyball for a team in Los Angeles, and one Sunday after training I read a piece in the LA Times saying that Levi 501s were the coolest jeans on the planet.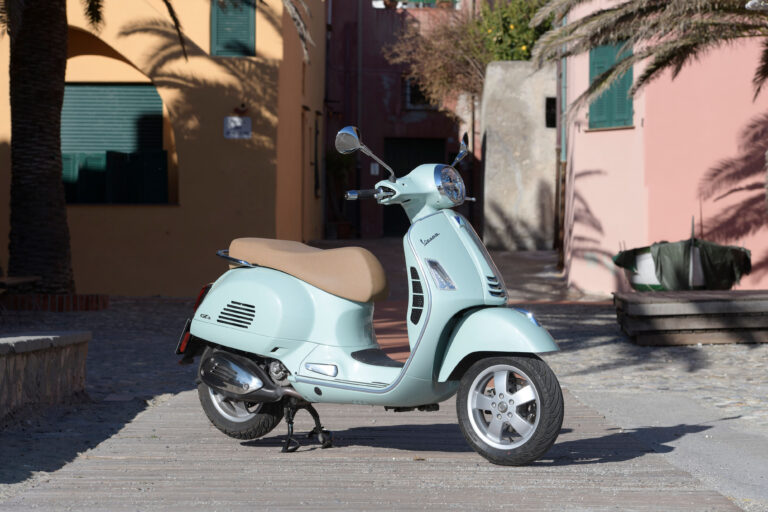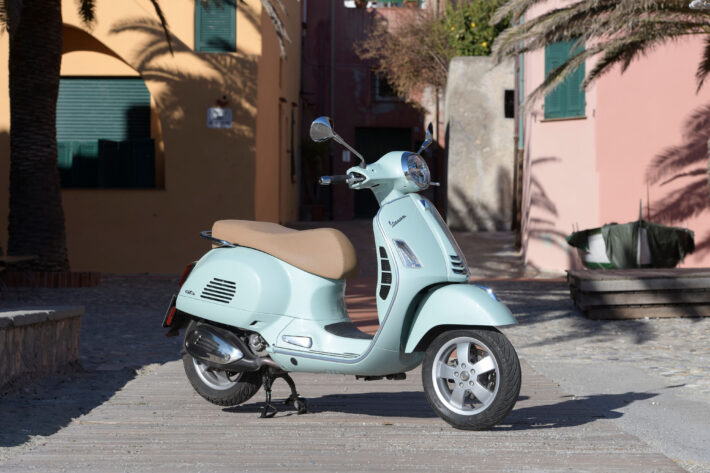 Being young and on a mission to be cool, I immediately bought a pair, wore them in the bath so they shrank to fit, and have worn Levi's since.
And just as jeans need to be Levi's, scooters need to be Vespas, the only exception being two-stroke Lambrettas owned by original Mods.
Of course, there are cheap plastic Chinese scooters for whizzing around town, and at the other end of the scale superscoots such as the Suzuki Burgman which can tackle motorways with impunity.
But for Italian style and elegance, it's got to be Vespa, I thought as I walked up to the charming and cheeky-looking GTS 300.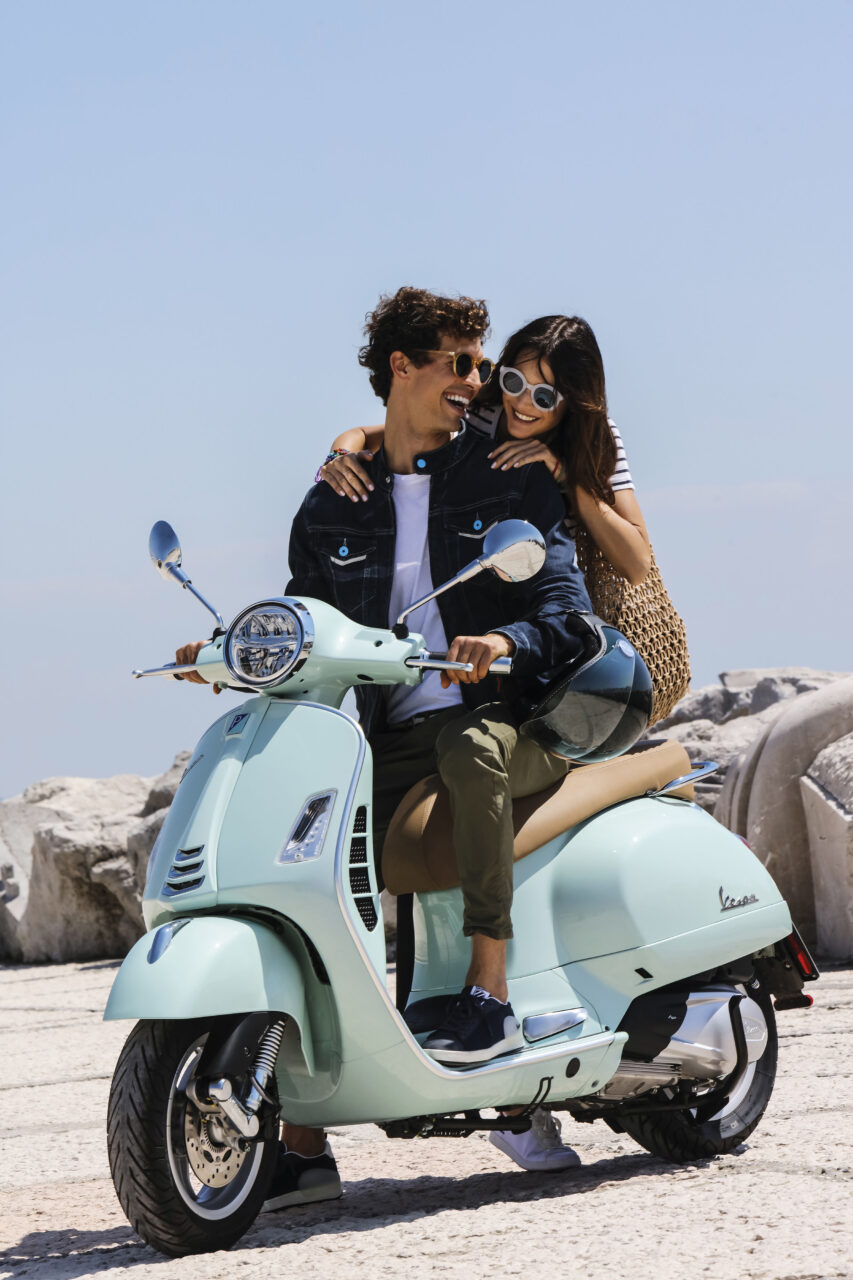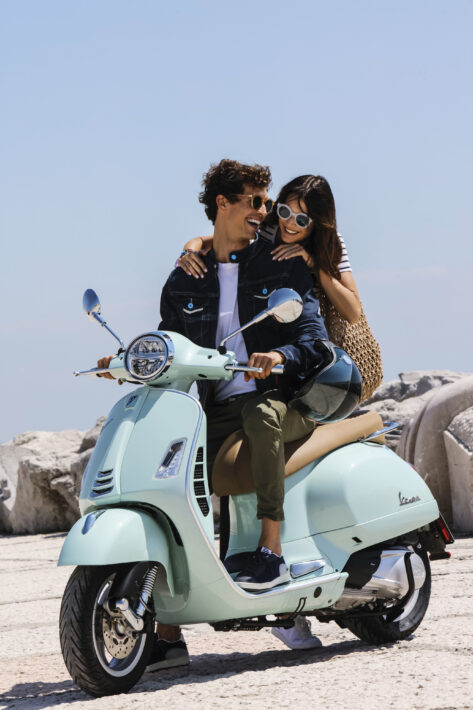 Particularly since this one had been blessed with a couple of touring accessories, namely a screen and spring-hinged folding chrome front and rear luggage racks which can also be used for pressing your trousers or keeping your ham and cheese panini, which is the Italian for ham and cheese panini.
In fact, now that I think of it, you could wire one of the racks up to the battery and have your panini toasted. Sorted.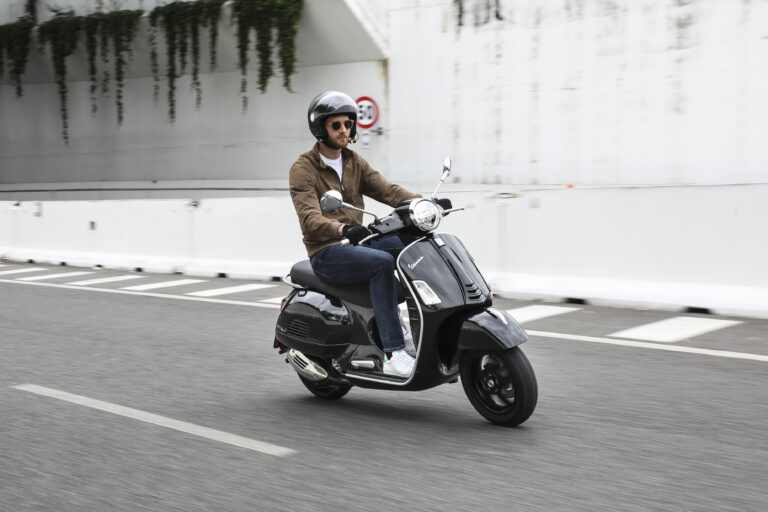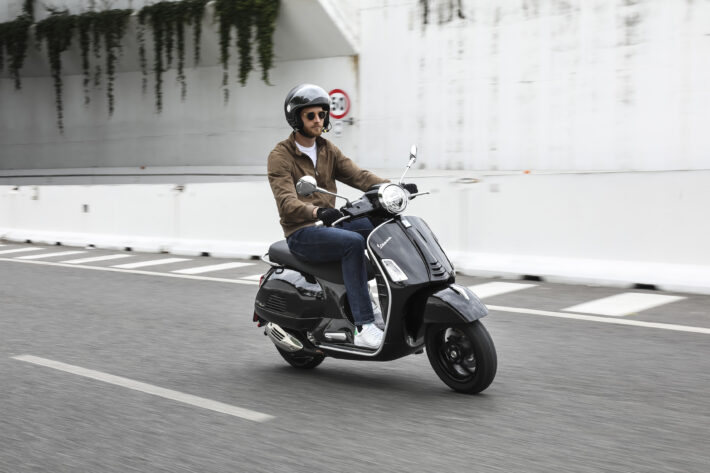 Climb aboard stylishly, check your hair in the excellent mirrors, settle your buns onto a plush seat as firm and sensuously curved as the young Sophia Loren, admire the small but informative dash, then press the go button, and the air immediately fills with a warm, contented purr, like a kitten who's just finished a bowl of warm full cream milk.
So far, so Italian. Twist the throttle, and thanks to 12% more power and 18% more torque at low revs than the previous incarnation, progress is splendidly brisk and seamless all the way up to motorway speeds, at which point the smallish screen does a reasonable job of keeping the wind at bay.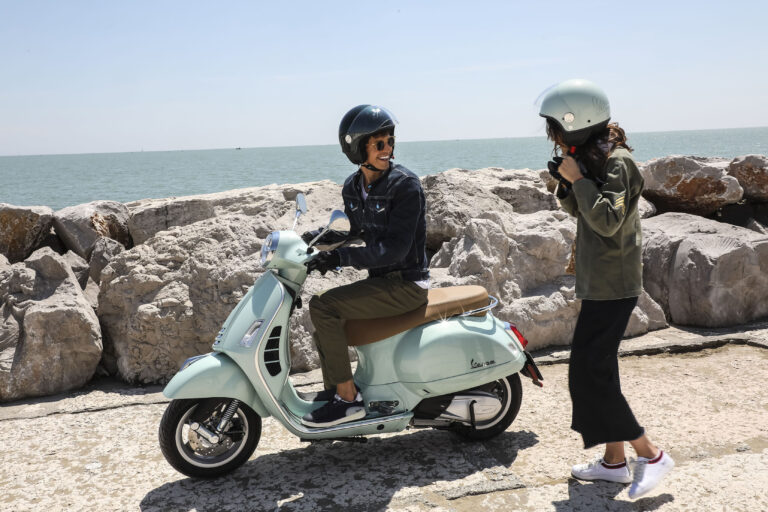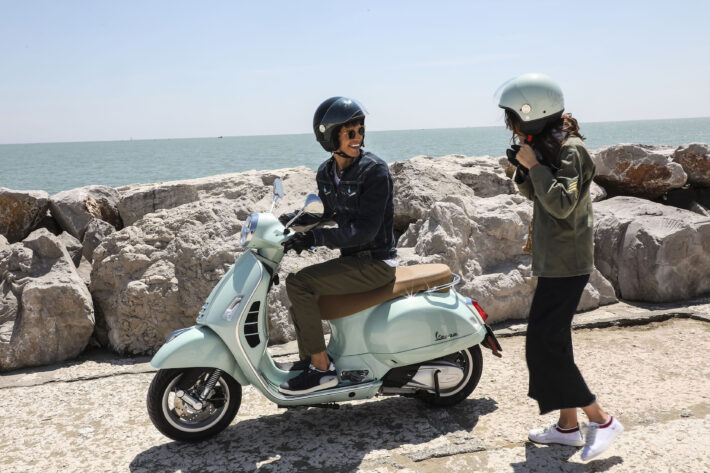 Handling, with the scooter weighing 165kg fully fuelled and most of that weight down low, is delightfully light and precise at normal speeds, although on a fast A-road on a gusty day, mildly twitchy thanks to 12in wheels which are becoming increasingly rare on scooters these days.
Heavens, even the bargain basement NIU MQi GT EVO I'd ridden recently has 14in ones, and the BMW CE 04 you can read about below has 15in ones. Note to Vespa – have a think. Even slightly bigger wheels make for a smoother and more stylish ride.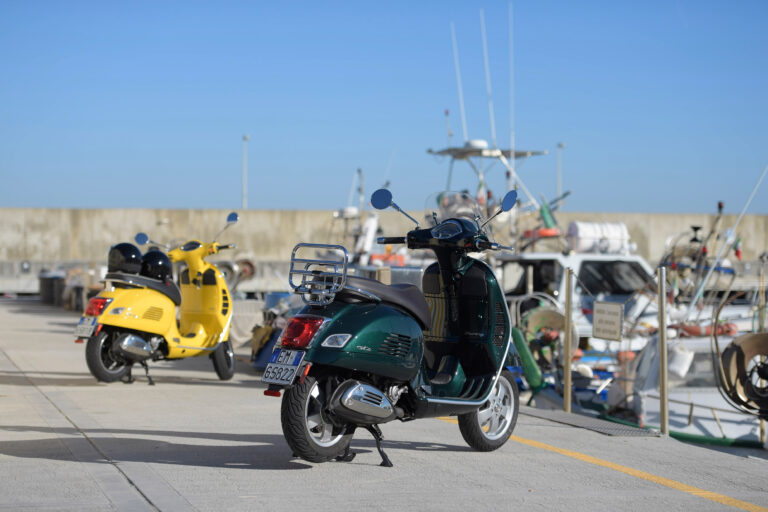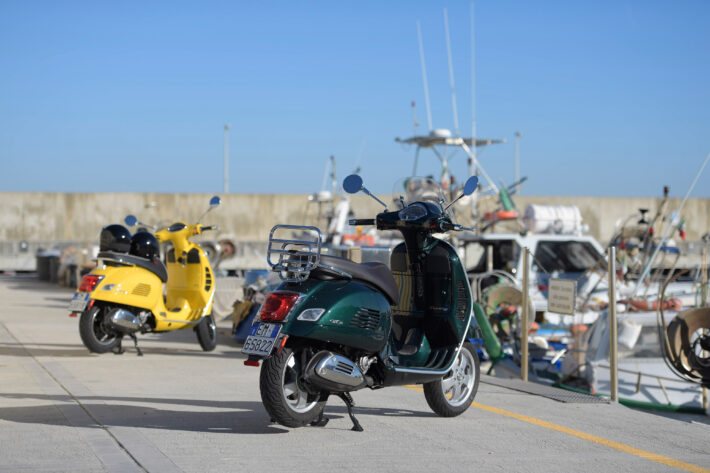 The previous version had Enhanced Sliding Suspension which was supposed to give a smoother ride, but since no one noticed, Vespa's dumped it, and the suspension is perfectly plush, laughing off bumps and ignoring potholes with gay abandon. If needed, you can adjust the rear preload for heftier riders or a pillion.
With fuel consumption up to 87mpg, the seven-litre tank will give you a range of 134 miles and a week's commuting for a tenner a week even at today's prices, and there's just about enough room under the seat for a full-face helmet – although obviously the Italian Ministry of Style would much prefer you to use a classic open-face one and shades, in which case you can get two in.
With 220mm discs front and rear, braking is as smooth and seamless as acceleration, with rear ABS as a comfort blanket in slick conditions. There's also traction control, which on a 23.5bhp scooter is just Vespa having a laugh.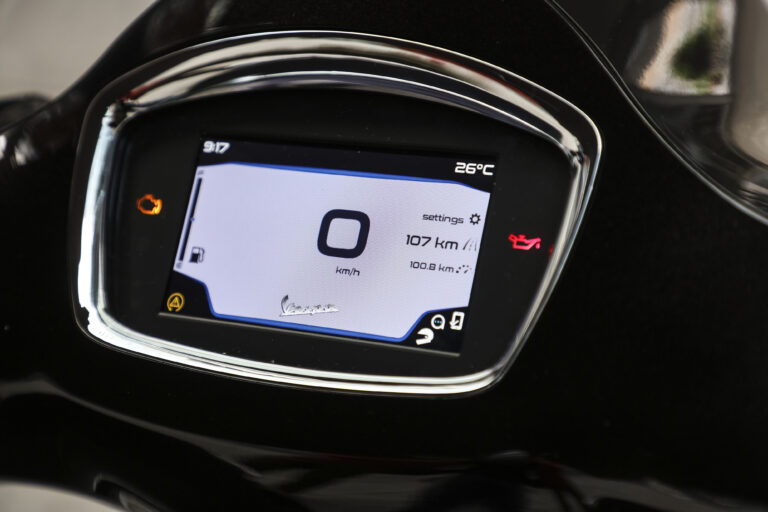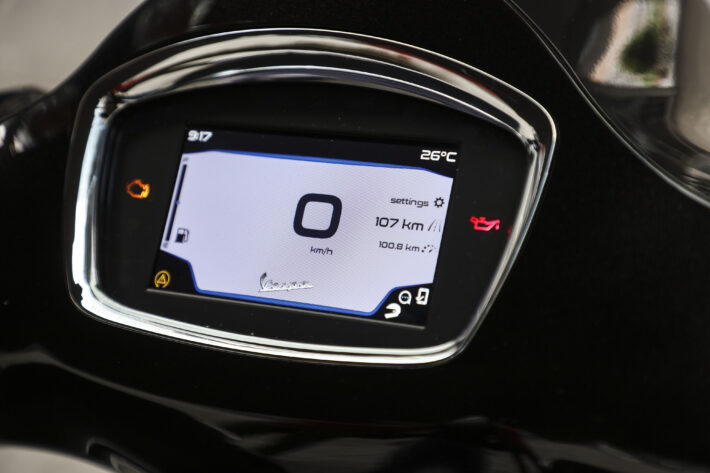 All in all, it's no surprise that this little beauty has such a huge following. For years it's been the second-best selling machine over 125cc in Germany, for example.
As well as more power and torque, Vespa's tweaked the engine to double the service intervals and make it smoother and quieter, and there is something blissful about soaring along effortlessly without a care in the world, the warm air filled with a happy purr, imagining that you're soaring stylishly through the sundappled hills and dales of Tuscany on your way to a date with the young Sophia Loren.
BMW CE 04
Well, heavens to Murgatroyd, but these electric scooters are like London buses – you wait for ages for one, then two come along at the same time.
You can't hear them sneak up on you, you see.
Next month I'll be writing about the Chinese-made NIU MQi GT EVO, a splendid little machine which is only £4,799, but which I immediately decided by a vote of one to zero with no abstentions is the best electric scooter I've ridden so far. More about that next month.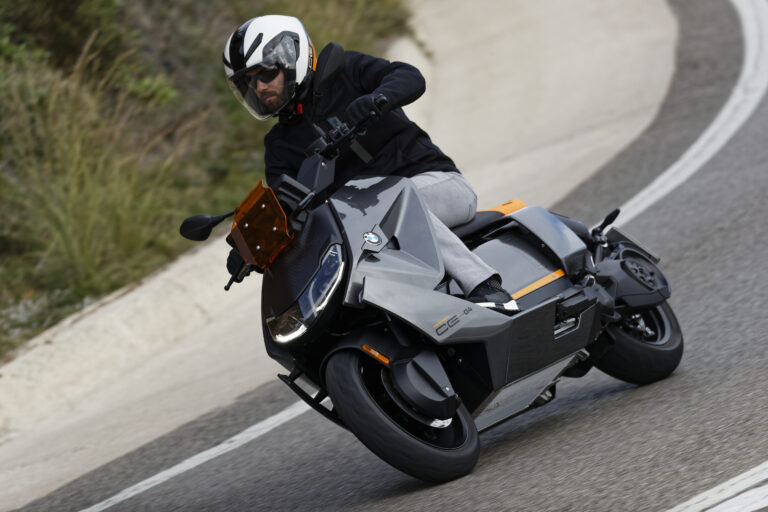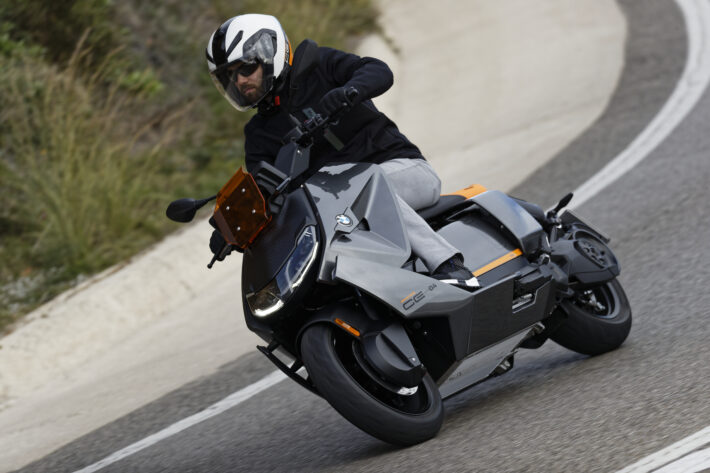 First, though, it's a bigger and much more expensive beast altogether, the BMW CE 04, which has 42bhp compared to the Vespa's 23.5bhp, but costs £12,850, or an even more eye-watering £14,460 if you add the optional extras. The Vespa, by contrast, is £5,700.
The CE 04 certainly looks splendidly futuristic, although in a retro kind of way – the sort of machine that Dan Dare would have ridden in Eagle comics in the Sixties on his way to give the evil Mekon of Mekonta a dig in the dongles.
What do you mean, you haven't a clue what I'm talking about? You're just not old enough, but give it time.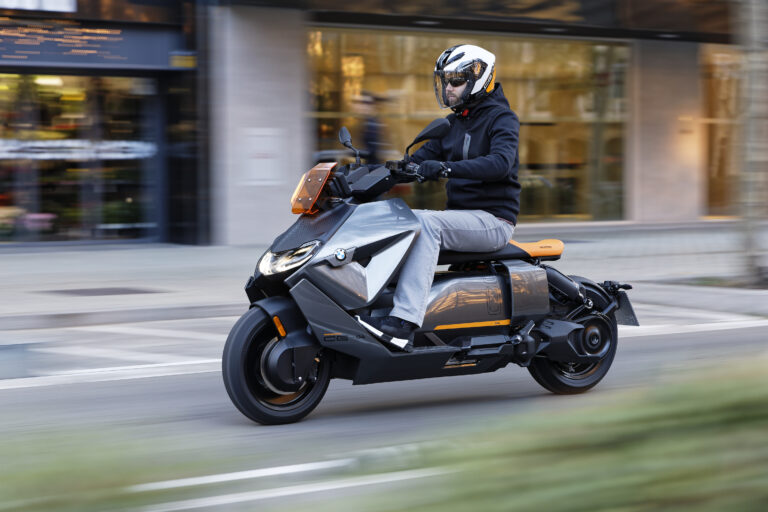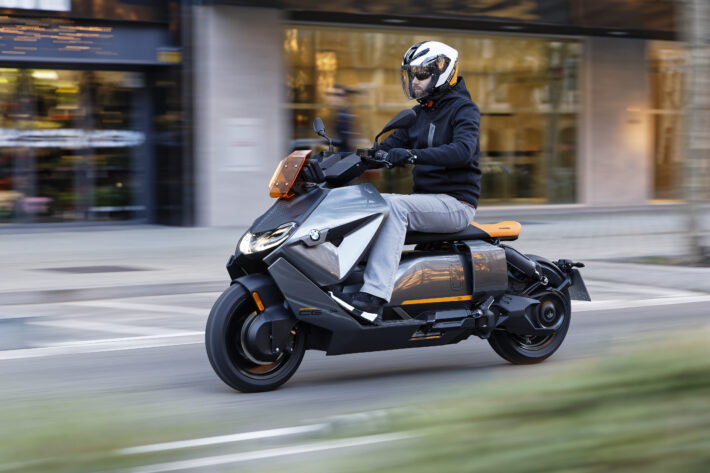 Anyway, where was I? Ah yes, looking at the seat of the CE 04 and thinking it looked suspiciously like a plank – a suspicion confirmed when I sat on it and found that it felt like a plank as well.
Mmm, time would tell if it got more comfortable, but in the meantime, I distracted myself by admiring the excellent mirrors and the fabulous 10.25in screen. Heavens, my grandparents' first TV was smaller than that.
The battery was showing 100% and the range 77 miles, and a switch on the right bar toggles between the various riding modes – Eco, Rain, Road and in this case the optional Dynamic.
Acceleration is brisk enough in the lower modes, and whippy enough in Dynamic to get it from 0-30mph in 2.6 seconds, which is quick enough to beat most cars away from the lights in urban duelling.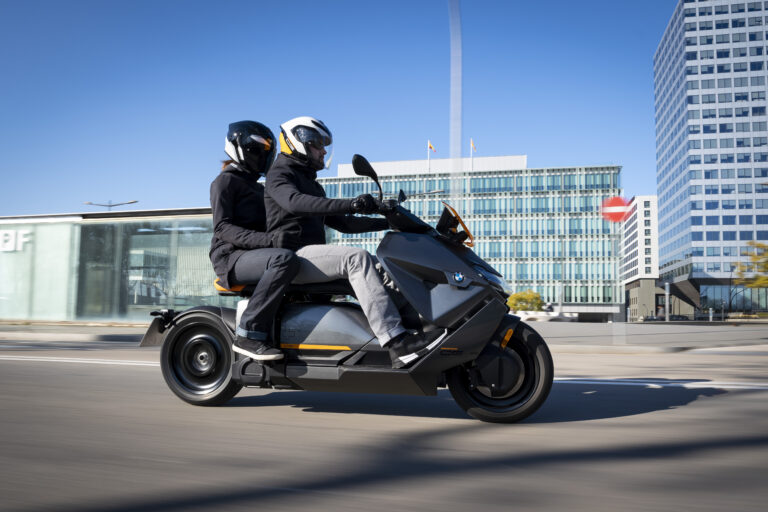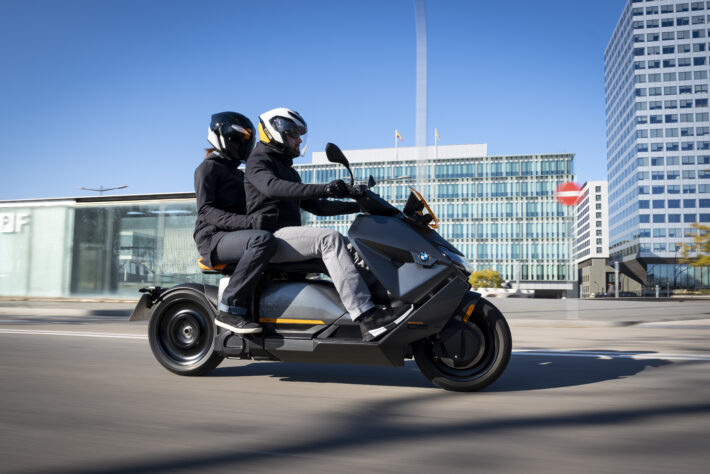 That's even more impressive given that it weighs 235kg, which is a huge drop from the lardy 275kg of BMW's first-generation e-scoot, the C-Evolution in 2014.
Handling, with the weight down low and 15in wheels, is superb, allowing you to fling it through bends with graceful precision made even more satisfying by the silence and the seamless power delivery.
With two big disks up front, slowing is as seamless and controlled as acceleration, backed up by engine braking which recharges the battery, especially in Eco mode.
And the battery needs it – after a 10-mile blast down the motorway at up to 79mph, at which point a screen would also have been welcome rather than the strange truncated orange bit of plastic fitted, the range was down to 47 miles.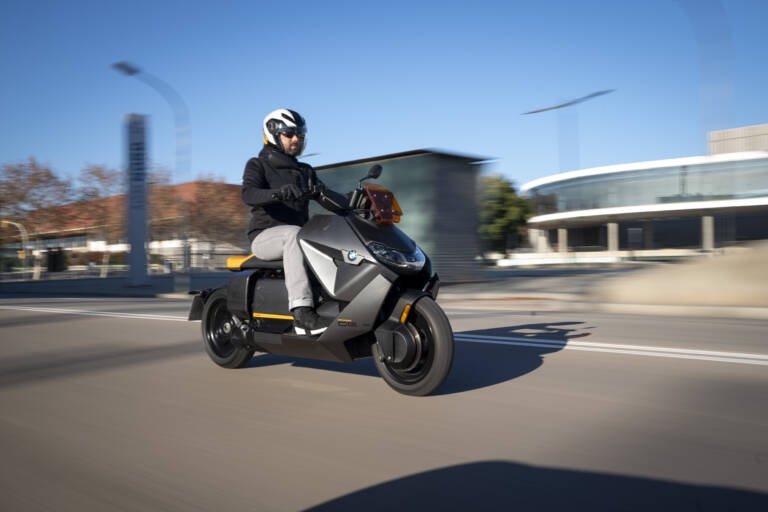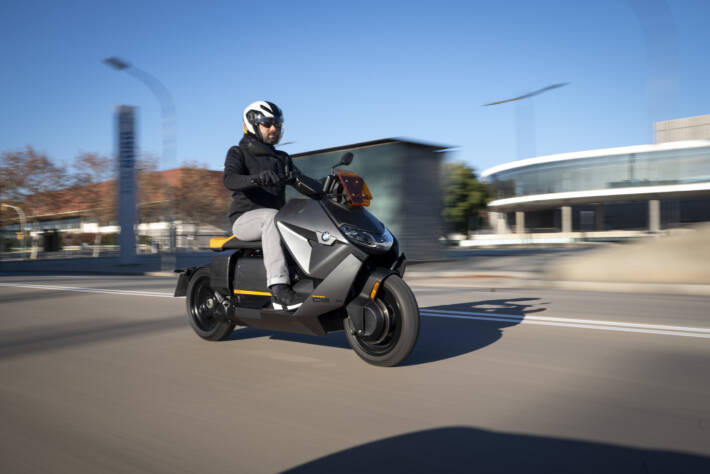 It's got heated grips and seat, although if you're going any distance on a cold day, both the cold and using both of those will drain the battery faster than I can empty a glass of wine on a Friday night. Spoiler alert: blink, and you'll miss it. Too late.
The seat's so bad that it was hard to tell what the suspension was like, although it did seem to soak up rough roads with aplomb.
By now I'd ridden 30 miles in an hour of motorway and A and B roads, and the range was down to 37 miles, so BMW's claim of an 80-mile range is probably about right for urban commuting rather than spirited dashing about in Dynamic mode.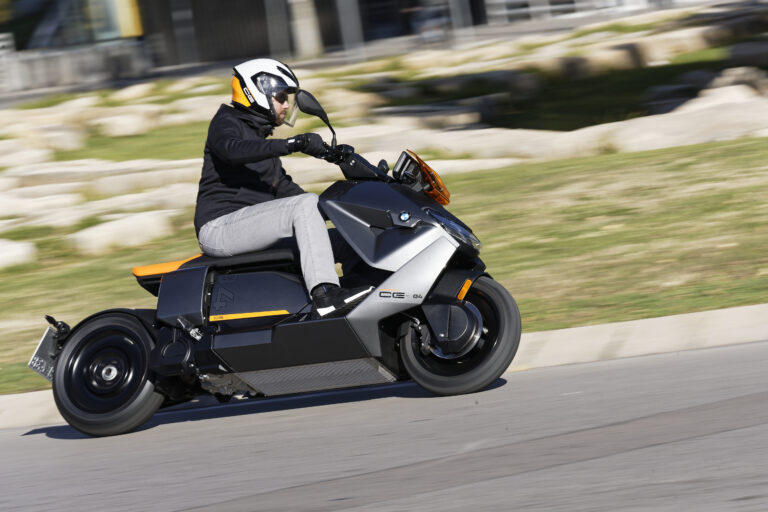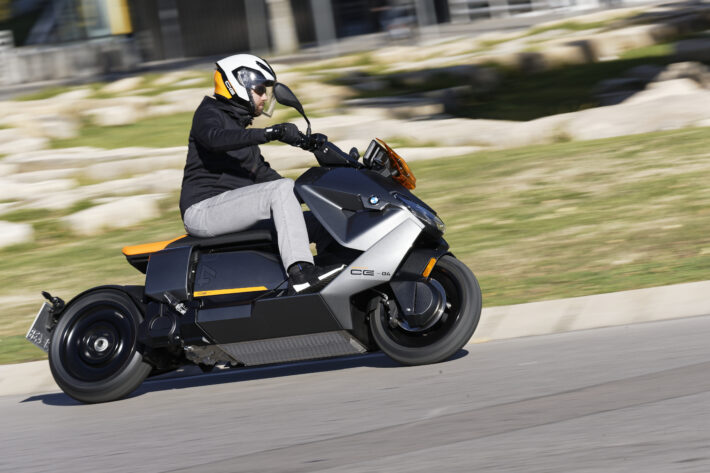 At the end of that hour, the seat hadn't got any more comfortable, so whoever designed it has no conception of the shape of the human bottom. I'll send them a photo of mine to give them a clue. No, actually, I'll send a photo of my wife's, since it's nicer.
BMW does offer another couple of seat options at £235 a pop, including the more comfortable Indian Bed of Nails and Broken Glass with Rusty Razor Blades versions, but why on earth it uses this as the standard seat is a mystery both to me and my nether regions. At least under it is storage space for a full-face helmet. Or possibly a cushion.
And then there's the price, which is bad enough even before you start adding options such as the fast charger at £850 to reduce charging time from four hours 20 minutes to an hour and 40 minutes, Dynamic mode, which is £380 extra for a sportier throttle response and cornering ABS, or the £555 City Pack with centre stand and tyre pressure monitoring.
As I said above, if you tick all the boxes, you're looking at £14,460. The nearest equivalent BMW petrol scooter, the popular 34bhp C 400 X, is 25kg lighter and only £6,560, or less than half the price of a fully-loaded CE 04.
So although a PCP deal with £2,627 deposit and £209 a month might ease the pain, it's hard to see who'll buy this apart from eco-warriors with buns of steel. Or Dan Dare.
The verdict
Sorry, BMW, but it's Italy 1, Germany 0. While the CE 04 is certainly more dramatic looking, the classic style of the Vespa is timeless. It's also got a range of 134 miles compared to the Beemer's claimed 80, although that's only accurate for urban pottering about.
The BMW's handling is better thanks to 15in wheels compared to the Vespa's 12in ones, but the Vespa's is only slightly twitchy if you're riding flat out like a lunatic. Sorry about that.
However, there are two flies in the Teutonic ointment. One is that awful seat, and the other is the even more awful price.
So buy the Vespa, and you'll have enough money left to take Sophia Loren out to dinner; although don't wait too long, since she's 89 and won't be around for ever.
The Facts
Vespa GTS 300
Engine: 278cc liquid-cooled single
Power: 23.5bhp @ 8,250rpm
Torque: 19 lb ft @ 5,250rpm
Colours: Beige; black; green
Price: From £5,700
BMW CE 04
Engine: Liquid-cooled 8.9KW electric motor
Power: 42bhp
Torque: 45.7 lb ft
Colours: Metallic grey/orange; white
Price: from £12,850