In our next battle we put some beastly Monster Cruisers up to the test. Both astonishing bikes but which one will take the crown?
BMW R 18
Charlie Haughey, the former Irish Prime Minister, once said that deep down, he was a really shallow person, and some people feel the same way about beauty.
But for me, beauty is much more than skin-deep. I know how much my spirits lift when I walk into a simple room, for example in Japan or Scandinavia, with just one or two beautiful things in it.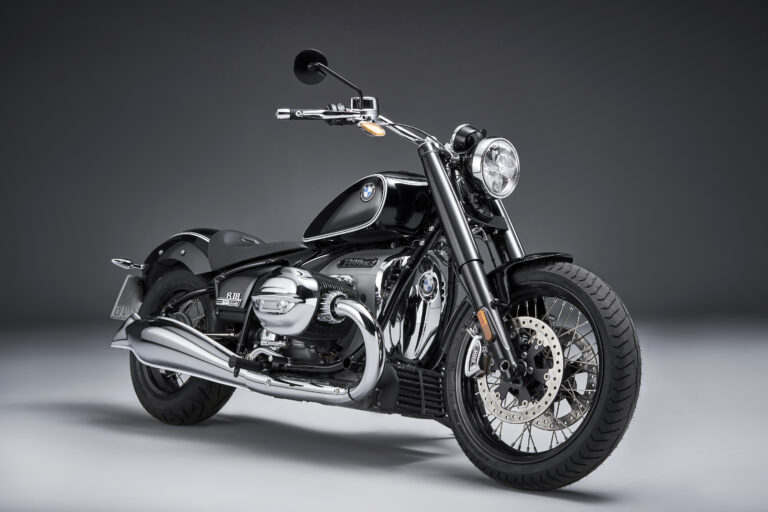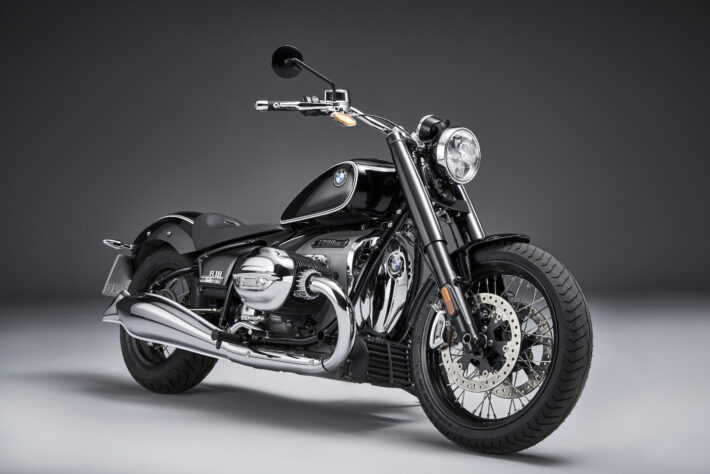 And how much they sink when I encounter a room full of clutter and ugliness into which no thought has been put; which reminds me: I must clear out that space under the stairs one of these days.
Which brings me, naturally enough, to the R 18, BMW's first cruiser since the ill-fated R1200C in 1997.
I must have been the only person in the world who liked it. Well, apart from Piers Brosnan and Michelle Yeoh in the Bond film Tomorrow Never Dies that same year when they escaped from the bad guys on one.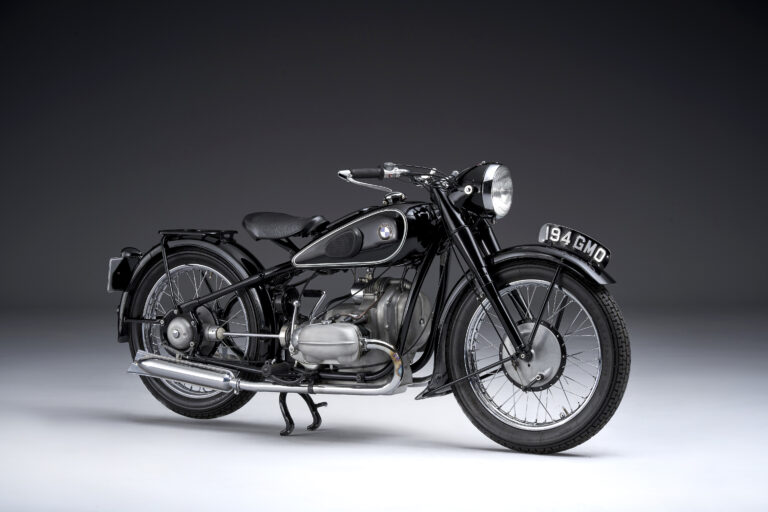 This time around, BMW took inspiration from the lovely 1936 R5, and kept its simple and exquisite look, but super-sized everything else, with the R5's 494cc, 24bhp and 165kg becoming a whopping 1800cc, 91bhp and 345kg.
That could have resulted in it going from young Marlon Brando to old Marlon Brando, but it hasn't: it looked stunning in photos, and when I walked up to the real thing in the sun, it was all I could do not to swoon with Stendhal Syndrome, named after the French author who was so overcome by the beauty of Florence on his first visit that he fainted regularly and had to be revived with several large glasses of brandy.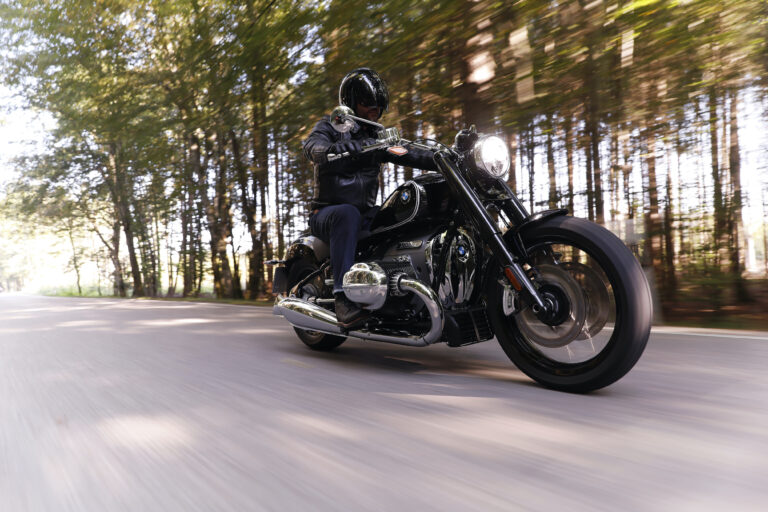 I could have stood there and looked at it until the cows came home, although where those cows had got to is a mystery. Maybe the fact that I was in the middle of a city had something to do with it.
Pulling myself together, I decided to sit on it and make a list of all the things I loved about it, starting at the front with the single classical headlight, and above it a single speedo with the minimum information you need: speed, gear, miles and which mode you're in: Rock, Roll or Rain.
Yes, yes, I know: Schnell, Nicht so Schnell and Achtung, Regen would have been less weird, but who wants to be sensible?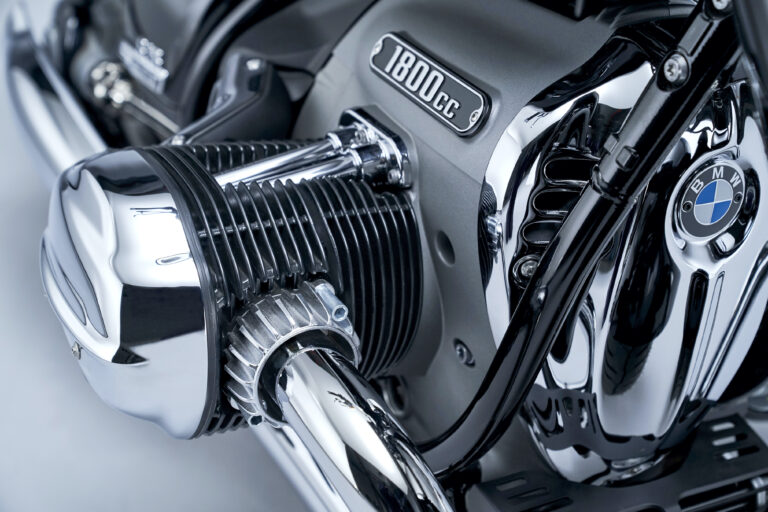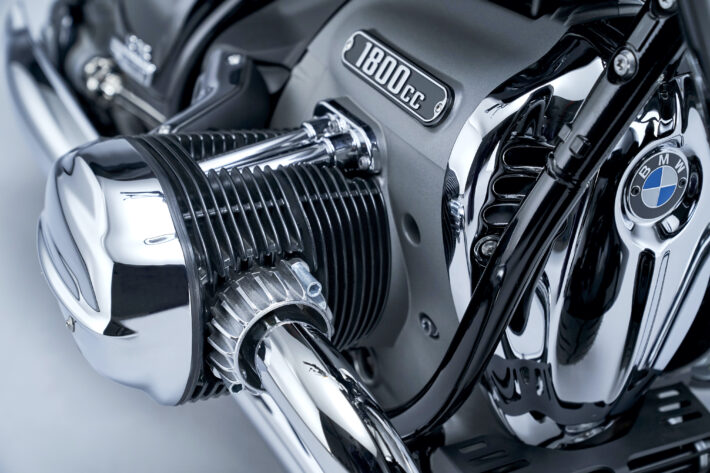 The old school circular mirrors are perfect, as is the ferruled chrome filler cap, the classic black tank with ivory coach trim, the boxer cylinders which somehow manage to be both massive and tasteful, the fabulous blossoming curve of the exhausts and the exposed driveshaft. How BMW got that past health and safety is a mystery.
Even after that, it took me half an hour to get away, what with people coming up to admire it.
Start up, it kicks to one side just to remind you it's a BMW boxer, and the air fills with a gloriously subterranean grumble.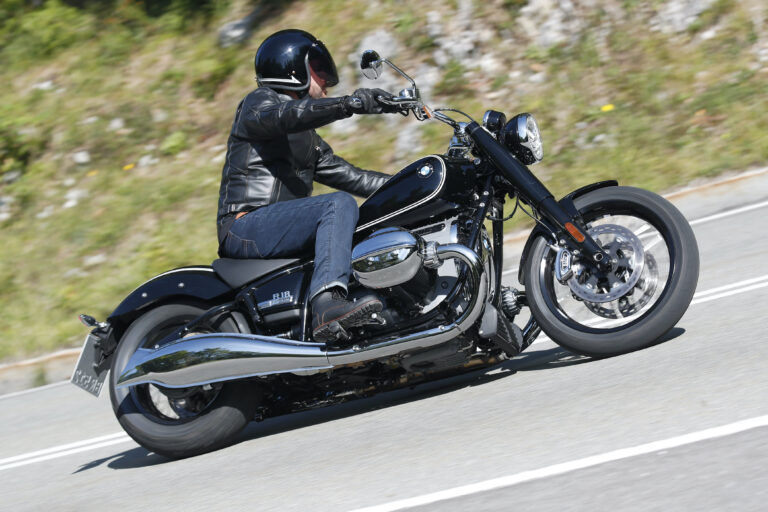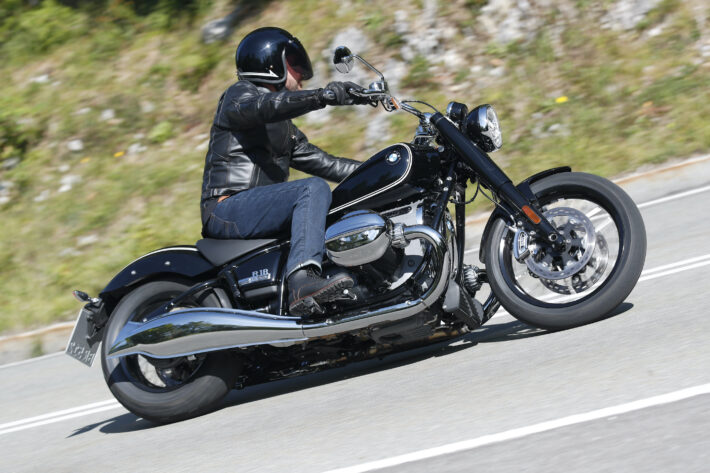 Ride off, click through the solid six-speed box, drink your fill from a well of torque so bottomless that it hardly matters which gear you're in, and laugh at handling so effortless that even on a bike weighing 345kg, before long you're swinging through bends as instinctively as if you and the bike are one.
Even at low speed, full lock turns are child's play.
If I have to throw tiny pebbles of fault in the mirrored lake of perfection, there's no fuel gauge, just a warning light which comes on when you've 25 miles left, and the combination of a fairly firm seat and short-travel rear suspension means getting off for a stretch every hour or so.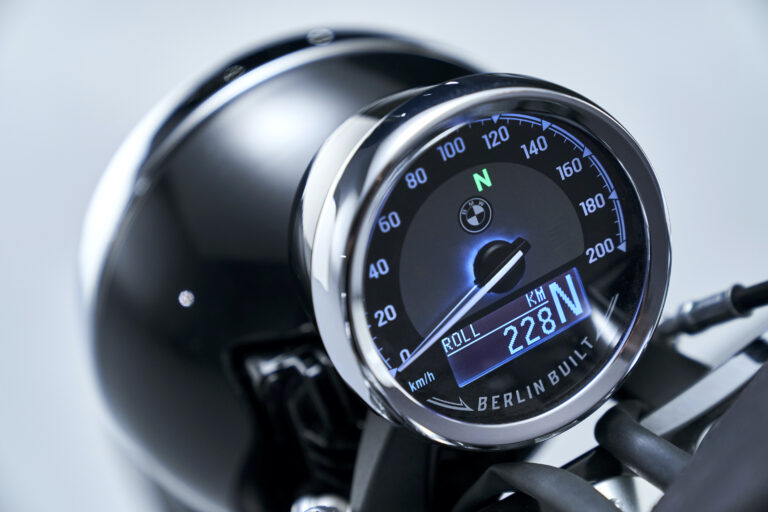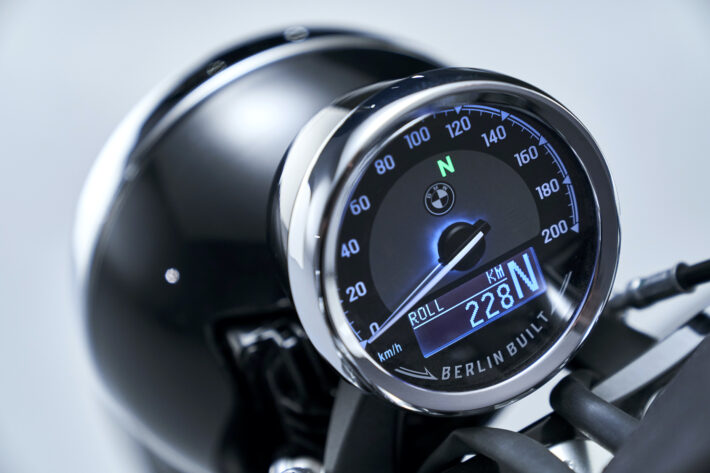 But then you can just stand and admire the bike for a bit before getting back on.
As I've said before, all bikes come with their own fantasy, and it would be very easy to ride along on the R 18 thinking you're on your way to a rally at Nuremburg to hear that nice chap Mr Hitler, but instead I chose a gentler image; that I was on my way to the Friedrichsbad in Baden-Baden in the summer of 1936 to meet my fiancée Gretchen for the quaintly named Roman-Irish Treatment.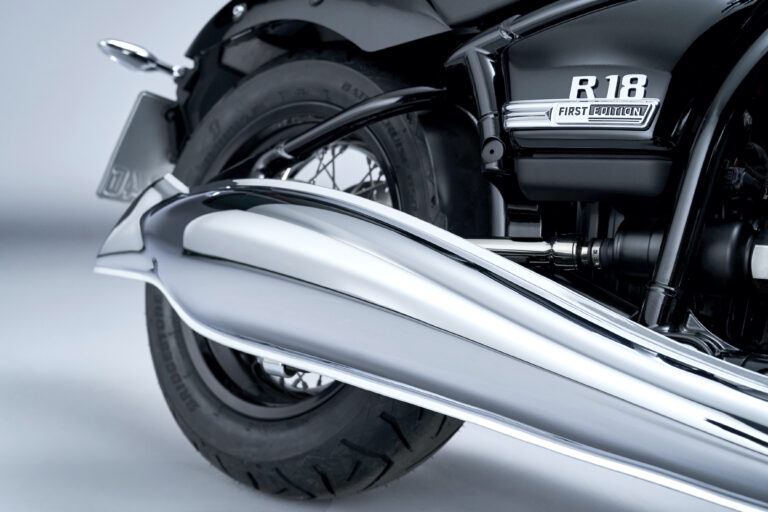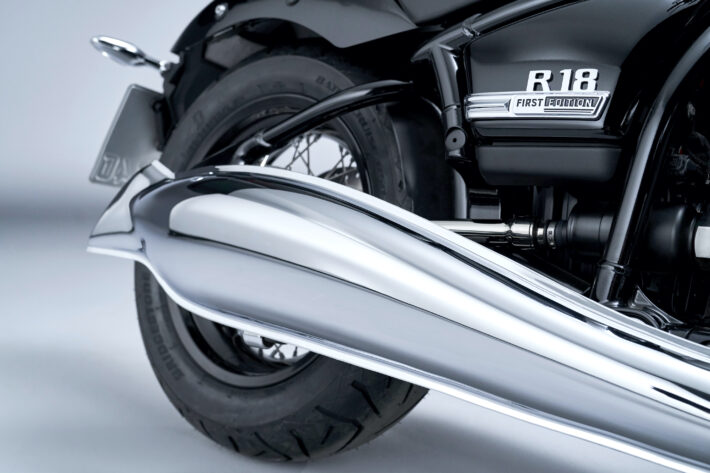 For those of you not familiar with it, it involves getting your kit off, followed by 90 minutes of massage, hot and cold treatments and finally being wrapped in warm blankets and left to nod off for a bit, after which you wake feeling as if your soul has been spring-cleaned.
I highly recommend it, as I do the R 18. It has now replaced the 2012 Victory Cross Roads Classic Limited Edition as my most beautiful bike in the world, and the Royal Enfield Interceptor as my favourite bike of all time.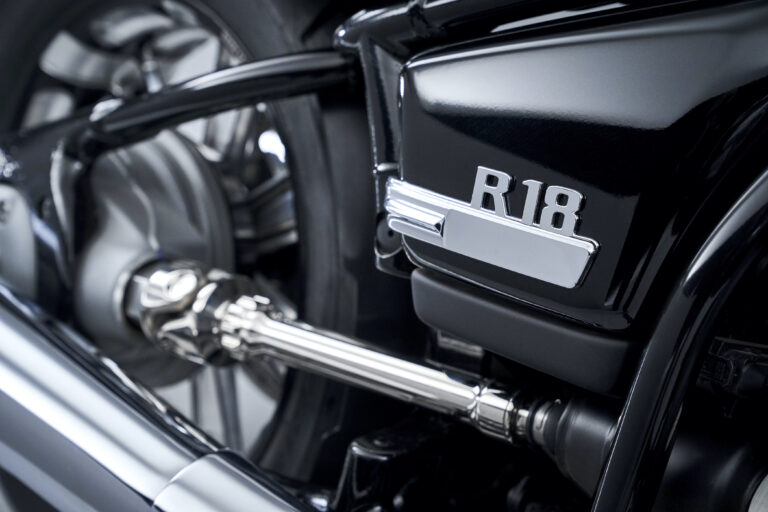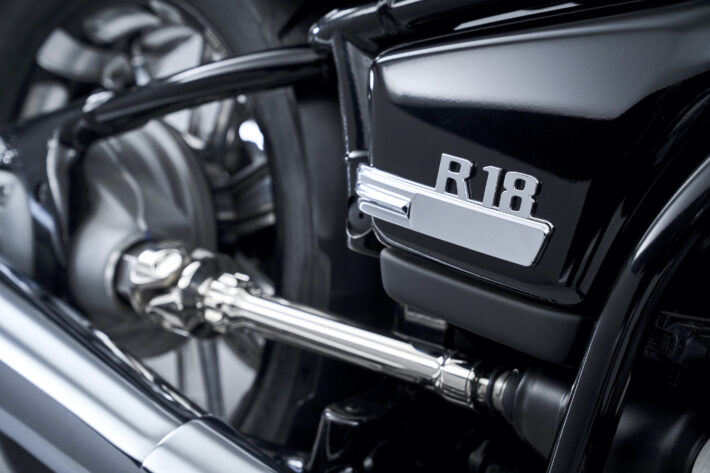 There are Classic, Bagger, Roctane and Transcontinental variants, which add everything from a screen to panniers to a full-dress fairing, but they all add to the price and dump those glorious sweeping exhausts for boring normal ones, so for me the First Edition original version is best.
Triumph Rocket 3
Once upon a time, in the fair borough of Hinckley in Englandshire, there lived a powerful but modest knight called John Bloor.
The master of Triumph Castle, which he had built from ancient ruins, every evening at sunset he would climb to the battlements and look to the west, where dwelt an evil giant called Harley who he longed to conquer.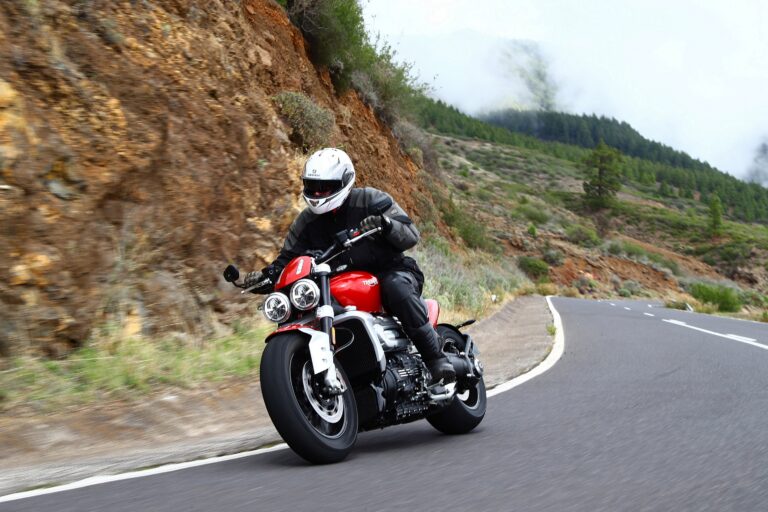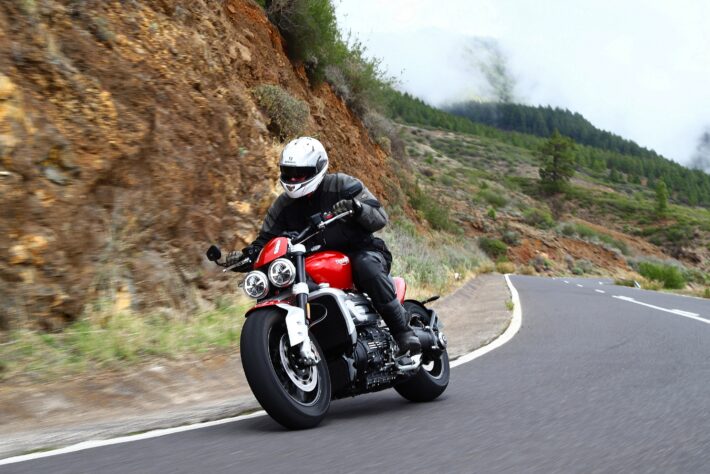 One night as he stood there, he called out to the Lord, saying: "Lord, what shall I do to slay this beast, for it pains me greatly that every evening, when I look to the west, it giveth me a giant V sign and bloweth from its monstrous hindquarters a sound like two flatulent hippos making love underwater?"
"Verily," sayeth the Lord, "ye must make a mightier beast, with a holy trinity of cylinders and 2.3 cuboids of capacity within, greater than the world has ever seen."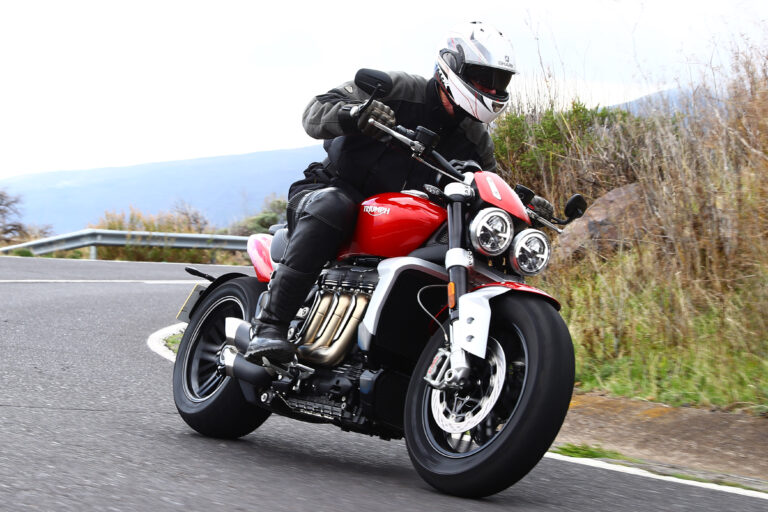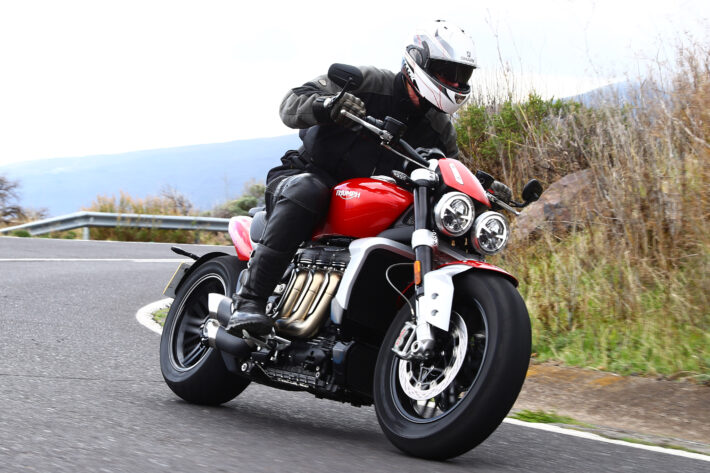 "But Lord," spluttereth Bloor, "have you gone off your rocker arm? Such a beast has never existeth."
"Listen, Bloor," sayeth the Lord, "just shut up and get on with it. And don't bother me again. I've 40 shades of donkey droppings to deal with in the so-called Holy Land."
And so it came to pass that I stood in Tenerife admiring the latest version of the Triumph Rocket 3 in the same evening sunlight which had bathed the noble brow of Bloor every evening.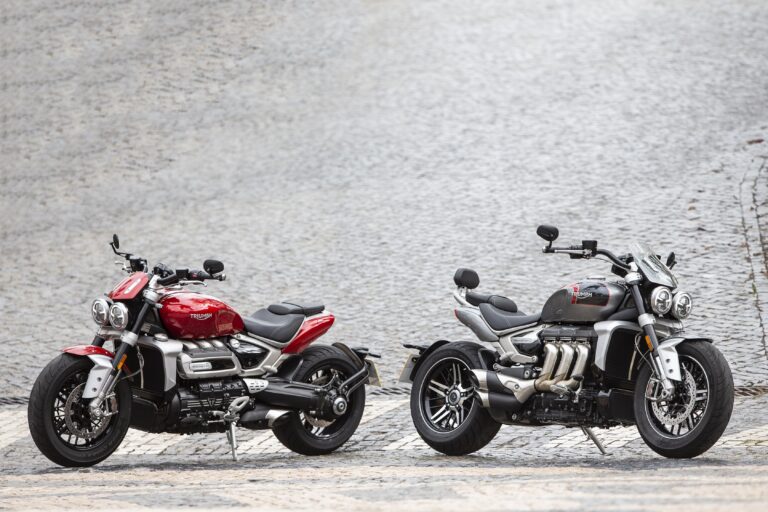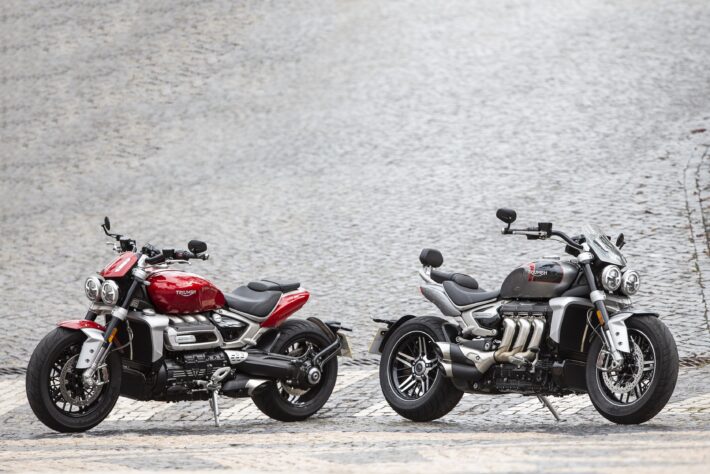 And admiring was the word: lower, sleeker and more muscular than the previous version, it looked stunning in the deep red version before me, with exquisite style details such as a sculpted tank, optional bar end mirrors, foldaway pillion footrests and a TFT screen which you can toggle through several appearances, including one called Chrome which looks like a vintage watch.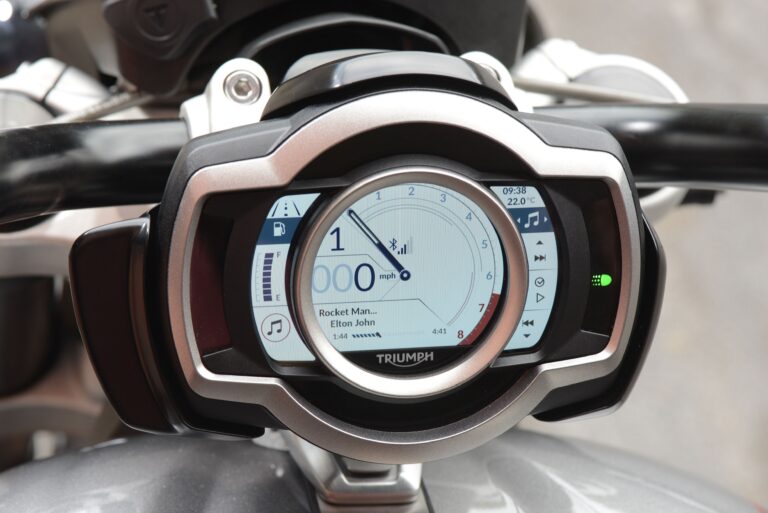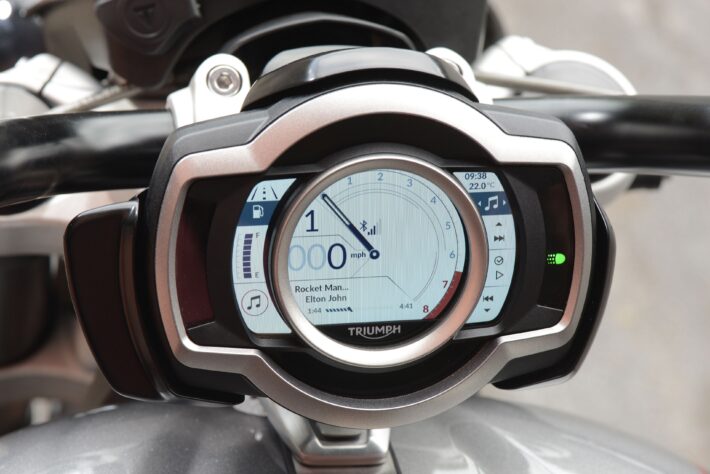 Rather impressively, it can connect to your phone for sat nav, GoPro, phone and music use, although not all at the same time or your brain will explode and make a real mess of your helmet lining.
Climb aboard, ride off, and it's immediately obvious that the lower seat and a weight loss of over 40kg on the previous model makes low speed handling a doddle even on a bike weighing 304g fully fuelled.
Yes, you read that right: 40kg, or the weight of an average Triumph test rider. In a world where manufacturers make a big deal of weight loss in single figures, that is truly astonishing.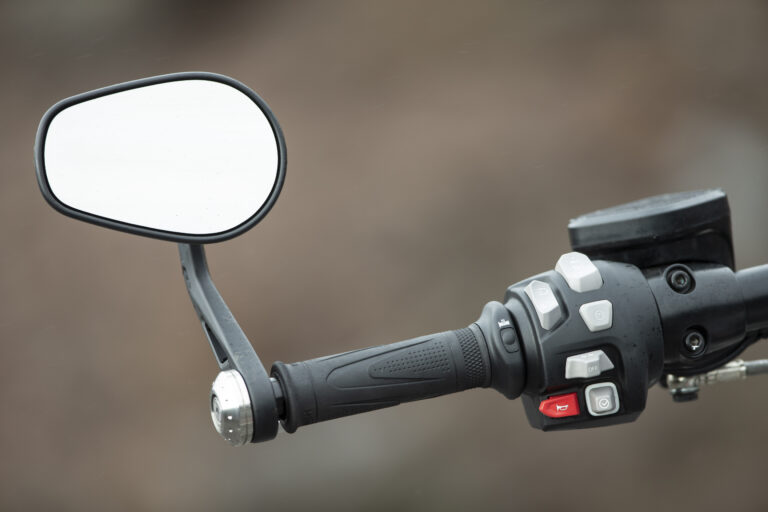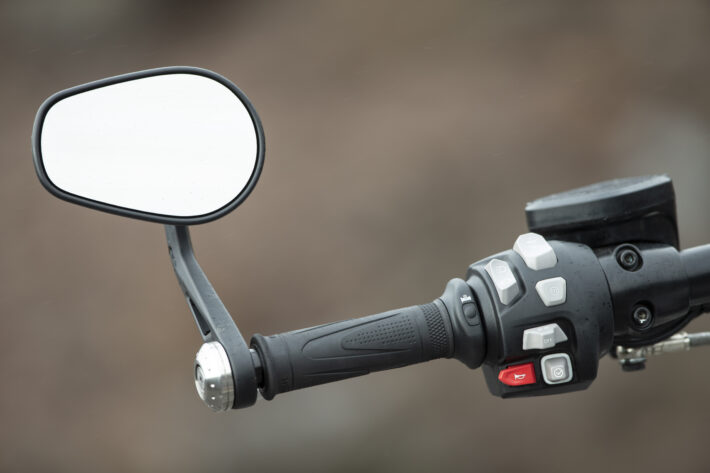 Even more astonishing is the engine: now a whopping 2.5 litres, with power up 11% to 165bhp and oceans of torque on demand from just over 2,000rpm all the way to the red line at 6,500rpm.
The result is laugh-out-loud acceleration in any of the six gears, so you can either snick through the slick six-speed box for maximum hustle or just ride all day in top.
In the mountain twisties of Tenerife, there was so much torque on tap from basement revs that the bike shrugged off uphill hairpins in third gear. Remarkable.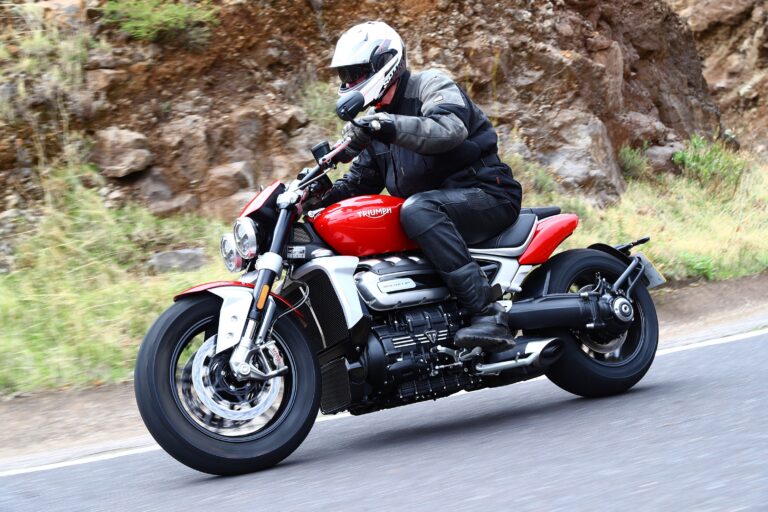 The only complaint was an occasional slight hesitation when gassing it off a closed throttle, but that may just be the shaft drive. They all do that, sir.
The Brembo brakes are as brutally effective and linear at slowing the bike as the engine is at firing it towards the horizon, with the front linked to the rear to keep everything stable, and the back brake, with four pistons, is the best on any bike I've ridden, with fabulous feel and progressive bite for trailing into downhill corners.
But let's save the best to last: trademark Triumph handling. The bike comes in two versions: the touring GT with handlebars back a bit and pegs forward for cruising, and the R with mid-point pegs for a sportier riding position and aggressive hustling.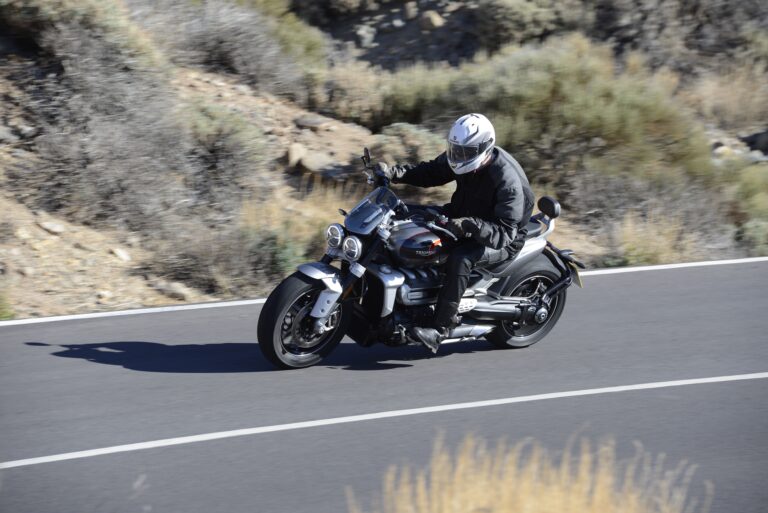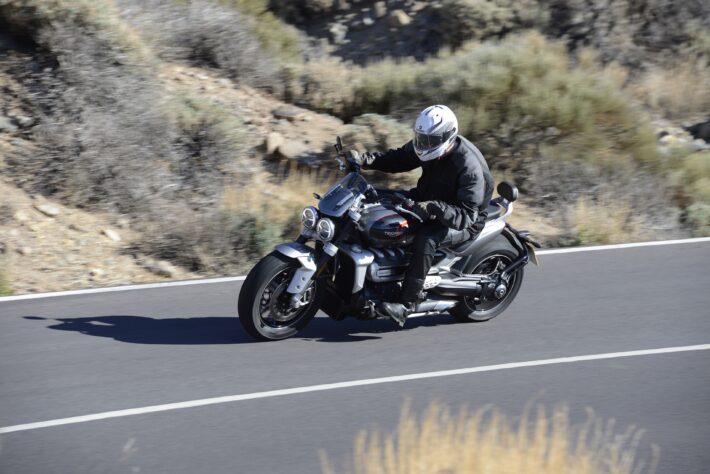 The older equivalent of the GT was the original Rocket in 2004, and of the R the 2007 Roadster version, which brought the bars back a bit and the pegs back and down a bit for a noticeably more dynamic ride.
I started with some trepidation on the GT, thinking tight bends were going to be a challenge, but I needn't have worried; the handling was light and neutral, making cornering a joy even on downhill hairpins, with cornering ABS and traction control as a safety blanket even if you do get things wrong, and the plush Showa suspension unflustered by rough sections of road.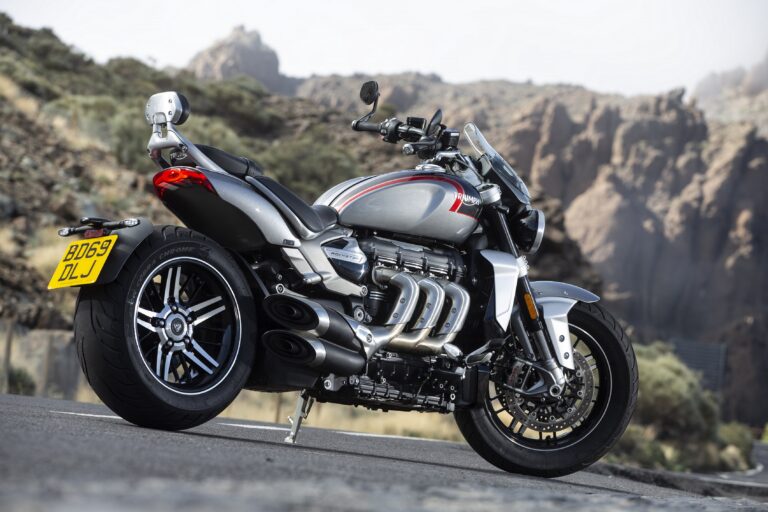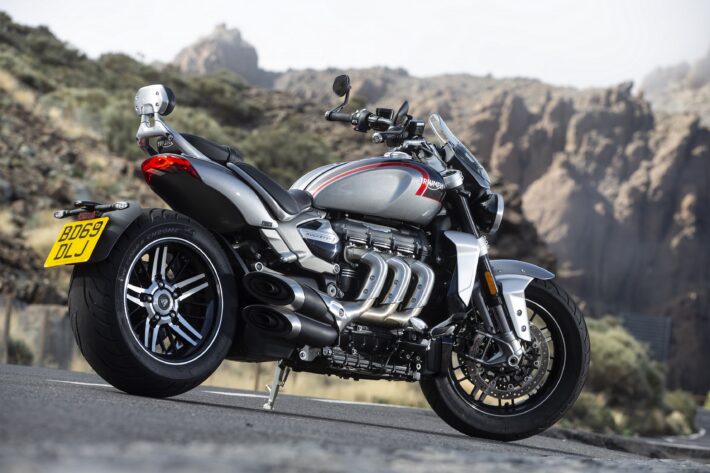 Only minor complaints are that the pillion seat, even on the GT, is the size of a fat pancake, and even with the dinky backrest, I can't see better halves being willing to sit on it all day, particularly since the optional 20-litre panniers are going to test the less is more packing principle to the limit.
There are four riding modes: Rain, Road, Sport and Bespoke for individual tweaking, but Road is so good that switching to Sport doesn't make a huge difference in the essential alacrity of the bike.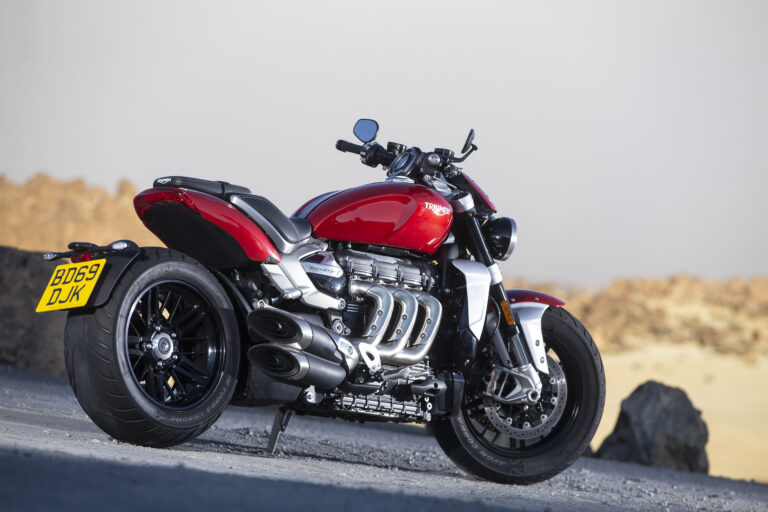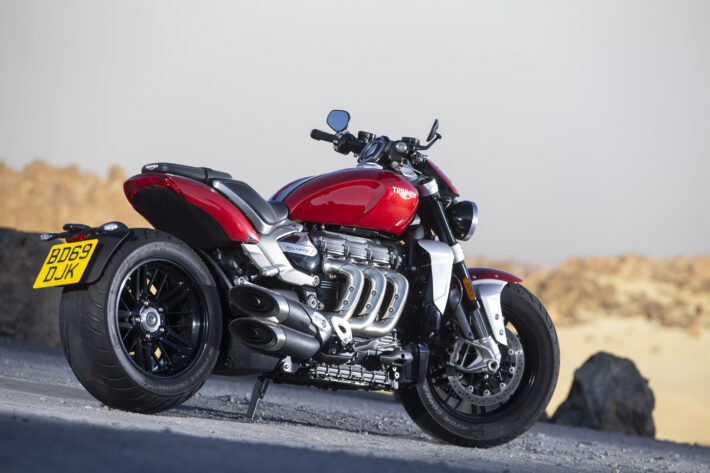 By now it was time to switch to the R, with its mid-mounted pegs and slightly forward bars tipping you into a slightly sportier position and encouraging more aggressive riding; although it's a credit to how surprisingly agile the GT is that the R wasn't a quantum leap better in terms of riding dynamics.
Even better, the pegs on both are adjustable both horizontally to get your riding position exactly where you want it.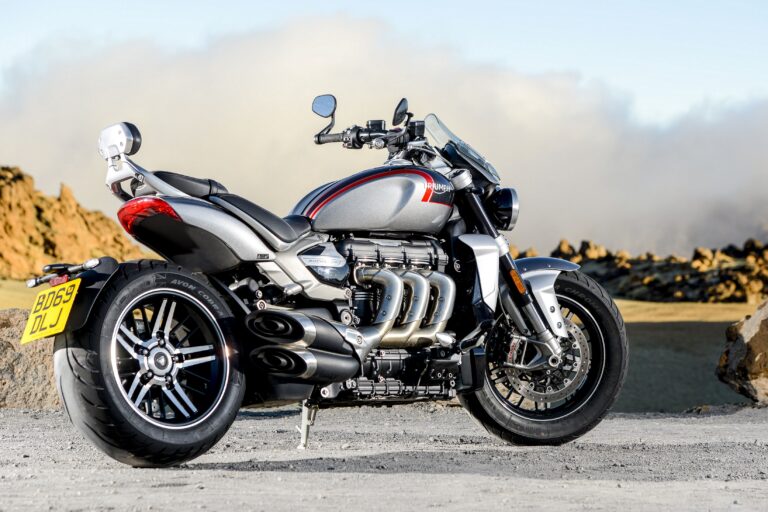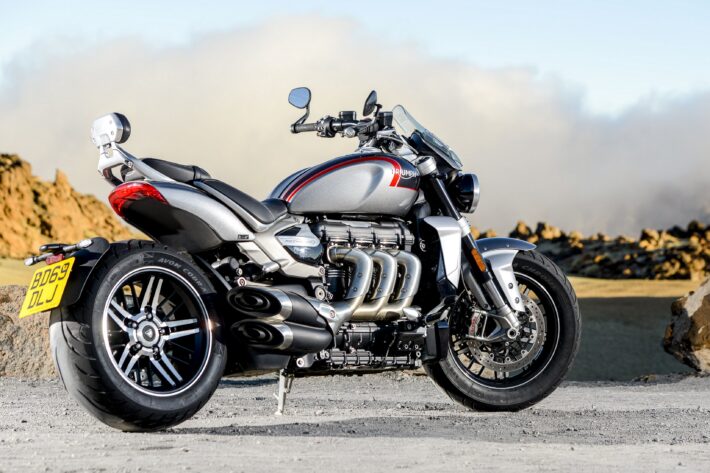 In short, it's a triumph in every sense, and if I listen carefully, I can hear from the west a great wailing and gnashing of teeth from the beast known as Harley.
The verdict
Both of these are astonishing bikes, with bigger engines than many cars, yet effortless handling which belies their bulk.
For me, though, the Beemer wins out because of its sheer beauty, not to mention the fact that the basic and best version is four and a half grand cheaper than the Triumph.
The Facts
BMW R18
Engine: 1802cc boxer twin
Power: 91bhp @ 4,750rpm
Torque: 116 lb ft @ 3,000rpm
Colours: Black; black/red; black/green; silver; chrome
Price: £17,480
Triumph Rocket 3
Engine: 2485cc inline water-cooled triple
Power: 165 bhp @ 6,000rpm
Torque: 163 lb ft @ 4,000rpm
Colours: red, black, silver
Price: R £21,995, GT £22,695
Don't forget, Devitt insure many different makes and models, get your motorcycle insurance quote today!