In our battle series it wouldn't have been fair not to include an electric bike comparison so here we go, let us know which one you think is superior in the comments below… 
Maeving RM1 v NIU Mqi GT EVO
Maeving RM1
You might think that testing a bike in London is as misguided as a comedy festival in Germany, a nudist resort in Antarctica or the world mountaineering championships in Holland.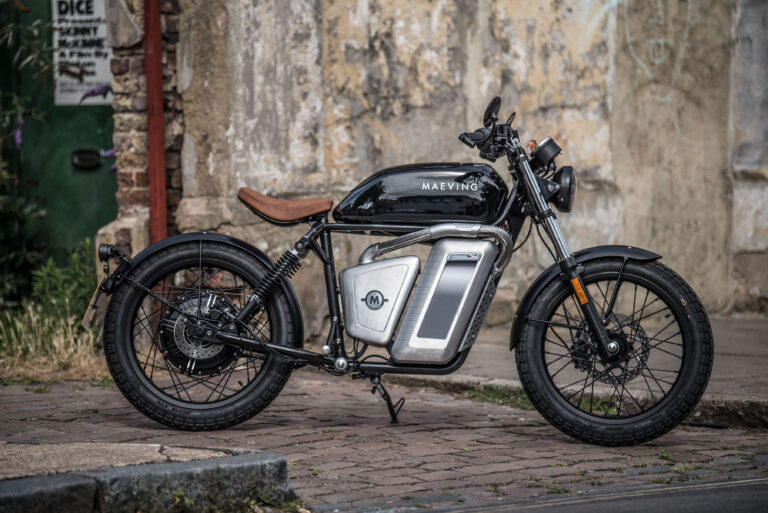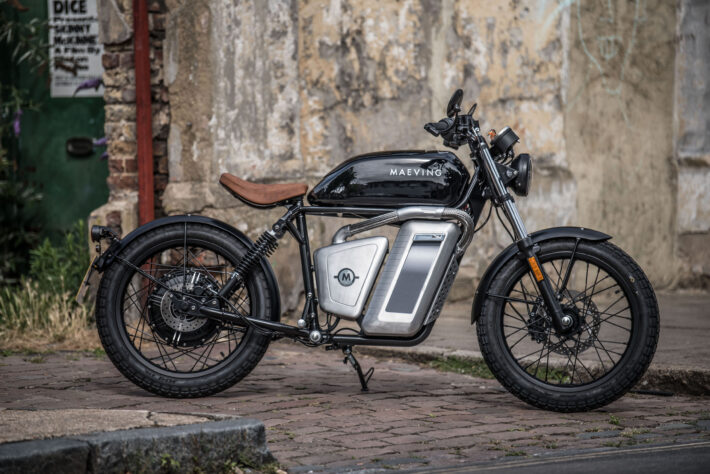 But there's method in the madness of university pals Seb Inglis-Jones and Will Stirrup, who set up Maeving in 2017 in Coventry, the ancestral home of the former British bike industry.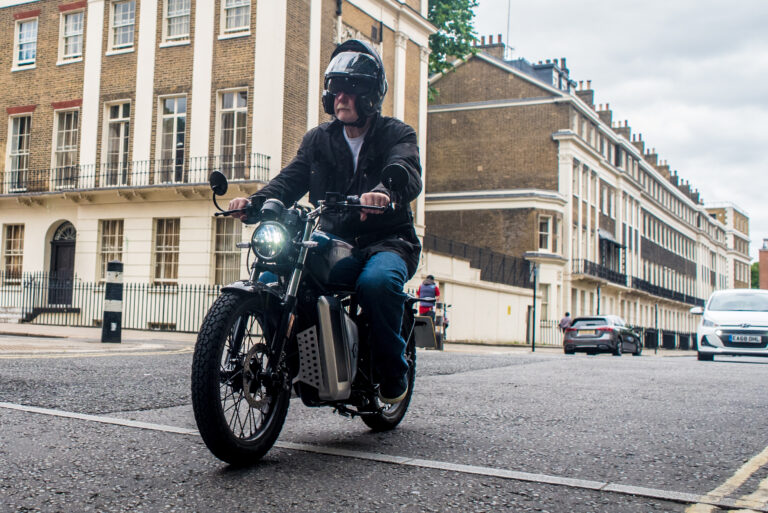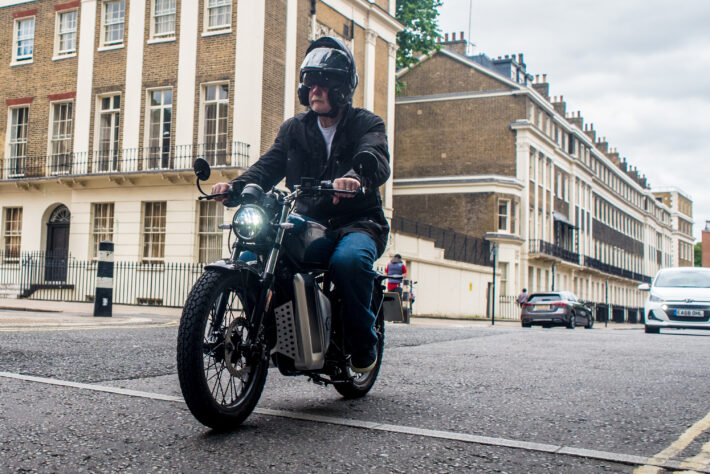 For their first product is designed for eco warrior urban hipster dudes to wax their moustaches, check their fob watches, admire their latest sleeve tattoo in the mirror then purr off through the echoing canyons of the city looking as cool as a penguin's bottom to grab a mochacappufrappochino on their way to work in a custom bike shop which also sells LPs and vintage clothing.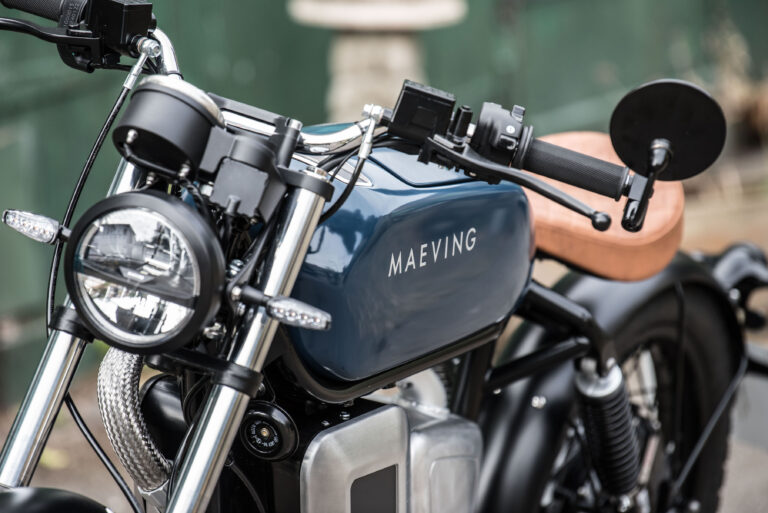 A place like Bolt in Bouverie Road, funnily enough, the former stables and motorbike garage which Seb and Will chose to let me have a whizz on their new baby.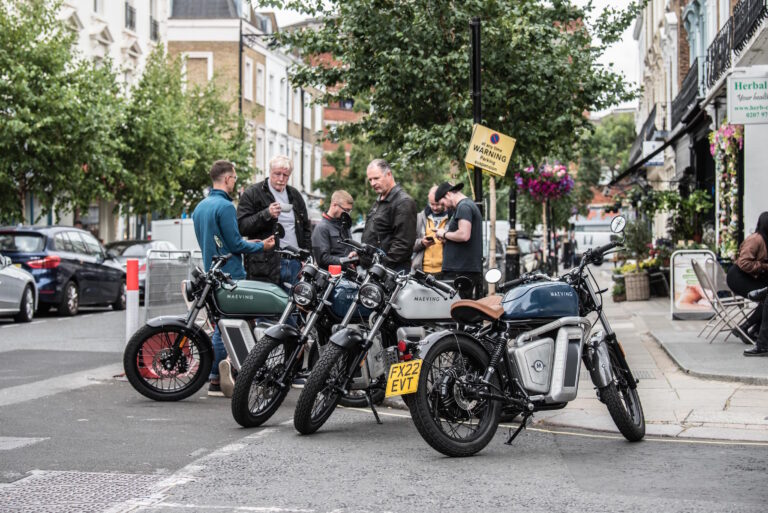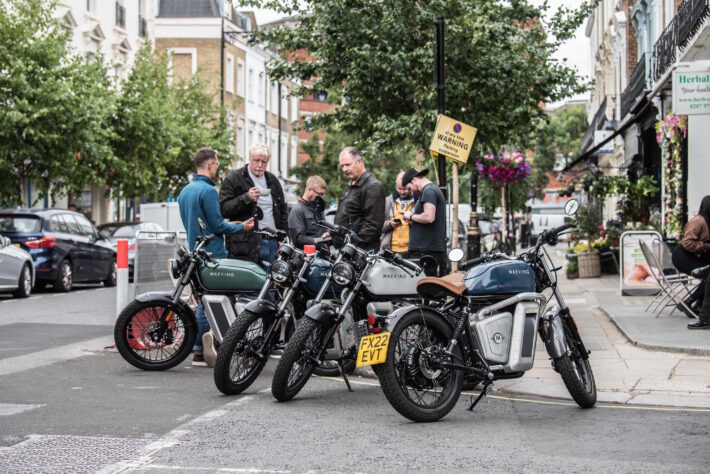 And what a beautiful baby it is – a unique and exquisite marriage of retro and ultramodern down to the braided steel hose which carries the wiring and even the brushed aluminium batteries with bamboo trim.
Stunning – and brilliantly practical, since the batteries can be easily lifted out to charge at home. The bike takes one battery for a range of 40 miles, or two to double that, and after a morning riding it, I'd say that claimed range is about right.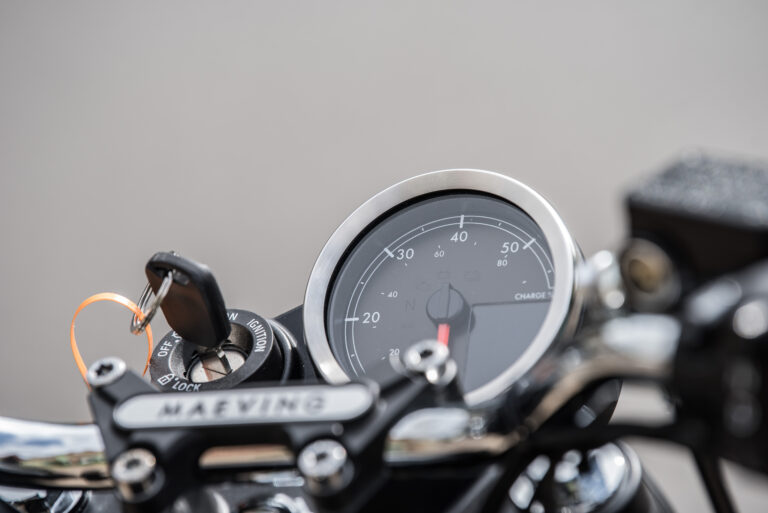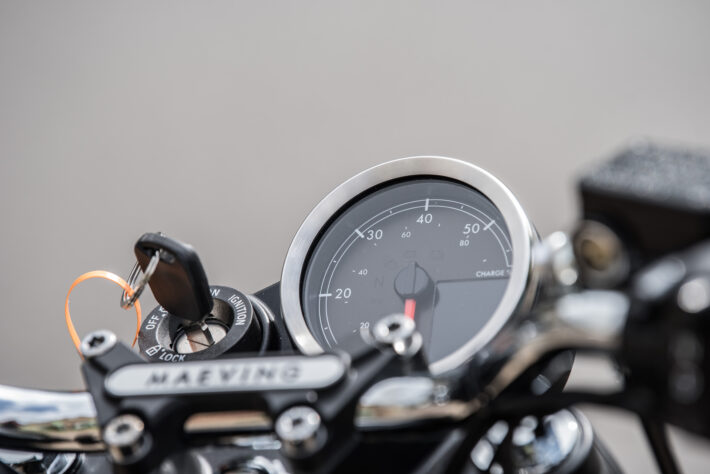 "As passionate bikers also interested in green technology, we thought that electric bike manufacturers were more interested in power, meaning big, heavy batteries, and owners had constant range anxiety about where to charge," said Seb.
"When we started, there were only 297 electric bikes in the UK, and 22 million in China, so we spent a month in China, and all the electric bikes there have removable batteries."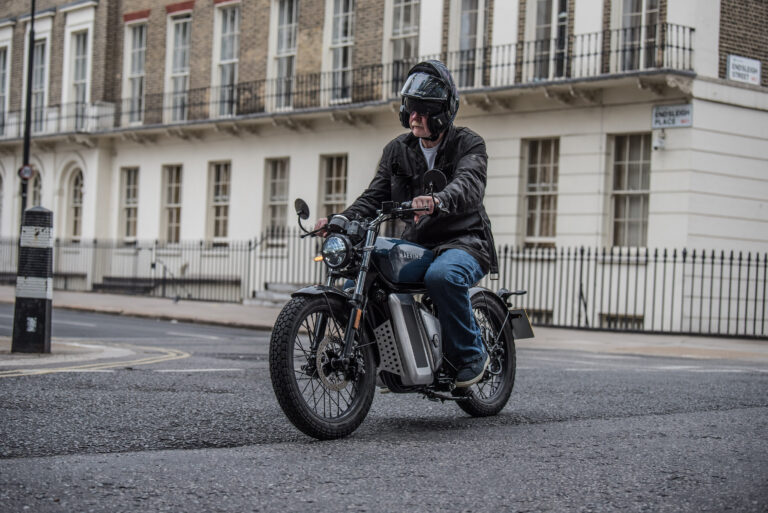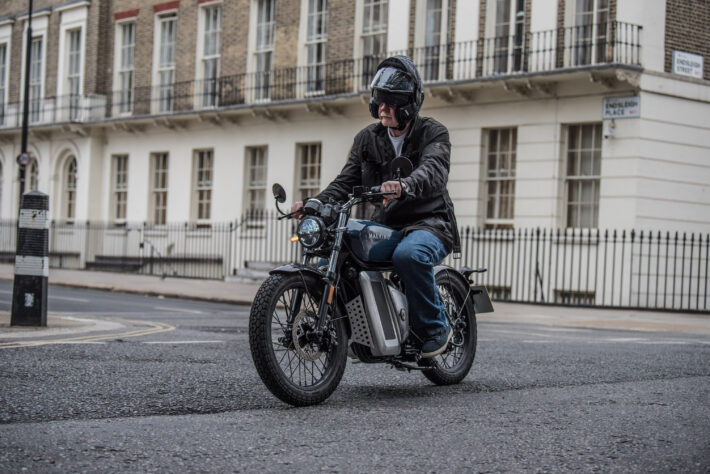 The two came home, put together a plan, and approached Graeme Gilbert, the former Head of Product at Triumph, who loved the idea and gathered a team of former Triumph engineers to make it happen.
Right, enough talk. Time to ride. I plonked my expectant buns onto the lovely tan solo saddle, admired the fabulous bar end mirrors and simple analogue speedo, and toggled my way to Mode One, the most sporty of the three, since I suspected that with only 6bhp on tap, Two and Three would be a trifle, er, languid.
Twist the throttle, and after a momentary pause while the bike admires itself in a shop window, it proceeds towards the horizon as smoothly and elegantly as Ambrosia Deluxe Custard, although other brands are available.
Even in Mode One, it certainly won't set your pants on fire on its way to a top speed of 45mph, but it's actually entirely fine for purring stylishly through city traffic, the only holdups being that every time you stop at lights, drivers will wind down their windows to admire the bike and ask you all about it.
Since it only weighs 124kg even with two batteries on board, and the wheels are a generous 19in, handling is as light as a pushbike even at walking speed, which will be good news for newbie bikers who can ride it after doing their basic CBT test, and the linked brakes bring the bike as smoothly and elegantly to a halt as it accelerates.
Only minor complaint was that the suspension was slightly clattery over lumps and bumps, but that's a small detail compared to the joy of the overall package.
The range is also a bit limited: 40 miles with one battery, 80 with two, which adds virtually a grand to the price.
It's a really strange experience riding an electric retro, like having one foot in the past and one in the future, but it's a happy marriage, and long may it last.
It's not only the coolest little bike on the planet, but you can save the planet by riding it, so on behalf of eco warrior urban hipster dudes everywhere, I tip my handwoven organic free range flat cap to it.
NIU MQi GT EVO
I could say that the atmosphere was electric at the launch of this e-scooter, or that the background music at the tech presentation was AC/DC, or even that it has potential to lead the charge to a green future.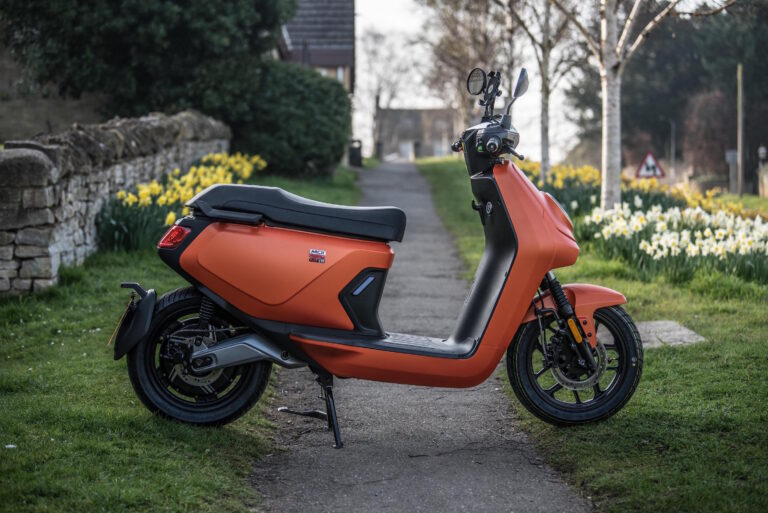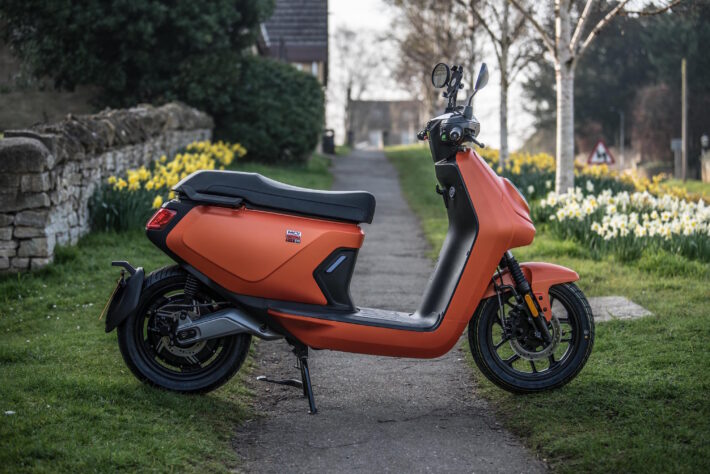 But obviously I won't.
Instead, I'm going to talk about wheels. There was a time when scooter wheels were the size of pound coins, which combined with the fact that the weight of the engine was over the back wheel, gave them the handling of a demented blancmange, except less precise.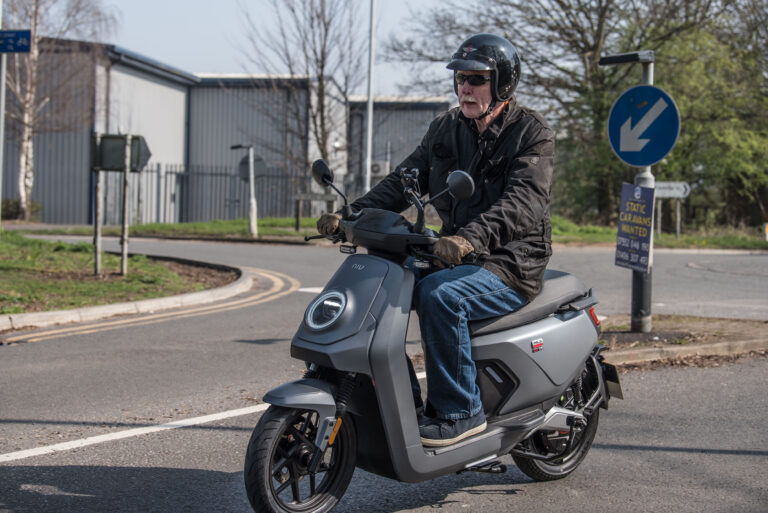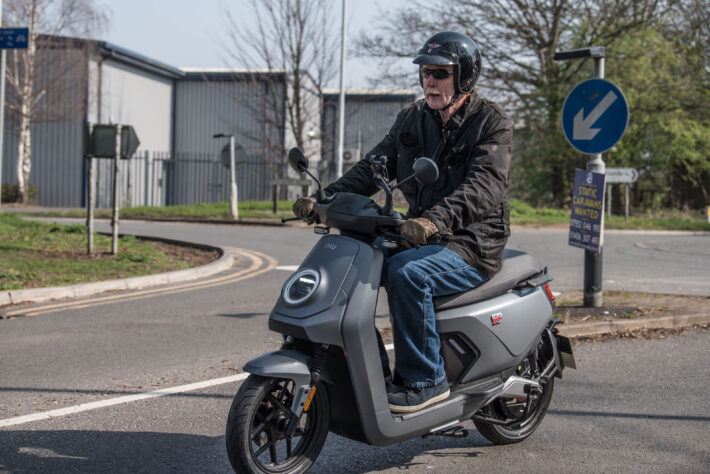 Since then, machines like the Yamaha TMax, with 15in wheels, a central engine and a separate swingarm, handle just like motorbikes, and superscoots such as the Suzuki Burgman can laugh off motorway speeds with gay abandon.
So I was as happy as a dog with a tennis ball as I walked up to the Chinese-made NIU MQi GT EVO and worked out that the wheels were 14ins by using my incredible bloke superpowers. And also by asking Andy the PR guy.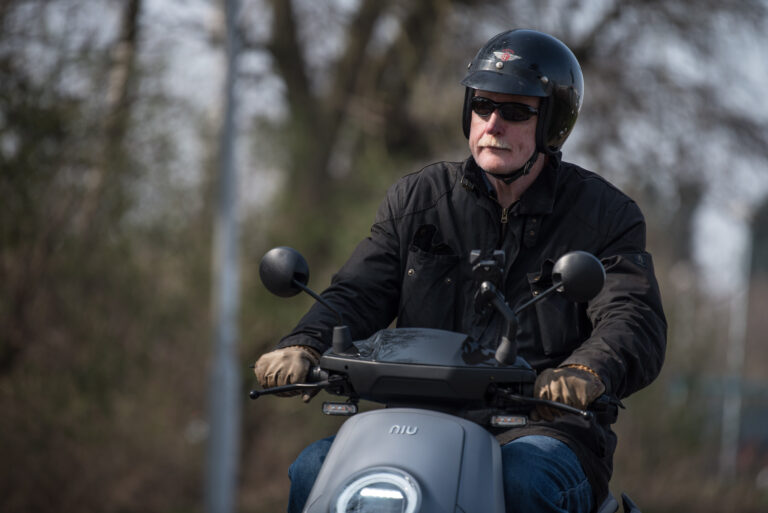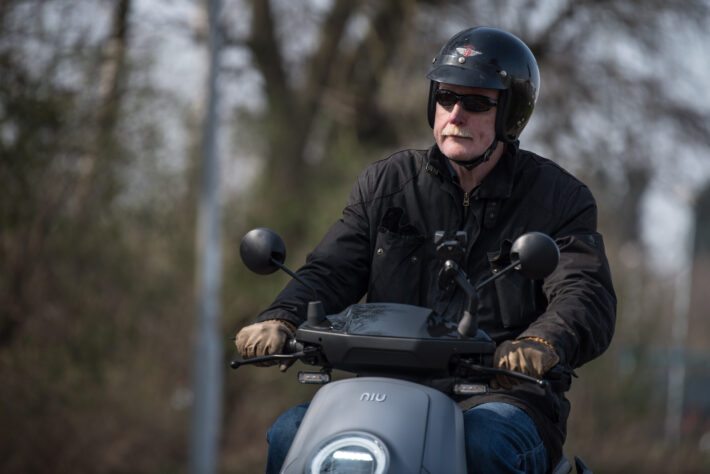 Even better, the hefty batteries are in the middle, thus centralising the mass, and can be lifted out and swapped for fresh ones rather than spending five hours charging them.
So far, so good, and it got even better when I climbed aboard, subjected the seat to my standard bounce test, and found it splendidly plush, and with enough legroom up front for any normal 6ft 7ins scooterist.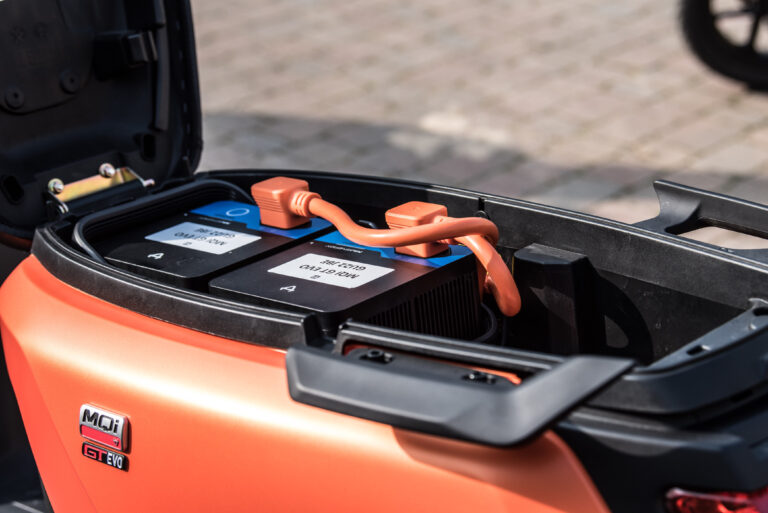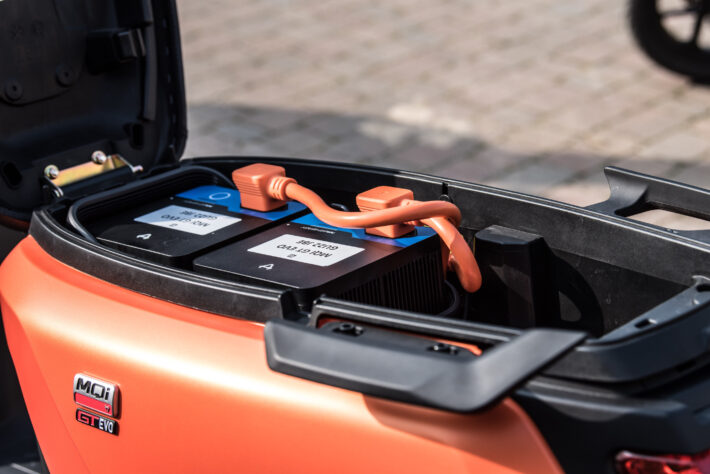 The mirrors are reasonably good, and the simple dash tells you all the need to know – speed, battery life and which of the three modes you're in, E-Save, Dynamic or Sport.
Mind you, with a mere 7bhp on tap, I suspected Sport might be pushing it a bit.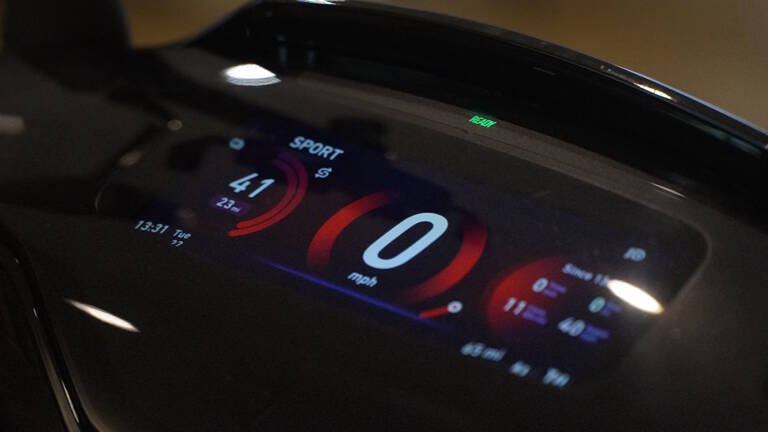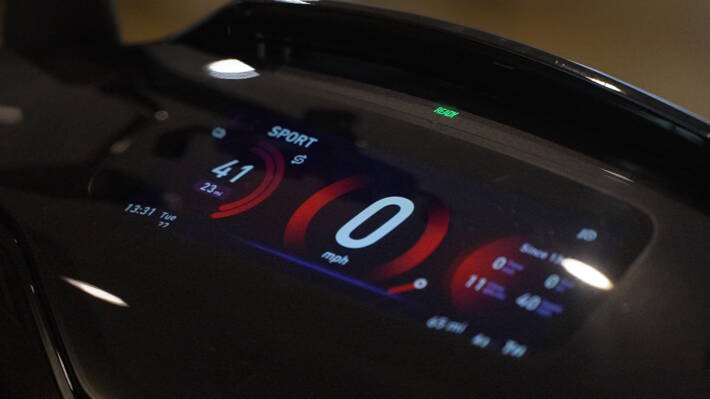 Setting off is just as simple. Press the red button on the keyless ignition fob, stick it in your pocket, twist the throttle and off you go.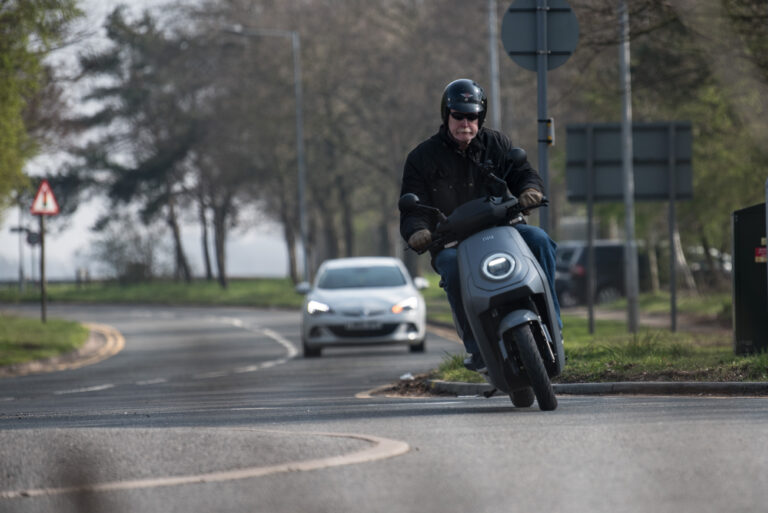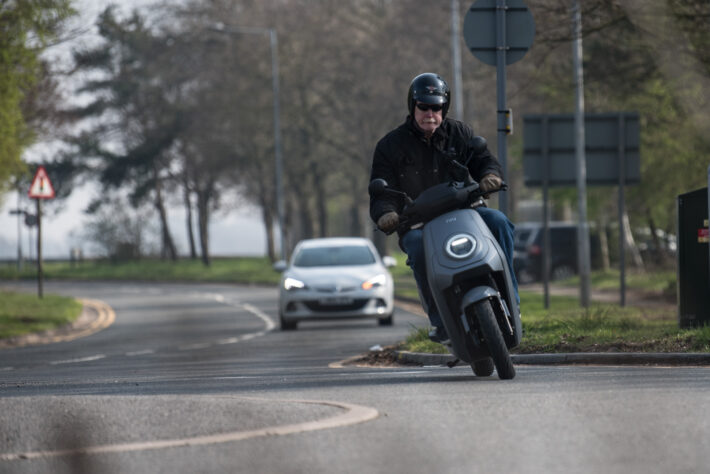 I started off in E-Save just out of interest, since Eco mode in electric scooters may mean that polar bears line your route to applaud you, but it also means they've plenty of time to applaud, since it usually makes acceleration as languid as a cremated slug.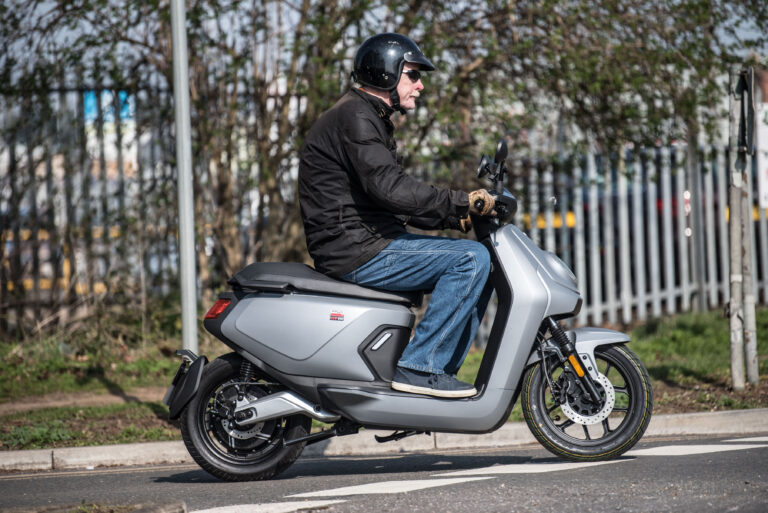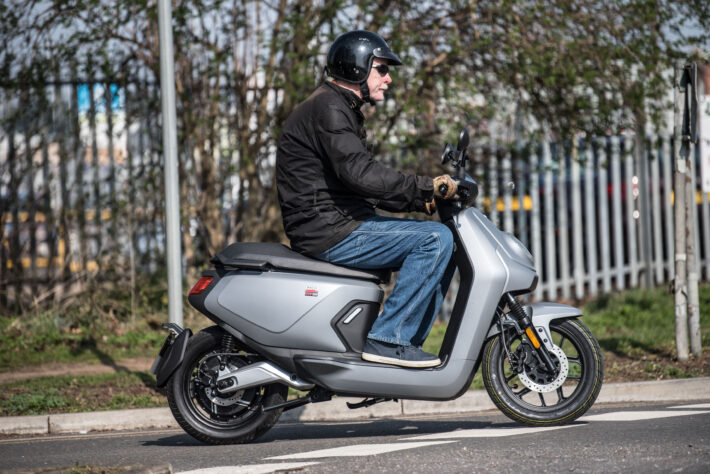 However, E-Save mode on this limits the top speed, so acceleration is surprisingly nippy up to 30mph, at which point that's your lot, which at least gives the polar bears further down the road plenty of time to get their smartphones out.
Dynamic is slightly more nippy, with top speed limited to 47mph, and Sport is best of all, whizzing me all the way to a surprising 68mph on the speedo, at which point I blacked out due to the g-forces and lack of oxygen.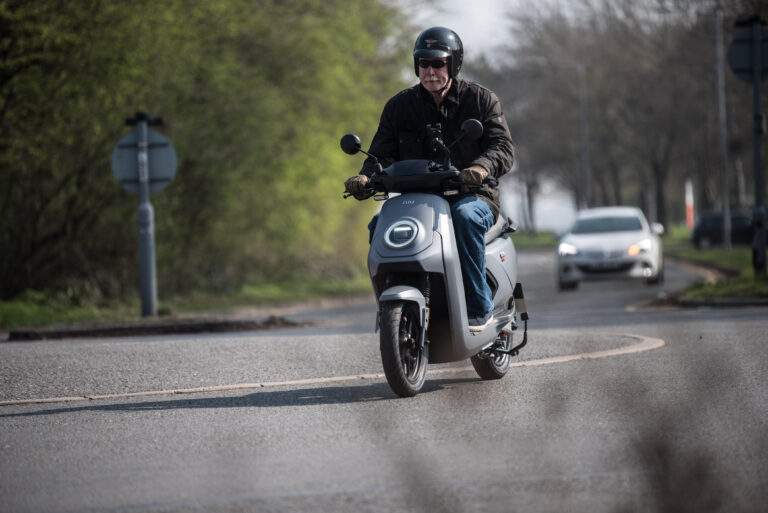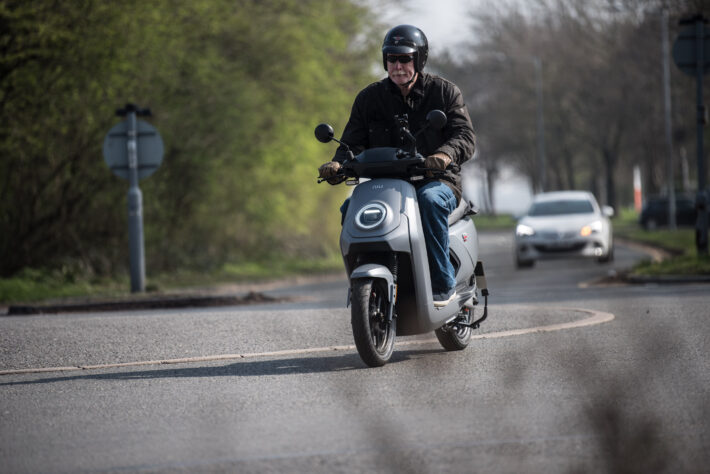 It's even more surprising given that the manufacturer claims top speed is only 62mph.
Handling, with those 14in wheels, the batteries in the middle and an overall weight of only 128kg, is delightfully agile, although maybe not quite so much if you and your better half test the impressive maximum load of 275kg rider and passenger.
With linked brakes, slowing is nicely swift and stable, and the firm but pliant suspension is perfect for the state of roads today.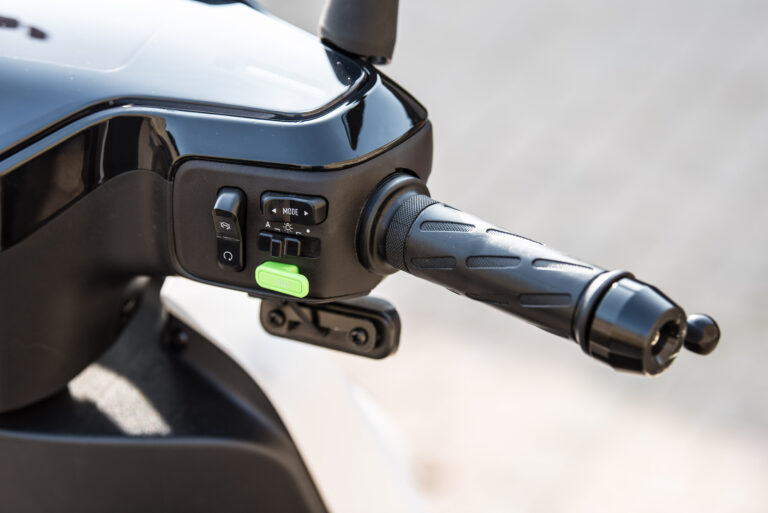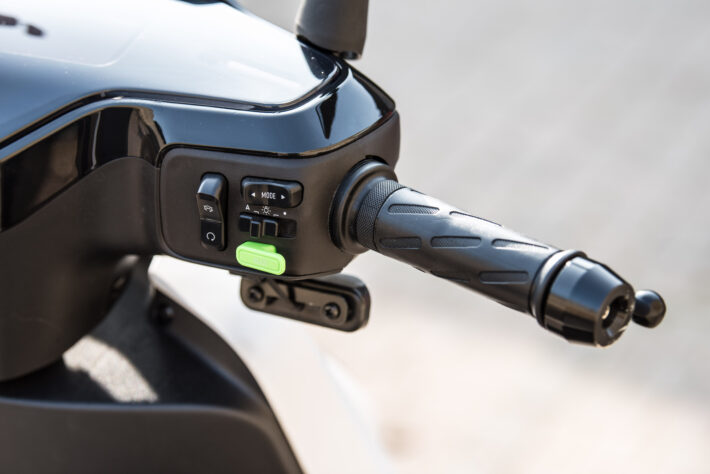 Charging time is five hours, or just swap the batteries out.
There's actually something quite glorious about whizzing along on a scooter, especially an electric one – swishing along in blissful silence with not a care in the world like which gear to be in, when to declutch or even which brake to use, since they're linked.
Your only mild anxiety is how much battery life you have left, but just as the manufacturer is being modest with top speed, I think it's also being modest with a claimed range of 46 miles, since after 30 miles or so of spirited riding in Sport mode, my battery was still showing 58%.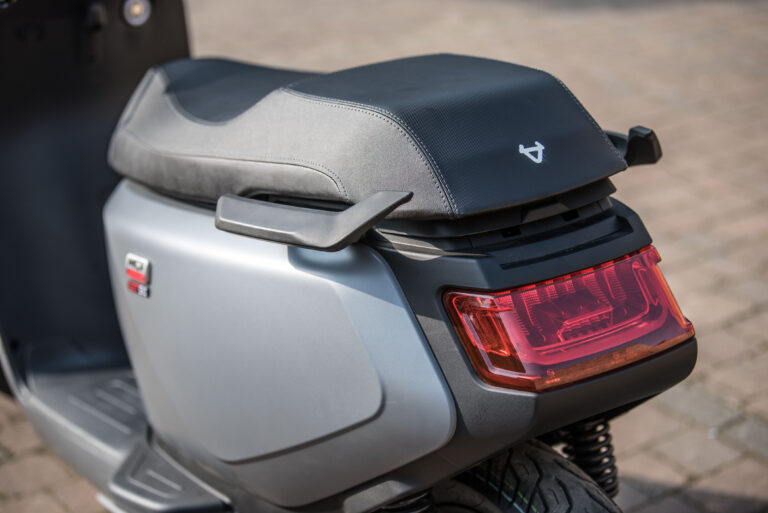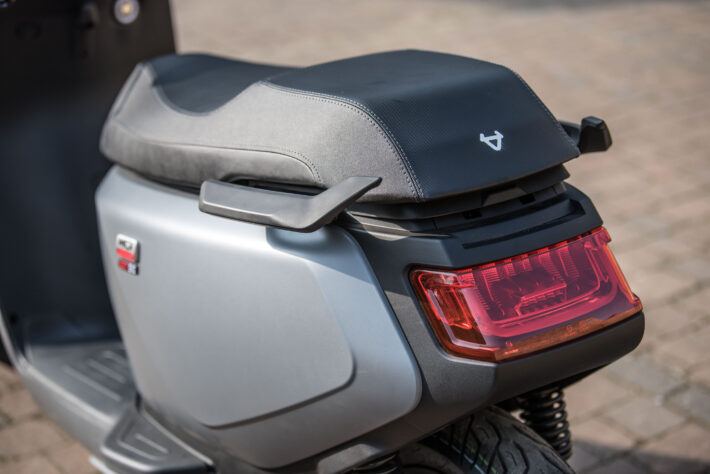 All in all, I'm happy to give it a plug as currently the best electric scooter I've ridden.
Whoops, sorry about that. I knew an electric pun would sneak in there somewhere.
The verdict
Tough one, this. The price is around the same, or more for the Maeving if you go for the two-battery option which doubles its range to 80 miles compared to the NIU's claimed 46, although I think that's actually closer to 65 or so.
Although technically the Maeving is a motorcycle with 19in wheels and the NIU a scooter with 14in ones, handling is fairly similar thanks to their light weight.
Where the NIU scores is a much higher top speed, which means that you could actually take it out on A-roads, whereas the Maeving is pretty much restricted to urban use.
So in terms of practicality, the NIU has it, but in terms of sheer beauty, the Maeving wins hands down. I know which would make my heart sing more when I opened the garage door.
The Facts
Maeving RM1
Engine: Bosch electric motor in rear hub
Power: 6bhp
Torque: 118 ft lb
Colours: Blue; black; silver; grey; white; green; sand
Price: £4,995 with one battery, £5,990 with two
NIU MQi GT EVO
Engine: 72 volt 5000 watt electric motor
Power: 7bhp continuous/9bhp for max 30 minutes
Colours: White; black; grey; orange
Price: £4,799