The latest World Superbike round held last weekend at Imola in Italy saw a little slice of history made as Jonathan Rea equalled Carl Fogarty's long-standing record total of 59 career WBS wins, a record that the English legend has held outright for some 18 years.
It was only apt that Rea should pull alongside Fogarty with yet another metronomic performance that saw him claim a double victory and whilst the early WSB rounds, with newly-introduced rules, appeared to create a more level-playing field, Rea and his Kawasaki team have worked hard to put themselves back in their dominant position of the last three seasons.
The way Rea tore through the field in the second race from his third row starting position was Foggy-esque and after shadowing Chaz Davies for a number of laps, when the Northern Irishman made his move he did so in style, putting the hammer down and pulling away to leave his rival trailing in his wake, a trait we've all become very accustomed to.
Rea remains grounded
Records are, of course, there to be broken and it's a formality that Rea will become the most successful WSB rider in history – in terms of race wins at least – at one of the forthcoming rounds. And with the series moving to Donington Park later this month, where better to take that accolade than at his home round?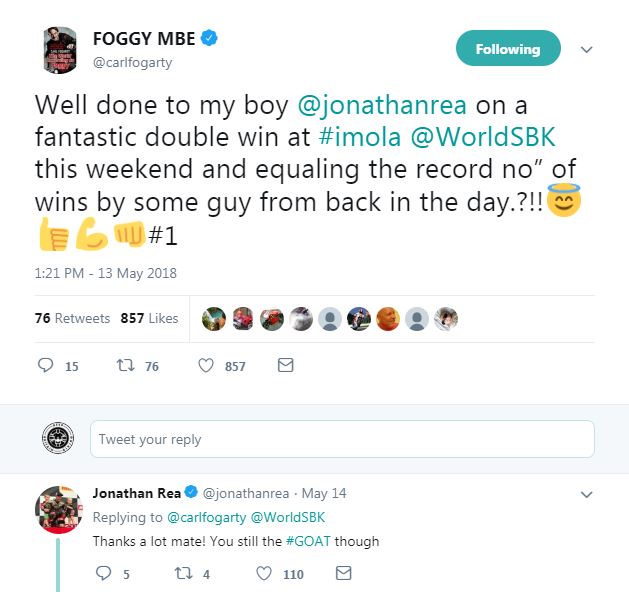 Whilst his on track record is impressive, so too his demeanour off it and the now 31-year old has remained the same personable character he was when he first started racing. A model professional, Rea is still the same person I met for the first time in 2009 – humble, modest and appreciative of everything at all times and proof that nice guys really can succeed.
Normal service resumed?
The equilibrium of the early rounds and the close racing everyone connected to the series had wanted was nowhere to be seen at Imola and, in truth, Rea's double looked on the cards right from the opening free practice sessions.
The all-too familiar gaps between the top six were there for all to see in both races and instead of wheel to wheel combat throughout, we were left to witness two relatively spread out races. Marco Melandri and Ducati, for example, were a shadow of the combination that had swept to a double victory at Phillip Island, Australia back in February.
The gaps between the top ten – 30.3s in race one and 30.1s in race – were the biggest of all season and a far cry from the eleven seconds that covered the same number of riders in the second race in Thailand, the second round in 2018.
Whether or not this was one-off remains to be seen but if the rest of the field don't up their game fast or the rules don't get revised once more, everyone will have to get used to seeing Rea pull away and pick up a fourth successive title. There may be a long way still to go but with a lead now of 47 points, is the writing on the wall?
End of an era
The meeting at Imola marked an end of an era with Kenan Sofuoglu announcing his retirement from the racing. With five world titles, 43 wins and 85 podiums, the Turkish rider is far and away the most successful rider ever in the history of the World Supersport Championship, statistics that will take an awful long time to be beaten.
Whilst his brief forays into the World Superbike and Moto2 Championships proved to be relatively unsuccessful, Sofuoglu's performances for more than a decade in the middleweight class were simply outstanding and he was the dominant force during that period. Injuries in recent years have led to his retirement at the age of 33 and his impact in his homeland is something that cannot be underestimated.
It's no exaggeration saying Sofuoglu is as popular in Turkey as David Beckham is in England and, having suffered personal tragedy during his career, his retirement followed discussions not only with his family but also with the King. As well as his achievements on the track, he's worked tirelessly to promote the sport in Turkey and his status as a national hero is well deserved. He'll certainly be missed in the WSB paddock.
Having started watching motorcycle races all over the world form childhood, Phil Wain has been a freelance motorcycle journalist for 15 years and is features writer for a number of publications including BikeSport News and Classic Racer, having also been a regular contributor to MCN and MCN Sport. He is PR officer for a number of teams and riders at both the British Superbike Championship and International road races, including Smiths Triumph, Quattro Plant Kawasaki, John McGuinness, Ryan Farquhar and Keith Amor. He is also heavily involved with the Isle of Man TT Races, writing official press releases and race reports as well as providing ITV4 with statistical information.