The Arctic Rider took on his latest challenge last month of riding round Iceland (the country not the shop) solo, in just 7 short days. Gordon Stuart, commonly known as the Arctic Rider, covered hundreds of miles miles, battled treacherous conditions and much more just to raise vital funds for two charities closest to his heart, Tiny Lives Trust and Cerebra. We've been lucky enough to catch up with Gordon since his return, this is what he had to say…
"My heated grips were on, I had more layers on than I thought possible, and I was tucked in tightly between my tank bag and my screen, but I was still cold and wet, as I had been for hours on end. This was the worse days riding of my life and it was only my first day in the country. It was worse than my final few hours of my Iron Butt, worse than 5 hours of British rain, and worse than the freezing mountain passes of Norway.
This raw, this was wild, this was Iceland.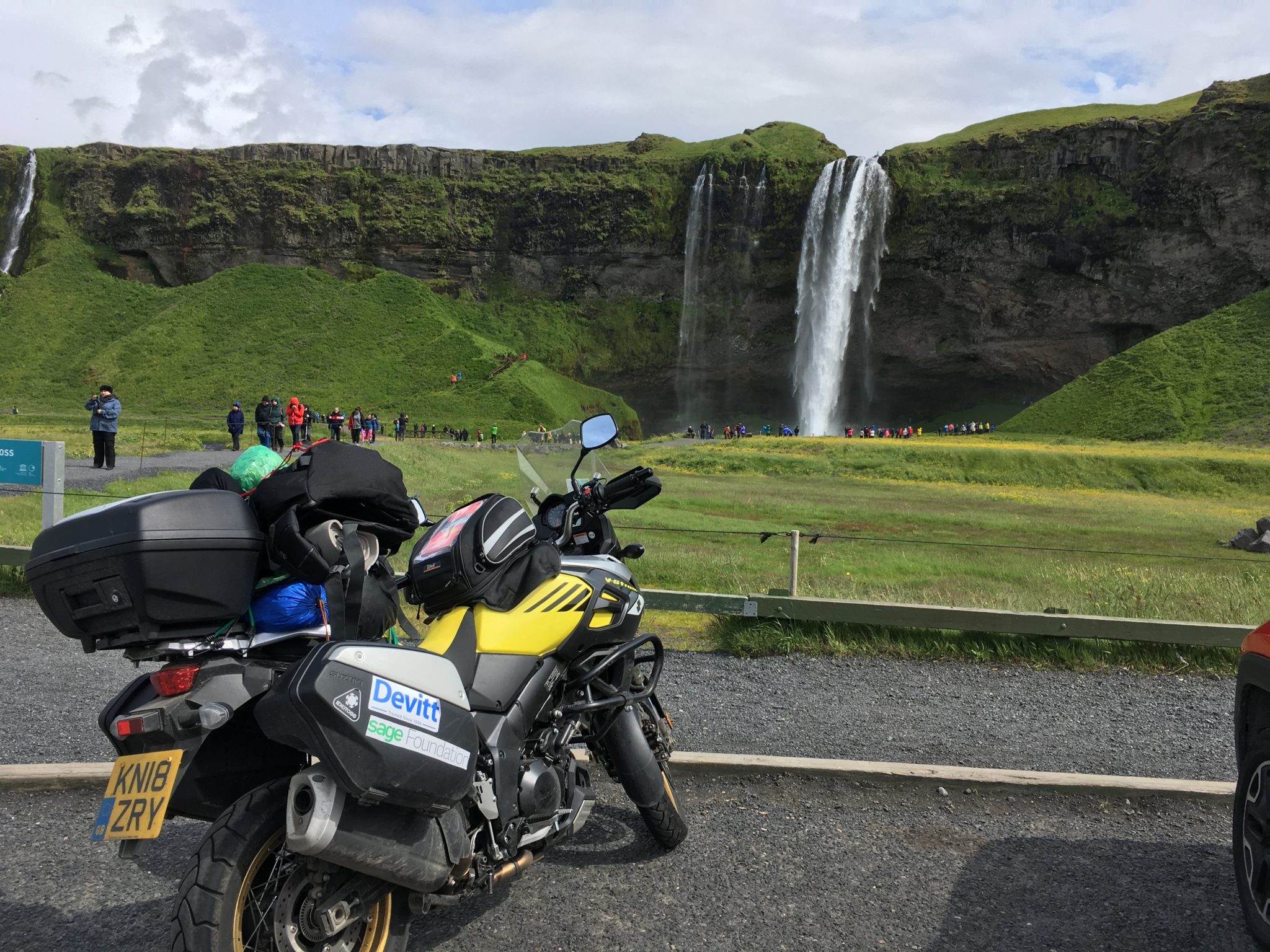 Only 3 weeks before, Iceland couldn't have been further from my mind. For the past 2 years I'd been planning a trip to Arctic Alaska, next stop on my quest to ride my motorbike in every country inside the Arctic Circle. I was due to fly into Calgary, ride through the Canadian Rockies, the Alcan Highway, and onto the notorious Dalton Highway, before passing the Arctic Circle and riding to the top of North America. I'd booked my flights, arranged freight for my bike, book my holidays from work, and got my wife to agree to run a household with two under 4's for the over 3 weeks while I was away.
My Alaska dream came crashing down before my eyes in a matter of hours less than 20 days before my departure date. My motorbike insurance provider in US had pulled their cover for EU riders due to the new GDPR regulations, and I couldn't find an insurer or broker in US to insure my bike as a foreign rider for love nor money. Without any insurance I was forced to cancel my trip before I incurred even more sunk costs. Most galling for me what that Arctic Ride Alaska was my current charity fundraising effort as part of my Arctic Rider alias. I'd raised over £3,000 pre-trip and to have to let down all those who had donated was a new low for me.
Even thought I was four-figures out of pocket with nothing to show, I was determined to make amends. I had the time booked off work plus my family behind me all the way and I was determined to make it to the Arctic for all my supporters, even if it wasn't to be Alaska.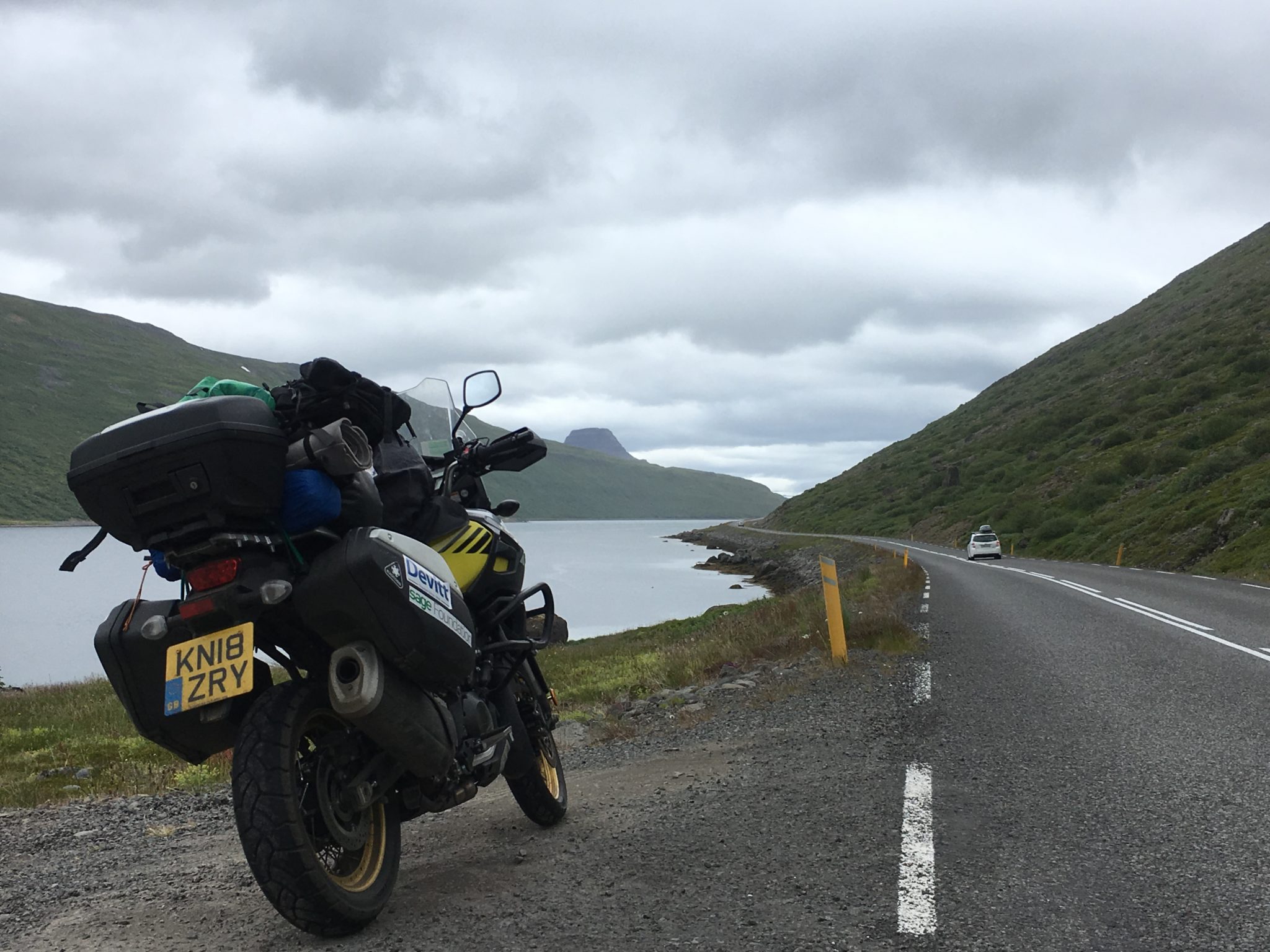 I pulled out my plans for riding the Arctic Circle in every country and quickly decided the most viable option was to head to Iceland. I had enough funds remaining to do the trip, I had enough time to ride through Europe and across to Iceland, and I had the perfect bike to take on the rugged and off-road terrain in the form of a brand-new Suzuki V-Strom 1000 XT. Suzuki Bikes UK had loaded me a V-Strom for the summer to take on the Dalton Highway and soon agreed that they were happy for me to take it on my re-routed trip to Iceland.
Before I knew it, the bike was packed, and I was riding down the A1 from Newcastle bound for Harwich where I caught the overnight ferry to Rotterdam. The only sea crossing to Iceland is a 2-day passage from Hirtshals on the Northern tip of Denmark. Once was on mainland Europe I travelled for 2 days through Netherlands, Germany, and North through all of Denmark before reaching the ferry port at Hirtshals. The weather on my first few days had been perfect with temperatures in the high twenties and early thirties, and blue skies all the way up. The bike was comfortable and had plenty of power to negotiate the motorways of Europe and the Autobahn in Germany.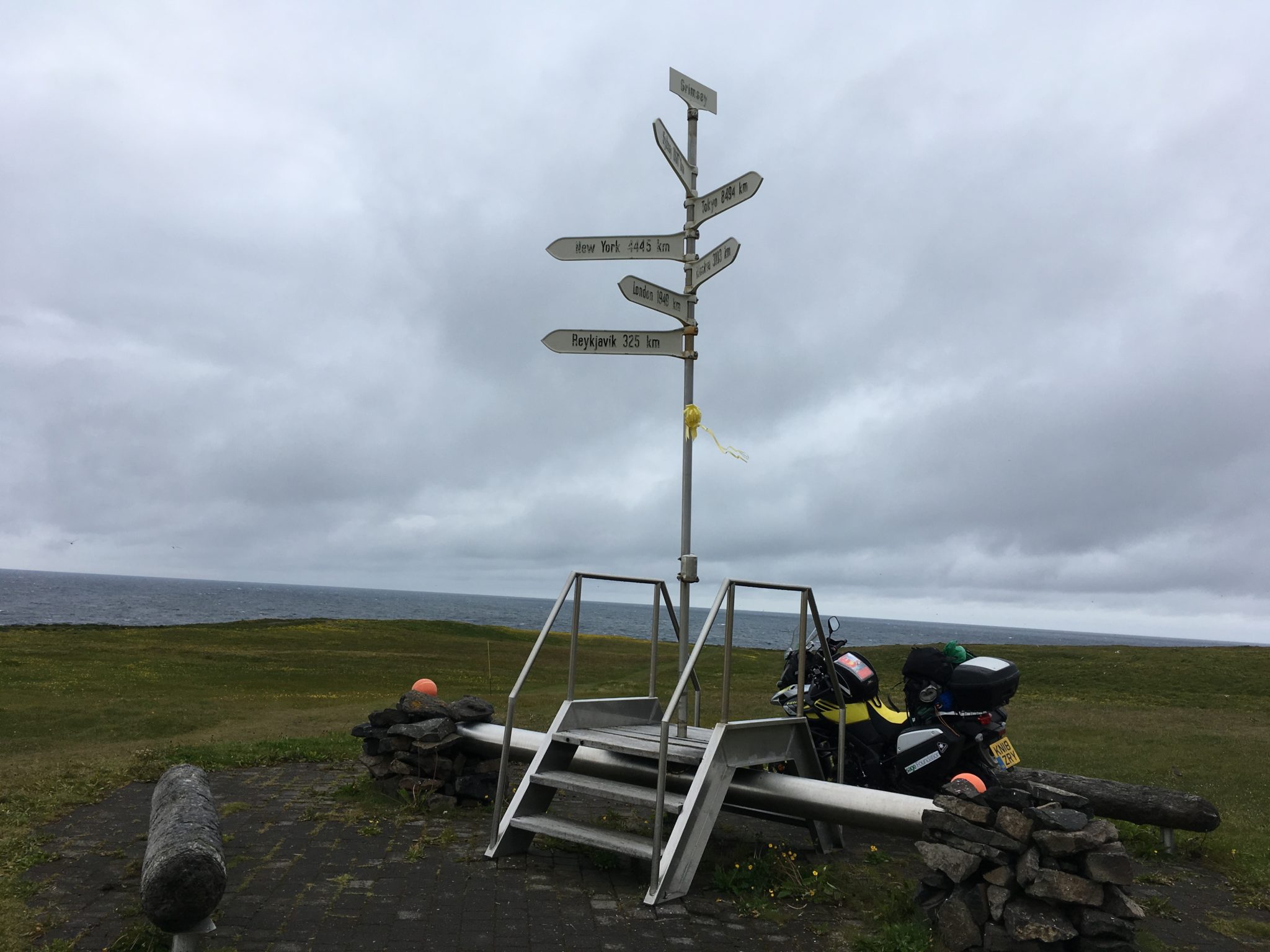 The 2-day sea crossing was a bit of a slog. I read books, watched catch-up tv, and listened to countless podcasts to pass the time. I also got chatting to some other bikes from across Europe and even the USA, who were also bound for Iceland. The Smyril Line ferry also had some great facilities including a cinema, bar, shop, swimming pool, and fitness centre, which was much appreciated on such a long crossing.
When I landed in Iceland the weather couldn't have been more different from what I had left on mainland Europe. Barely above freezing, rain, and gale-force winds battered me from almost the first mile. With no-motorways in Iceland, I was forced to take on this weather on the equivalent of B-roads and worse, with hundreds of miles to cover each day.
To reach my Arctic goal I had to ride to the North of Iceland and catch a small ship 3 hours across to the small island of Grimsey, the only place where the Arctic Circle crosses the Icelandic territory. Judging by how confused the deck-hands looked when I turned up with my bike, and that my bike was simple strapped to a bulkhead wall for the crossing, I don't' think they get many bikes doing this journey. When I finally reached Grimsey I only had a few miles to ride before reaching the Arctic Circle and ticking off another country on my Arctic motorbike quest.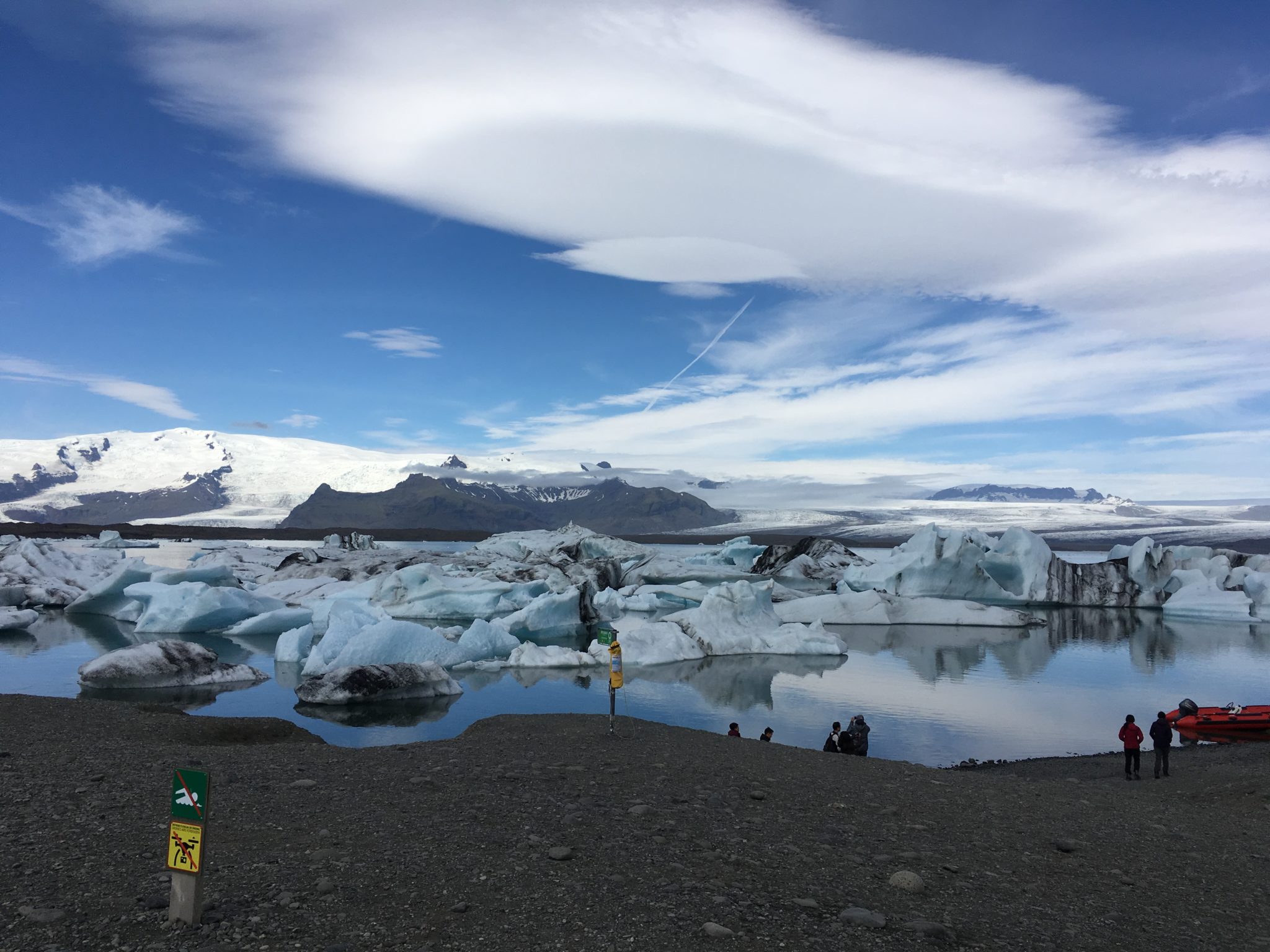 I spent 7 days riding around Iceland (the Smyril Line ferry only departs once per week) and found it an amazing experience. The weather remained severely windy and in the low single figures for the duration of my trip, but I was still able to enjoy this wonderous country. From ice-caps, gigantic waterfalls, fjords, and iceberg lagoons, to glaciers, mountain ranges, volcanic ash beaches, Iceland has an awful lot to offer
The roads in Iceland are very basic with even the 'Route 1' ring road, which circumnavigates Iceland for over 800 miles, having several stretches of off-road sections which were challenging for an Adventure Sports bike, let alone any other kind of ride. I did 100s of miles of off-roading, mainly in the Western Fjords area, which had some exception landscapes to go with the challenging and isolated roads.
By the time I reached home I was very humble and proud to have seen my donation total reach over £5,000, raising much needed funds for two charities close to my heart in Cerebra and Tiny Lives Trust. Cerebra, a UK brain injury charity who helped my younger brother Robbie who has an acquired brain injury, and Tiny Lives Trust, based at the RVI hospital in Newcastle, who supported my daughter Islay and son Hugo when they were both born prematurely, are both worth charities and I am proud to be able to support through The Arctic Rider.
In total The Arctic Rider project has raised over £13,000 to date for these two charities. Thanks to all those who have donated followed my journeys, and to Devitt who have continued to support through helping to raise the profile of my rides, and for providing insurance for me to ride the V-Strom in Iceland.
To follow my next Arctic adventures please visit www.facebook.com/thearcticrider or www.twitter.com/thearcticrider
Ride safe,
Gordon Stuart
The Arctic Rider"