Brief History
Italian motorcycle manufacturer, Moto Guzzi founded in 1921, is the oldest European manufacturer in continuous motorcycle production.
The Moto Guzzi partnership began with two aircraft pilots and a mechanic who served with the Italian Air Cop during World War I. Carlo Guzzi, Giovanni Ravelli and Giorgio Pardio worked closely after the war to make their dream a reality – Guzzi engineered the motorcycles, Parodi financed the business and Ravelli promoted the bikes, due to his motorcycling career.
Guzzi's first ever engine design, the horizontal single, dominated the first 45 years of the company's history, although various configurations were made and with each engine bearing the signature of the mechanic who built it.
Not only are Moto Guzzi are known for their vast impact and prominence in the motorcycle racing world, but also their contribution to industry innovations including the creation of the first motorcycle centre stand, wind tunnel and eight-cylinder engine.
In 2004, Moto Guzzi became part of Piaggio group, Europe's largest motorcycle manufacturer to date.
Moto Guzzi currently employ around 300 employees and make over 10,000 bikes a year.
Racing History
Moto Guzzi dominated the racing world from the early 1920's through to 1955. It all began with the European championships entering classes including 250cc, 500cc and sidecar races with a number of Italian riders and one British rider, Maurice Cann (1948).
After that, Moto Guzzi took on the MotoGP championships winning a number of world titles including 350cc five times, and 250cc class 4 times. It wasn't long before Guzzi decided to move away from track racing and onto road racing, with riders such as Bill Lomas and Fergus Anderson riding in the 250 and 350cc class.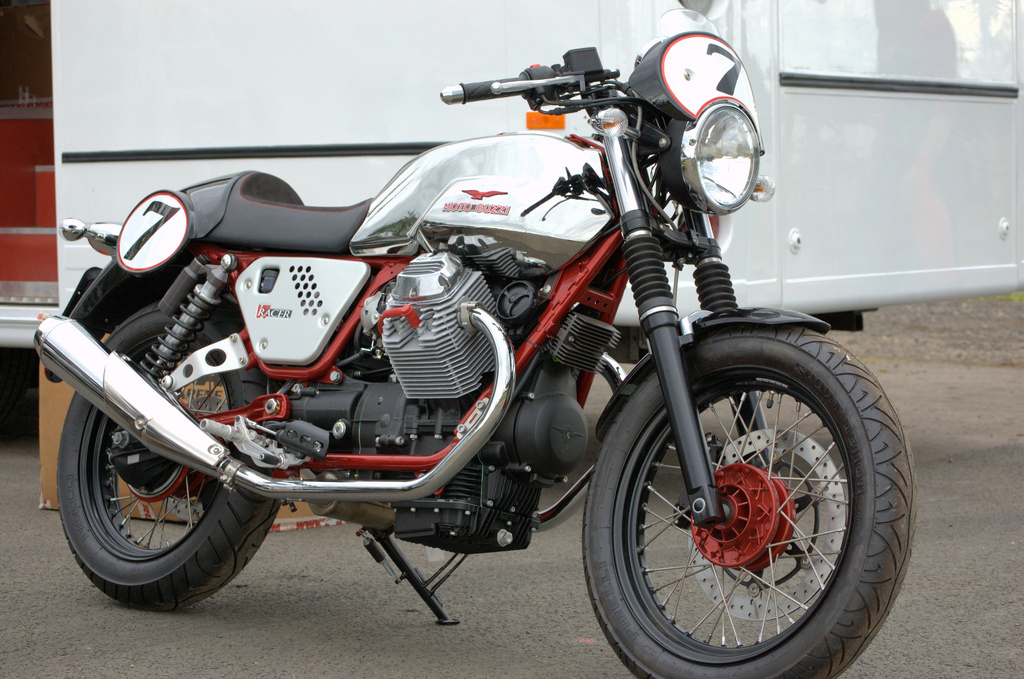 Popular Models 
V7 II Stone
One of Moto Guzzi's most popular motorcycles to date, fitted with a new 6 speed gearbox and improved ergonomics. The new engine position makes for more comfortable riding, along with the adjusted foot pegs and lowered saddle.
Not only is the V7 Stone easy to ride, it's easy on the eyes too, with a choice of new colours and finishes. The matt metal fuel tank is bold colours really shows the personality of the rider.
Price: £7,135
Moto Guzzi Norge 1200 
If you're looking for a touring bike then look no further. Packed full of power and plenty of room for extra luggage and panniers makes for a perfect tourer.
Known for its extreme comfort due to the soft suspension and relaxed riding position, you can take full advantage of the 200-mile+ tank range.
Full of character and charm, you'll be smiling when riding the Norge.
Price: from £5,000