Moto-Guzzi Griso 1200 Bike Overview
A roadster with personality, the Moto Guzzi Griso 1200 gave Moto Guzzi a much needed shot in the arm against its competitors. Artfully designed, it is not only attractive but performs likes a dream. If you are looking for a bike that is a blend of style and functionality, they do not come any better than the Griso.
The hallmark of the company has been its transverse V-Twin engine which has thankfully received a much needed overhaul. The addition of a shaft drive with four valve heads places it at par with the best. However, we fear it could do with a bit more torque to make it a bit perkier. In terms of road handling, it is flexible and responsive.
The braking is good and the ride decent thanks to its quality braking and excellent suspension. Despite its chunky size, the weight has been ideally stabilised and been kept low with the steering light.  Its long wheelbase does not really place it in the class of a sportster, but it is just the right kind of roadster to hop on to and cruise the highlands.
With Marzocchi suspensions and Brembo wheel and brake package the bike is top notch. One of the highlights of the Moto Guzzi Griso is its sheer quality that is a definite step-up from the previous bikes produced by the company. The finish is impeccable with every single bit glistening and perfectly designed.  In terms of reliability the bike gets full points with no major complaints yet.
Take a look at the Moto Guzzi Griso 1200 in action…
Moto-Guzzi Griso 1200 Bike Spec
Capacity

1064cc

Top speed

127mph

Weight

227kg

Average fuel consumption

34mpg

Seat height

800mm

Engine

V twin, 8V
Moto-Guzzi Griso 1200 Bike Insurance
Moto-Guzzi Griso 1200 Bike Gallery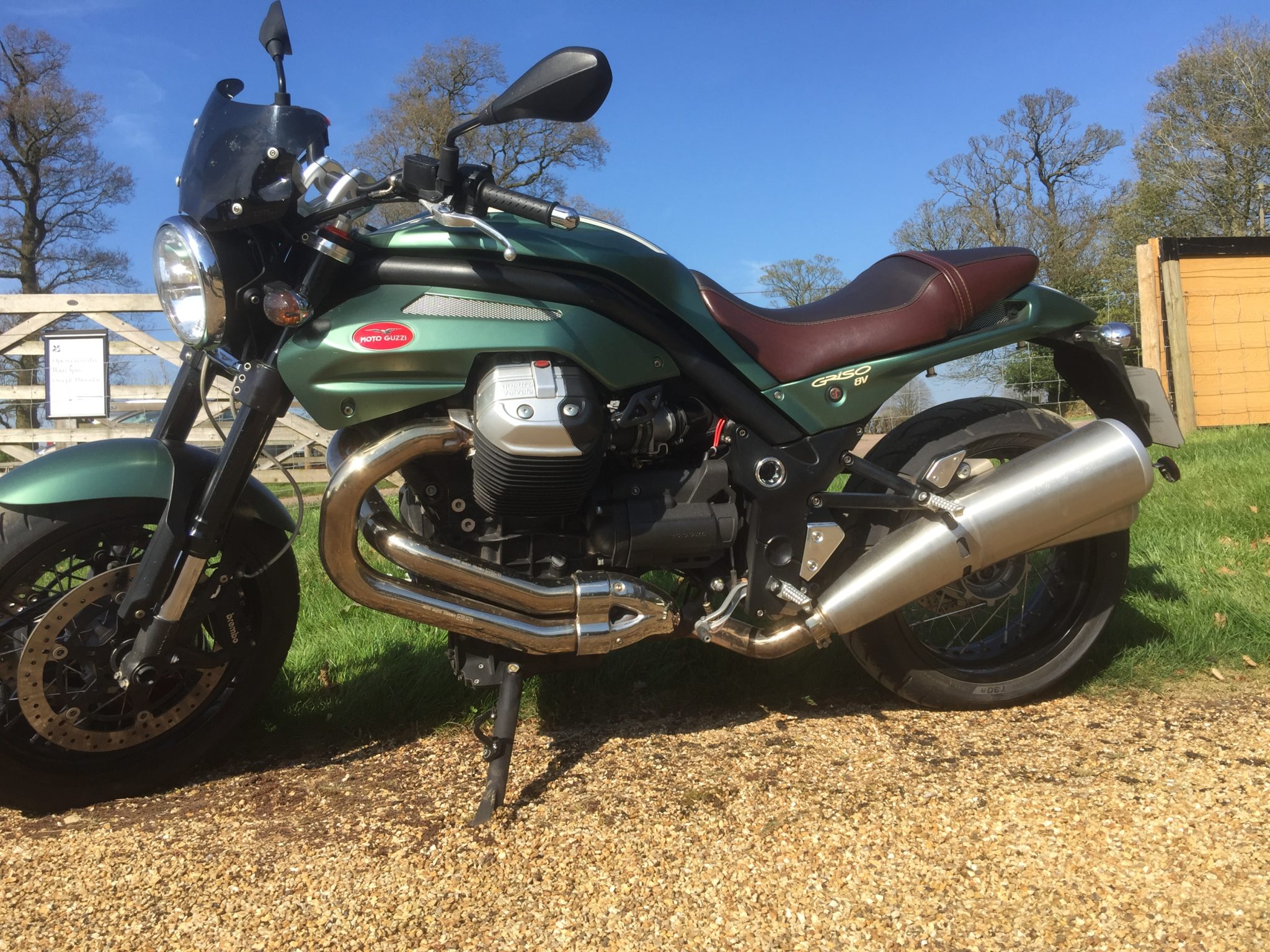 Owner Reviews
Pros
Old school cross between cruiser and sports bike , quite individual., Cons , not many dealers and a lot of bike shops won't consider as a px
Cons
Lazy starting motor doesn't inspire but has never not started first time
Read More
Comfort4 out of 5 stars
A firm seat but not uncomfortable on a journey , worth going on the Guzzi forum for suspension settings.
Build Quality4 out of 5 stars
Speedo misting and indicator wiring problems but mechanically good , never let me down
Brake4 out of 5 stars
No abs but good brakes
Ride Quality4 out of 5 stars
Once you've mastered the gear changes its smooth , you need to line the bike up in corners as its still a big bike but handles well
Engine4 out of 5 stars
110 hp is enough for real world , plenty of v twin grunt and likes to rev.
Running Cost4 out of 5 stars
Cheap to insure. Low 30s to the gallon not great, parts look expensive but I haven't needed any. Shaft drive a bonus.
Pros
If you are looking for a motorcycle that has individualism and Italian flair, look no further. It pulls like a steam train and gives lots of feedback from the road surface, meaning you can ride the bike to its limits without getting yourself out of your depth. The way it looks draws admirers everywhere it goes. On a recent road trip with friends, they all agreed that the Griso was one bike they'd all like to take home.
Cons
The lack of a centre stand and touring equipment is a drawback.
Read More
Ride Quality5 out of 5 stars
With most of the mass being carried down low, the Griso is stable and flickable, capable of removing the 'chicken strips' from your tyres and great fun to ride. As you would anticipate, there are some vibes from the big twin, but the torque reaction when you blip the throttle is addictive and makes you forget the tingling feeling.
Engine5 out of 5 stars
There are more powerful bikes on the market, but at about 110bhp and 90lb ft of torque, it is more than capable of losing your license for you or ploughing out of a corner like an amphetamine fueled bull.
Running Cost3 out of 5 stars
The lack of a centre stand and touring equipment is a drawback.
Build Quality5 out of 5 stars
Beautifully detailed and reliable, though mine has had the cables to the starter motor upgraded
Brake5 out of 5 stars
The Brembo brakes give good feel and remain nicely progressive when used. The rear is particularly good at allowing you to scrub off speed in a corner without any drama if you get carried away with your entry.