Thursday evening saw just the second full practice session at the Isle of Man TT Races but, with perfect conditions all round the Mountain Course, it certainly gave an indication of who can be expected to be at the front come race day on Saturday.
Ian Hutchinson setting the bar high:
Ian Hutchinson laid down his marker with the first 130mph+ lap of the week, set on his PBM Kawasaki, and if anyone deserves to win a TT race this year it's Hutchinson.
The Bingley rider swept all before him in 2010, becoming the first and only rider to win five races in a week but he's been to hell and back since after sustaining serious leg injuries at Silverstone in September that same year.
Hutchy fighting back:
Now 35, Hutchy missed three full seasons of racing, in what should have been both prime and profitable years in his career so to fight back shows the character of the man, his determination and also dedication.
His form at the recent North West 200 was excellent and he's clearly got the bit between his teeth for the TT. He's topped each Superbike session so far – mind you, he's clearly trying as this clip shows…
 Watch out for McGuinness and Anstey
As expected, Honda riders John McGuinness and Bruce Anstey have also been high on the leaderboard each night. The veteran duo – with 30 TT wins between them – have been with their respective Honda Racing and Padgetts team for many years and know their bikes inside out. With tried and tested settings on their Superbikes, they only need to make tweaks here and there and both are ready to race already.
McGuinness breaks the 130mph barrier
McGuinness was the only rider other than Hutchinson to break the 130mph barrier but Anstey was only just behind and less than three seconds covered the trio on Thursday evening.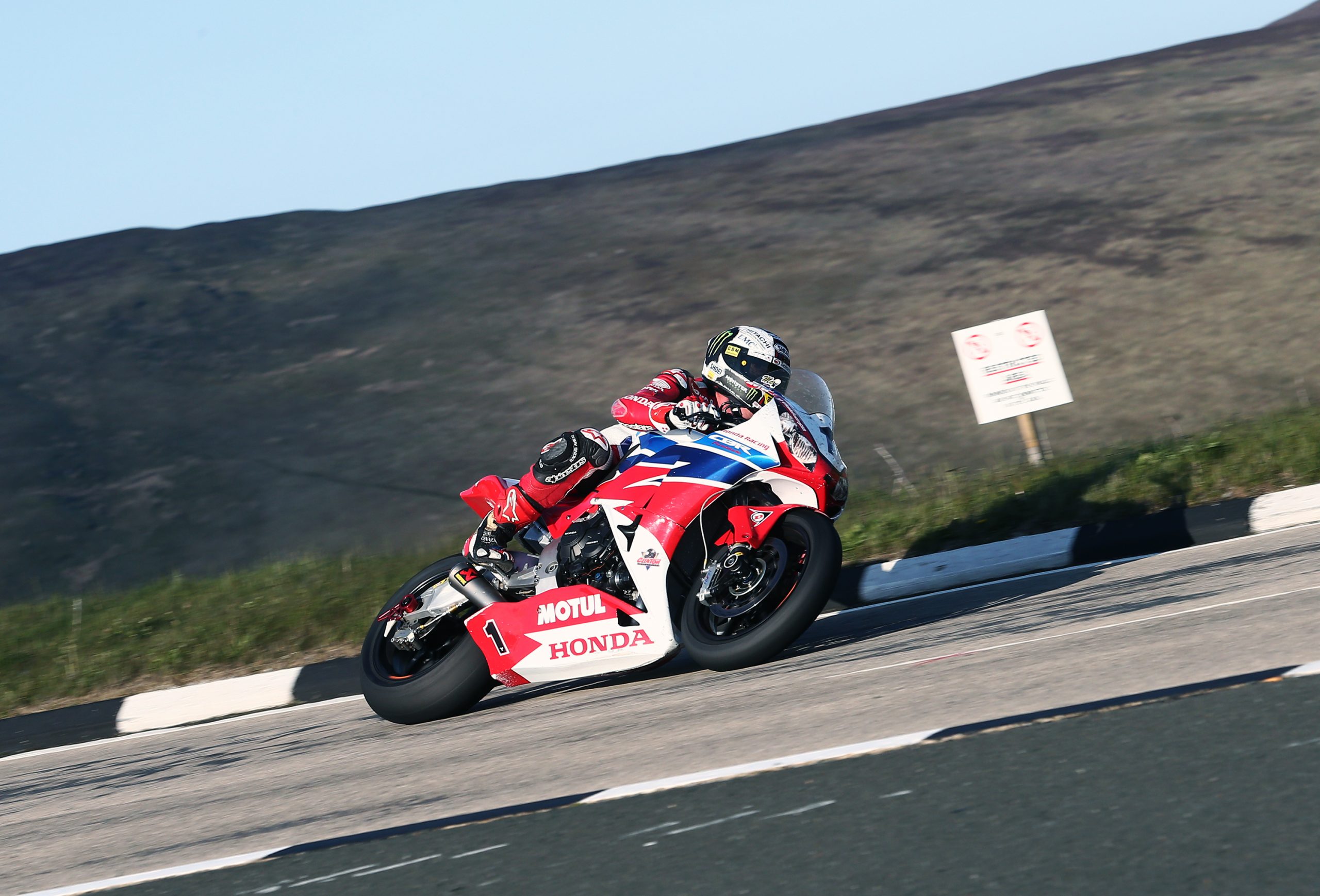 Dunlop happy to be back on a BMW
Unsurprisingly, Michael Dunlop took his own share of the headlines last night. With his dramatic split with Milwaukee Yamaha, the 26-year old had just a Superstock BMW last night but not only did he top that particular class, he was also the fourth fastest rider on the night.
And he also set the fastest sector time from the start to Glen Helen, quicker than all the Superbikes, which clearly shows how happy he was to be back on a BMW and the trials and tribulations he endured with the Yamaha. He'll also be keen to get out on the Superbike version as soon as possible.
Martin setting an early pace
He was quicker on his Superstock bike than the official BMW Motorrad Superbike entries of Tyco pairing Guy Martin and brother William. The duo left the line together and it was Martin who set the early pace, leaving William trailing in his wake on their first lap. But, interestingly, William reeled in a significant deficit second time around to re-take Guy although their best laps were almost identical.
It's hard to see a race winner coming from anyone other than the aforementioned riders. Michael Rutter and Conor Cummins, the only other riders to lap in excess of 128mph on Thursday, may fancy their chances of a podium place but the lead Kawasaki of Gary Johnson appears to be out of the equation.
The Lincolnshire rider's best lap so far is some distance off where he needs to be and whilst Dean Harrison, now flying the Yamaha flag, improved to 127.120, he too has a significant deficit to the pace setting Hutchinson.
What remains to be seen now is whether or not the Superbike race takes place on Saturday or Sunday. With practice week seeing inclement weather early on, we've only had two full sessions so far and with Friday's weather looking particularly iffy, we may not get a third.
What will Saturday bring?
It's highly probable that Saturday will see an extended practice session for the Superbikes with the race being carried over to the Sunday, just like 2013. And that will mean a punishing three days for the riders, with six to eight laps of practice on Saturday, a six lap race on Sunday and then eight laps – two four lap races – on Monday.
The TT certainly isn't for the faint hearted.
Having started watching motorcycle races all over the world form childhood, Phil Wain has been a freelance motorcycle journalist for 15 years and is features writer for a number of publications including BikeSport News and Classic Racer, having also been a regular contributor to MCN and MCN Sport. He is PR officer for a number of teams and riders at both the British Superbike Championship and International road races, including Smiths Triumph, Quattro Plant Kawasaki, John McGuinness, Ryan Farquhar and Keith Amor. He is also heavily involved with the Isle of Man TT Races, writing official press releases and race reports as well as providing ITV4 with statistical information.