Motorcycle racing, by its very nature, is a dramatic sport. But what we saw last Sunday at Sepang in Malaysia was one of the most dramatic, sensational, and far-reaching moves ever witnessed in motorcycle Grand Prix racing.
Valentino Rossi all but threw away his chances of winning a tenth world championship when he clashed with Marc Marquez and brought the Spaniard down.
At first, it looked like the most experienced and successful man in Grand Prix racing had actually kicked Marquez off his factory Repsol Honda but different camera angles seemed to tell a different story and it looked more like Marquez's head made contact with Rossi's left knee as Rossi tried to run him out wide but Marquez tried to hold his station.
In a bid to prevent the two bikes becoming entangled Rossi instinctively stuck his knee and/or foot out and Marqez ended up on the floor. A careful review of the helicopter camera's footage shows that Marquez had lost the front of his Honda before Rossi's knee came out.
Those siding with Marquez:
There are those who feel that Rossi DID kick Marquez off the bike but this would be highly unlikely. Rossi is the most experienced rider in the paddock, now in his 20th season of Grand Prix racing. He knows that every move out on track is caught by not just one camera, but by many, and that getting away with a dangerous manoeuvre is all but impossible.
Further, Rossi has never been known as a dirty rider – a hard rider, yes, but never a dirty one. Why would he suddenly break the habits of a lifetime, especially when Marc Marquez is not even in the running for this year's world championship? In fact, race direction later confirmed that it did not believe Rossi had kicked Marquez off the bike.
So who's fault was the crash?…
Rossi and Marquez had been swapping positions constantly for the last couple of laps prior to the crash while Rossi's real title rival, Jorge Lorenzo, pulled further away at the front of the field with Marquez's team-mate, Dani Pedrosa, in second place.
So why would Marquez ride so desperately for a third-place finish that would make no difference to his championship?
The answer to this question can be found in the pre-race press conference in Malaysia when Rossi surprised the paddock by criticising Marquez's tactics in the previous round at Australia where Rossi felt he deliberately held him up to allow Jorge Lorenzo to gain more points.
Given that Marquez and Lorenzo ride for rival teams and aren't exactly close friends, this seemed an odd thing to say, but third-placed finisher in Australia, Andrea Iannone, backed up Rossi's claim and agreed that Marquez was 'playing games.'
Rossi calls Marquez a liar:
Whatever was behind Rossi's unexpected verbal attack (he even suggested Marquez was lying when he used to say that Rossi was his hero as a kid, prompting Marquez's mum to post pics to prove her boy was not a liar), it clearly backfired.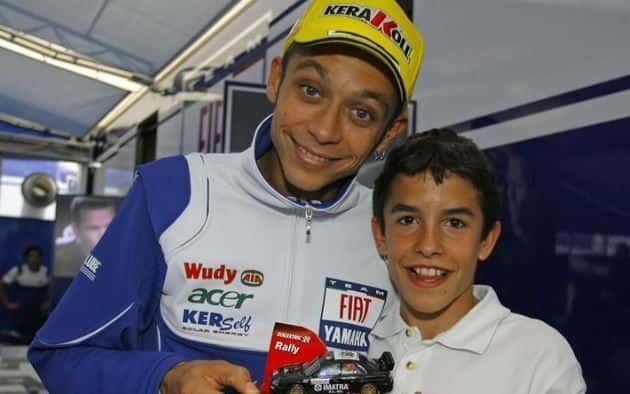 Marquez determined to beat Rossi:
If Rossi had been hoping to spur the Spaniard on to clear off at the front of the race and leave himself and Lorenzo to their own fight, it didn't work, and Marquez seemed more hell-bent on beating Rossi and spoiling his rhythm than on challenging Lorenzoe.
Given that he could not mathematically win the championship by that point in the season, should Marc Marquez have kept out of the way and allowed the title contenders to do battle unimpeded? Or was he simply doing what he's paid by Repsol Honda to do – fighting for the best possible position he can achieve and beating his Yamaha rival in any given race?
Predictable outcome:
Whatever your take on who was to blame for the crash, the end result has more than likely brought a premature end to what has been one of the most fascinating title fights in Grand Prix history. After a post-race hearing by race organisers Dorna, Rossi was allowed to keep his third position – and therefore a slender 7-point lead over Lorenzo going into the final round at Valencia – but was told he would have to start the race from the back of the grid, no matter where he finished in qualifying.
With Lorenzo's track record at Valencia, this decision has all but decided the outcome of this year's world championship. If Lorenzo wins the race, Rossi would need to finish second – from last on the grid – to take the title, an all-but-impossible feat at this level of racing.
There are many voices on social media calling for Dorna to retract the penalty so that we can all enjoy the spectacle of a one-race, battle royale between Rossi and Lorenzo for the 2015 MotoGP title.
Rossi: "Valencia hardly worth my time"…
Given that that's highly unlikely to happen, Rossi had also stated that he might not even bother to turn up to race at Valencia, given that his handicap is so great that it's hardly worth his time. But this is motorcycle racing and, as last weekend proved, absolutely anything can happen.
Lorenzo could crash in practice and break a collarbone or wrist. Or his bike could break down. His tyres could go off. In any of these scenarios, Rossi would suddenly be back in the game, so how would he feel if he'd not turned up at the race to capitalise on it? Besides, It's unlikely that Yamaha would allow him to be absent – they do pay him to be there after all.
Round 2:
Rossi will be at Valencia, that much seems certain. And no doubt the spectators will come in their droves too, if only to see what happens when Rossi and Marquez get back out on track together. It would have been so much better to watch a straight fight for the world championship between Rossi and Lorenzo but Dorna has denied us this possibility with the penalty that was handed out to Rossi.
It may, or may not, have been deserved but surely we, the spectators and TV viewers in our tens of millions, deserve to see a world championship being decided out on track and not in a  meeting room of the Sepang International Race Circuit.
So, what do you make of this extremely controversial issue? Share your comments below…
Stuart Barker is a freelance motorcycle journalist and author. A former MCN reporter and features writer, he is now editor of the Official Isle of Man TT and Classic TT programmes and has contributed to most major UK motorcycling titles including MCN, Bike, Ride, Superbike, Two Wheels Only, Fast Bikes, Classic Bike and Classic Racer. His books include biographies of Barry Sheene, Steve Hislop, Niall Mackenzie, David Jefferies and Evel Knievel as well as a centennial history of the TT races.