Hall of Fame
With the motorcycle Grand Prix World Championship having been in existence for almost seventy years, it's hard to select ten riders for the Hall of Fame. In doing so, many great names have had to be omitted including the likes of Michael Doohan, Kenny Roberts, Geoff Duke, Freddie Spencer, Eddie Lawson, Jarno Saarinen, Anton Mang, Casey Stoner, Barry Sheene and Dani Pedrosa.
But those that have made it in to the final ten, listed in alphabetical order, are certainly some of the greatest names ever to have competed on two wheels. And for some, certainly Marc Marquez, the story has many years left to run.
Giacomo Agostini
Despite having retired more than forty years ago in 1977, Italian rider Agostini's total of 15 World Championships and 122 Grand Prix wins remains unbroken. His first foray into World Championship action came in the 1964 250cc World Championship but a switch to MV Agusta a year later set him on the path to glory. Many consider his lack of rivals and credible competition to MV to be the reason for all his success but his first 500cc World titles in 1966 and 1967 came when he defeated Mike Hailwood whilst he also went toe to toe with Jim Redman and in later years with Phil Read, Barry Sheene and Jarno Saarinen.
No less than 13 World Championships were taken by Agostini on MV Agusta's between 1966 and 1973 but a switch to Yamaha in 1974 saw him firstly claim the 350cc crown and a year later the 500cc title too, the first in the class for the Japanese manufacturer. He retired at the end of the 1977 season before carving out a successful career in team management.
Mike Hailwood
Considered by many to be the greatest motorcycle rider ever, Mike Hailwood won nine World Championships (ten with his Formula One TT success of 1978) and took 76 Grand Prix wins between 1958 and 1967. Riding firstly private Nortons and then factory MV Agustas and Hondas, Hailwood was only 21 when he won his first World title, the 1961 250cc, and it was his prodigious talent that saw him sign for MV in 1962. Four successive 500cc titles subsequently followed before he switched to the rival Honda manufacturer in 1966 where he scored a 250cc-350cc double both that year and in 1967.
The 500cc title eluded him with the Honda fast but an animal to ride and he retired at the end of 1967 to pursue a car racing career. He famously returned to bike racing and the TT in 1978, taking his 13th and 14th wins on the Mountain Course but was tragically killed, along with his daughter, in a road accident in April 1981.
Jorge Lorenzo
Lorenzo made his Grand Prix debut in 2002 and after three years in the 125cc class, he moved into the 250s in 2005 where he took back-to-back titles for Aprilia in 2006 and 2007. Yamaha secured his services for the 2008 MotoGP season and he remained with the factory until the end of 2016 when he made the switch to Ducati.
Those nine years at Yamaha saw him have a bitter rivalry and team-mate in the shape of Valentino Rossi whilst he also had to do battle with the Italian on the track along with fellow 'aliens' Casey Stoner, Dani Pedrosa and Marc Marquez.
However, the Spaniard was more than a match for them and he took three MotoGP world titles, in 2010, 2012 and 2015. His success rate slowed down slightly after two years at Ducati and a move to Repsol Honda in 2019 failed to deliver results. It led to him retiring at the end of the season but he ended his career with 68 Grand Prix wins, the sixth highest total ever, and 152 podiums, the latter figure only bettered by Rossi, Agostini and Dani Pedrosa.
Marc Marquez
30 in 2023, Spanish rider Marquez first graced the World Championship scene in 2008 finishing 13th overall in the 125cc series. That year saw him claim his first podium and just two years later he'd taken his first world title after a dominant display saw him take ten wins from the 17 races. Moving straight into the Moto2 category, he finished second at his first attempt and in 2012 he took world title number two.
A switch to MotoGP and the factory Repsol Honda team subsequently followed in 2013 where he's remained ever since and he took his first premier class title at his first attempt becoming the youngest ever winner of the crown in the process. Five more world titles, in 2014, 2016, 2017, 2018 and 2019, have come his way since as he's dominated the MotoGP class, setting a records points tally of 420 in the 2019 season.
His winning streak came to an end in 2020 when a broken arm at round one resulted him missing the entire season but he returned in 2021. Despite being far from fit, and despite missing four races, he finished seventh overall with three wins increasing his career record to 85 victories, the fourth highest of all time, and 138 podiums. Just one podium was taken in 2022 as he continued to struggle with his arm but it was his 100th in the MotoGP class.
Angel Nieto
Carlo Ubbiali was the first rider to dominate the smaller classes but Spanish rider Nieto surpassed his achievements and his career was devoted to the 50cc and 125cc divisions going on to become the second most successful rider ever in terms of World Championships won. His career spanned an impressive 20 years with his first points coming with fifth place in the 1966 50cc Spanish Grand Prix before finishing fourth overall in the next two years.
1969 saw him secure his first 50cc world title and he went on to notch up six titles in the smallest division riding for the factory Derbi, Kreidler and Bultaco teams. He was even more successful in the 125cc class winning seven championships for Derbi, Minarelli, and Garelli and when he retired at the end of the 1986, he'd taken 13 World Championships and 90 Grand Prix wins, the second and third highest totals respectively. He sadly lost his life after a quad bike accident in 2017.
Phil Read
Phil Read competed in a golden era of racing and, just as the 2000s saw Valentino Rossi do battle with Casey Stoner, Jorge Lorenzo, Marc Marquez et al, the Brit had to contend with Mike Hailwood, Jim Redman, Bill Ivy and Giacomo Agostini to name just a few. Had it not been for the aforementioned riders, Read would have won far more than the 52 Grand Prix races (the ninth highest total of all time) than he did but his tally of 121 podiums is perhaps more telling.
This figure is only bettered by Rossi, Agostini, Pedrosa , Lorenzo, Nieto and Marquez and he earned his place in the record books becoming the first rider to win world championships in the 125cc, 250cc and 500cc categories, a feat only matched by Rossi. In total, Read won seven world Championships (eight with his Formula One TT success of 1977) and will be forever associated with Yamaha and MV Agusta where the bulk of his success came. He passed away in October 2022.
Jim Redman
Born in London in 1931, Redman and his family emigrated to Rhodesia when he was twenty years old and he soon carved out a motorcycle career in both his homeland and South Africa. In 1958, he returned to Europe and with Honda entering the fray a year later, he was chosen to spearhead their attack in 1960. That started a seven-year relationship with the Japanese giant and Redman went on to dominate the 350cc World Championship with four successive titles coming his way between 1962 and 1965.
He also took the 250cc title in 1962 and 1963 before taking a close second to Phil Read and Yamaha in both 1964 and 1965. For 1966, he was given the task of trying to add the 500cc title to both his and Honda's collection and wins at the first two rounds looked like he'd do just that. However, a heavy crash at the Belgian Grand Prix left him with a badly broken arm and he was forced to retire, his career having yielded six World titles and 45 Grand Prix wins.
Valentino Rossi
With a career that saw him compete in the World Championship for a mammoth 25 years Valentino Rossi is, along with Mike Hailwood, considered the greatest motorcycle racer of all time. The argument continues to rage in terms of who actually is the best but Rossi's Grand Prix record is phenomenal. Starting out in the smaller classes, winning the 1997 125cc and 1999 250cc titles for Aprilia, Rossi moved to the 500cc category in 2000 where he remained until 2021 riding for Honda, Yamaha and Ducati.
He won nine World titles with the last of those coming as far back as 2009 and after switching back to Yamaha in 2013, he challenged for the title almost every year. He finally announced his retirement in 2021 having taken 115 wins, the second highest of all-time and just seven behind the highest total recorded by Agostini. His stunning tally of 235 podiums is comfortably the best of all time, some 76 ahead of fellow Italian Agostini's figure of 159.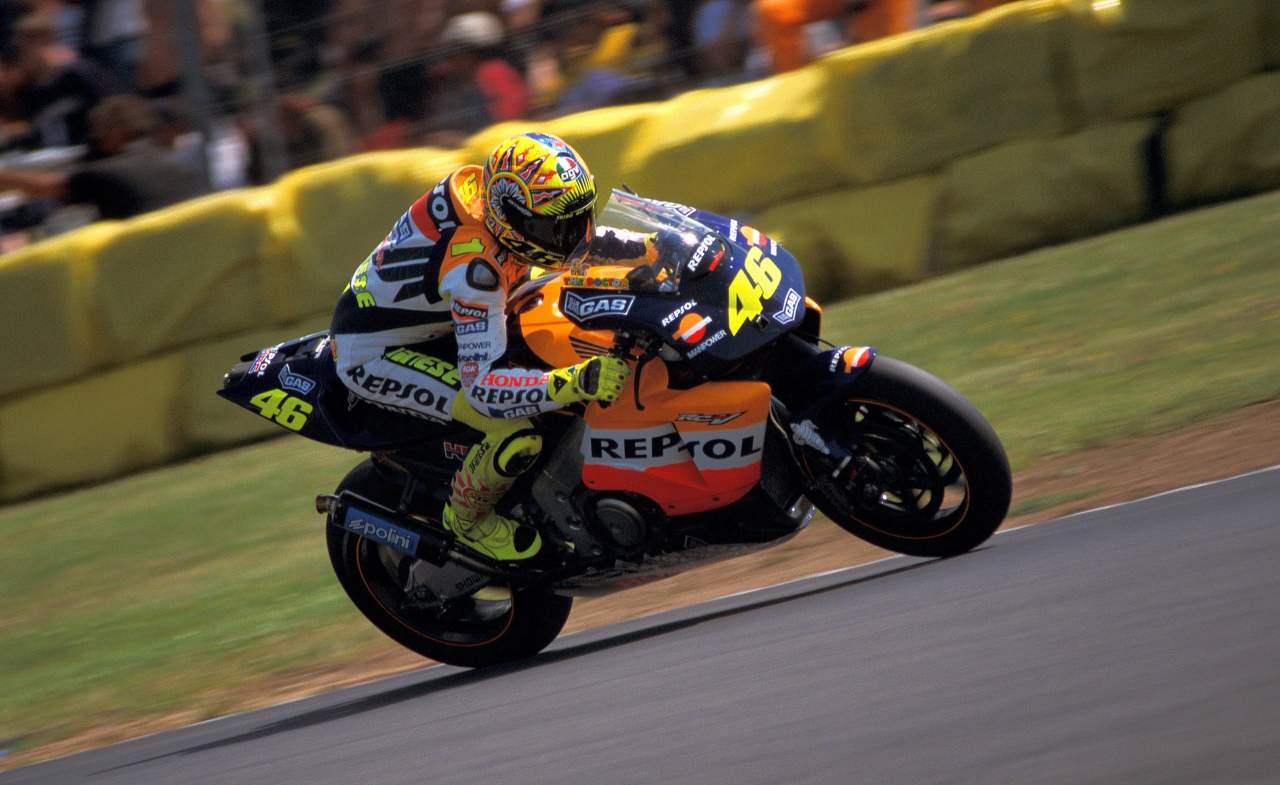 John Surtees
Out of all the riders in the Hall of Fame, Surtees had the shortest career appearing in the World Championship for only eight years. He retired from motorcycle racing at the age of just 26 but in that time he racked up an impressive seven World Championships and 38 Grand Prix wins with all of his success coming on MV Agusta machinery with the exception of his maiden win in the 1955 250cc Ulster Grand Prix when riding an NSU.
He joined the mighty MV concern in 1956, helping turn the 500cc machine into a race winner as he promptly won that year's World Championship. Although his task was made slightly easier by the withdrawal of Gilera, Moto Guzzi and Mondial at the end of the 1957 season, he dominated the sport between 1958 and 1960 winning the 350cc and 500cc titles in each of those years. He retired early to commence a career in cars and won the 1964 World Formula One Championship, thus becoming the first and only man to win world titles on two wheels and four.
Carlo Ubbiali
Italian ace Ubbiali focused his attentions on the 125cc and 250cc World Championships between 1949 and 1960 where he rode for the factory MV Agusta and Mondial teams. Scoring points in the very first World Championship season of 1949, his first world title came in 1951 when he took the 125cc title for Mondial but it was when he moved to MV Agusta in 1953 that his career really took off.
Despite intense competition from the likes of Tarquinio Provini, Cecil Sandford and Luigi Taveri, he took eight more world championship titles including a 125cc-250cc double-double in 1959 and 1960. He also took five Isle of Man TT wins whilst his nine World title wins remain the joint third highest total of all time despite the fact he retired almost sixty years ago at the end of the 1960 season when aged 31.