After a two-year absence, the British Superbike Championship returned to the Knockhill circuit in Scotland and, as expected, three hectic races and some close racing was the outcome.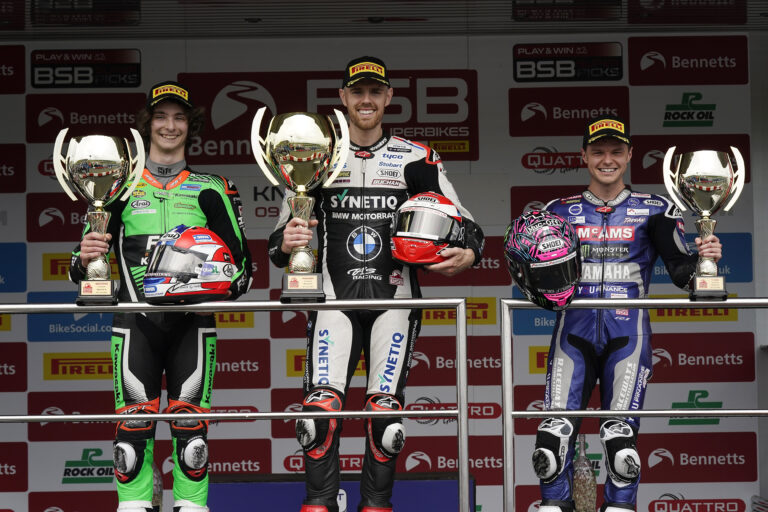 Buchan delivers
TAS Racing have been stalwarts in the British Championship paddock since 2004, firstly in Supersport and then Superbike and whilst their success has been vast, the last few years have been more challenging.
Indeed, prior to the weekend, their last BSB win was at Thruxton in mid-2016 with their last podium coming three years ago at Brands Hatch in early 2018. The barren period finally came to an end at Knockhill with Danny Buchan taking a brace of wins and a third on the Synetiq-backed BMW.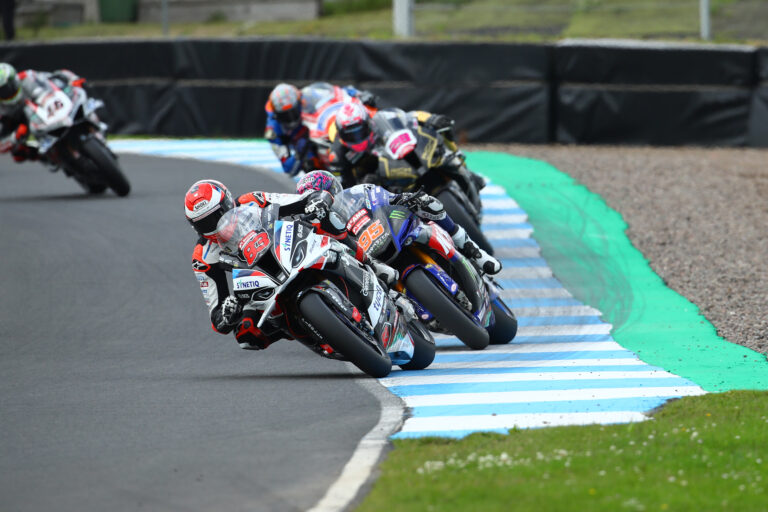 After a long association with Kawasaki, the Essex rider made the move to the Northern Ireland team over the winter months and although the opening round was solid, rather, than spectacular, a fourth place there was a good indication of his form and how he's quickly adapted to the M1000RR, something which he demonstrated in full at the weekend.
True, Knockhill's a circuit he's always gone well at, with victory coming on the FS-3 Racing Kawasaki in 2019, but his three rides at the weekend were, arguably, his three best in BSB. He was a class act with mature, commanding and controlled just three words to describe his performance.
It helped elevate him up to third in the early championship standings and although it's still early days for the combination, it's a more than promising start. The challenge now is to replicate these results on a regular basis and have a serious title push.
Sensational Skinner
Buchan may have taken two wins on Sunday but the rider of the weekend and the one who everyone was talking about was Rory Skinner with the British Superbike Championship rookie taking a sensational brace of second place finishes at just the second time of asking.
Having dominated the British Supersport Championship last season, with ten wins from 12 races, there was considerable excitement in the off-season when the Scot announced he was moving to the FS-3 Racing Kawasaki team and BSB for 2021 and already tongues are wagging.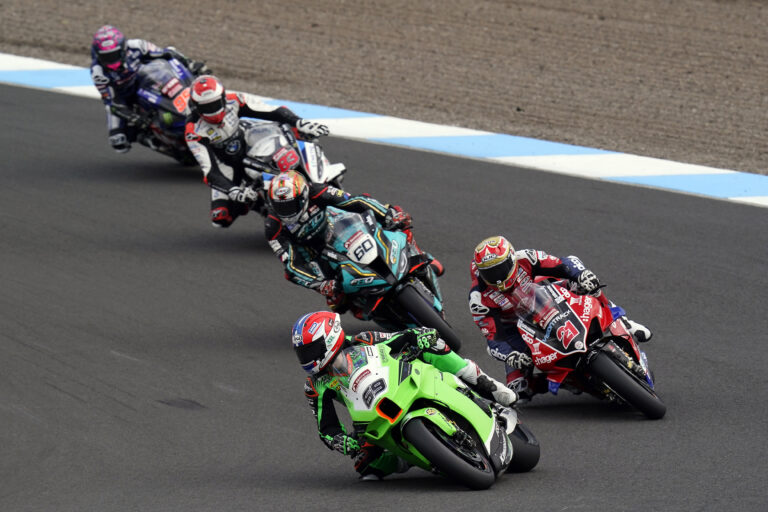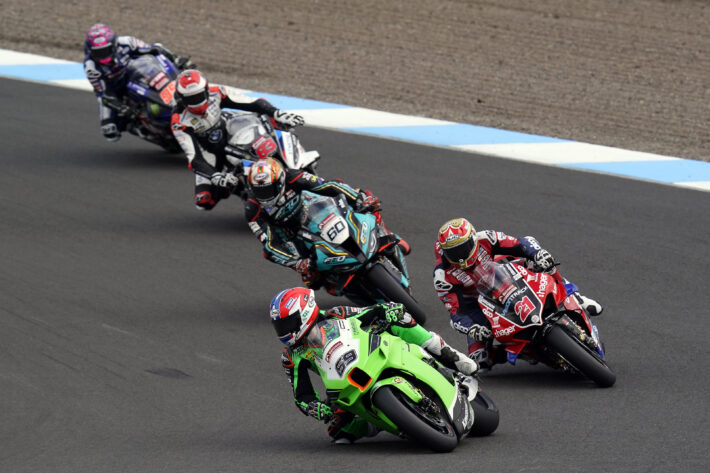 Still only 19, Skinner had a solid debut at the opening round at Oulton Park with three points-scoring finishes and admitted he'd have been happy with top ten results at his home round. He far exceeded those expectations though with people already discussing how far he can go in the sport.
It's true that Knockhill is the circuit he knows better than any other, but the fact remains it was just his second meeting in the premier class. The results were obviously superb – two seconds and a fifth – but it's the way he achieved them that really stood out.
He led the final race of the weekend for more than twenty laps and looked totally at ease in doing so despite the considerable pressure he was under. He never put a wheel wrong and if ever a race showcased his talent, that was it.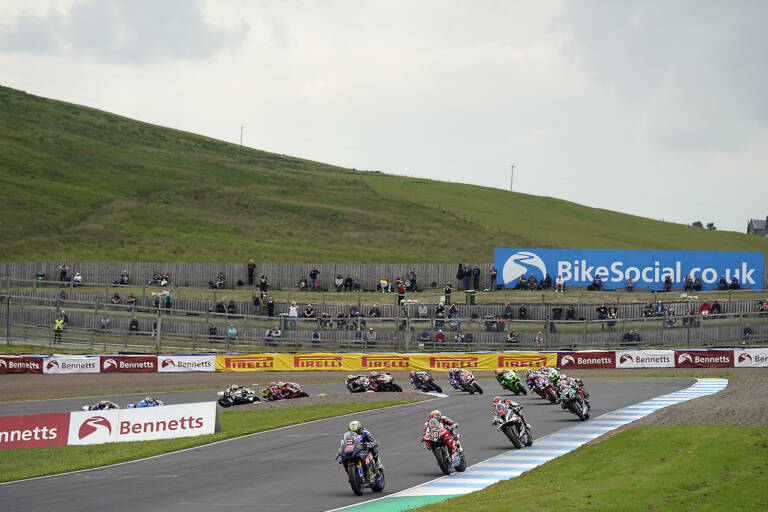 Skinner's had to overcome several setbacks already, most notably when an anticipated ride in the Moto 3 World Championship failed to materialise despite him winning the British Talent Cup which was supposedly the gateway to the world stage.
He regrouped and dug deep, riding on a limited budget in 2019 to make his mark in the Supersport class, going from strength to strength ever since. With a level head on his young shoulders, the sky's the limit so let's hope the results continue and no unnecessary pressure is exerted upon him.
Iddon takes the lead
Whilst Buchan and Skinner were grabbing the headlines, Christian Iddon was again going about his business in a diligent manner and although he only stood on the podium once, winning the opening race, a brace of fourths, and some misfortune for Jason O'Halloran, meant he left Scotland as the new championship leader.
The victory was just his second ever in the BSB series but the VisionTrack Ducati rider was, crucially, in contention for the win in every race and whilst the season's very much in its early stages, he already looks like he'll be there for the long haul.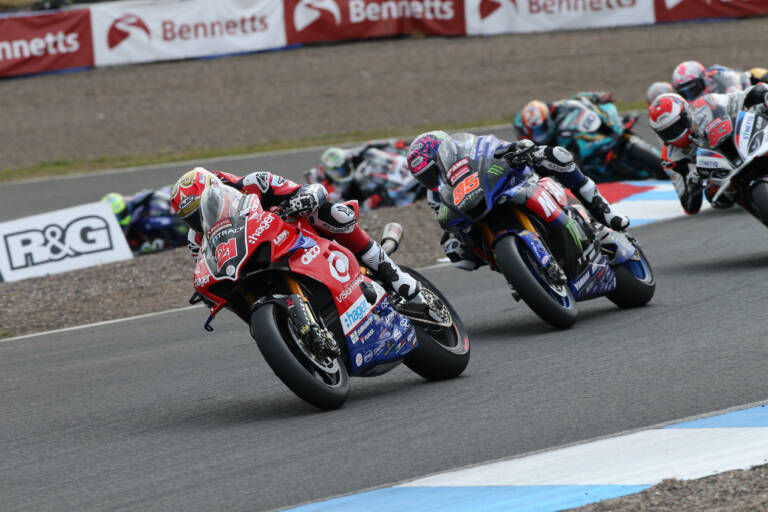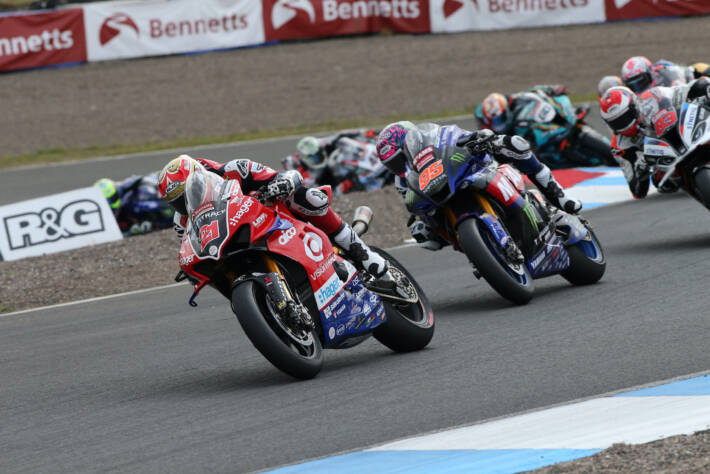 The results were also impressive as he wasn't overly happy with the way the bike was performing in the opening encounter or with his own riding in the second – and everyone knows the key to winning a title is scoring heavily even when things aren't going in the ideal manner.
His lead is only a slender six points over Oulton's triple race winner O'Halloran who had an up and down weekend in Scotland. Pole position and second place in race one was offset by a crash and a sixth place in Sunday's encounters.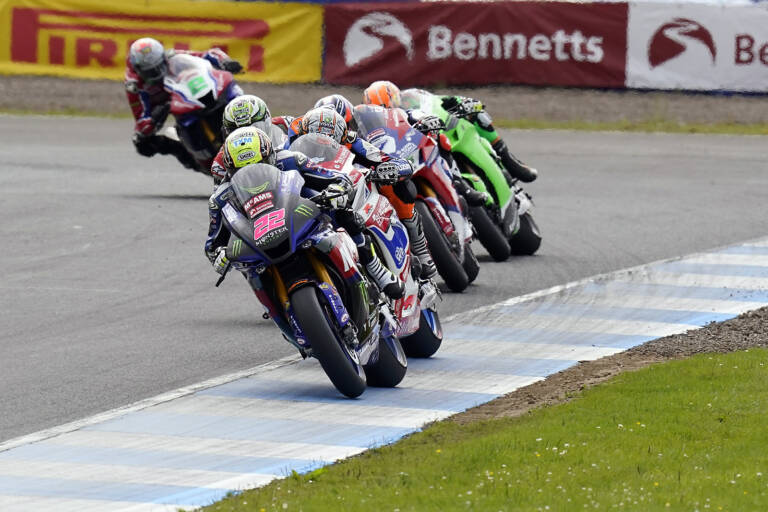 He was still in upbeat mood at the end of the weekend though as it's a venue that's never been kind to him. Indeed, Saturday's podium was his first top three finish, in any class, in more than a decade of competing at Knockhill and it was, arguably, only lowly grid positions in Sunday's races that prevented a repeat occurrence.
The season's long with 27 races still to go and he'll be happy with his work so far as will McAMS Yamaha team-mate Tarran Mackenzie. He was on the pace throughout the weekend at Knockhill with two third place finishes the highlight. He's finished all six races to take place so far this season inside the top six and is handily placed in fourth overall.
Brookes' struggles continue
If round one at Oulton Park was disappointing for defending Champion Josh Brookes, then Knockhill at the weekend was even worse with tenth place his best finish across the three races.
Never in his long BSB career, which dates back to 2009, has the Australian faced the problems he's currently facing. Sure, he's had lowly race finishes before, but they've been few and far between and when he has, he's immediately turned it round in the following race.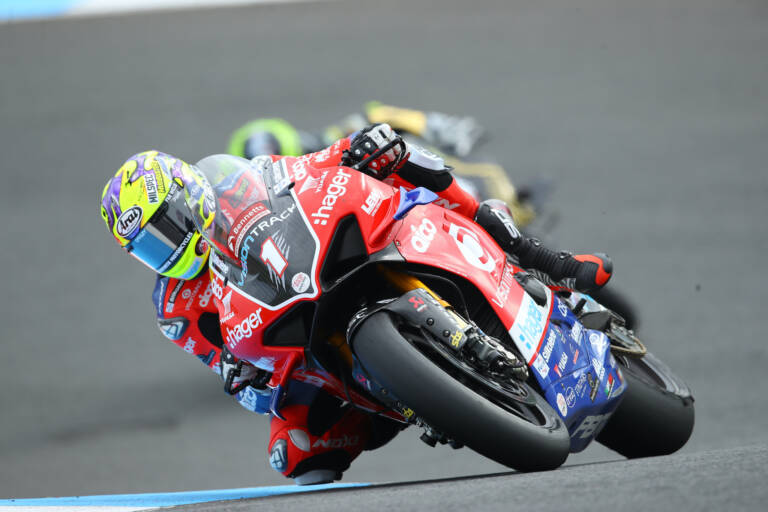 Now, a podium, let alone a win, looks a long way off, and the worrying aspect of it all is that he has no answer to the problems, centred around a lack of grip, or ideas to resolve them.
The VisionTrack Ducati was turned upside down at Knockhill with all manner of settings tried to aid the situation but with none having the desired effect. Brookes left Scotland baffled and bemused by his current predicament.
"It's frustrating as a race winner and British Champion to be rolling around so far back. It's disappointing and embarrassing to be honest. It's not natural and it's not normal for me to be in those positions. For some reason the grip's not there and the bike hasn't felt right from the moment we rolled it out the truck this weekend. I'm baffled by the situation so all I can do is keep persevering."
The next round takes place on the Brands Hatch GP circuit, a venue where he's won 19 times, more than any other rider. He'll be hoping his fortunes change when he gets there – if they don't, he'll be in serious trouble.
Ups and downs
Elsewhere, it was a strong meeting for Ryan Vickers and the RAF Regular & Reserve Kawasaki with three top ten finishes, the best of which was sixth. The furthest he was adrift of the race winner was just six seconds and, now in his third season in BSB, he's stringing together the consistency he and the team need.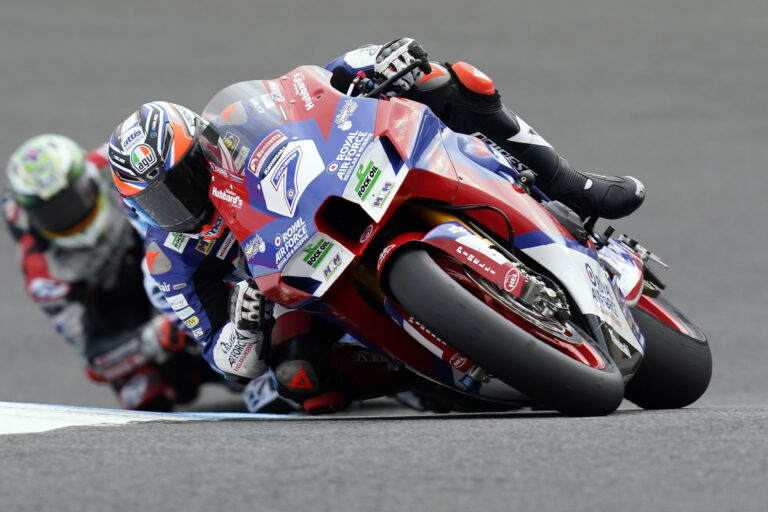 It was his first time racing a Superbike at the 1.26-mile venue and having scored points in all six races, he's currently sitting in ninth place overall, just one place – and one point – outside the all-important top 8 Showdown positions.
Tommy Bridewell (Oxford Products Ducati) and Peter Hickman (FHO Racing BMW) still occupy two of those after each had a solid round two but it was another challenging weekend for Honda Racing's Glenn Irwin.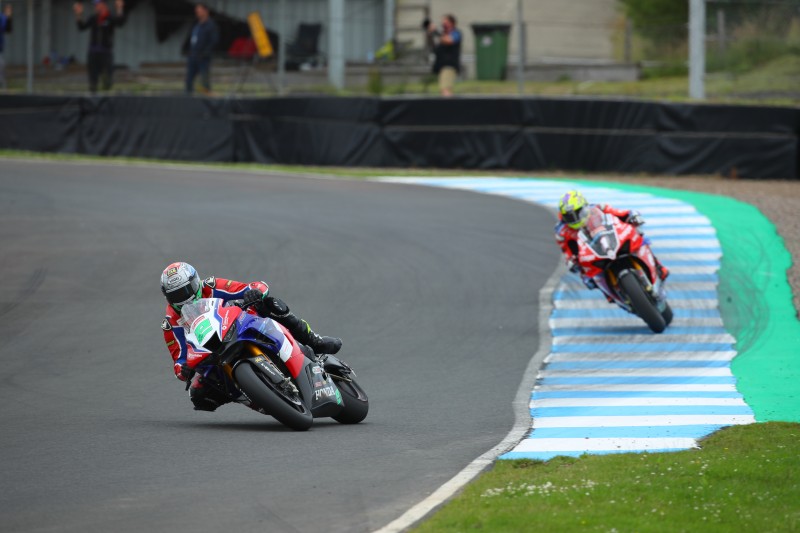 The Ulsterman only managed a best finish of 11th and later revealed he's been battling illness with a lack of energy severely hindering him during the races. Incorrect set-up changes also affected him in Saturday's opener although he was a lot happier on Sunday when he went back to basics and closer to his 2020 settings.
He ended the meeting in the gravel trap though after a slight collision with Gino Rea, the Buildbase Suzuki rider moving off the racing line due to an oil leak just as Irwin was attempting to overtake.
Having started watching motorcycle races all over the world form childhood, Phil Wain has been a freelance motorcycle journalist for 15 years and is features writer for a number of publications including BikeSport News, Classic Racer and Road Racing Ireland, as well as being a regular contributor to MCN and MCN Sport. He is PR officer for a number of teams and riders at both the British Superbike Championship and International road races, including PBM Ducati, RAF Regular & Reserve Kawasaki, Dafabet Devitt Racing, John McGuinness, Lee Johnston and KMR Kawasaki. He is also heavily involved with the Isle of Man TT Races, writing official press releases and race reports as well as providing ITV4 with statistical information