Looking for that perfect biker present for your little ones this Christmas? Well look no further, why not take your pick from our top biker Christmas gifts for kids, guaranteed to put a smile on the their faces this festive season!
LEGO Duplo Spider-Man Web-Bike Workshop
£12.99
Spider-Man, Lego and motorbikes…possibly three of the greatest things all in one toy! Your little one will be making their way to the motorcycle workshop to build and repair Spider-Man's bike, preform impressive stunts on the ramp and zoom off on a Spider-Man adventure.
Scooter Printed Dress
£14 – £15
For the little biker chick in your life, why not opt for this cool scooter dress! With this number they'll soon learn from an early age that biking is the only way to go.
Licensed BMW 12v Kids Electronic Motorbike
£144.95
Now there was no way we were going to leave this bad boy off the list, just look at it, what kids face wouldn't light up if they were to unwrap this impressive toy on Christmas day?
This ride on even comes with fron LED lights and built in music, so you're little ones can ride in style. Also included are stabilisers for extra stability. And at £144.95 we think it's a steal, we know we would have wanted one as a kid!
WOW Toys Motorbike Max
£12.99
Your little one will have hours of fun with Motorcycle Max and friends! This motorised motorbike and side car comes with realistic engine noises, two characters, a dog and picnic.
A top toy for younger years which will really help them build on their imaginative play.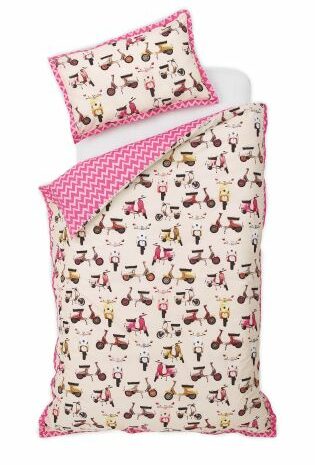 Scooter Print Bed Set
£22
Now who could resist this girls scooter print bed set? Putting your little monsters to bed will be a struggle no more with this fun scooter duvet.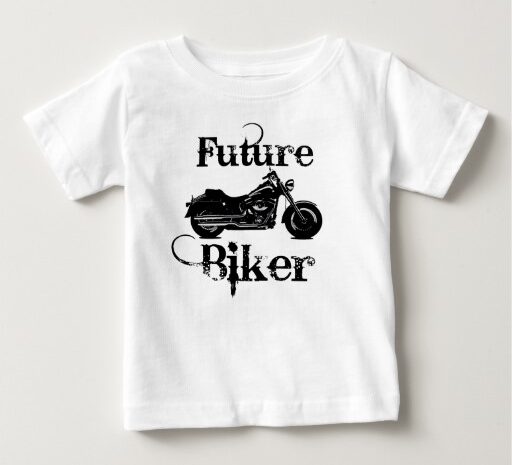 Future Biker T-shirt
£10.70
Is biking in their blood? Let everyone know with this cool 'Future Biker' t-shirt. Available in sizes 6 months up to 24 months.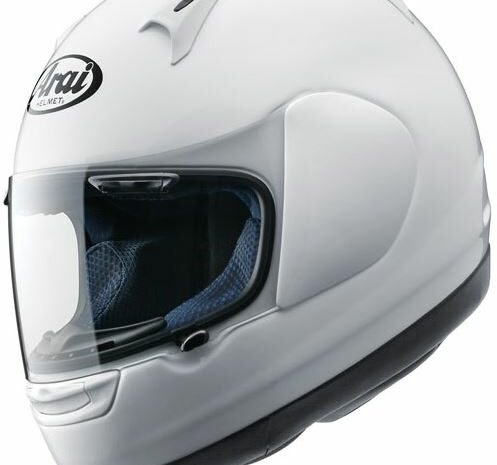 Arai Astro Light Helmet
£339.99
Have they been bugging you for a ride recently? Do you think they're up for the adventure? Well what a great way to say "Yes, you can ride pillion" by presenting them with this highly rated helmet.
This one's also gone down in price by £90, and if you're planning on taking your little one out on the bike, we say get the best your money can buy!
Motorcycle Jumper
£21.50
Keep your rascals warm during these winter months with this trendy motorcycle jumper. Not keen on the design? Fear not, at zazzle.co.uk you can customise the jumper and add any image you like!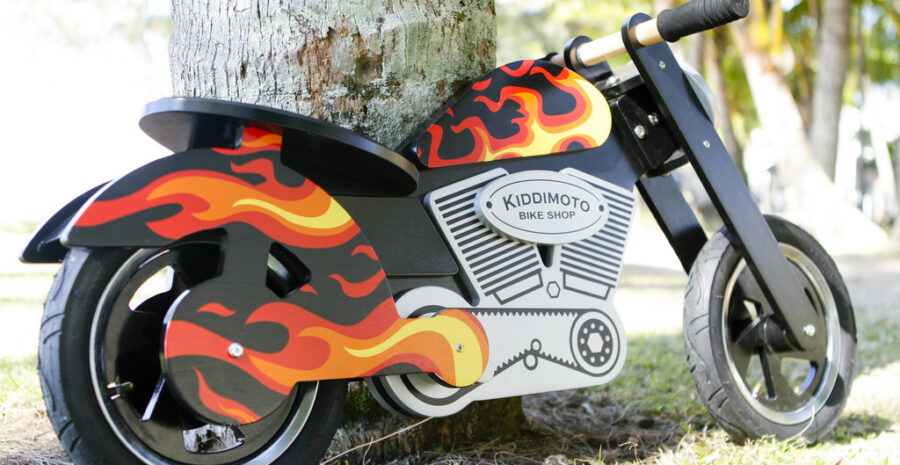 Kiddimoto Flames Chopper
£139.99
Still too young for their own set of two-wheels? Well it's time to change that this Christmas with a Kiddimoto balance bike!
Available in a wide range of styles and colours so you can tailor it to exactly what your little one loves.
You can also buy accessories including a helmet and gloves to give them the full biking experience!
Got any tips for the perfect biker Christmas gift for children? Why not share them with us below…