It's Ride to Work Week and what better way to support the cause than to give riding on two wheels a go!
Having only ever ridden a motorbike once in my life during a half hour Get On experience at the NEC Motorcycle Live show to say I was nervous is an understatement!
Complete novices:
Us non-bikers here at Devitt took a trip down to Academy Motorcycle Training in Romford to meet Ray, the friendly instructor who we were trusting with our lives for the next hour or so.
The bikes were neatly lined up in the car park and Ray asked which bike we each wanted to try out, a manual or an automatic.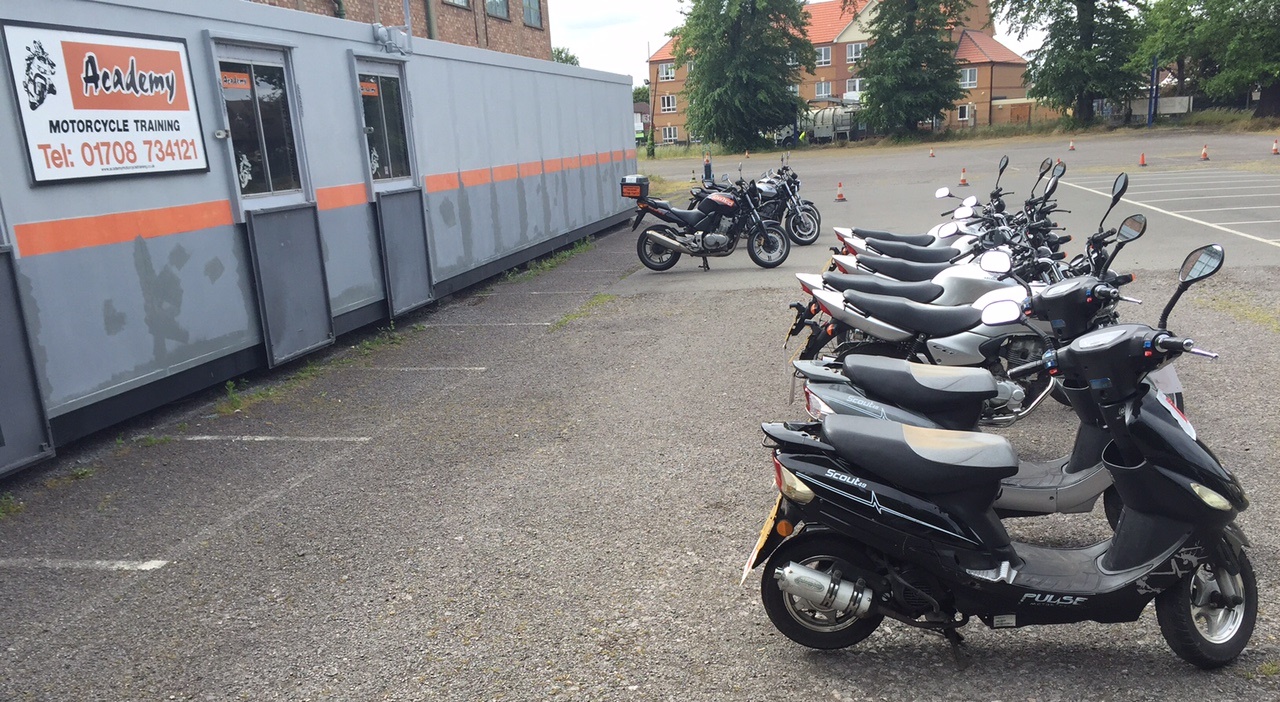 Selecting the bike:
With a sudden air of confidence I wanted to skip what I felt would be the easy ride and go straight in for the big boy, the manual – Honda CG 125. However, with more rational thought and assessing my short stature we decided it best if I stick to the automatic moped, which was fine by me!
Now it was time to meet the bikes, they didn't look as mean as I had anticipated, mine was a very nice Pulse Scout 49, not too heavy and a rather comfortable machine.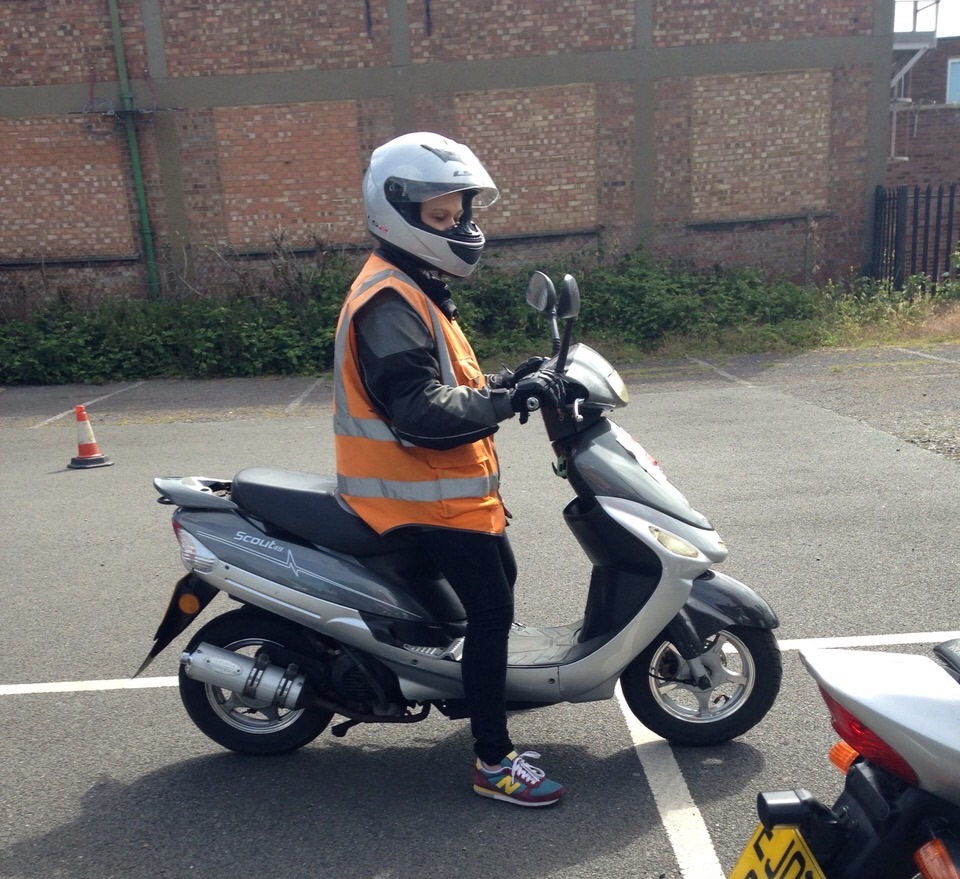 The controls:
To begin with, Ray introduced us to the different controls on the moped, this part I could handle, with it being an automatic there wasn't too much to worry about here.
Turn the key to the right, hold the brake when pressing the start button, left leaver controls back brake, right controls front brake and rev on the right bar. Well, that's how I remembered it anyway.
Ray then demonstrated how to take the moped off and then back on the stand, not an exercise I can say I'm particularly used to so this took a number of times to perfect, and I use that term very loosely!
We're ready to go:
Jacket, helmet, gloves and hi-vis at the ready it was now time to see what we were made of. Ray had set up the cones in a large diamond shape. We were instructed to ride through each set of cones circulating the course in an anti-clockwise motion.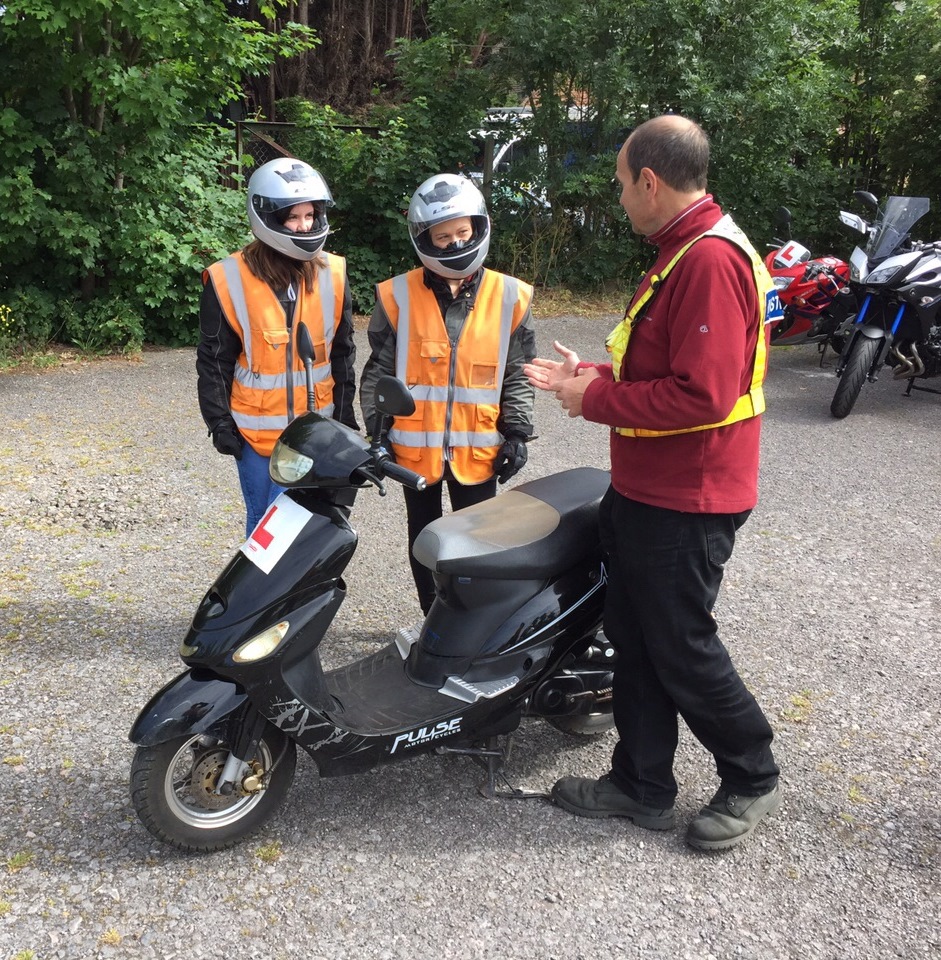 A nervous start:
As I pulled away for the first time Ray was at a close proximity, making me feel as relaxed as I possibly could, although he did remind me a number of times to do just this. To be fair I could feel my whole body tense up during the first few laps of the car park.
Enjoying the ride:
It was a rather jolty start but not as bad as I thought it would be. For something that feels so alien to begin with soon starts to feel extremely natural after about ten minutes of riding, and as soon as I could pick up the pace slightly I could feel a huge grin reach my face, which Ray also pointed out to me…I was really enjoying it!
Before we knew it, we were all breezing around the car park as though we had done this a number of times before, and it really was a lot easier than I thought it was going to be. However, had I decided to take the manual bike, well that would have been a completely different story!
Ready for my CBT:
During the entire session I can happily say I only had one wobble, with the combination of pulling away and having to take what seemed to me as a rather tight right turn I over did it on the revs and shot off a bit too fast. I automatically released my hand off the throttle, the bike slowed and I was safe to set off again…undeterred!
After about an hour out on the bikes it was time to call it a session. What a great morning we all had at Academy Motorcycle Training; we left feeling confident and ready for our CBTs. Watch this space!