Kawasaki ZX-12R Bike Overview
Kawasaki is best known to us as a bike manufacturer of course. But that's actually a tiny part of its parent company's activities. Kawasaki Heavy Industries (KHI) builds military jets, helicopters, airliners, space rockets, satellites, supertankers, and even nuclear power stations.
So it's part of KHI's DNA to make extremely powerful products – and that applies to its bikes as well. It built the first litre-class superbike, the 900cc Z1, in 1972, and that line continued down through the GPZ900R and the ZZ-R1100 – both of which held the 'fastest production motorcycle' crown in their time.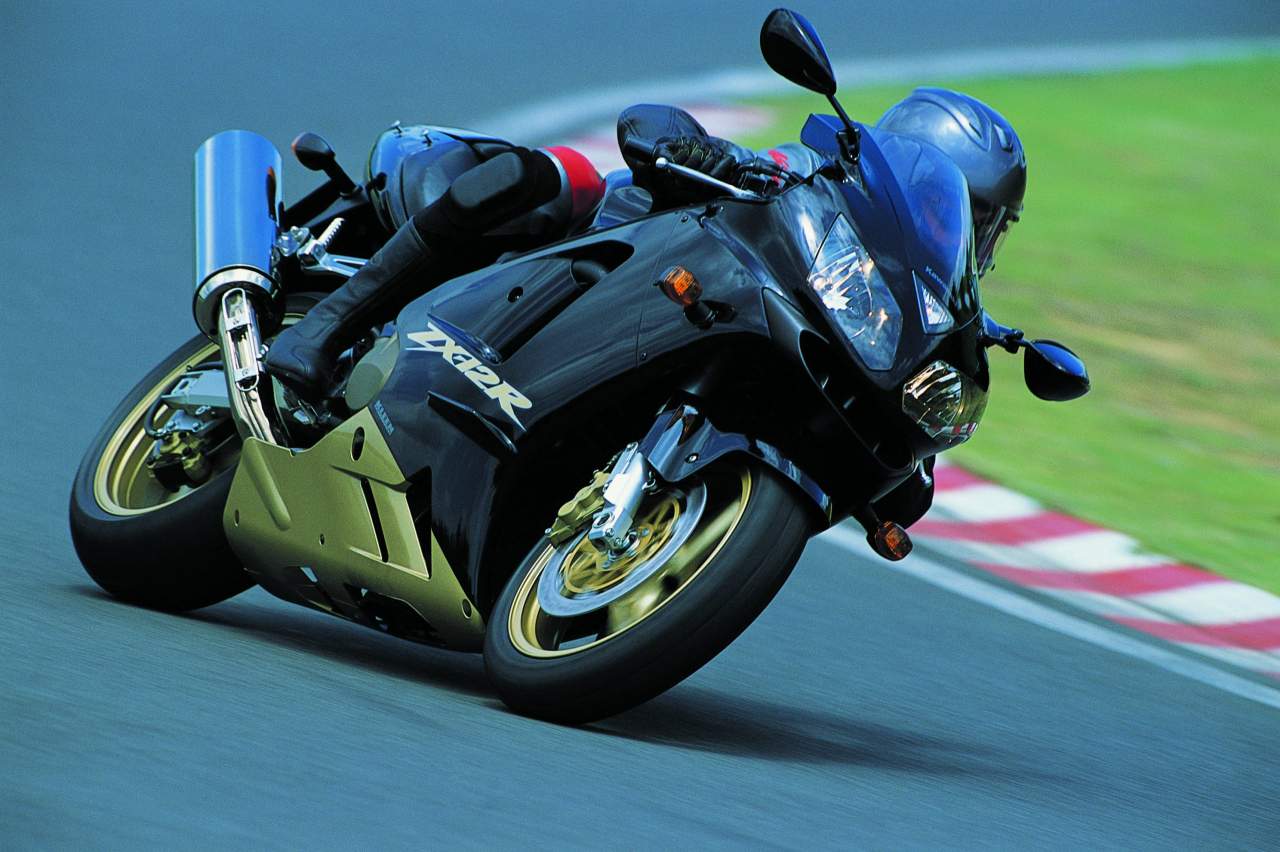 By the end of the 1990s though, that title had been taken, first by Honda's Super Blackbird and Suzuki's Hayabusa, both of which bettered the ZZ-R1100's 175mph top end.
This couldn't stand – so Kawasaki launched an all-new machine to wrest the title back in 2000. The ZX-12R Ninja had a clean-sheet engine that produced an incredible 178bhp, increasing to a claimed 190bhp at top speed thanks to its aggressive ram-air intake. That effectively 'supercharges' the intake air, with 180mph+ wind forcing its way into the airbox and engine and increasing power even more.
It was a fairly conventional engine design, with 16 valves, water cooling, DOHC head and the latest fuel injection. Kawasaki had tuned it for that peak power though, so it was a bit more revvy than the Hayabusa, giving an even crazier riding experience.
Kawasaki chose to make the chassis sportier than the competition, and the ZX-12R was better on track than the competition. The frame was a special aluminium monocoque design, which arced up and over the top of the engine rather than round the sides, to give a narrower profile and better ground clearance. Suspension was fully adjustable, and six-piston front calipers gave the necessary stopping power.
A lot of attention was paid to aerodynamics too – just check out the little angled 'wings' on the front fork bottoms, designed to start channeling high-speed air out and around the fairing.
The ZX-12R just about matched the Hayabusa for top speed – but was far less successful in the market, being discontinued in 2006, while the Hayabusa stayed on sale till 2018. That was down to the Ninja's more focussed track bias, which made it less practical day to day. The pillion seat is much smaller and less comfortable, the riding position more aggressive, and suspension harder, so where the Hayabusa could serve as a decent two-up supersports tourer, the ZX-12R was less useful. It was replaced by the ZZR1400, which is much closer to the Hayabusa model than the 12R.
Nowadays, the ZX-12R has been eclipsed by more modern bikes – but it's still an incredible performer, and a real milestone in bike design. Definitely a future classic too.
Take a closer look at the Kawasaki ZX-12R…
Kawasaki ZX-12R Bike Spec
Capacity

1199cc

Engine

16v, inline four

Top speed

185mph

Weight

241kg

Average fuel consumption

35mpg

Seat height

843mm
Kawasaki ZX-12R Bike Insurance
Kawasaki ZX-12R Bike Gallery