Not too bothered about cruisers? You're not alone, in the UK at least. But you're also wrong! There are plenty of custom-styled bikes out there that, although they're built for show as much as go, are actually great fun to ride.
The roots of the cruiser lie, of course, in America, and particularly with Harley-Davidson. The archetypical massive V-twin engine, loads of chrome, laid-back riding position and super-lazy chassis is spot-on for a bit of a bimble up the Pacific Coast Highway through Los Angeles to Santa Monica, Malibu and Santa Barbara. And, to be fair, it also works fine for a sunny cruise along Brighton seafront or down some Cheshire back lanes to a nice Sunday pub lunch. But for fans of performance, they've traditionally been a bit too fat and ponderous to tickle the funny bone.
That's changed over the years though. Harley itself has moved the performance of its bikes up a notch, and though its 'Big Twin' 45°V-twin engines are still extremely lowly-tuned, and the typical cruiser chassis still won't lean too far, they can now be hustled much more.
The Milwaukee firm has also ratcheted up its tech offerings, and modern Harleys boast plenty of gizmos and gadgetry – though they're an expensive choice. Away from Harley, fellow US brand Indian offers an excellent alternative in terms of big Yankee iron, with stronger performance as an option on something like the FTR1200, Chief or Scout.
But it's the non-American cruisers which offer the most fun. At the top of the performance cruiser pile lie a pair of Euro-cruisers, the Ducati Diavel and Triumph Rocket 3, both of which boast enormous power outputs, especially the 160bhp superbike-engined Diavel. Also from Euro-land is the new BMW R18, which boasts the biggest BMW Boxer engine ever made, and heaps of high-tech kit, disguised behind styling straight from the firm's pre-war roadsters.
If you need something that's more everyday-usable, then the likes of Honda's CMX1100 Rebel and the Kawasaki Vulcan S take standard Japanese engines and chassis tech (from the Africa Twin and Ninja/Z650 respectively) and add a dash of custom styling. So you get the best of both worlds: a super-reliable easy-to-use Japanese road bike, dressed up in some snappy togs.
In a similar vein, BMW's K1600 B takes its ultra-touring K1600 and gives it some US bagger touring styling, while the Triumph Bonneville Bobber adds a fairly serious US bobber-style makeover to the basic Bonneville modern classic. Finally, you can have a custom cruiser in a small, cheap, easy-to-use format too, with the Royal Enfield Classic 350.
Loads of options then – so there's no excuse not to check out one of our top ten fun cruisers for your next ride…
Ducati Diavel
First launched at the end of 2010, the Ducati Diavel went straight to the top of the 'audacious cruiser' stakes, toppling the mighty Triumph Rocket III from its perch. It did that by being utterly uncompromising in terms of its basics: it was powered by no less an engine than the Testastretta 1,198cc eight-valve desmodromic 90° V-twin, straight off the bonkers 1198 Superbike. It's not really an exaggeration to say that Ducati's cruiser came with a motor that would have won a BSB or even WSBK championship just a few years earlier.
It made 162bhp: 12bhp *more* than the Ducati 999R homologation racer which was just four years out of production, and only 10bhp less than the £18k 1198 SP Superbike on sale at the same time. Wild.
A nonsense powerplant for a cruiser then: putting out 20bhp more than the Rocket III, and 60bhp more than you could expect from the most powerful Harley-Davidson, the largely-unloved V-Rod. But Ducati didn't stop there. Sure, the engineers gave their new baby a cruiser riding position, wide pulled-back handlebars and low-slung footpegs. But they also gave it a race-style steel tube trellis frame, single-sided cast aluminium swingarm, 240-section rear Pirelli and premium suspension and brakes by Marzocchi and Brembo.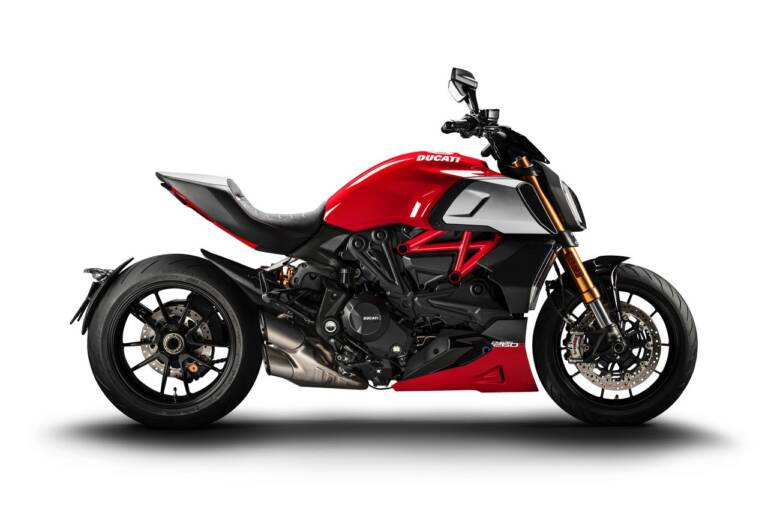 All that chassis kit wasn't in vain: the new power cruiser had the finest handling of any custom-styled machine, and was more than up to the 160bhp power figures. The superbike-derived V-twin motor allowed a super-skinny profile where it counted, meaning even the low-slung rider's footpegs didn't deck out too early. The four-piston Brembo brakes gave stonking stopping power. And this was at a time when Ducati was rolling out its premium electronic riding aids too: so the Diavel came complete with high-end traction control and ABS packages as well as keyless ignition and an LCD dash.
It was a massive hit, easily tempting sportsbike riders looking for something a bit different. And in the 12 years since, Ducati's kept adding the good stuff to the Diavel. 2015 saw an updated dual-spark engine and other upgrades, while in 2019 we got the 1,260 Testastretta engine from the Multistrada, adding variable valve timing and even more monstrous levels of grunt.
'S' versions have added Öhlins suspension and Brembo M50 calipers, while the most recent models also boast an up/down quickshifter, cornering ABS and traction, rider power modes, and more. Want something even more cruiser-y? The X-Diavel range launched in 2016 gave a more foot-forward cruiser riding position, slightly retuned motor with more low-down urge, and smooth belt final drive.
Triumph Rocket III
2004 might not seem such a long time ago – but it was a very different world in terms of bikes. Japanese 600cc inline-fours still ruled the sales markets, and the likes of the Suzuki GSX-R750 still prowled the trackdays and back roads of Blighty. And in Hinckley, British bike builder Triumph was still going through some growing pains. Its three-cylinder range was strong across the board, but its attempts at litre-class and 600cc-class sportsbikes had fell a little flat. The Daytona 955i, Daytona 600/650 and the unfaired Speed Four were all getting a bit long in the tooth and production was set to finish on all those machines.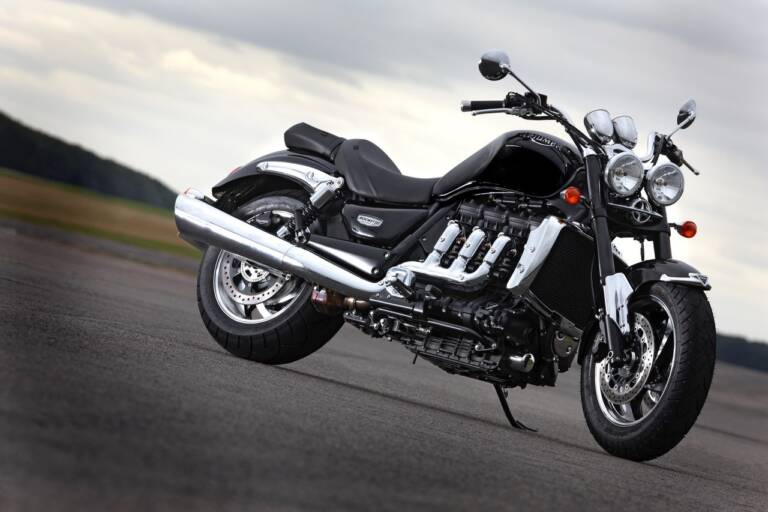 The R&D dept was about to release some incredible new kit: the Daytona 675 and Street Triple were on their way. But first, we got something that sounded more like an April Fool's joke – though it wasn't April, but August 2003. A  140bhp, 2.3 litre cruiser, with its triple motor arranged fore-and-aft? Shaft drive? More than a third of a tonne wet? Had they been putting something in the water round Hinckley way?
As it turned out, genius was what they'd been putting in the water. Because the Rocket III worked like a charm. That 2,294cc, 12-valve three-cylinder motor was a peach: supremely grunty (as an engine that size could hardly fail to be) smooth and with a hard-edged rort when you gave it a handful.
The chassis handled all the mass and momentum well: sure, there were lots of sparks when you leant a little too far in a bend, but it was massively stable and the suspension was well-damped considering. The brakes had a lot of work to do, but had been designed with performance in mind, and overall, a spirited Rocket III rider would easily be able to keep up with all but the most mental sportsbike rider on the road…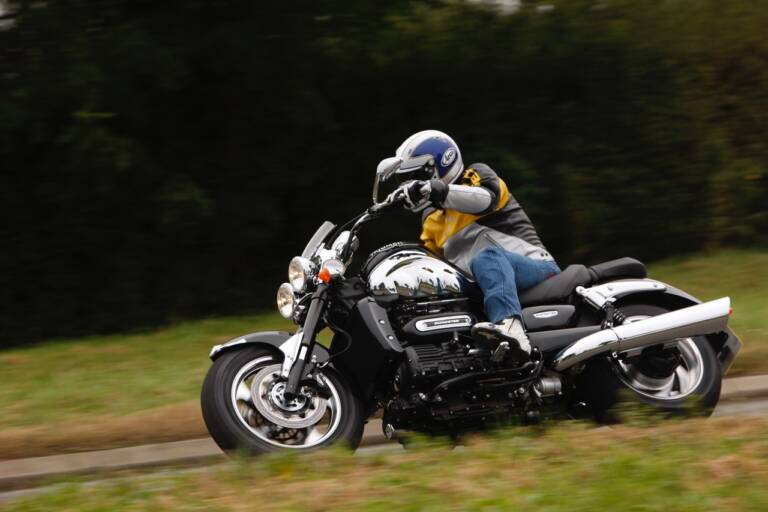 The original Rocket III saw several updates over the next decade or so, with Touring, Roadster and Classic versions, various power and emissions upgrades to the motor and ABS options. But it was 2019 before we saw an all-new Rocket, now a '3' rather than a 'III'.
The latest Rocket 3 is now a 2.5 rather than a 2.3, with an all-new 2,458cc motor putting out 165bhp, and weighing just under 300kg thanks in part to a new aluminium frame. It's a machine of the 2020s rather than the 2000s, with heaps more riding aids and technology – though still very much in the same mould as the original.
Honda CMX 1100 Rebel
The Honda Rebel moniker has been around for decades (the first one was the 1985 Rebel 250), but this 1100 version is bang up-to-date, launched in 2021. It's got a big capacity, but is actually a pretty lightweight machine, thanks to the powerplant, borrowed from the Africa Twin adventure tourer.
The modern parallel twin lump is far more compact and lighter than an old-school wide-angle V-twin, and while it might not be canon in terms of Honda's historical cruisers, it's a well-developed, reliable and economical unit. Having said that, the 270-degree offset crank does give a more V-twin-style firing order and exhaust note – so maybe the big H knows exactly what it's doing…
Honda retuned the Africa Twin motor for the CMX, so there's a bit more low-down grunt and bit less peak power. Top end is now 86bhp rather than around 100bhp, but on a low-slung cruiser, that's still solid power. The CMX tips the scales at a slightly beefy 223kg wet, just 15kg less than the giant Africa Twin, and it's a bit of a mystery how it manages to cram so much mass into what looks like a rather simple machine. The weight is held low-down though, and on the move, the CMX feels much lighter and easier.
The chassis is pretty anonymous in a 'factory-bobber' kind of fashion. The steel tube frame, convention forks and twin rear shocks are all fairly modest – but there is a proper four-piston, radial-mounted single front brake caliper. The enormous single silencer is not at all attractive though, and any owner with a modicum of style will have it whipped off instantly and replaced with something far more chic.
Honda's added a dash of high tech to the Rebel as well. There's an optional DCT automatic gearbox with a dual-clutch setup, which adds a chunk of cost (£990) and mass (10kg). The CMX11 also comes with cruise control, ride-by-wire throttle, LED lightings, LCD dash, rider power modes, traction control, wheelie control and an advanced ABS setup.
The best part of the CMX1100 Rebel though isn't on show at all: it's the price. At just over £9k in 2022, it's a stone-cold bargain.
Harley-Davidson Road Glide Special
If you haven't ridden a Harley-Davidson in a while – or if you've never sampled one at all, then the latest 2022 bikes might just surprise you. This Road Glide Special looks like a proper piece of nonsense, with an ungainly half-fairing packed with enormous square headlamps and sporting a stumpy screen, plus weird bagger-style rear panniers. Okay that huge engine must have a bit of grunt, and the seat looks comfy enough. But really?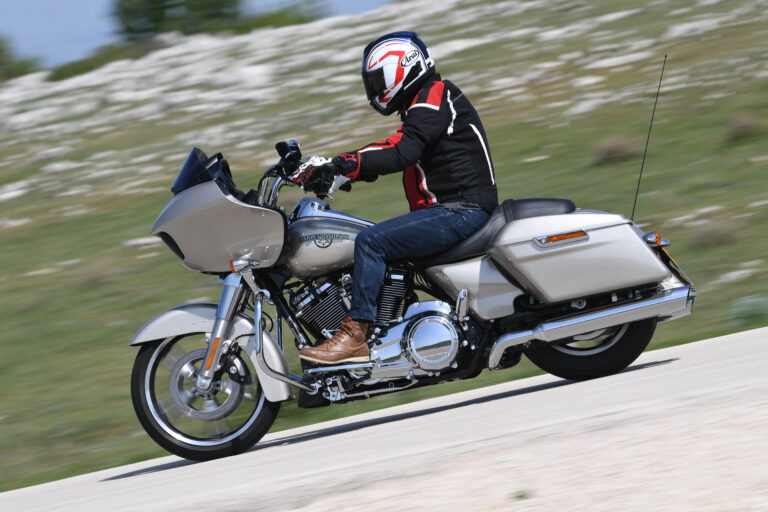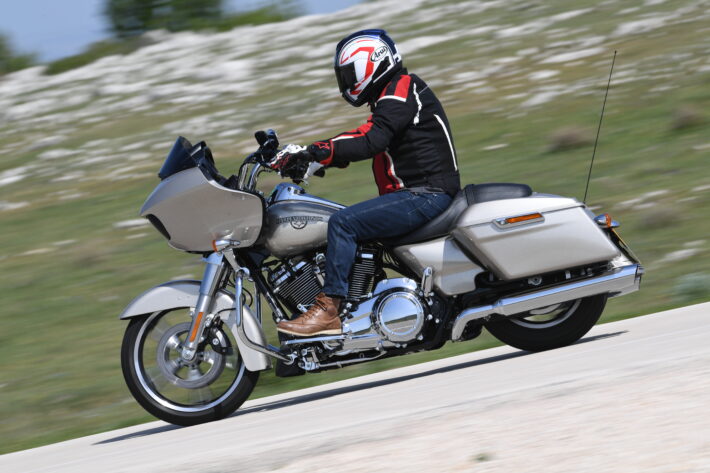 Yes, really. This modern Harley is nothing like the shonky Big Twins of old. That 114 cubic inch/1,870cc Milwaukee Eight motor is a water-cooled OHV single-cam eight-valve design, making around 97bhp at the crank, with Transit-van torque (118 ft lb), and is smooth, clean and responsive.
The cruising footboards will deck out much earlier than you might expect, but if you maintain high levels of aplomb and chutzpah, the Road Glide will make its way around a bend much better than many medium-group track day riders we've seen. And once you adapt your riding style to the 'unique' Harley style, you'll have a ball on even a twisty back road.
The running gear is rather bland: the front brake calipers have Harley-branding, but are a four-piston conventionally mounted design, and have historically been made by Brembo, so are decent units. The front fork has a dual bending valve damping mechanism, and the concealed rear suspension has remote preload adjustment. It's all held together with a steel tube frame, and runs on slightly weird US cruiser-sized tyres: 130/60 19 front and 180/55 18 rear.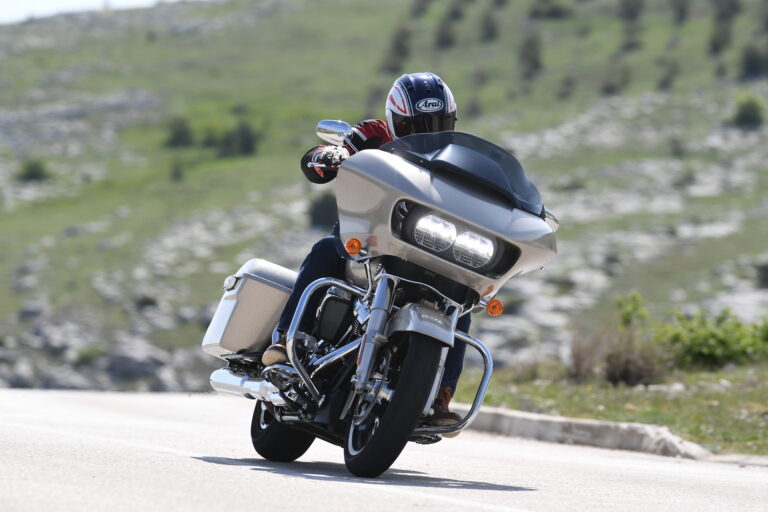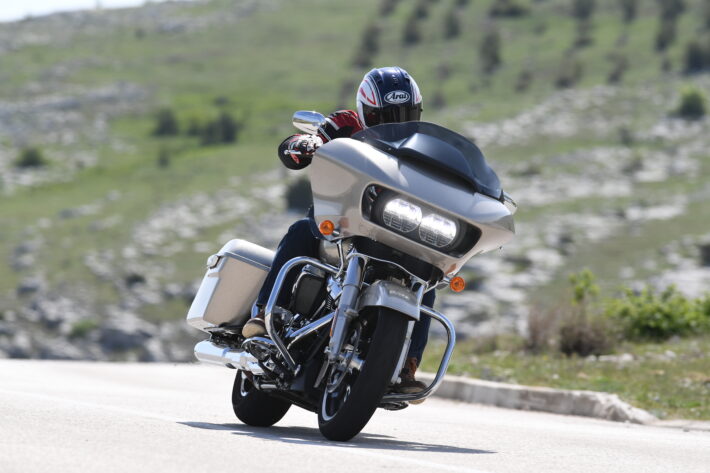 The best bit is the touring technology package though. The Road Glide Special comes with a proper audio system, including touch screen, GPS navigation, high-output speakers in the fairing and a Bluetooth connection and power socket for your smartphone. Cranking up the tunes as you belt down a sunny mountain road on a gigantic candy-metalflake Harley-Davidson is one of the great biking pleasures, and everyone should try it at least once.
One hurdle will be the cost sadly: a standard Road Glide Special is priced the wrong side of £26,000…
BMW K1600 B
Okay – it's stretching the concept of a cruiser a little. But the BMW K1600 B bagger just about falls into the American classic sector, with the cut-off rear topbox/pillion seatback and shorty windscreen separating it from the larger full-dress touring K1600 GTL and Grand America.
Under the Bagger styling, you get the same ultra-touring engine and chassis as seen on the rest of the K1600 range: an audacious inline-six cylinder engine, putting out 160bhp from a 1,649cc capacity. There's an ocean of torque available too, with 132ft lb of torque from just 5,250rpm. The six-cylinder engine is also supremely smooth, with perfect balance and evenly-spaced power pulses, and BMW made it super-compact too: it's just 2.5 inches wider than the old K1300 inline-four engine it replaced in the touring sector.
The K1600 range uses a similar chassis design to the old K1300 models, with a twin-spar aluminium frame passing over the top of the cylinder head, Duolever front suspension and Paralever single-sided rear swingarm. Top-drawer chassis technology helps too, with electronic suspension adjustment, cornering ABS and traction control, plus engine brake control and tyre pressure monitoring, all adding safety and control through technology.
It's the touring kit that makes the K1600 B though. There's a vast LCD colour dashboard, which controls an extensive suite of audio, navigation, telematics and trip computer functions. Link the K1600 to your smartphone and tuck it away in the bespoke air-cooled charging pocket, and you have full access to GPS navigation, Apple or Android music and phone functions. Heated grips and seat options keep you toasty on cooler rides, the windscreen is electrically adjustable, and features like cruise control and reverse gear make life even easier.
It's not a cheap option, starting at around £20k, but is amazing value compared with the likes of a full-dress Harley tourer. You'll know if it's the sort of thing that you like…
BMW R18
BMW's been making air-cooled Boxer flat-twin engines since 1923 – but the R18 is by far the biggest one the Munich firm has ever made. It rivals Harley-Davidson's big V-twins in terms of size and power, with a hefty 1,802cc capacity and 90bhp output with 111ft lb of torque. Meanwhile, the excellent air-flow characteristics of the Boxer layout allows BMW to stick with air-cooling and still meet modern emissions rules (current Harleys need water-cooled heads to keep the back cylinder of the inline V-twin from overheating).
There are four valves per cylinder, operated by pushrods via a pair of top-mounted central camshafts, six-speed gearbox and shaft final drive. Fuelling is bang up to date too, with the latest ride-by-wire fuel injection making a high-end riding aids package easier to install. The R18 has three aptly-named rider power modes – Rock, Roll and Rain, with different power outputs and throttle responses, as well as engine brake control, traction control and cruise control. You also get keyless ignition, full LED lighting and trip computer functions on the base R18.
The chassis echoes the classic looks of the engine, with long, shrouded front forks, a large 19-inch front wheel, low-slung single seat and concealed rear suspension. The overall look is very much from BMW's early range, particularly the R5 of 1936, thanks to the black paint scheme and white coachlines. Classic high-quality details abound too: particularly the exposed final drive Cardan shaft, which has a gleaming nickel coating to defeat corrosion and dirt.
On the move, the R18's massive 345kg kerb weight mostly disappears. If you've just jumped off a 'normal' bike, then the steering feels slow and heavy, but after a few miles, you adjust to the layout, and it handles well for such a heavyweight cruiser. The engine is smooth and grunty, and if you gun it hard, you can actually pick up speed a little bit quicker than you might expect – it makes 80mph feel like 50, thanks to the giant lazy engine.
The brakes are strong, with the backing of an advanced cornering ABS setup and partial integration between front and rear. You still need to plan ahead a bit though: the sheer physics of 450kg of bike, rider and kit travelling at 110mph takes a bit of handling even for the dual four-piston front calipers.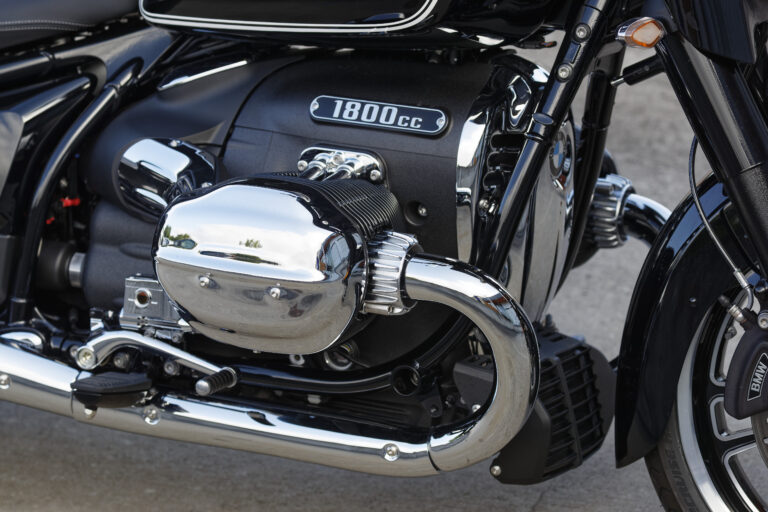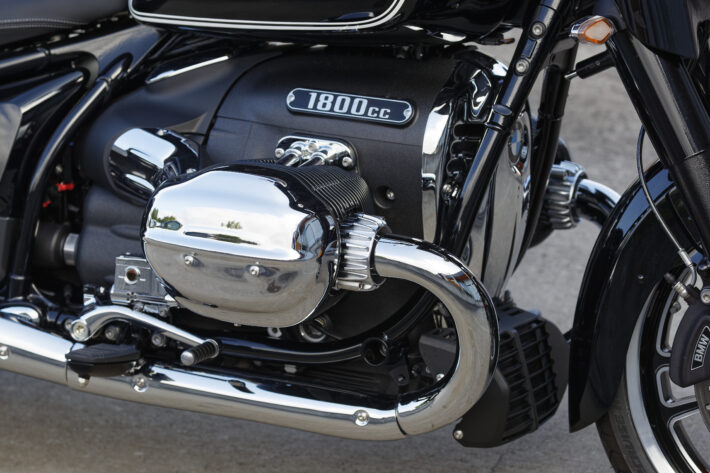 The R18 is the entry-level offering in the range: there's a slightly higher-spec Classic with large retro-style windshield and custom-style semi-hard panniers, and two high-end American-style custom tourers. The R18 B is a bagger-style tourer, with hard panniers and a half-fairing, while the R18 Transcontinental adds a proper top box and luxurious pillion seat and full front wind protection.
Both the full-touring models have massive wide-screen colour LCD dashboards as well as traditional analogue instruments, and offer full audio sound systems with speakers from British amplifier firm Marshall. Smartphone integration gives full telematic functions, music, radio and navigation functions, as well as an SOS function where the bike will call for help automatically after a crash.
Kawasaki Vulcan S
Like the Honda Rebel, Kawasaki's been using the Vulcan moniker since the early 1980s. And also like the Honda, this cruiser is a much more modern interpretation of the cruiser theme, based on an existing parallel-twin engine and chassis package. This time, it's the Z650 which provides the foundations: the Vulcan uses a detuned 60bhp version of the eight-valve DOHC motor, bolted into a steel tube diamond-type frame with the 650 range's trademark laid-down rear shock.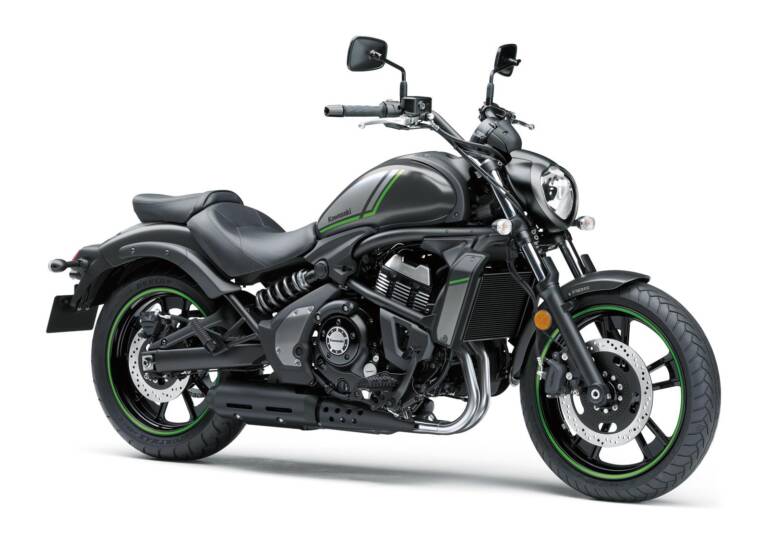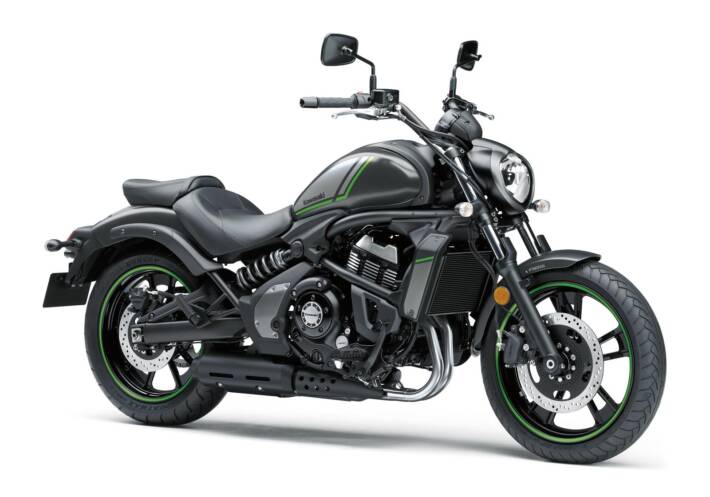 The front fork is kicked out slightly and there's a larger 18-inch front wheel, for that cruiser feel, but the rear hoop stays the same 160-section 17-inch. There's also a single brake disc up front, rather than the dual front discs on the Z650, again for the cruiser look, but with the attendant reduction in stopping power.
As with almost all Japanese cruisers, there's nothing outlandish about the Vulcan's handling. The more relaxed steering geometry slows down the steering of course, but it won't feel much different from a standard middleweight naked roadster for most riders. It's a bit chunky at 229kg wet, which is more than the CMX1100 somehow and a hefty 41kg more than the current Z650 roadster. That will slow things down a bit – especially when braking with that single disc – but again, that's not the end of the world on a more laid-back machine like this.
Equipment levels are decent enough: LED lighting and part-LCD dash, plus adjustable brake and clutch levers and three-position adjustable footpegs too. There's a basic ABS system as well, but no rider power modes or traction control setup. Kawasaki offers the Vulcan in an A2 licence version, with a 47bhp power restriction from the dealer, and there are also Performance and Touring versions as extra cost options. The Touring adds semi-hard custom style panniers and a windscreen, while the Performance Vulcan comes with a small flyscreen and Arrow performance exhaust. Nice.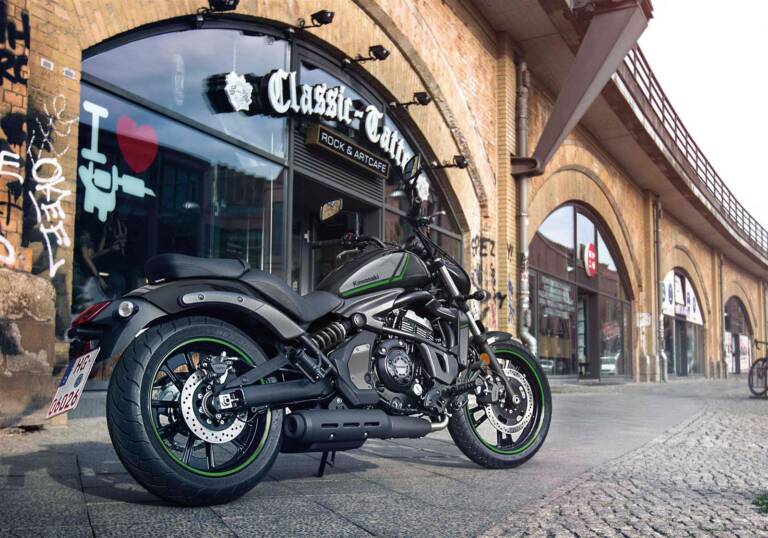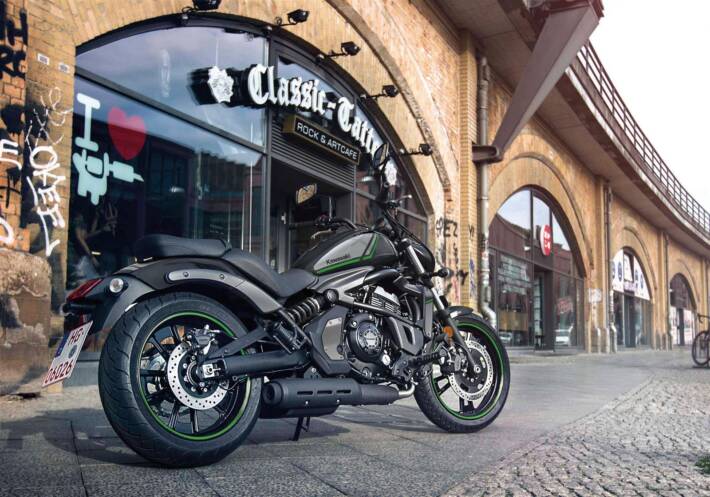 A fuss-free, easy-to-access middleweight cruiser then, at a good price. The base Vulcan starts at around £7k, with the Performance costing £500 more and the Touring an extra £1,000.
Triumph Bobber
Triumph has been selling its 'modern classic' bikes for decades now, with the evergreen Bonneville at the top of the pile. The bikes are good fun to ride, look great, and have all the heritage you could ask for. But in 2017 the firm released a completely new take on the Bonneville – the Bobber. A bobber is an American-style custom, based on a cruiser but with mudguards 'bobbed' or cut back, and a minimalist look. The Bobber used the T120 1,200cc parallel twin eight-valve engine from the standard Bonneville classic roadster, retuned for more low-down urge.
The water-cooled SOHC lump now made 77bhp peak rather than the 80-odd max bhp of the Bonneville, although it pulled harder in the midrange, and it was bolted into an all-new bespoke frame. The back end has a 'hardtail' look, with a rigid-styled swingarm and hidden monoshock under the adjustable single seat, and the front forks kicked out just enough for style, without ruining the handling. The front tyre is a 100-section hoop on a 19" rim, again, enough to give the necessary styling, while keeping things sensible in terms of tyre choice, contact patch and steering geometry.
The first bikes had a barely-sufficient single front disc, but later variants added a second disc for much better braking. A retune for the T120 engine meant power was just 77bhp (again, later variants offered more power), and with an all-up weight of nearly 230kg, the Bobber looked a bit lame on paper. Luckily for Triumph though, it's a far better bike in reality than on the spec sheet.
The handling is slick and easy, with much sharper steering than you'd expect. The weight is held low-down, and once on the move, it feels much lighter. Add in the near-perfect retro bobber styling, and you can see why it was one of Triumph's best-ever sellers when launched.
Later variants improved the Bobber even more: the Bobber Black in 2018 had two front brake discs, beefier KYB forks, and a 130-section 16-inch front tyre. It was heavier, and kept the same power, but was a better bike all round. 2020 saw a TFC (Triumph Factory Custom) variant launched with Brembo four-piston monobloc calipers, Öhlins forks and clip-on handlebars, as well as a more powerful version of the T120 engine, now making 87bhp.
The big downside of the Bobber is its fuel tank though: at a laughably-small nine litres, you'll constantly be thinking of your next top-up…
Indian Scout
Indian is the 'other' American cruiser marque, and while the brand was set up earlier than Harley-Davidson (the first Indian motorbike appeared in 1901, H-D began in 1903), it spent a long time out of the bike building business, doing weird stuff under various owners after 1953 – so it doesn't have the same uninterrupted history and heritage as the Milwaukee brand. It's been owned by industrial giant Polaris since 2011 though and is now a settled, mainstream bike maker.
And the Scout is its upper-middleweight cruiser. It's a far more modern-looking machine than comparable Harleys, and has a 'proper' water-cooled 60° V-twin engine, with an aluminium hybrid frame design. The 1,133cc eight-valve DOHC motor makes 94bhp – decent – and a hefty 72ft lb of torque, driving through a six-speed gearbox and belt final drive.
The running gear is fairly standard cruiser fare, though the laid-down preload-adjust twin rear shocks look pretty sweet. Front forks are unadjustable 41mm RWU units, and there's a single brake disc at each end, with dual-piston sliding caliper up front and a single-piston rear caliper. ABS keeps things safe, and the Scout runs on 16-inch Pirelli tyres, with a chunky 130-section front and 150-section rear hoop.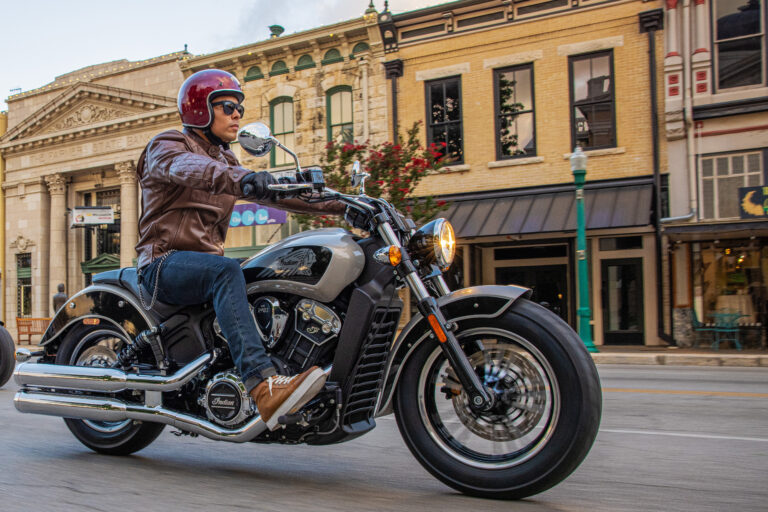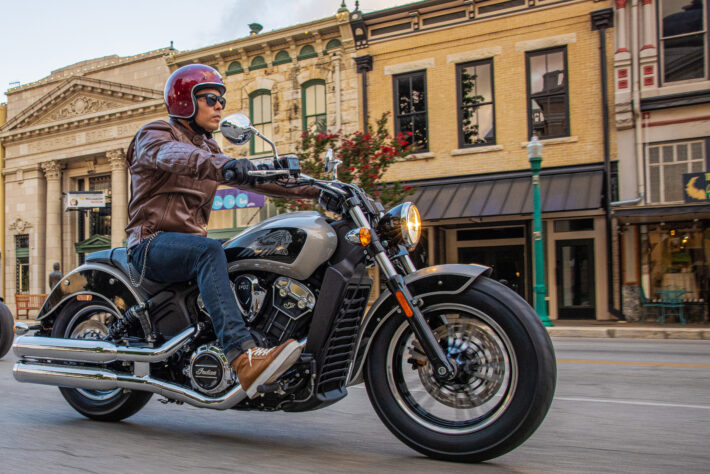 It's no lightweight at 243kg dry – though that's not excessive for an American cruiser – and its performance is some way off the likes of the Ducati Diavel (though Indian will sell you a 123bhp 217kg FTR1200 R if you want more go). As a handsome upper-middleweight cruiser, with a dollop of Yank heritage, though, it's an enticing option. It's also a bit different – you don't see many Indian Scouts parked up at the Super Sausage or outside Ryka's – and well-priced, starting from just over £12k.
Royal Enfield Classic 350
Let's be honest: the Royal Enfield singles have been pretty poor in the past. The 350 and 500 engines sold at the start of the 2000s were underpowered, poorly-made, vibrated like jackhammers and were, generally, throwbacks to the bad old days of the 1950s motorcycle world.
Now though, the Anglo-Indian brand has completely revamped its entire range, and the current 350 single-cylinder motor is an excellent little powerplant. First seen in the 2021 Meteor, it's an all-new unit, with fairly basic spec on paper: air/oil cooling, a balancer shaft, two-valve SOHC head and fuel injection, mated to a five-speed gearbox. This bog-standard powerplant makes around 20bhp, and is fitted into a similarly-generic chassis setup: steel tube frame, conventional non-adjustable forks, twin-shock rear swingarm suspension, and a single disc brake at each end, operated by a statutory ABS system.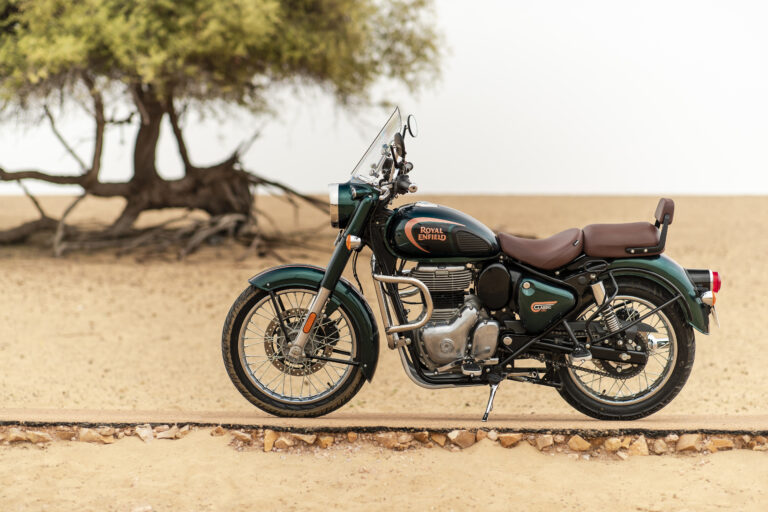 The Classic has a more retro feel than the Meteor, with a hint of 'bobber' style. There's a standard single seat unit and full rear fender, triangular sidepanels, wire-spoked wheels and low-slung black-painted single silencer. Optional factory-fit parts include solid engine crash bars, a pillion saddle, windscreen, luggage and it comes in a variety of chic paint schemes.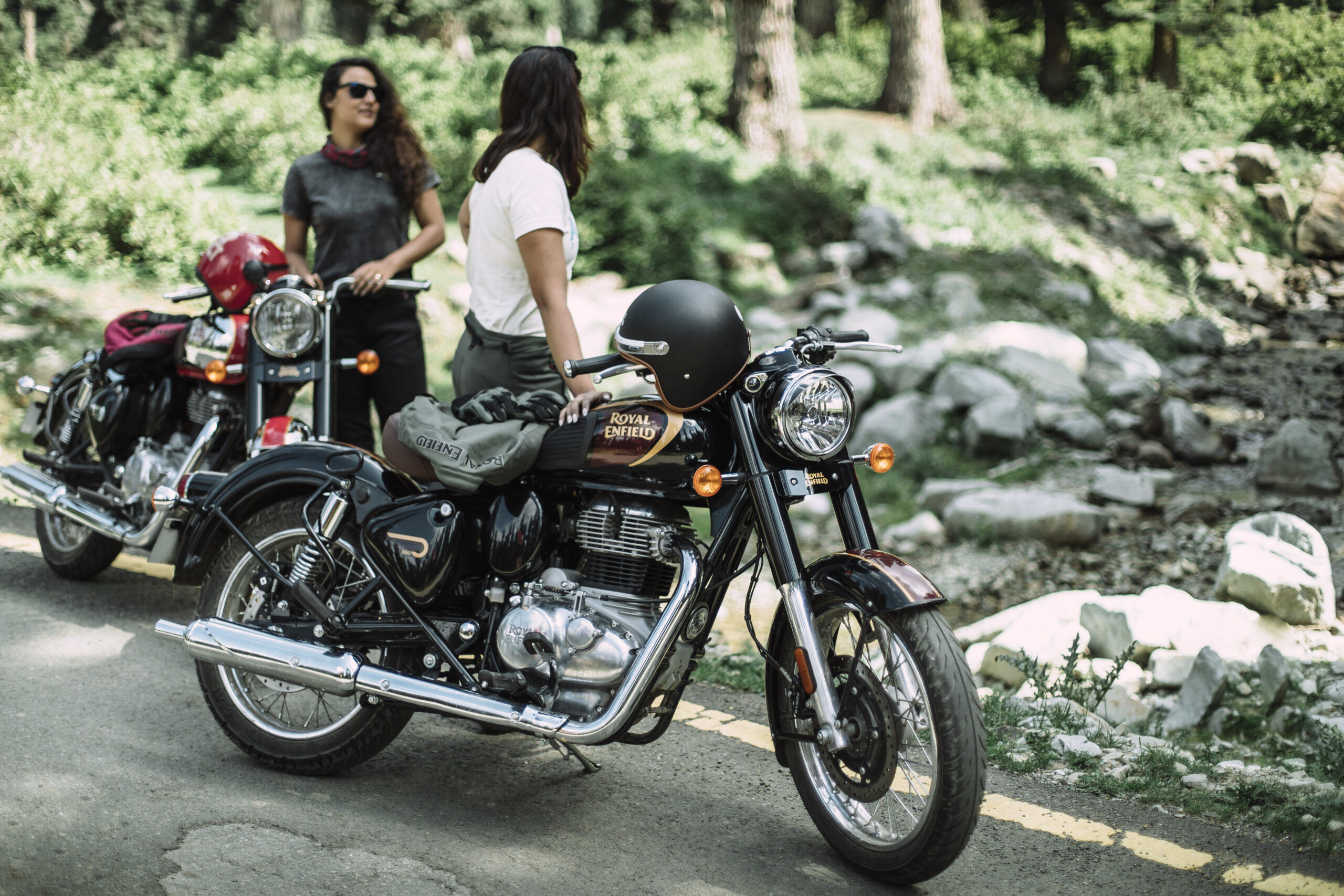 On the road, the new 350 class Enfields are actually great fun. The minimal power output means you can generally jam the throttle wide-open at all times, without getting into too much trouble with either the law or the road conditions. As with all modern Enfields, the chassis setup is far better than its spec suggests, thanks to the British-based chassis development team, which is packed with BSB-level racers and backed by Harris Performance engineers. There's more ground clearance than you'd think, the basic suspension works well, and the brakes are more than up to matching the speeds attained by the willing little engine.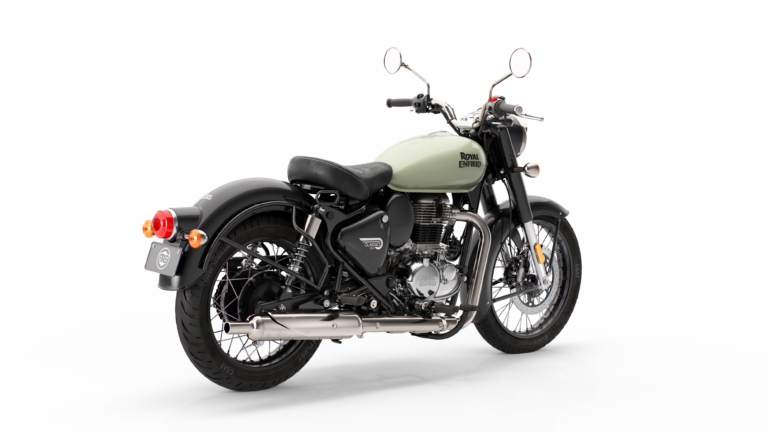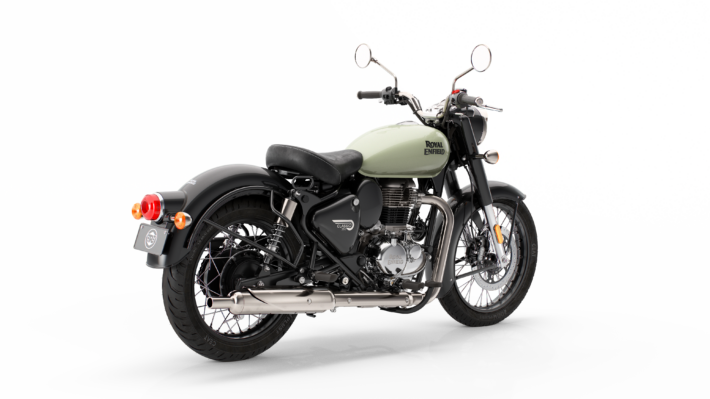 The big benefit of the Royal Enfield range is of course price: the Classic 350 is half the price of something like the Honda CMX1100 Rebel, at just over £4,400 – while you could buy six Classics for the cost of one Harley-Davidson Road Glide Special…