Motorcycle Modifications: Rear Parts
We'd already talked about wheel changes, either with regard to improved performance or aesthetics, but there are other things than just the wheels and brakes to consider, given that the rear end also comprises of that which supports the back wheel – i.e. a swinging arm and suspension units.
Aftermarket
Swapping the standard swinging arm for an aftermarket item produced and marketed for precisely that model is possible, although it's a far rarer occurrence than it was about thirty years ago. Thanks to the advance of chassis design, fitting an aftermarket swinging arm to a modern bike is more about the looks than the performance of the part, and bolting in a box-section aluminium swinging arm isn't going to gain you anything in terms of handling, although you might get a bit of kudos outside the chip shop on a Friday night.
Shock absorber
For a bike produced in, say, the last ten years or so, a far better upgrade in terms of an improve in handling would be to fit an aftermarket shock absorber, ideally one built to suit the rider's weight and riding style. There are endless options for aftermarket shocks, ranging from non-adjustable utilitarian models, right up to those that match the spec of MotoGP or World Superbike equipment, with an appropriate cost level.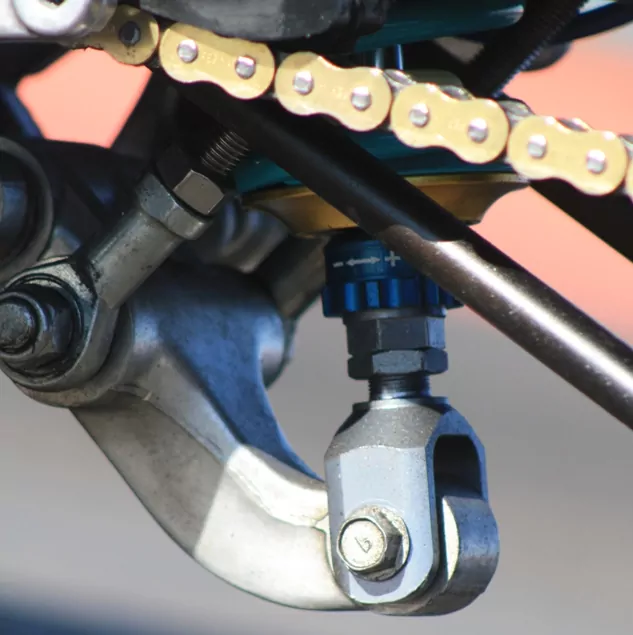 Of course, for older bikes or, for that matter, bikes further down the manufacturer's range, an upgrade to a shock absorber from a higher specification model may be an alternative, and this also applies to swinging arms. In fact, a good example is the Kawasaki Versys swinging arms that're being fitted to the ER-6 race bikes used in the Isle of Man TT Lightweight class. But, it has to be said, you're more likely to be able to do a direct swap with a shock than a swinging arm, although neither are a guarantee…
Modify to suit
Which is where a bit of proper modification comes to the fore. While some swinging arms may happen to slide neatly into a frame that wasn't designed for them, it's highly unlikely that you'll get away without any kind of fabrication.
At the very least it'll entail some spacers of some kind, or additional sleeves to match the swinging arm spindle to match the pivot point in the arm itself. More often than not, given that the non-standard part will be bigger / stronger / newer than the original, then some part of the frame or arm will need to be modified to suit. However, rather than just lopping off part of the swinging arm to allow it to fit into a narrow orifice, a little extra thought has to be brought into play.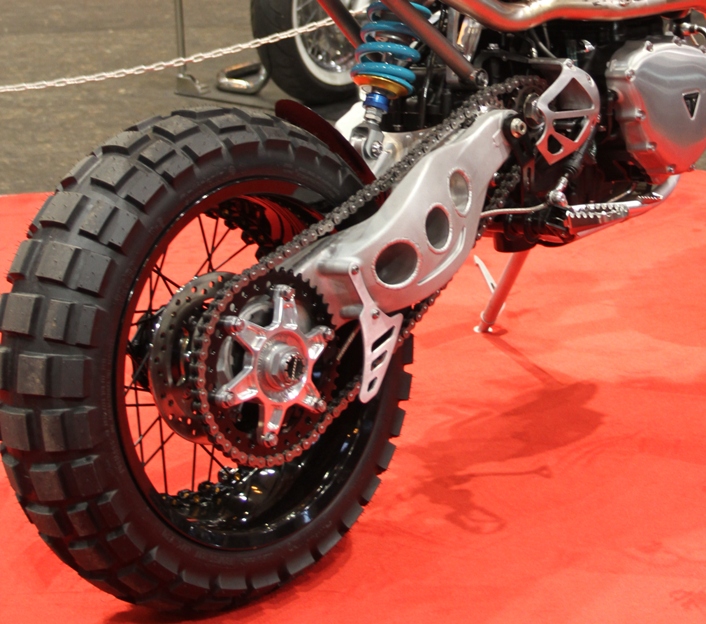 Alignment
Simply removing some material from one side of a swinging arm will, essentially, move the arm sideways across the frame, thus taking the shock absorber mounts and rear wheel away from the centre line. With this in mind, any material to be removed has to be taken equally from each side.
However, also bear in mind that not all bikes have the rear wheel mounted centrally in the swinging arm, and not all bikes have the shock absorber mounted centrally either, such as later model Honda Fireblades. Additionally, chain alignment has to be considered.
Thus, it all becomes something of a juggling act, and some three-dimensional thought will be required. And, more often than not, some 'massaging' of the frame, swinging arm and shock mounts. However, the hard work is, almost always, well worth the effort.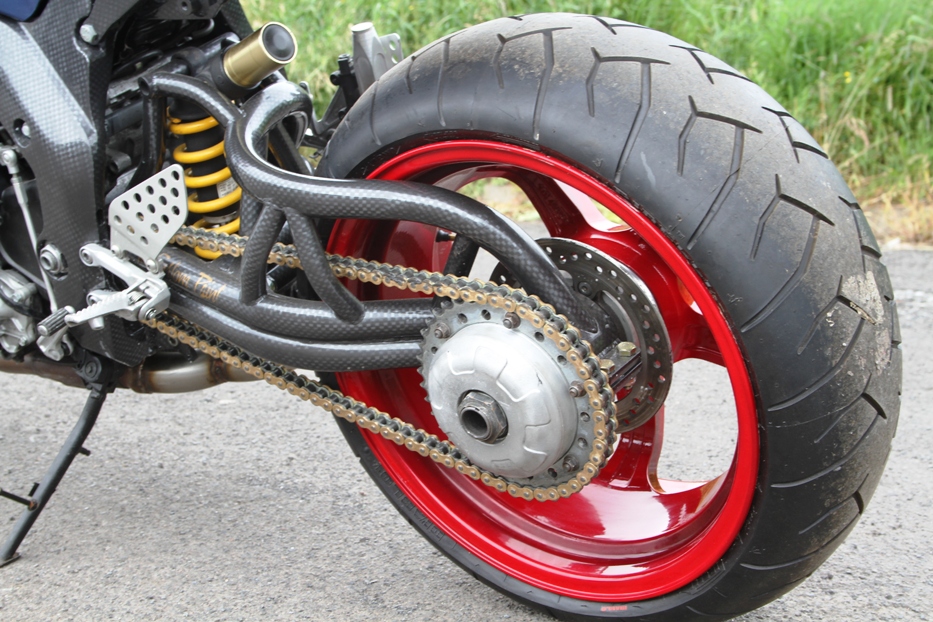 Hard tail conversions
And then of course, there are hard tail conversions, in which all semblance of suspension at the rear end is discarded and replaced with the more aesthetically pleasing hardtail. Sometimes, a simple replacement of the shocks with struts is undertaken, and while this does gain the low slung look that a rigid can have, it doesn't have the full clean lines and aesthetic appeal attained by a proper hardtail conversion.
A hardtail can be either of bolt-on or weld-on style, although the bolt-on variety has pretty much fallen out-of-fashion of late, given that there are fewer frames for which that type is viable, and because a weld-on hardtail gives rather more peace of mind.
IMPORTANT NOTE: It's essential to speak to your insurer before you make any modifications to your motorcycle so you can understand the policy implications. Some modifications will dramatically increase your premium, and other modifications might make it very difficult for you to find a company that will insure you at all. Failure to disclose any modifications can also result in your insurer refusing to pay out on a claim, especially if the modification contributes to the claim.
Always do your research properly, consult an expert, speak to your insurer and make sure you're fully informed of the risks involved of your proposed modification. Modifications should always be done to a professional standard and maintained appropriately.