Valentino Rossi is on the form of his life at 36 years old and his racing renaissance in 2015 has once more led to claims that he must be the greatest of all time (or GOAT for short). But is he?
Rossi only has one realistic contender for this title of course, and that's the late, great Mike Hailwood. But just how do these legends actually stack up against each other in terms of results and achievements?
Futile as it may be to compare riders from different eras, there are at least some factors that don't change over the decades – like how many world titles a rider wins, how many different classes he's won in, and how many different makes of machinery he's won on.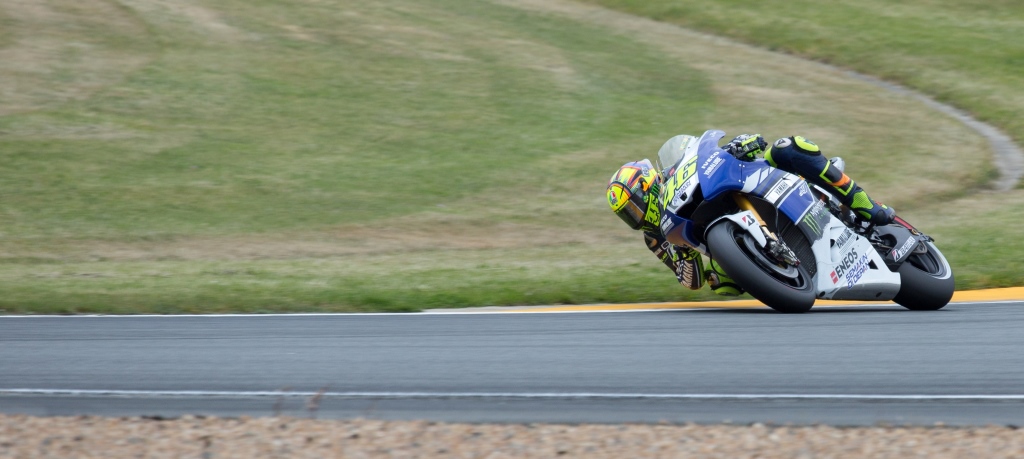 Rossi vs Hailwood:
So let's start with the basics. Mike Hailwood won a total of nine Grand Prix world championships across three different classes – 250cc, 350cc and 500cc. Rossi has won the same number of titles across four classes (125cc, 250cc, 500cc and MotoGP), although sine MotoGP replaced 500cc as the premier class, it's essentially the same championship just contested on different kinds of motorcycles). But Rossi could still add to that tally as he will be competing for at least one more season with Yamaha in MotoGP and quite possibly more.
Rossi surpassed Hailwood's total of 76 Grand Prix wins in 2005 and his running total stands at 111 going into this year's summer break, but that figure is sure to grow as Rossi's incredible run of success continues.
Hailwood started in 152 GP races and as well as winning 76 of them, he also finished on the podium 112 times and set 79 fastest laps. Rossi has so far had 201 podiums and set 92 fastest laps but, again, these figures are likely to increase.
Hailwood achieves huge success in just 9 years:
One thing that speaks volumes about Hailwood's abilities is the fact that he only raced in Grands Prix for nine years between 1958 and 1967 whereas Rossi is now in his 20th year of GP competition. And if Hailwood won 9 world titles and 76 GPs in just nine years, how many might he have won if he'd raced for 20?
Both men have won world titles on different makes of motorcycle. Hailwood won five titles with Honda in the 250cc and 350cc classes and four with MV Agusta in the premier 500cc class. Rossi has so far won nine world championships for three different manufacturers. He took his 125cc and 250cc titles with Aprilia, and has won the 500cc and MotoGP classes with Honda and Yamaha.
The dangers of Hailwood's era:
There's no doubt that Hailwood faced far greater dangers in the era he raced in. Not only did he have to ride on pure roads courses like the Isle of Man TT (which counted as the British round of the Grand Prix world championship up until 1977) but the riding gear of Hailwood's era was worlds away from modern equipment in terms of the protection it offered.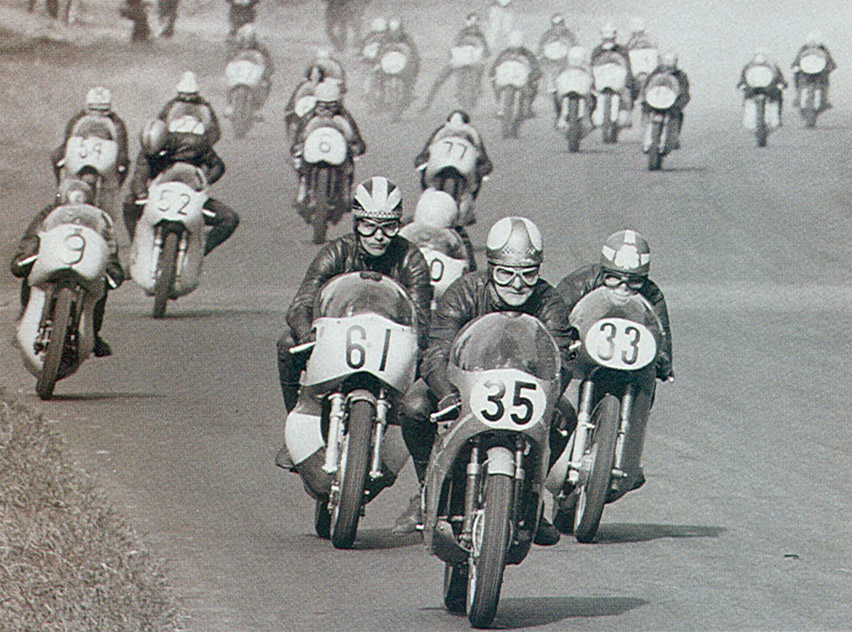 Run-off areas were practically non-existent and there was no Clinica Mobile at every GP in Hailwood's day either. It was a tragic fact of motorcycle racing in the 1960s that several of the men who started each season would not be around to finish it. Marco Simoncelli's tragic death in 2011 proved that Grand Prix racing can still be fatal but his death was, thankfully, a rarity in modern world championship racing.
Can we really compare the two?
The difficulty with comparing eras is that factors like the level of competition have to be considered too. When Giacomo Agostini won many of his world titles (after Hailwood and Honda's retirement), his MV Agusta was the only factory machine on the grid so he did have an unfair advantage and often lapped riders up to second place.
Rossi faces tough competition:
No-one can ever accuse Rossi of not having had stiff competition over the years. From Max Biaggi and Sete Gibernau to Jorge Lorenzo and Marc Marquez, he's had to beat off some astonishingly talented rivals and Hailwood, for the most part, had to do the same. Giacomo Agostini, Phil Read, Jim Redman and Billy Ivy are considered some of the greatest riders of all time and Hailwood had to beat them all, regularly, to win his world crowns.
GP wins:
Perhaps a fairer way to compare the two legends would be to even things out and compare their titles and GP wins over a similar period from the moment they claimed their first crown. Hailwood only raced for a further six years after winning his first title in 1961, so how would Rossi's stats compare in the six years following his first world title in 1997?
World Championships:
Between then and 2003, he won a total of five world championships while Hailwood won nine in a similar same seven year period. But then, racing has become far more specialised since Hailwood's day when it was common for riders to contest two, or even three, GP classes in a single day.
In the modern era, it takes more time to become competitive in each class, which is why winning two world titles in the same year is now a thing of the past. The last man to achieve this was Freddie Spencer in 1985 when he took both the 250cc and 500cc crowns.
There were far fewer GP races per season in Hailwood's day too. The 500cc world championship typically comprised nine or ten rounds whereas Rossi has to take in up to 18 countries in a single season. This is a double-edged sword; on the one hand it gives Rossi more chances to increase his overall wins tally, but it also means each title is harder to achieve.
Cutting it against the younger rivals:
Rossi is still winning races and challenging for world titles at the age of 36 and Hailwood made his famous and victorious TT comeback at the age of 38 – a feat made even more impressive by the fact that he'd been in retirement for 11 years. So both riders proved they could still cut it against much younger rivals.
Head and and shoulders above the rest:
There are so many variables, so many factors, involved in making any meaningful comparison between Valentino Rossi and Mike Hailwood that it is never going to be possible to say with any degree of authority who was the better rider. And neither should we. Both men stood head and shoulders above the other greatest riders in the world of their respective eras.
If they ever could have raced against each other on equal terms, it seems fair to suggest that Rossi would have won some and Hailwood would have won some. As to who would have been the overall champion, that's something we will never know. Because the only thing that statistics prove is that statistics can prove anything.
So, where do you stand on this? Are you Team Rossi or Team Hailwood? Cast your vote in our poll…
Stuart Barker is a freelance motorcycle journalist and author. A former MCN reporter and features writer, he is now editor of the Official Isle of Man TT and Classic TT programmes and has contributed to most major UK motorcycling titles including MCN, Bike, Ride, Superbike, Two Wheels Only, Fast Bikes, Classic Bike and Classic Racer. His books include biographies of Barry Sheene, Steve Hislop, Niall Mackenzie, David Jefferies and Evel Knievel as well as a centennial history of the TT races.