Friends Reunited
Meeting up with old friends has been difficult so far this year. Covid lockdowns, travel restrictions and rubbish weather have all conspired to turn me into a proper hermit so far in 2021. So I didn't need asking twice to get out and about for the new Suzuki Hayabusa riding launch.
Obviously, the chance to leave the house, drive round the M25 and up the M1 to stay overnight at a Premier Inn near Northampton was exotic enough just on its own. But I was very keen indeed to meet up with a dear old pal – the Suzuki GSX1300R Hayabusa. We've known each other for more than two decades now, and kept in touch through thick and thin.
We've maybe neglected each other a little bit in that time –  other things crop up, you move in new circles, and suddenly it's a couple of years since you last met up. We're all very busy these days.
It's more than a couple of years since I rode a Hayabusa mind. I ran a long term test bike back in 2014, trying out different tyres, fitting four-into-one race pipes and lithium batteries, trying to get the performance up and the mass down so it was on-par with the likes of the Kawasaki ZZR1400.
I spent a full year wazzing about on the big red Busa, and had a glorious time on it. I'd actually been at the press launch of the second-generation GSX1300R in 2008, at the mega-fast Salzburgring GP track in Austria. A terrifying place for such a gig, dicing through the 150mph sweeping bends, trying to ignore the Armco lining the circuit, but being impressed by how the chassis coped with it all.
That bike was a definite move on from the rough, raucous original Hayabusa, which I'd ridden on loads of tests down the years, at RiDE and SuperBike magazines. Back then, the hypersports class – as the Busa, Honda Blackbird, BMW K12/1300S and Kawasaki ZZR1400 were known – was hot property. Folk loved the idea of a sporty touring machine with well over 150bhp and stacks of torque.
The superbikes of the time were a level down on pure engine performance – unlike today, where the best litre fours are making well over 200bhp. However, it's not superbikes that threaten the hypersports-touring class nowadays, but upstart adventure machines. Some of them are now making similar power to the original Hayabusa – the Ducati Multistrada V4S makes 170bhp, the first Busa made 173bhp…
So, I've got plenty of good times to look back on with the Busa. But not for quite a while. How will we get on today, as I pull out of the ghostly Premier Inn car park and pootle up to Sywell Aerodrome, the venue for this UK-based riding launch?
Well, like all good friendships, things fall back into place really quickly. The very nice Suzuki folks gave us a bit of a presentation last night – and I'd had the full press release back in February anyway. So I was well aware that we're looking at an evolved Hayabusa, rather than a totally new bike.
The European emissions rules which took the Gen2 bike off sale in 2016 have been complied with, a suitably '2020' suite of electronic riding aids has been incorporated into the mix, there's a new set of shapely bodywork, and the engine itself gets a modest updating – ride-by-wire fuel injection, revised combustion chambers, pistons, valves, ports.
The vital statistics are as you were – 1,340cc, inline-four, 16-valve DOHC, 81x65mm bore and stroke, all making slightly less peak power – around 187bhp, down from 194 in the 2016 machine. There's more torque though, and  the Suzuki folks are very keen to emphasise that overall performance is up, with more midrange and low-down urge.
Today is a bit of an 'evolved' riding launch too. In more normal times, we'd have been on an easyJet flight and off to Spain, Italy, or maybe even further afield to tazz around on warm, sunny foreign asphalt. Not this year though, for the obvious reasons, so we're getting a day out on the roads of Northamptonshire, Leicestershire and Lincolnshire – plus a couple of hours of untrammelled speed on the Sywell Aerodrome runway. All that, and home in time for tea? Nice.
I'm kitted up ready to go, and we get a quick intro to the controls and menu items before we set off. It's pretty straightforward – the cruise control is new, and there's a whole range of options to tweak in terms of power modes, traction control, wheelie control and the like.
The user interface is a bit like the fancy V-Strom 1050 XT I rode last year, and with the cool colour central dash screen, it's easy enough to fiddle with. The temperature is a bit on the cold side this morning – 8°C begad – and there's a hint of moisture in the air, so I go conservative to start with.
That means full power (obvs), but with wheelie control and traction control on sensible settings. The riding position is a bit of a surprise; I can get both feet flat on the ground, which doesn't happen often these days with adventure bikes or even super-nakeds. And the long, low stretch to the bars is also something I've not felt in a while. Are my elderly joints still up to the job of a sporty bike on the road?
Our lead rider, James, has been doing this gig all week (the journos are all in small six-person Covid groups so the launch has been taking place over a few days), and he's mustard-keen on the roundabouts and slip roads once we kick off. I, on the other hand, have been a little light on riding time in the past six months, between lockdown and winter, so am going far steadier as I settle in.
That doesn't take long – I'm quickly at home in the rider's perch, and everything is clear and easy to work with. My brain was frazzled a couple of weeks back on the new BMW R1250 RT as I tried to work out the adaptive cruise control, navigation, dashboard and extensive menu settings. Here, life is much simpler, with two massive dials for speed and revs, traditional gauges for fuel and engine temp, plus plenty of info on the middle screen.
The big question is, of course, about the engine. I'm actually having to dig into the power a fair bit to keep up with our guide, James, and soon realise that this is a corker of a motor. I'm slow on the way into bends this morning, so have to get hard on the gas to catch up out of every roundabout and corner – and what a reaction down below.
The inline-four bellows like a bad-tempered bull, and punts you forward like said bull just charged you out of his way. It actually has the feeling of a low-blow turbocharged motor, a sudden inexorable wave of torque from way down in the rev range, that carries on, accelerating hard for as long as you can hold the throttle open. It's the first time we've had a 'new' 1,300cc+ bike engine in a while (the ZZR1400 engine was largely unchanged after 2012) , and it's a belter.
If the Egyptians had had a few of these buggers, they'd have heaved that ship out of their canal in half the time…
The full-power, sharp-response power mode '1' is grating a little though. My pre-10am brain hasn't had enough coffee yet, and the Busa is straining at the leash with every tiny tweak of throttle. I click down in to the mode '2', which gives full power but with a softer throttle response, and things are immediately more pleasant.
It's still insanely fast, but less jerky on small openings, just the job for the road I reckon. On the riding modes, there are three pre-set modes, A, B and C, and three customisable 'U' user modes. You can change the power delivery and traction on the fly in all modes – though they revert back to the original settings when you turn the ignition off. To change the 'U' mode base settings you have go into the menu.
So you'd probably set up your own favourite modes for wheelies, rain, track, etc. It's a decent setup, less complex and confusing than some other setups, but with plenty of fine-tuning available.
I've warmed up properly now, though the clouds are getting thicker as we stop for a coffee. Parked up outside the café, the new Hayabusas look properly premium in the flesh. The two-tone bodywork is classy in this black and orange paintscheme, all the metalwork is nicely finished, and while it's instantly recognisable as a Busa, Suzuki's definitely moved the styling up a notch.
Back on the road, and the route gets even more interesting. There are some cracking roads around here, and while the traffic is picking up, we're still having a ball. The new Brembo Stylema brakes are super-strong, saving me more than once when I misjudge a bend and arrive a bit too quickly.
With the safety net of the advanced ABS, plus that long, low chassis, you really can hammer on the front anchors when needed. The tyres – new Bridgestone S22 sporty hoops – seem happy to go along with this too, even in today's cool temperatures (it's crept up to 10° now…) The chilly asphalt, plus a hint of drizzle on my visor from time to time puts me off exploring the maximum levels of lean today – but I'm sure the Busa will be able to boogie hard should you feel the need.
The rest of the chassis is just getting on with the job in hand too. The suspension is plush and controlled, smoothing out the various bumpy sections of the back roads we come across, and keeping the chassis balanced on and off the gas.
You're reminded that you're on a big bike when you're turning into a bend of course, but the upside of that is mega stability at speed. That size, plus the long, low chassis, also lends a bit of composure which you don't always get on a short, snappy 200kg/200bhp superbike.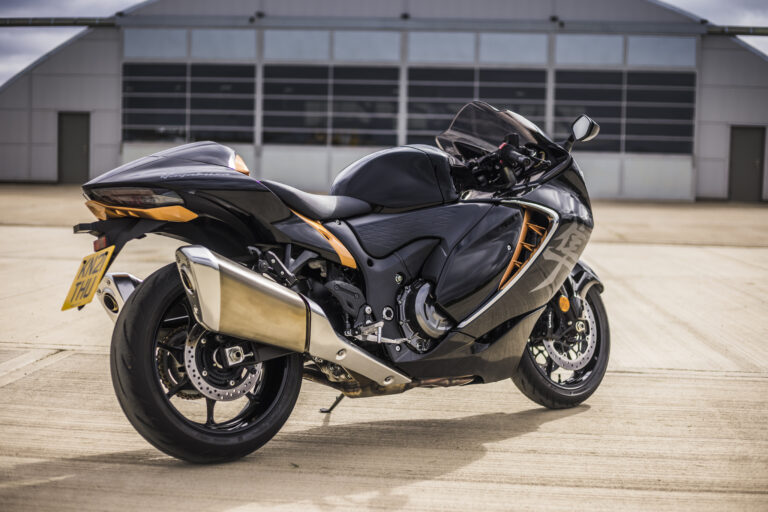 Even pulling hard in lower gears, the Busa keeps its head down and just gets on with the job. Remember, that while anti-wheelie keeps the front wheel on the deck in a modern superbike, it's doing that by shutting the throttle to cut the torque from the engine. Maximum acceleration forces on big bikes are defined by the geometry of the chassis, not the electronics or the engine output, and the Hayabusa's definitely built for that job.
I'm feeling the riding position mind. I've maybe got a bit too much stuff in my rucksack today (cameras, water, spare gloves and waterproofs) and it's dragging my shoulders down. Add in the fair stretch to the bars and quite high footpegs, and I'm pleased when we stop for lunch back at Sywell.
I'm a bit out of practice folding myself into a sportsbike crouch these days, and have probably been spoiled by the lazy stance of big adventure bikes and naked roadsters. I'd definitely recommend checking that you (still) fit the Hayabusa if you've got any long trips in mind.
While I'm having a wee bit of an old man's moan, my eyes struggle a little to pick out the numbers on the speedo, and while I realise 'two big dials' is a Hayabusa style thing, I'd probably prefer a digital speedo display on a larger LCD panel.
The road ride over, we get a chance to mess about on the Sywell aerodrome runway for the rest of the afternoon. The new launch control is the focus of much merriment – it's essentially a variable rev limiter that lets you hold the throttle open fully, and the fuel injection holds the revs at your chosen level while you feed out the clutch.
The selected wheelie and traction control settings take over once you start moving as well, so you can work on your drag race starts in relative safety. With the wheelie control on minimum, the front wheel hovers just above the runway, and the Busa's giant brain modulates the throttle as it sees fit. Cunning stuff.
My 'Friends Reunited' day out is over now though, and it's time to head home. How did I get on with the latest version of the Hayabusa? Very well, actually – Suzuki's claims about the new engine feeling stronger than before, despite the lower spec-sheet output, definitely rings true. In the middle gears – third or fourth, on full throttle, the Hayabusa properly makes the world go backwards, hilariously quickly.
The long, low chassis means you can access the grunt more easily than on a superbike, and that, plus the extra accommodation space, and decent pillion seat, widens the appeal out a lot. The brakes are excellent, they've done just about enough in terms of electronic riding aids to stay current, and the styling and finish are great.
What's missing from my old pal's makeover though? I'd have liked to have seen an electronic suspension option – even as an extra cost option on an 'SP' or 'RR' version. I get that Suzuki wants to keep the price down (which they've done well on), but I could definitely see the appeal in a £2k (say) pricier variant with 'leccy damping adjusters.
On the engine front, you can always say 'more power' when reading a spec sheet of course. But sat in the rider's seat today, I've not really found myself waiting around for more thrust to appear at the back Bridgestone…
I've still got a load of old friends to meet up with this year. And if I have as much fun with them as I did with the Hayabusa, 2021 really is going to be a cracker…
Ratings
Engine
8/10
Chassis
7/10
Technology/equipment
7/10
Styling
8/10
Practicality
7/10
Overall
8/10
SPECS
Price: £16,499 (April 2021)
Engine: DOHC 16v, inline-four, l/c, 1,340cc
Bore x stroke: 81x65mm
Compression ratio: 12.5:1
Carburation: EFI, 43mm ride-by-wire throttle bodies
Max power (claimed) 187hp@9,700rpm
Max torque (claimed) 111ft lb@7,000rpm
Transmission: six speed gearbox, wet slipper clutch, chain drive
Frame: aluminium twin spar
Front suspension: 43mm KYB USD fork, fully adjustable
Rear suspension: aluminium braced swingarm, KYB monoshock with full adjustability
Brakes: twin 320mm discs, four-piston Brembo Stylema monobloc radial calipers (front), single disc, single-piston caliper (rear), cornering ABS.
Wheels/tyres: cast aluminium/Bridgestone S22, 120/70 17 front, 190/50 17 rear
Rake/trail: 23°/90mm
Wheelbase: 1,480mm
Kerb weight : 264kg
Fuel capacity: 20 litres
Colours: black/orange, silver/red
Equipment: LED lighting, cruise control, up/down quickshifter, IMU-assisted cornering ABS and traction control, colour LCD dash, rider power modes
TECH BOXES
Engine
Definitely an 'evolution not revolution' buzz here: Suzuki claim to have tested prototypes with more cylinders and turbochargers, but luckily for the accountants, they found that the existing inline-four normally-aspirated layout was the best. Phew! Joking aside, you can see the benefits that decision brought in the price, and it should also mean aftermarket parts firms will have an easier time making Gen3 Busa bolt-ons.
Frame
Sticking with the same basic engine layout meant Suzuki could also stick with the same basic frame layout – even a bigger bore would have probably meant a wider motor that wouldn't fit in the old chassis. The swingarm stays the same too – but a new rear subframe is 700g lighter than before.
Suspension
No big fundamental changes – but new damping rates and other tweaks. You'd think there'd be scope for an electronic semi-active suspension package here nowadays – maybe something for a later update.
Electronics
The last Hayabusa was pretty low on electronic aids, coming with ABS and power modes and not much more. It's been dragged up to date now though, with an IMU inertial measurement unit that provides cornering ABS and traction control plus wheelie control. You also get hill-start brake function, up- and down-quickshifter, launch control, and the new ride-by-wire fuel injection means you get cruise control too.
Brakes
No messing – Suzuki has just bolted on a pair of Brembo's Stylema calipers, which you also see on the Ducati Panigale V4, Aprilia RSV4 et al. Excellent stoppers – as you'd expect on a 265kg 190bhp bike.
Accessories
Suzuki's got a decent list of genuine accessories, including heated grips, machined aluminium bolt-ons from Gilles, custom tank bag and touring screen. The pillion seat cover is now an extra-cost option too – before, they used to put one in the crate for everyone.