Luxury Boxer 'Dynamic tourer' gets radar-assisted cruise control, new fairing and massive widescreen dash for 2021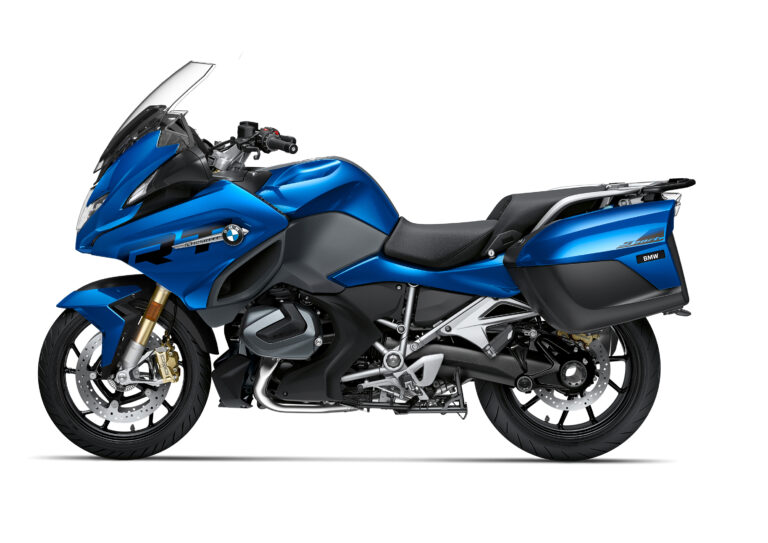 The days when big touring bikes were a bit dull are long, long gone. Honda's ST1300 Pan European arguably started the change, where you got a 125bhp+ engine with your barn-door fairing, while machines like the Yamaha FJR1300 and Kawasaki GTR1400 ratcheted matters up considerably over the early 2000s.
BMW was a little late to this party, despite being a massive touring specialist in the last century. Its K- and R-series RT and LT models had the giant fairings healthy doses of technology (the K100 was the first bike with ABS in 1988) – but were heavy and low on outright performance.
By the mid-2000s though, its K1200GT was putting out 150+bhp with all the luxury you could want, and the Bavarian firm was right back in contention. BMW's Boxer tourers have been doing good work too, especially with the latest high-powered versions of the flat-twin engine.
The current 1250 ShiftCam engine puts out more than 135bhp, with strong power delivery plus good fuel economy, and in the RT 'dynamic tourer' chassis, it's a corking powerplant.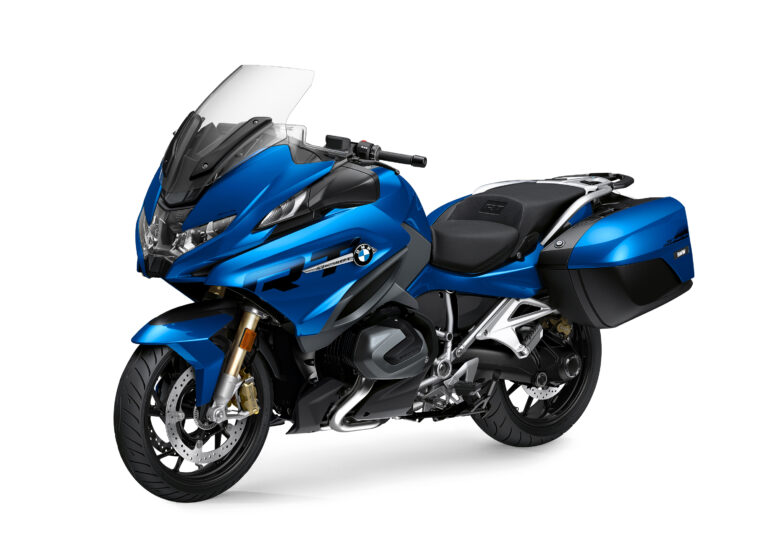 No massive engine updates needed for 2021 then, Euro5 emissions tweaks aside.
But they have given the BMW R1250 RT a fairly hefty overhaul elsewhere, with loads more advanced technology, a gigantic 10.25" TFT LCD dashboard, radar-assisted cruise control, fully revamped braking system, new bodywork and updated audio setup.
On paper, it's a big leap forward in terms of kit, capability and comfort.
You really need to try these things out though – so we got an invite to ride the new RT at the BMW UK headquarters in Hampshire. The firm had organised a mini-launch gig in socially-distanced Covid-compliant form, so rather than schlepping on an Easyjet flight to Malaga, I simply had to jump on my Fazer 600 and pop down the M3 for half an hour.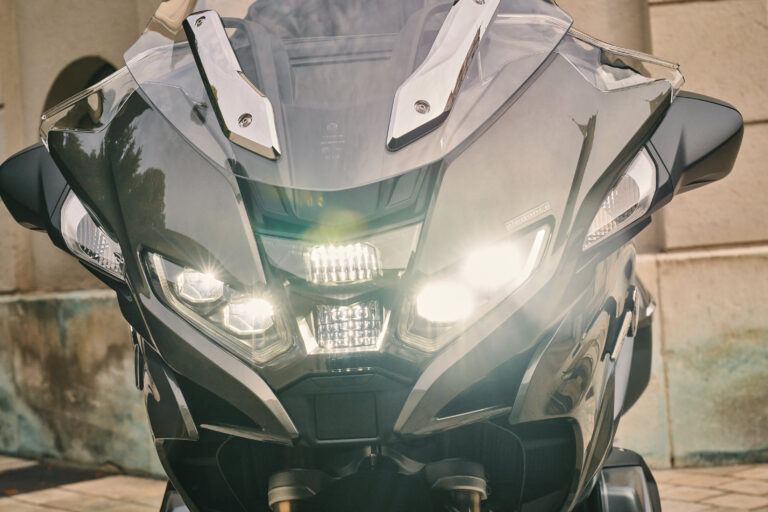 Minimal chance of topping up the tan sadly – but much more convenient in terms of travel time, quarantine and PCR tests.
Outside the impressive BMW building, and there's a lovely line-up of new RTs, ready to go. I pick the slick metallic blue Style Sport variant, and get a quick run-down on the new tech. And there's a lot of it, from the new BMW Motorrad phone app which works with the enormous LCD dashboard to provide sat-nav functions, to the wireless phone charging cubbyhole and the numbered shortcut buttons on the left fairing panel.
The big story is the new radar-assisted adaptive cruise control though. There's a new button below the normal cruise control switch with three bars, which controls the distance between you and the vehicle in front. The very nice BMW man takes me quickly through it – simply set your speed, and the distance you want to keep from other traffic, and the bike takes care of the rest. Amazing.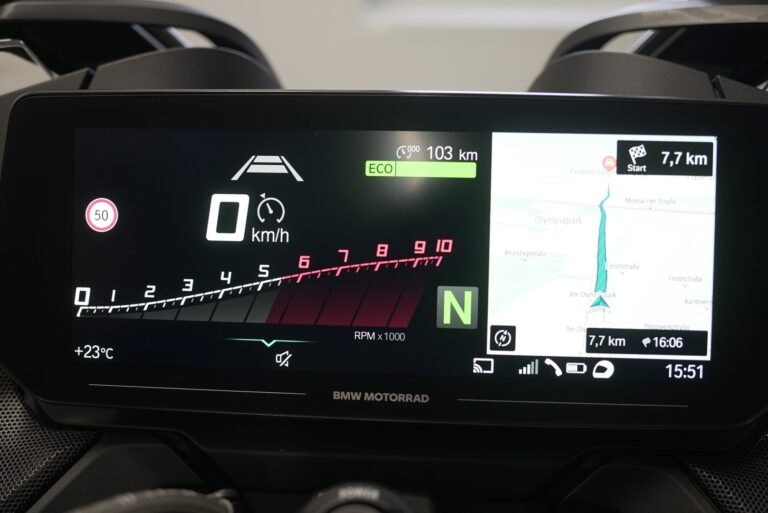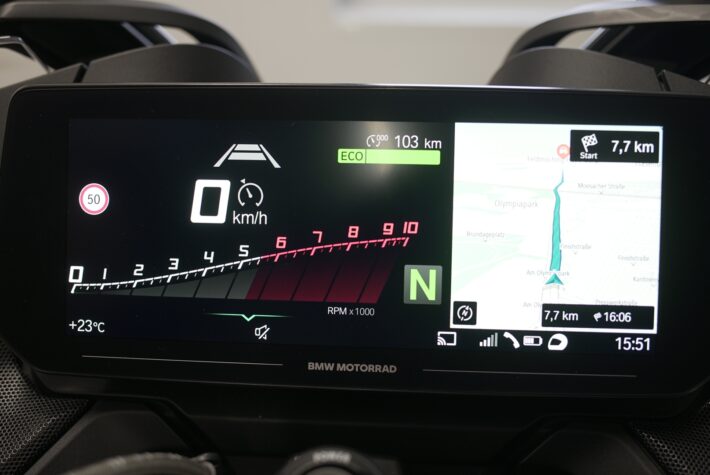 I spend a bit of time faffing with the app, which needs to do a giant map download, and the Bluetooth pairing, and then I'm set, with a sample route dialled in towards Basingstoke. I put my iPhone into the excellent 'special fan-cooled waterproof wireless-charging' cubbyhole, jump on board, and set off, keen to sample yet another new bikey experience.
Out of the car park, round the mini-roundabout and up the dual carriageway towards the M3, the RT feels big but precise, and quick. I'm a massive fan of the latest Boxer motor – it's not got the insane violence of Ducati's big twins, but with 136bhp and a stack of torque on tap, it's much livelier than Bavaria-sceptic riders might think.
I'm soon distracted though, by the enormous Cinemascope dashboard in front of me, which wouldn't look out of place showing Ben Hur at a drive-in cinema.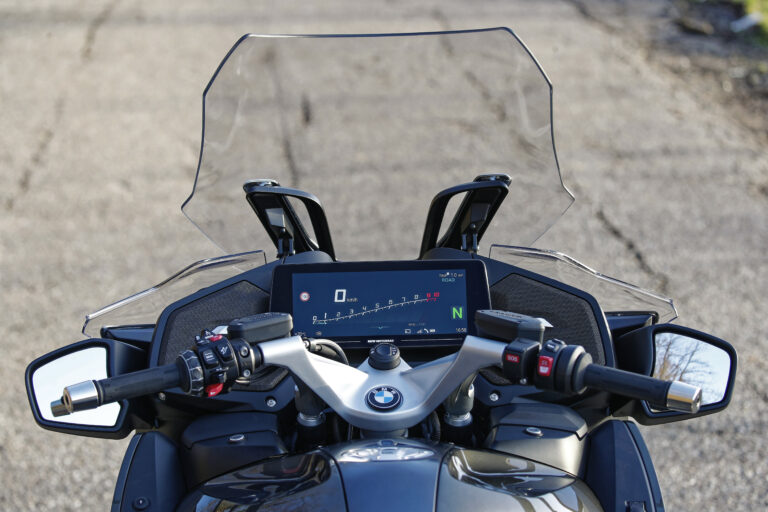 We've had LCD screens for ages now, though they're generally about a third of the size of this bugger. And I've ridden enough BMWs down the years to be familiar with the firm's basic interface, with the handlebar control wheel and switchgear.
But either the lockdown-enforced hibernation of the past few months, or a winter generally light on riding means I'm a bit slow on the uptake today. So I carefully get myself onto the M3 and have a flick through the navigation screens, adjust the heated grips, tweak the electric windscreen position, just to settle myself down a little. Now, time for the unknown pleasures of the radar cruise control…
It's actually a bit of an anti-climax, because it's very simple and pretty much just works as it says on the tin. Sit in lane one, dial in 60mph and three bars of distance, and you trundle along till you meet an HGV doing 56mph. The RT gently, carefully slows down and sits a few car lengths back.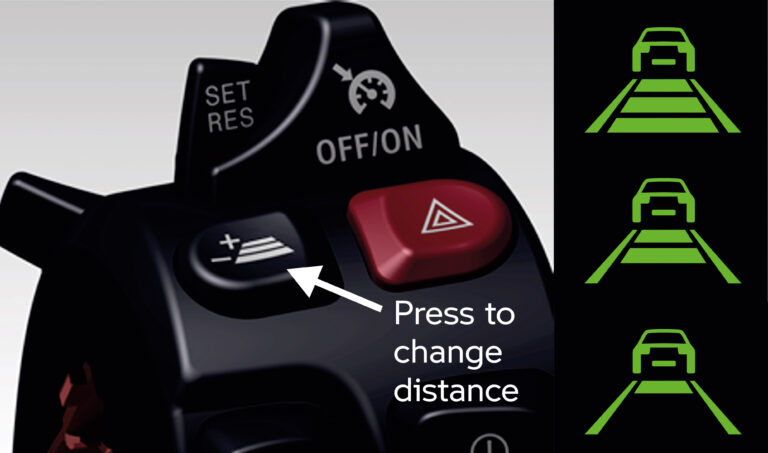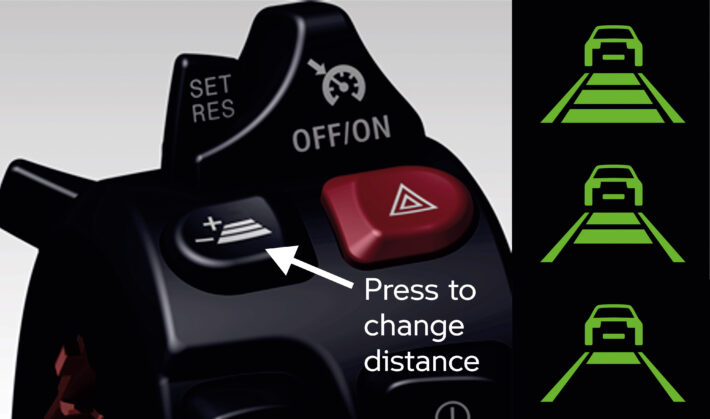 Press the distance button and it moves closer. Pull into the empty lane two, and it gently speeds up to 60mph. Push it up to 72mph (living on the edge as ever) and it accelerates till it finds a Volkswagen Polo and sits behind that, again at a polite respectful distance. It's a bit like having a slightly dull IAM instructor under the seat, riding by the numbers.
Even when you dial in a faster speed and start popping into the 'fast lane' to dice with the Hampshire branch of The Audi A5 And Jaguar F-Type Careless Hooning Society, the adaptive cruise behaves perfectly. Impressive stuff.
It gets a bit flakey when I pull off the motorway though, which is to say it simply turns off at 20mph. Similar systems on cars work down to slow traffic pace apparently (I'm too poor to have a nice new car with radar sadly), so have a wider range of uses. You wouldn't want to be using adaptive cruise at 10mph on a bike anyway I think – the problems of balance should the thing suddenly have to stop when you're not ready are fairly self-evident.
I go off-piste for a bit now, switch off from the technology, turn off the motorway and just take the RT for a ride. I went on the Spanish launch of the first R1250 RT a few years back and loved it – I'm a giant sucker for big, comfy, well-kitted bikes that go like hell.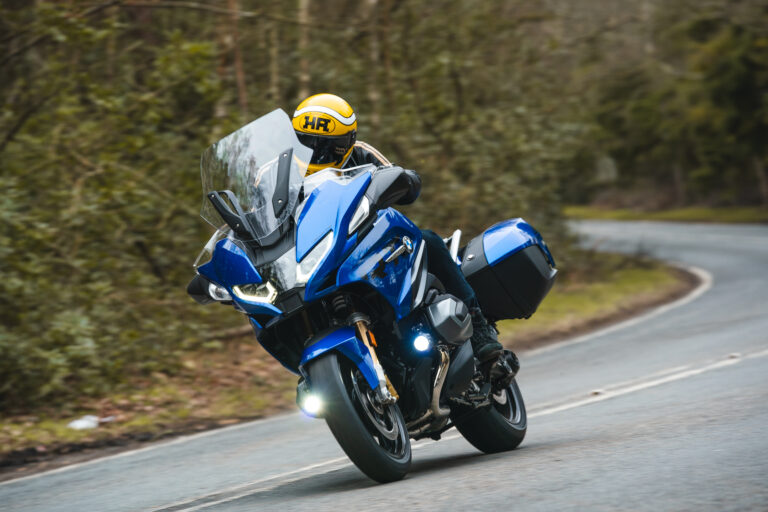 The engine gives more than enough power right up to and beyond licence-shredding speeds, the 360-odd kilos of bike and rider are superbly poised in terms of handling, steering and stability, and the brakes are sharp yet communicative. The tyres are grippy and predictable, the riding position is comfy yet controlling, and overall, I feel like I could go almost anywhere and do almost anything on this beastie.
I meet up with the photographers for a few passes and again, the RT shines – feet up U-turns at either end of the pic run, fast acceleration, strong braking and easy poise when turning in. It's an impressive package all round.
Back at BMW HQ, and my fond feelings for the big Boxer are underlined once more. Not so much for the adaptive cruise mind – for the £500 cost, I'd probably not bother ticking the box. I don't think I'm the right type of rider for fancy cruise on a bike very often; I seldom sit in traffic queues, preferring to filter up through them, and on the busy roads of the South East, I don't reckon I'd use it much at all.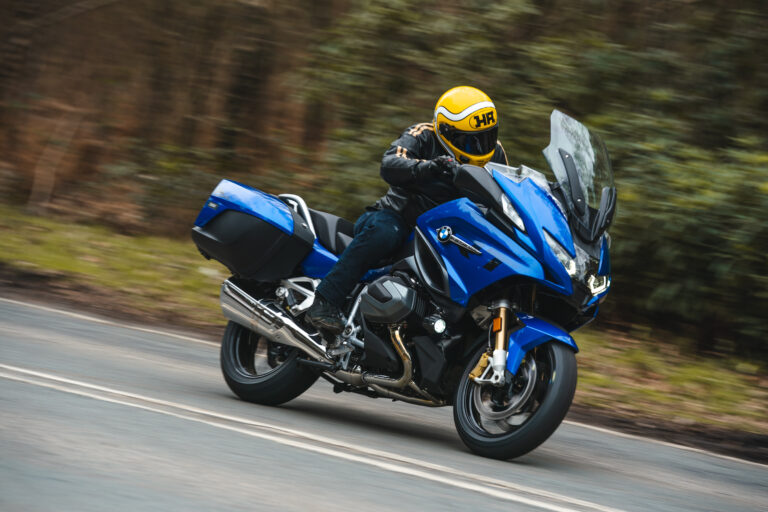 I also worry a little about automation removing you from the riding experience even more – airlines and pilots are apparently worried that too much automation on planes is eroding their skills, so when things go wrong, they are less well equipped to cope with tricky, dangerous, flying situations. We're a long way from that on two wheels mind – but traction control, ABS, wheelie control, quickshifters and the like have all taken a little bit away from the rider over the years.
Having said that, as the adaptive cruise becomes more widespread, my old-school mind will maybe become a bit fonder of it. Like gear position indicators, quickshifters, electronic suspension and colour LCD dashboards, modern tech is often poo-pooed at first, before ending up as part of the furniture, and something you wonder how you managed without before…
SPECS
Price: from £15,820 (April 2021) Adaptive cruise is a £500 option
Engine: DOHC 8v, boxer twin, l/c, 1,254cc, ShiftCam variable valves
Bore x stroke: 102.5x76mm
Compression ratio: 12.5:1
Carburation: ride-by-wire fuel injection, 52mm throttle bodies
Max power (claimed) 136hp@7,750rpm
Max torque (claimed) 105ft lb@6,250rpm
Transmission: six speed gearbox, wet slipper clutch, shaft final drive
Frame: steel tube trellis
Front suspension: Telelever monoshock, optional ESA electronically-controlled suspension
Rear suspension: Paralever single-sided swingarm, preload/rebound-adjustable monoshock, optional ESA electronically-controlled suspension
Brakes: twin 320mm discs, four-piston Hayes calipers (front), 275mm disc, twin-piston caliper (rear), ABS
Wheels/tyres: cast aluminium, 120/70 17 front, 180/55 17 rear
Rake/trail: 25.9°/n/a
Wheelbase: 1,485mm
Kerb weight : 279kg
Fuel capacity: 25 litres
Equipment (mostly optional): 10.25" TFT, LED cornering headlight, radar-assisted cruise control, linked ABS, hill start, traction control, keyless ignition, rider power modes, heated grips, hard panniers.