Bavarian behemoth bounces BMW back into the custom cruiser sector with the 2021 BMW R18…
When I was a lad, back in the 1980s, customs were the archetypical 'all show and no go' bikes. They had massive chromed engines, lairy styling, skulls and flames painted up the tank, pure aggression all over – but they made less power than a 500 twin commuter machine while weighing twice as much… Harley-Davidsons were the prime offenders of course, but the Japanese clones were often just as bad, without even the saving grace of originality or heritage.
Fast-forwards to the 1990s, and there were signs of change though. Honda's Gold Wing-based flat-six cylinder Valkyrie rewrote the rule book for the class – it was a heavyweight cruiser with decent performance as well as outrageous styling.
Next came the 115bhp Harley-Davidson V-Rod – a decent attempt by the Motor Company to make a proper performance V-twin motor, with help from Porsche of all folk. Things got serious in 2004 with the Triumph Rocket III – an insane 2.3 litre triple, that could be made to hustle amazingly well, but Ducati topped the 'power-cruiser' stakes in 2010 when it unveiled its superbike-engined Diavel.
The Bologna custom remains as class leader, with great handling, high-end chassis kit and a proper 160bhp power figure. Having said that, even 'standard' cruisers like Harley's Fat Boy make reasonable power and handle fairly well these days.
BMW dabbled a little in the custom market back in the late 1990s, with modest success.
The R1200 C made a splash when it featured in the 1997 James Bond film Tomorrow Never Dies – but was disappointing on the road. Essentially a restyled R1100 roadster, with a larger 1,170cc boxer-twin motor, it stuck with the Telelever front end and shaft rear drive, in polished, chromed form. The result looked fairly weird, it has to be said, while the 60-odd bhp peak power struggled a little with the 255kg kerb mass.
The R1200 C disappeared in the mid-2000s, and BMW has been without a cruiser since – though its RnineT range has done good work in the retro custom sector. Now, though, the Bavarian firm has gone large, in a very big way, with this, the beefy R18 custom cruiser.
An enormous 1,802cc boxer twin engine dominates the bike, which rocks a serious retro look, from the shrouded front forks through the classic black pinstriped fuel tank and back to the hardtail-style back end.
It's got a super high-quality feel, even just parked up outside BMW HQ, with the nickel-plated cardan drive shaft, classic metal badges and ultra-thick premium chrome everywhere.
It's not short of tech either, though the various gadgets are very well disguised. The single small round clock looks perfect – but sports a neat LCD display inside the speedo dial, and stuff like cruise control, heated grips, keyless ignition and rider aids are all present and correct.
We're riding the latest 'Classic' version today, which gets a 16" front wheel, smart fork-mounted windshield, extra lights, leather saddlebags and different, low-slung exhausts.
The riding power modes are named conventionally at first – 'Rain', but then they get a bit more fun: 'Rock' and 'Roll', Rock being the sportier of the modes and Roll the more relaxed. These control the traction control settings – but perhaps just as vitally, the rider modes look after the engine braking control as well.
With a motor as massive as this, that has two giant 900cc pistons sliding back and forth, there's a heap of inertia in the motor, and while ABS can stop you locking the back wheel under braking, without engine brake control, you could have the back end snaking around just by changing down a gear too early.
The MSR engine braking system simply opens the ride-by-wire throttles a little if it senses the back wheel locking up, reducing the back-torque being transmitted through the gearbox, and keeping the rear tyre stuck firmly to the asphalt.
The final tech gizmos help make daily life with a 365kg machine much easier: hill start control, that locks the brakes on when you give the lever an extra tug, then releases when you pull away, to stop the beast running backwards if you stop on a hill.
And there's one more rabbit to pull out of the Berlin-Built hat: a natty reverse gear, that engages via a chromed lever by your left leg, and uses the starter motor to slowly drive the R18 backwards. Essential for the skinny of leg and those whose garages are at the bottom of a sloped driveway…
A fair old smorgasbord of technology then – but as ever, the proof of this gigantic chromed pudding will be in the eating. I tuck the ignition key fob (nicely made, will no doubt cost £500 to replace if you lose it) into my Alpinestars jacket pocket, jump on board the R18, and get started. There's an 'on' button that lights up the dash, then into neutral, press the starter, and tremendous things start to happen below me.
Of course the R18 is new-bike Euro5 quiet, so there's no massive rort out of the twin chromed exhausts. What you do get is a massive torque swing from side to side as you blip the throttle to warm her up.
Rather like ancient BMW twins of old, the reaction as the enormous fore-and-aft crankshaft spins up and down waves the whole bike about in a slightly disconcerting fashion. It underlines the impression that this is a very serious, massive piece of engineering…
Our ride today is based at the BMW UK headquarters down in Farnborough.
There's a short route to meet the photographers, then we've got carte blanche to blatt around Hampshire for as long as we fancy. Out of the car park, and the R18 feels like an oil tanker compared with the tiny Yamaha Fazer 600 which I arrived on earlier.
Manhandling it around the mini-roundabouts, there's a proper 'chopper' steering feel from the kicked-out front end and wide 16" front tyre. As ever with this sort of thing though, you soon adapt, and by the time I hit the traffic lights by the M3, I've settled in nicely.
The riding position is comfy – not too extreme thankfully, though BMW offers aftermarket ape-hanger bars and footboards, should you require the full Easy Rider buzz on your cruiser. The large fork-mounted windscreen takes the wind off your shoulders a treat, and I feel like I could easily ride this beastie right across the country without any problems.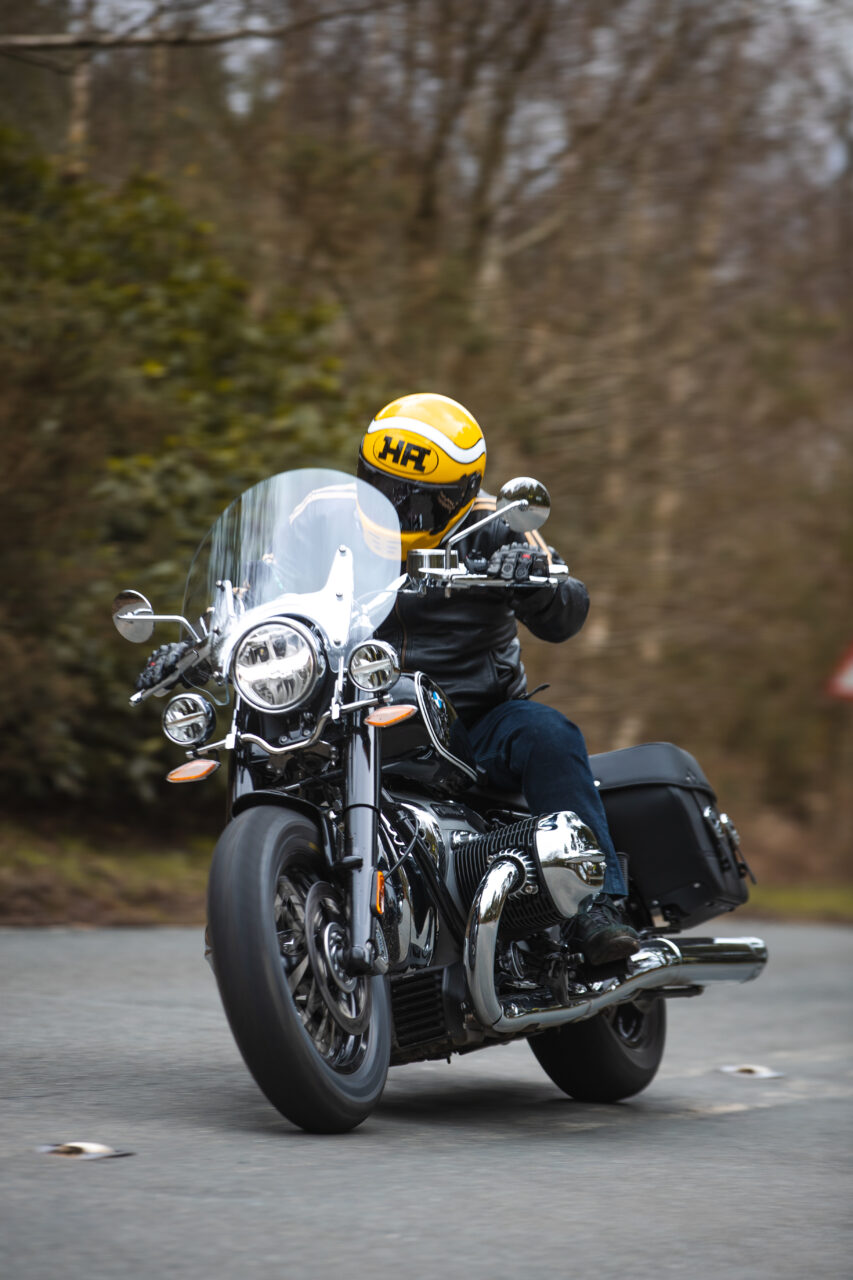 I'm focussing mostly on the engine though. It's not so common to ride a totally-all-new powerplant these days, with most companies generally sticking to the knitting, and optimising what they have.
BMW has been doing good work with its ShiftCam variable-valved inline fours and the like, but there's been nothing like this 1,802cc Boxer before. It's a curious mix of retro and modern tech: four-valve heads, and twin cams, but operated by pushrods; ride-by-wire throttle but oil/air cooling.
Like a big American car engine, it uses displacement as its trump card, and though the peak power figure of around 91bhp is almost criminal for an 1800 on a bhp/litre basis (it makes 50.5bhp/litre, half as much as a 14bhp learner 125…) it's very satisfying to ride.
The torque wave is irresistible, and while the redline is fairly low (the limiter is at 5,750rpm) the high gearing means you don't feel too short-changed by the drive. Give it a big handful, and you'll be surprised how quickly the speedo needle whistles round the dial – it's certainly able to put your licence in danger if you're not careful.
Around town, you can sit in fifth gear at 30mph, with the motor lazily firing around every lamp post – then open it right up for a national speed limit zone without changing down. You can even do this in top gear (sixth), without any real complaints from the motor, though the revs get a little lumpy if you slow down too much.
The chassis works well within the parameters of such an extreme machine. It's nowhere near as agile as something like the Ducati Diavel of course, being 100kg heavier. But it does feel more akin to the similarly-massy Triumph Rocket III albeit with a fair bit less power.
The brakes are good, with the back stopper especially hauling you up with aplomb, and it's super stable at speed on the motorway. This is a bike that will be right at home on those long, straight American freeways which it's probably mostly aimed at.
On bumpy, nadgery British back roads, it doesn't make quite as much sense, though works perfectly well: the tall-sidewalled tyres add their bit to pothole-absorption duties and the lazy steering responds nicely to a hefty tug on the wide bars where needed.
I've ridden plenty of bikes like this down the years which were just plain nasty to ride in 'normal' circumstances, due to rock-solid suspension, laughable geometry and torture-chamber riding positions. But the R18 is as user-friendly and practical a mega-cruiser as you'll find.
As with all high-end customs, you might feel a little incongruous riding it through Guildford or Glasgow on a wet Tuesday morning – but it will do the job well, no question.
So, after a quick spin on the mighty R18, where do we reckon it sits in the pantheon of cruisers? Well, it's far too heavy to concern fans of Ducati's Diavel, and is a fair chunk down on power compared with the latest Triumph Rocket III.
It's pricey too – this Classic version starts out at a smidge over £20k, putting it on par with the likes of Harley-Davidson's Fat Boy. It's got similar power to the Harley's 93bhp engine too, but is actually a fair bit heavier – 365kg vs 317kg.
A high-tech, high-quality Bavarian take on the legendary Milwaukee cruiser then? I reckon that's not too far off the truth of the matter. All it needs is some skulls and flames up the side of the tank and you'll be all set for a summer of crazy cruising…
TECH BOXES
Engine
All-new air/oil cooled design weighs a hefty 110.8kg, and is unique to the R18 and R18 Classic (so far). It features vertical split crankcases, a three-main-bearing crankshaft and massive 1,802cc capacity, with pushrods operating four-valves per cylinder, twin-plug ignition and two chain driven camshafts located above the crank. Having a camshaft for each cylinder keeps the pushrods shorter, improving high-rpm performance. Valve clearances are set by old-school screw and locknut tappets, and each head has a pair of large rocker arms operating the two inlet and exhaust valves together. Transmission is a six-speed design with helical cut gears for strength, there's an optional reverse gear that uses the starter motor, and the single plate car-style clutch has an anti-hopping design to reduce back torque on downchanges.
The specific power output is low – 91bhp from 1,802cc is just over 50bhp/litre. A 14bhp learner-legal 125cc makes 112bhp/litre…
Frame
Steel tube double cradle design, with a hardtail-styled rear swingarm.
Suspension
Concealed preload-adjustable rear monoshock, 49mm front forks with 1950s R5-style fork shrouds.
Brakes
Dual 300mm discs up front, with four-piston calipers and a 300mm single disc at the back. The ABS-equipped stoppers are partly linked: the hand lever works front and rear, while the pedal only operates the rear brake. Optional Hill-Start Control system.
Wheels/tyres
Conventional wire-spoked wheels with cruiser-style tyres, 130/90 16 front and 180/65 16 rear on the Classic (the standard R18 has a 19" front wheel).
Electronics
ABS, traction control, engine brake control, hill start control, three riding modes, keyless ignition, reverse gear, cornering LED headlight, heated grips are all available on the R18.
SPECS
Price: from £20,980 (April 2021)
Engine: OHV twin cam 8v, Boxer twin, oil/air-cooled, 1,802cc
Bore x stroke: 107.1x100mm
Compression ratio: 9.6:1
Carburation: ride-by-wire fuel injection
Max power (claimed) 91hp@4,750rpm
Max torque (claimed) 117ft lb@3,000rpm
Transmission: six speed gearbox, dry slipper clutch, exposed shaft final drive
Frame: steel tube double cradle
Front suspension: 49mm forks
Rear suspension: steel tube braced swingarm, concealed preload-adjustable monoshock
Brakes: twin 300mm discs, four-piston calipers (front), 300mm disc, four-piston caliper (rear), ABS.
Wheels/tyres: wire spoked/Bridgestone Battlecruise H50, 130/90 16 front, 180/65 16 rear
Rake/trail: 32.7°/n/a
Wheelbase: 1,731mm
Kerb weight : 365kg
Fuel capacity: 16 litres
Equipment: LED cornering headlight, cruise control, linked ABS, hill start, traction control, keyless ignition, optional reverse gear, rider power modes, heated grips.
Words by Alan Dowds
Photography Credit Joe Dick and Gary Chapman