Iceland is one of the most amazing places in the world for adventure riding. Here's what to expect, and how to get there…
Packing up your adventure touring bike for winter? Looking for a new hardcore biking quest to plan for next season? Well, we've just completed one of the most amazing bike rides ever – a six-day offroad expedition across the wild volcanic landscapes of Iceland. And it definitely deserves a spot on anyone's two-wheeled bucket list.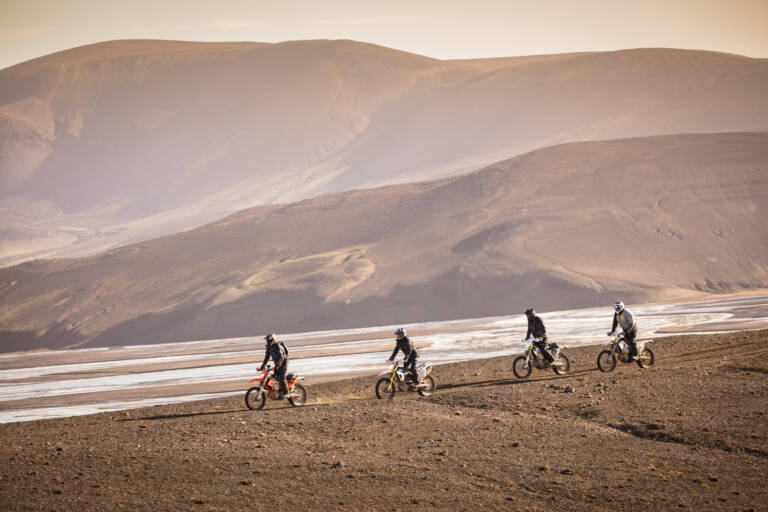 We took in some of the most extreme riding conditions you could think of. We stayed in cosy mountain huts nestled in rugged terrain. We bathed in volcanic hot springs. We saw insanely dramatic scenery – and even witnessed the Aurora Borealis – the northern lights – on a freezing clear night.
Iceland is a place like nowhere else, and if you ride round its offroad trails on an enduro bike, you'll have a biking experience like nothing else.
First things first though – how did we end up in this wind-swept north Atlantic island, crammed with volcanoes, waterfalls, rivers and crazy descendants of the Vikings?
Well, the trip was a working gig actually – we were producing on a video shoot for the KEIS heated clothing company, alongside some British Youtubers and Instagram influencers. That meant getting on a bike and riding the daily routes, filming at each stop, and documenting their trip.
The tour itself was organised by an Icelandic firm, called Ride With Locals. Its USP is, as the name suggests, that you get taken round the glaciers, dirt tracks and mountains of Iceland by people who live there and know their way around.
The owner and team leader, Skúli Gunnarsson, is a real character, with the gleam of a Viking pirate ship captain in his eye.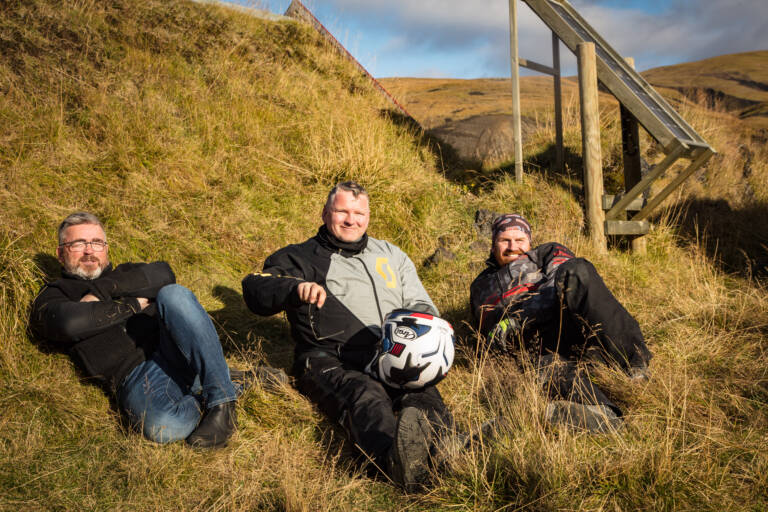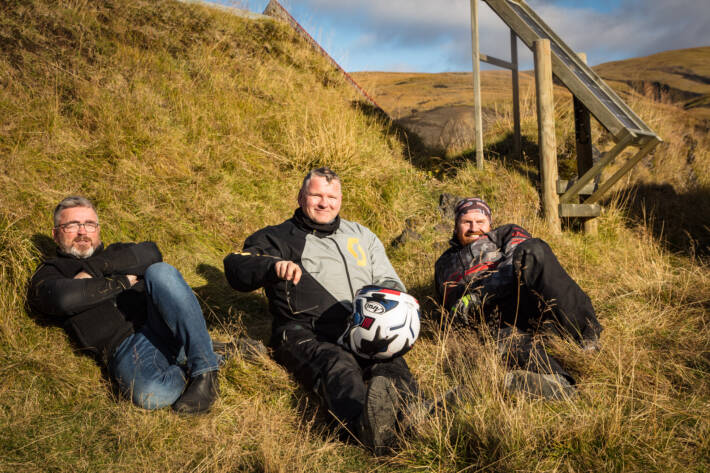 And his whole setup is extremely professional – from the gleaming, superbly-appointed HQ/garage in the town of Selfoss, to the latest model GASGAS, KTM and Husqvarna enduro bikes. But arguably the coolest piece of kit is the backup truck: an ex-German government Mercedes-Benz fire truck.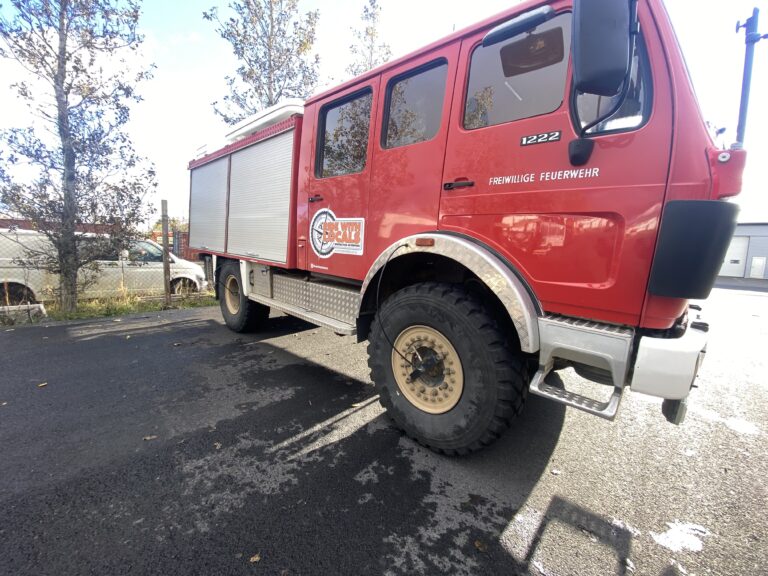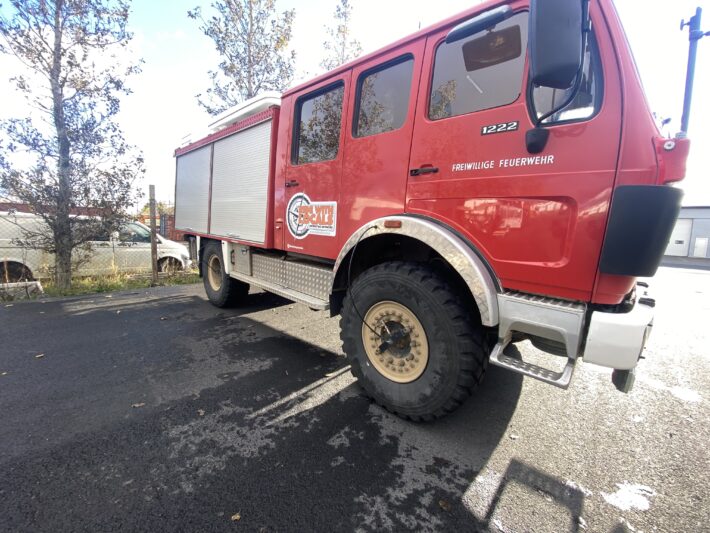 Sold off by the state authorities with minimal miles on the clock, this 1980s 4×4 machine is built tough, and has been customised for Icelandic touring life. The massive off-road tyres and wheels have been matched to an automatic on-board tyre pressure system with an on-board compressor and central controls inside the cab.
That's for use in winter, when conditions are too harsh to leave the cab when you need to drop pressures for driving through snow and ice. The fire-fighting water tank in the back has been removed, and replaced with a space for a spare KTM dirt bike, as well as a large petrol tank for refuelling the bikes out in the wilds.
And those side lockers that used to hold hoses, axes, ladders and pumps now carry food, gas BBQs, an electric generator, water, Gatorade, riders' luggage, and everything else you need when you're running a trip like this. It's a fab setup, perfectly designed for the job in hand.
Riding time
The first riding day is a sharp shock to the system. I've done a fair bit of 'gentle' offroad riding over the years – but nothing like this.
The dirt trails of Iceland make my pleasant local Surrey green lanes look like the manicured paths round Windsor Castle's lawns. After about 30 miles of sketchy Tarmac on Maxxis full knobbly enduro tyres, Skúli turns off onto the dirt, and I follow on my KTM 450 EXC. That's the last time we'll see any asphalt for a couple of days…
The terrain is manageable at first: the dirt roads are only really maintained by passing 4×4 traffic, and the national park rangers. They come out in hardcore 4×4 vehicles each spring, apparently, to mark out the routes with yellow or white pole markers, and it's their tyres which begin making the main pathways through the rocks, gravel, boulders and sand.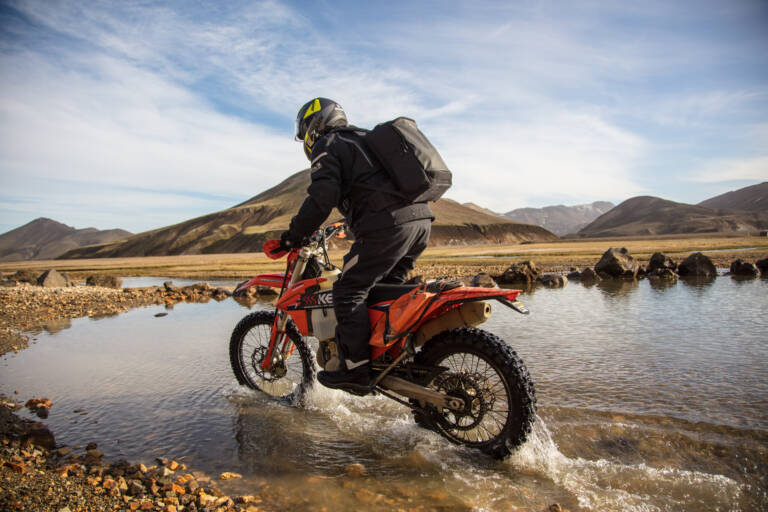 We're heading for a mountain hut in the Vatnajökull National Park, next to Tungnarjokull, the largest glacier in Europe. That means a long, long ride across the most barren land I've ever seen.
Looking back now at the Google Maps satellite view of the area, there's absolutely nothing there: it's like one of those spots in northern Canada that you fly over when heading to the West Coast of America.
In a straight line, it's about 30 miles to the nearest dirt track marked on the map – the F208 ('F' roads are mountain routes, only suitable for offroad vehicles), but the actual path we ride is longer.
We're crossing a massive plain of lava rocks and deep volcanic sand. This stuff is pure, deep, black, and has the consistency of soft sponge cake. It's much sought-after for Instagram-friendly beach pics, but here, it's a menace.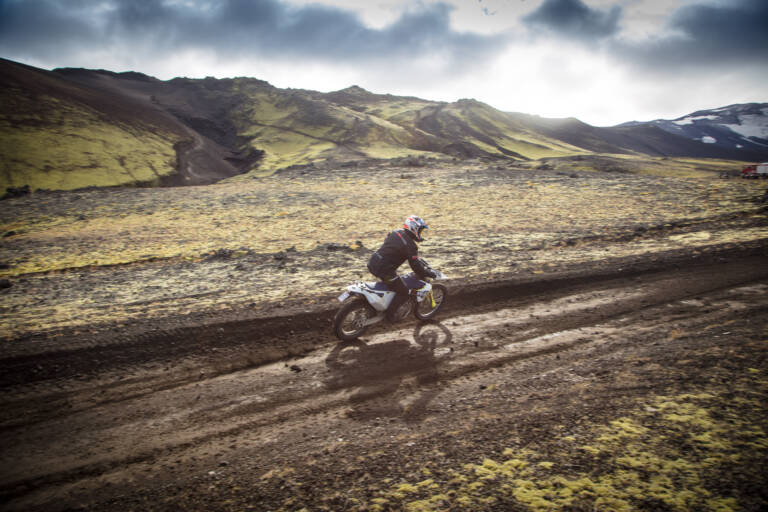 Riding in deep sand is one of the toughest offroad tasks: go too slow and you risk the front wheel digging in and throwing you off. Go faster, and you'll make better progress, but if anything does go wrong, you'll be hitting the landscape at a much higher rate of knots…
I'm on a very steep learning curve today though, and gradually pick up the pace. I'm miles behind the lead riders, but miles ahead of the tail end Charlies, so spend much of this wild terrain riding alone.
It's like being in a dream at times: absolutely no signs of any other life at all, much less any other human beings – not a scrap of greenery, zero wildlife, and not even a bird or an insect squashed on my visor. Nothing but the wind, the fast-moving black sand and rocks below me, and my trusty KTM brapping away as it bounced from one ridged tyre track to another.
My mind drifted away to JRR Tolkien's descriptions of Mordor in The Lord of the Rings. The black ground, lifeless sky, dark mountains looming in the distance and miles of sheer emptiness clutches at your imagination, and the dramatic scale of the monochrome panorama surrounding me is, genuinely, a bit scary.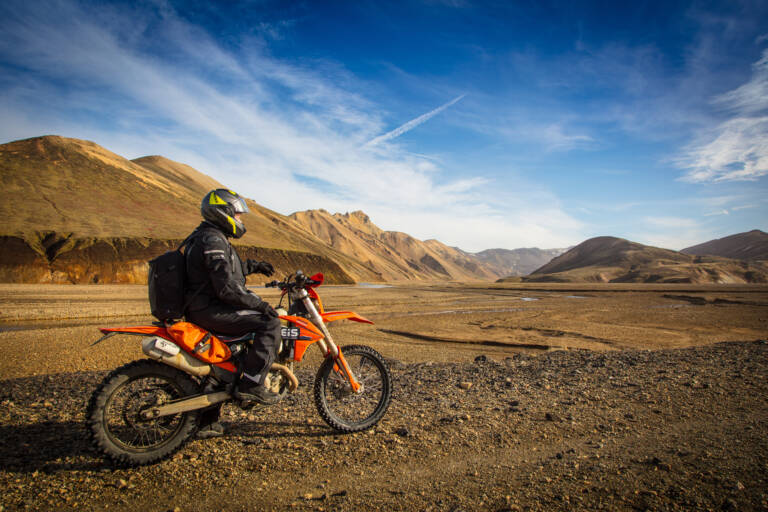 I know my KTM has plenty of fuel, and I've got faith in its reliability. I know there are backup riders behind me, and the mighty Ride With Locals backup fire truck a little further back. I have a mobile phone with some signal, a bottle of water and plenty of energy bars in my backpack.
I'm wearing the best Alpinestars winter kit, with electrically heated gear underneath.
There's absolutely nothing to worry about, logic tells me. But this landscape has a real power to unnerve – even if you grew up within sight of the Scottish Highlands like I did. Even the most savage parts of 'wild' Scotland – Caithness, Cromarty, Sutherland, the heart of Glencoe in winter – can't hold a candle to this place for sheer scale, extreme harshness and savage, unsettling beauty.
I survive the day – just – and we spend our first night in the hills at the amazing Jökulheimar mountain hut. This, as it turns out, is the most remote hut we'll stay at this week. It was originally built in 1955 to house scientists researching the nearby glacier, so was designed to be functional rather than luxurious from the start.
It's a very long way from any utilities, so there's no power apart from a solar- and wind-powered lighting circuit, only one cold water tap, and a solitary big gas heater connected to bottles. There's one bar of mobile phone signal if you stand outside in one particular spot, but the connection keeps dropping and disappears eventually. Wild.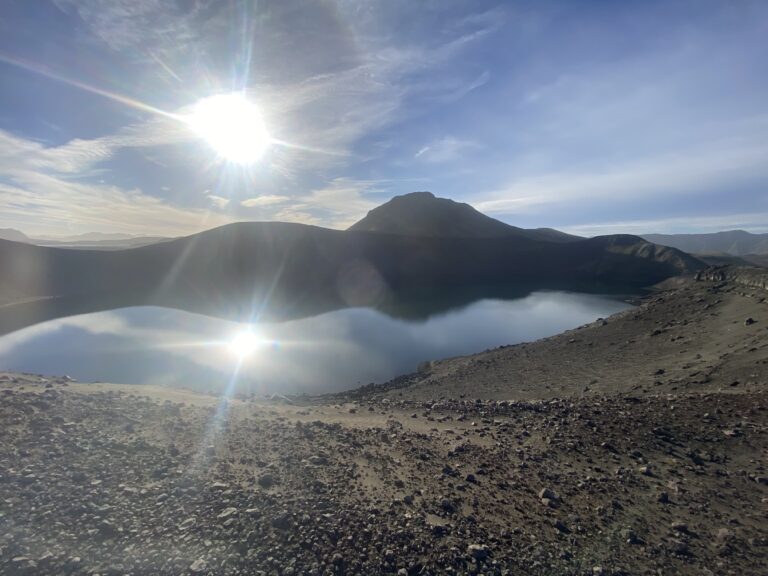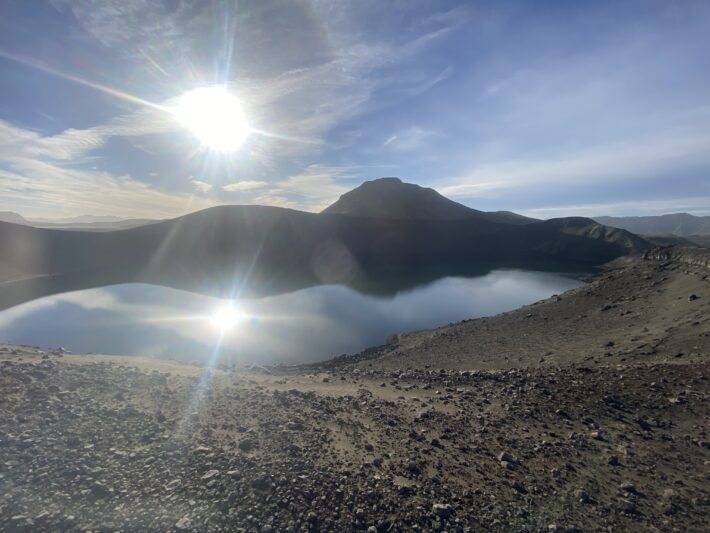 It's very homely though, and once Sküli and the other tour leaders get dinner cooking and hand out some cans of Viking lager, all is good with the world again.
The only remaining downside is the facilities a man of a certain age needs at 3am: the toilet is a hole in the ground inside a little shelter, 25 yards from the hut along a windswept path.
You spend a fair while inside your cosy sleeping bag considering your full bladder before venturing out with your head torch and a warm jacket.
It's a sad sign of the times that the huts are now nowhere near the edge of the glacier – Vatnajökull has lost more than 400 square kilometres of ice since 1990. Nevertheless, we wake up to even more astounding scenery, and head off for the next day's riding: this time through an area called Lakeland, with hundreds of river crossings, and scenery dotted with dark, spooky lakes.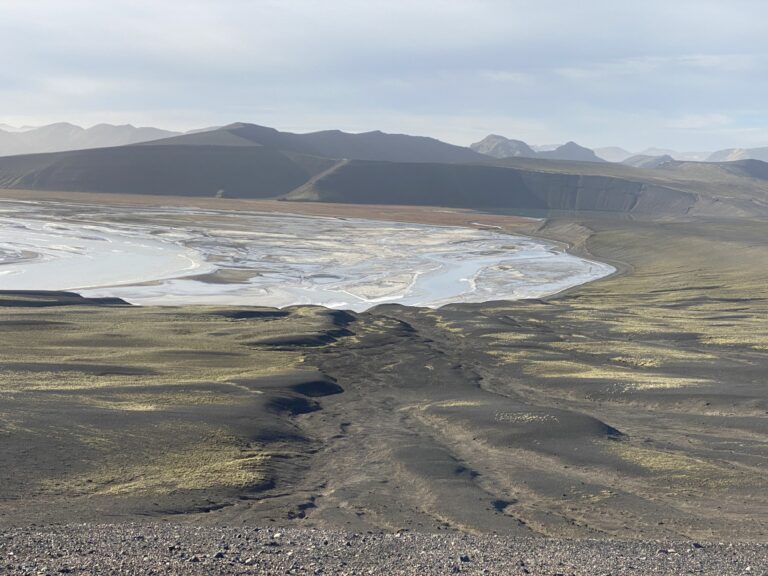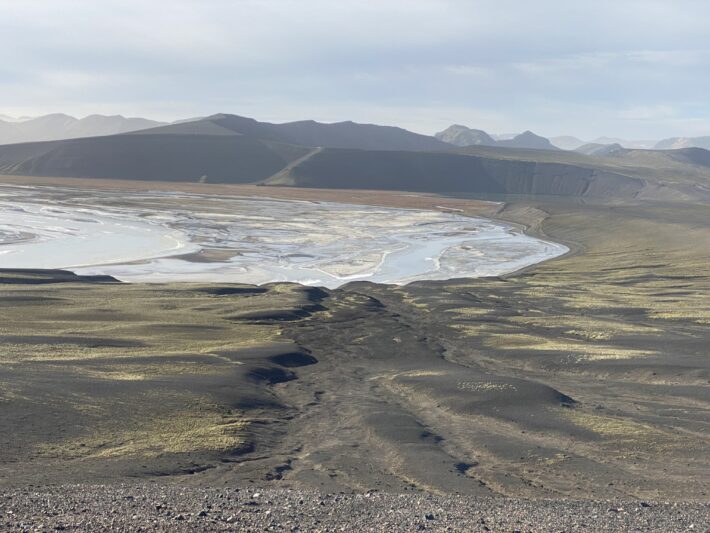 Black sandy beaches along the edge, glowering mountains guarding them from behind, and mist drifting across them, they would make a spectacular filming location, for anything from an alien planet in a Star Wars film, to a spooky zombie scene in Game of Thrones or a ghostly dream in a shock jump-cut vampire movie. Iceland is used for all these activities – as well as military and emergency services training.
Even NASA has reputedly used the bleak lava plains and volcanic rock fields to stand in for the Moon and Mars. Again, though it's quite different from yesterday, I'm stunned by sights unlike anything else I've seen.
Day three is a quiet one, thanks to some crazy weather. Sküli looked worried by the forecast the day before – and that is a sobering thought indeed. If this tough, hardy native is concerned about the weather (very strong storm-force winds) then we're even more worried.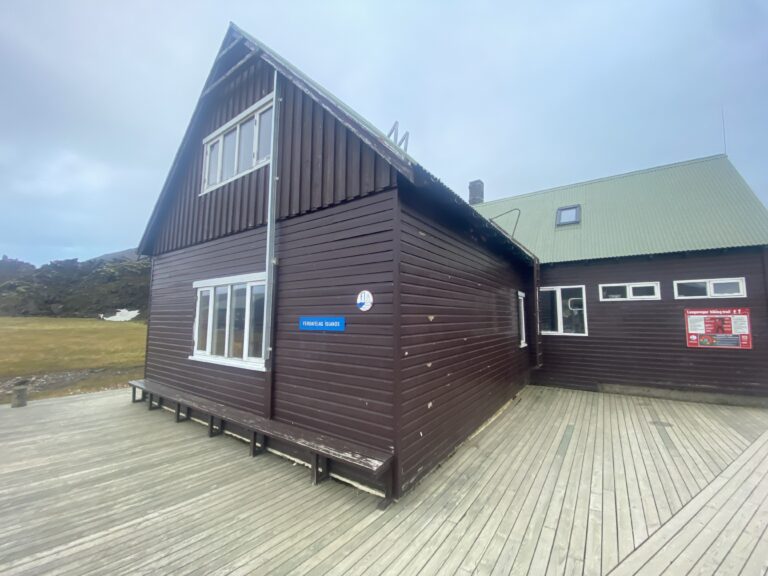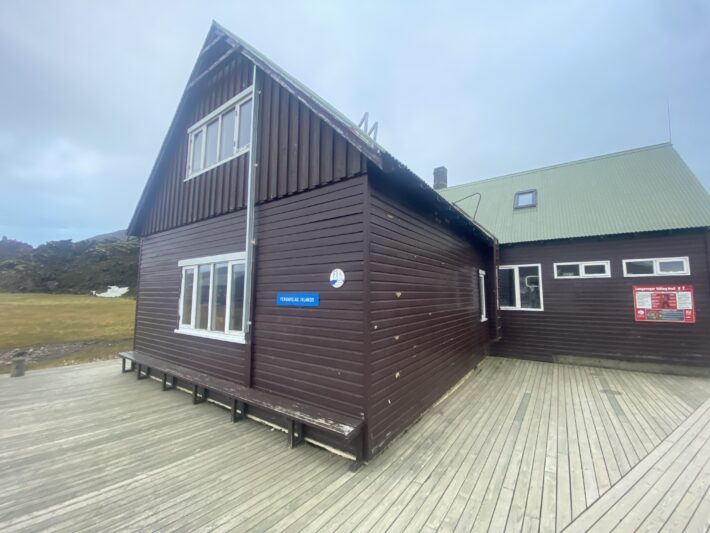 We spend half the day inside a mountain hut, listening to the gales outside, before venturing out in the afternoon for some filming on the slopes of the nearby Hekla volcano. Everyone's mobile phone gets an unsolicited SMS text message as we approach the mountain, warning that Hekla is an active volcano, and could erupt at any time with little or no notice. Sobering stuff – again – and another reminder that we're a long way from soft old Britain.
The Northern Lights
That night, the wind had cleared away all the clouds, so the temperatures plummeted below freezing – but that also meant we got the chance to see the Northern Lights, or Aurora Borealis. This eerie sight is caused by charged particles in the solar wind interacting with the Earth's magnetic field close to the north pole, and is pretty stunning when you first see it.
It begins as what looks like a cloud reflecting lights from over the horizon – until you realise the light is green, and you're in Iceland where there's nothing over the horizon…
Gradually, the glow expands and brightens, moving around in the sky. Once you've seen it, the novelty wears off a little, but it's definitely another one of those bucket list sights that helps make Iceland so special.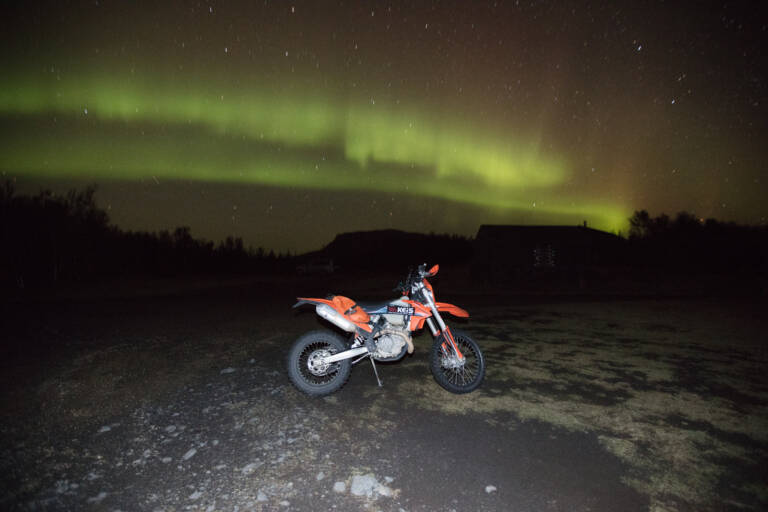 By the end of the trip, my offroad skills had improved massively, and I'd seen some incredible things. Iceland is so packed with stunning views, it's hard to explain just how intense it all is.
In somewhere like Scotland or Wales, there are a few really amazing places – Glencoe, Ben Nevis, Lake Vyrnwy, Snowdonia, and the like. But in Iceland, there are scenic views like that almost round every corner.
Up in the highlands, you move from riding along stunning mountain ridges, down to clear blue lakes with perfect reflections of the sky.
Then you're riding through those Moon-like landscapes of broken rock, dodging giant boulders the size of buses, before taking in enormous waterfalls and river crossings.
Further down, away from the more savage mountains, Iceland is still achingly beautiful, with softer hills, enormous gushing rivers and hydro-electric dams, before you get to the sea with its fjords and beaches.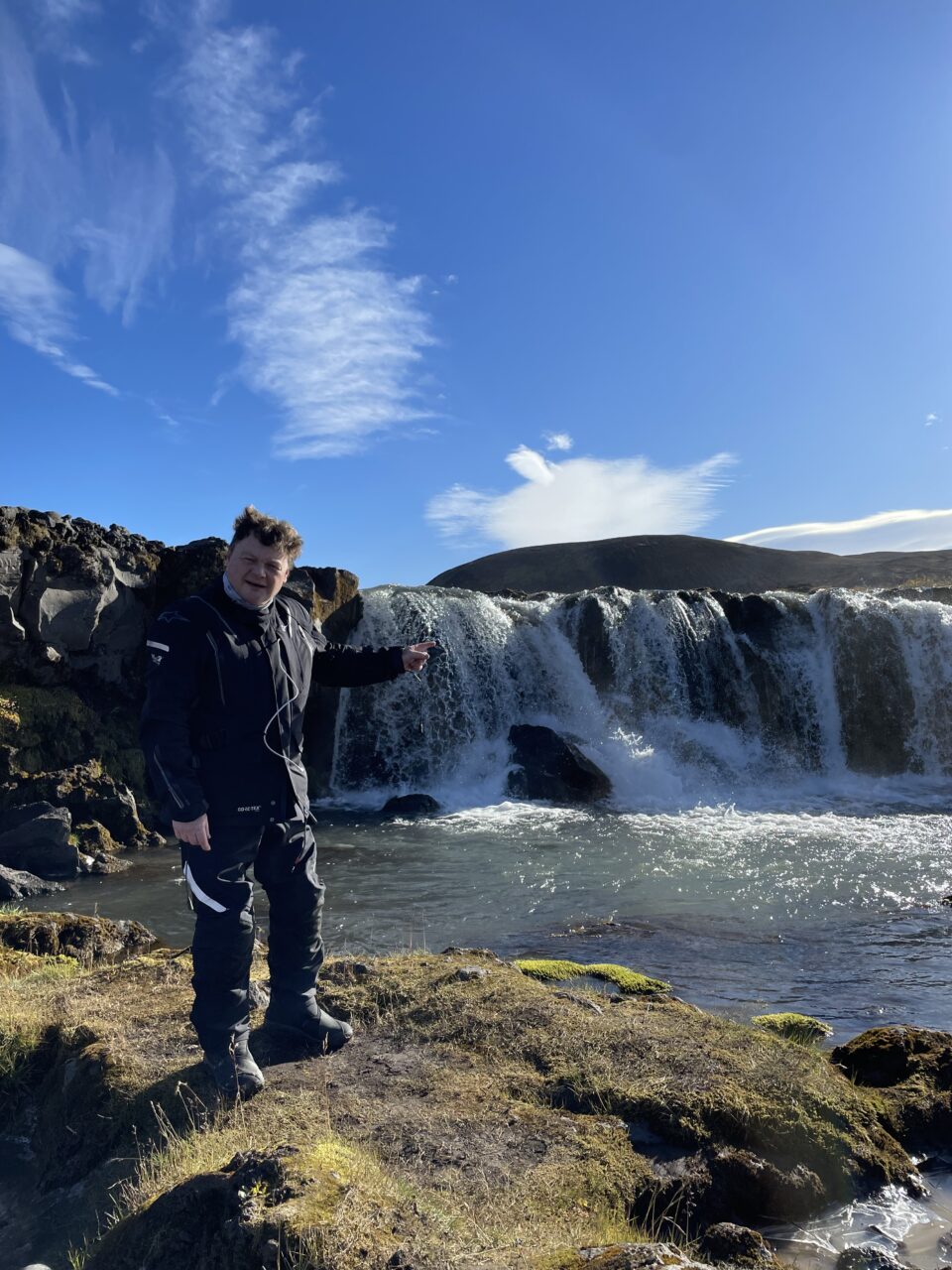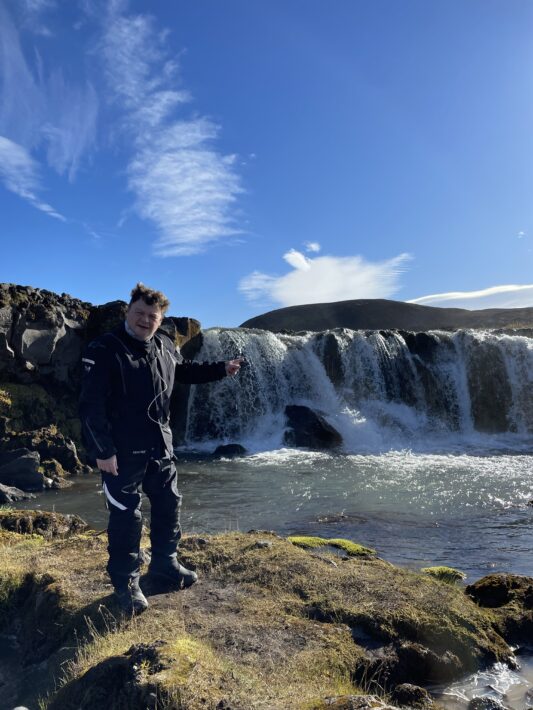 Iceland gets two thumbs up then for its scenery. But to be honest, what was just as amazing was meeting the Icelandic people themselves. Everyone we came across, whether before the offroad trip in Selfoss, or on the tour itself were fantastically hospitable, and very interesting to speak with.
The Icelandic culture and mindset is unique, and quite different from anywhere I've been in Europe.
They're a tough people of course – this harsh environment ensures that – but also thoughtful, caring, and funny. The land, and its people makes a beguiling mix – and I'm already wondering how I could ever make my way back to this crazy, amazing part of the world.
Watch how the other guys on this trip got on here:
www.youtube.com/billysbikeadventures
How to have the biking adventure of a lifetime in Iceland
Getting there
There's a weekly three-day sea ferry service to Iceland from Denmark, via the Faroe Islands. Other more complex options include freighting your bike on a cargo ship from the UK, or using Icelandair's cargo service – the priciest option for sure.
For most people in the UK, the best option is getting on a plane. Passenger flights are far more plentiful and regular than the ferry: Easyjet, Icelandair and British Airways all fly to Keflavic airport near Reykjavik. It's far cheaper than the ferry, but you'll obviously need to hire a bike once in Iceland.
Hiring a bike
Google provides various options for bike hire – we can't speak for any of them other than the company we used, Ride With Locals, which supplies bikes as part of its organised tours. Its bikes were all nearly-new machines from the KTM group: GASGAS, Husqvarna and KTMs. There's a choice of smaller 350 and 450 bikes as well as larger 690 and 701s. Ride With Locals' tours book up early for each year, and there are limited spots (the riding season only really runs from May till September – snow and ice makes it impossible outside the summer months).
A riding tour in Iceland is expensive – no doubt about it. However you do it, expect to shell out a stack of cash. The Ride With Locals option is good because it's pretty much all-inclusive: your bike hire, guide riders, accommodation and food/drink on the tour is all taken care of, to a pretty high standard. A six-day tour like the one we were on will cost around £4,700, which covers everything listed above. You need to add on your transport to Reykjavik, accommodation in Reykjavik or Selfoss before and after the trip, and your own insurance for medical costs/repatriation etc.
Icelandic life
The food and drink we had in Selfoss and on the tour was fabulous. But as you've probably worked out, Iceland is not a cheap place. With such a remote location and harsh environment, much of the produce and raw ingredients obviously have to be shipped in from Europe, adding to the cost of most things.
Riding in Iceland
It's important to realise just how tough the conditions are in Iceland. The Ride With Locals tours are intended for skilled, experienced offroad riders, and I only just made it through the trip. If you're not completely at home riding on serious dirt trails for 100 miles in a day without any Tarmac at all, crossing rivers and tackling serious climbs, you should think twice. Sticking to the F roads is much easier, but still challenging, and many people will struggle with a conventional heavyweight adventure machine like a BMW R1250 GS or Triumph Tiger 1200 here. A smaller, dedicated enduro machine like the KTM450 EXC I rode is much more suitable when the going gets tough.
We'd hesitate to even consider the trip without an organised guide, unless you're a really confident, skilled adventure rider.
Image Credit – Alan Dowds/Tom Rayner