Devitt will be supporting Stan, The Inspired Rider, as he embarks on his 6000 mile, solo Arctic motorcycle adventure challenge which he is heading off on the 29th June 2022.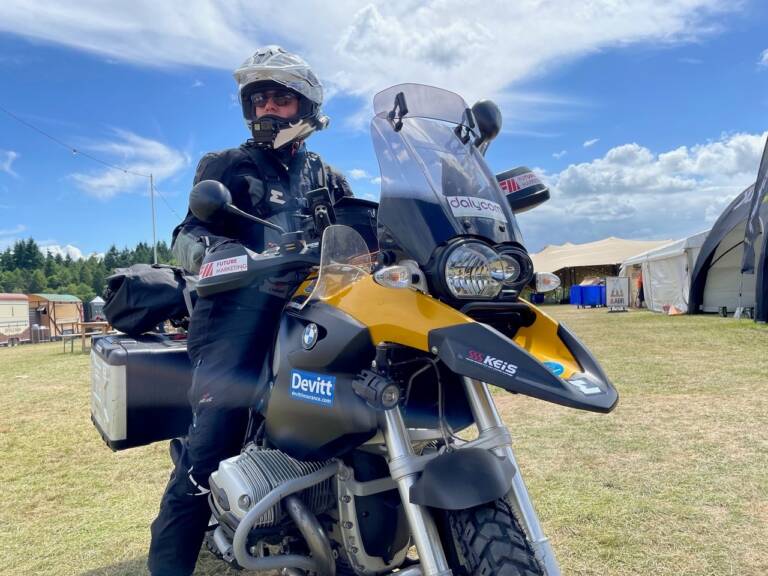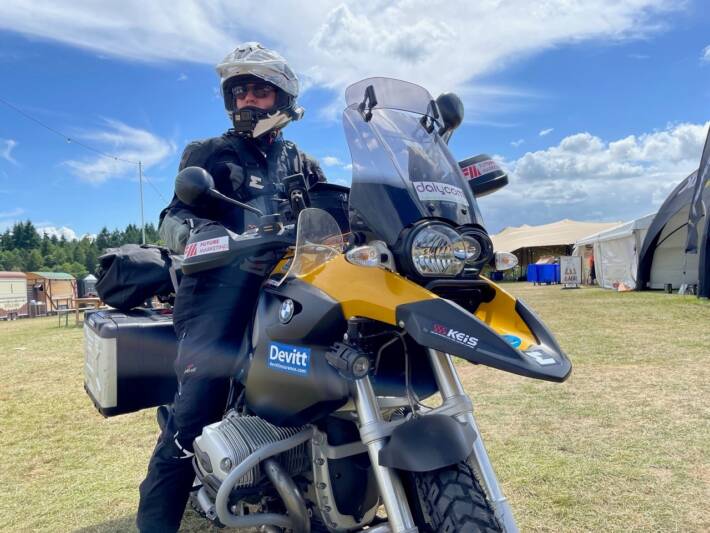 We caught up with Stan before he heads off to find out why he is doing what he is doing and what challenges he will face.
Can you tell us a bit about what it is your doing in the Arctic and why?
Beginning on the 29th June 2022, I will be undertaking an epic 6000 mile solo arctic motorcycle adventure. That's around the same distance as if I were leaving my base in Leicester, to reach the southern tip of Africa!
I've personally known Emma, the founder of Alex's Wish for over 6 years, she's an amazingly dedicated and inspiring lady in her own right.
As a charity they're fighting to find a cure for an aggressive and life limiting form of Muscular Dystrophy called Duchenne. Emma's son Alex has the condition, and at 14 years is considered middle aged. Like many great causes they've struggled to fundraise during the past few years.
As a father of two boys close to Alex's age, that's been heart-breaking to see. When I found myself going a little stir crazy during the lockdown months, the idea of a personal challenge was born and it made sense that it also should serve a good cause, so obviously I wanted to lend my support to Alex's Wish.
My goal is for 100% of Donations to go directly to my charity partner, and help put their life saving clinical research back on track!
For some, riding solo on a motorcycle and wild camping along the way across the Arctic circle may not seem like a big deal.  But this challenge for me is definitely outside of my comfort zone and absolutely 2 wheels first in to my adventure zone!  Now the time of departure has arrived (over 12 months late due to Covid travel restrictions). And the inconvenience of being hospitalised with the bug, then taking over 2 months to battle through pneumonia. I'm facing this adventure with equal measures of trepidation and excitement!
If I could help them raise £10,000 to cover the shortfall in their funding, that would be amazing.
What challenges will you face?
During this challenge I'll be travelling alone though some spectacular scenery and remote roads. Dealing with extremes of weather, wildlife, and Arctic tundra. It will be a test of myself, my kit and my bike. As I travel solo along some of Europe's most notorious roads, paved and unpaved.
I'll be unsupported, on my journey carrying 'hopefully' all the necessary essentials with me, and even camping as I go…
In the true spirit of the open road, I'll go where I see adventure. I want to get a real taste of the culture and country, whilst keeping everything spontaneous. So, quite literally, anything could happen.
Can you tell us a bit about you?
I'm one of those people who's first car was a bike, which back then was a Honda cub 90. I absolutely loved the sense of freedom that little Honda gave me.  Okay it wasn't fast, nor did it have much street cred at the time, but we went everywhere together in all seasons. I was literally hooked from that point onwards.
So much so that my parents had to make me to get a car licence, as young me didn't really see why I needed one? So for many years bikes were my main form of transport, to college, university and work. I eventually did buy a car as well, but only after I'd been through another 4 bikes.
Flash forward a few years and I'm a married Father of 3, with a spirit for adventure. Who's always tried to support the people around me and great causes close to my heart whenever I can.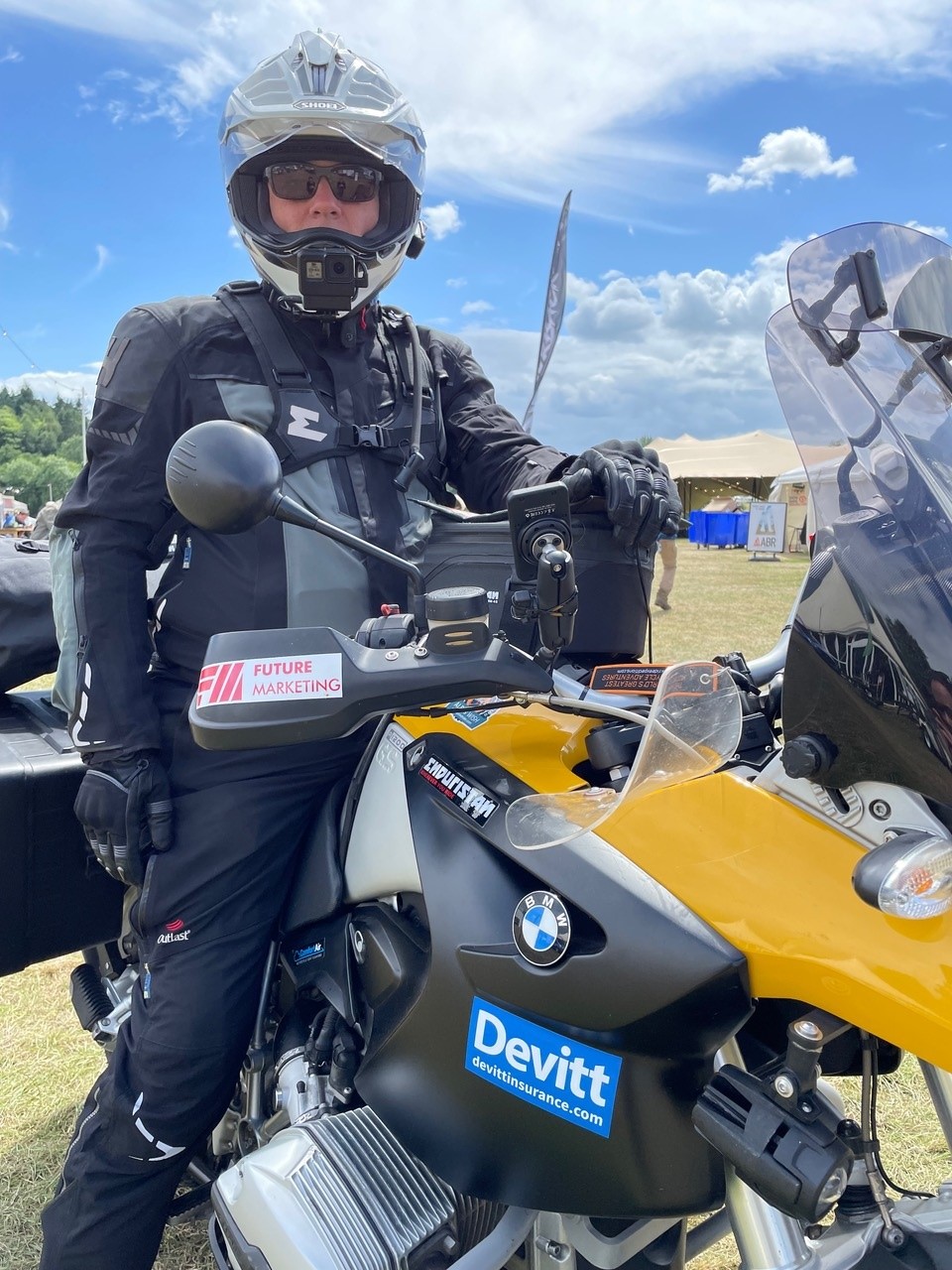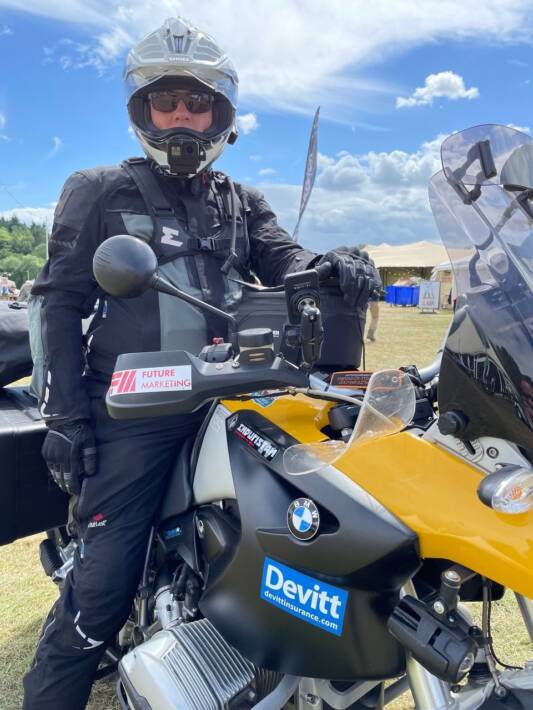 For work I'd built a career in IT management, which in many ways I fell in to, I loved the challenge, but the work kept me away from home. Meaning if I was lucky I got to put my then young children to bed at night. Eventually something needed to change, so I made the scary move of walking away and starting my own small business. This allowed me to buy back some time and spend more with those closest to me.
Who's supporting you?
First of all I couldn't do it without my wife who has backed me from day one and is just a little bit jealous she can't come along as someone needs to stay home with the kids. Then I've had incredible support from my local business friends donating time, talent and money towards the project and finally I'm truly grateful to have support from some incredible people in and around the motorcycle industry, in fact it's been a humbling experience.
I'm simply a dad who rides a bike, on a mission to try and put something positive back in to the world after the past few years we've all experienced.
So a big heart felt thanks goes out to…
The Ant and Dec of adventure riders the Side Car Guys, Matt & Reece who's first Armchair adventure festival connected the dots that led to this challenge.
Motojunkies and Steph Jeavons, who I was fortunate enough to train with, on one of their train for trails days, building key off road skills with great people on their fleet of Royal Enfield Himalayans.
Halvarssons – Considering where I'm heading I'm not expecting it to be dry so it's been great that premium Swedish brand Halvarrsons have been able to help me along a little. Using clothing designed in the regions I'm travelling through made so much sense. Im using their laminated Vansbro Jacket and Wish pants during the challenge. Together with their base layer system and Ljusdal gloves when the weather turns wet and warm.
Keis Heated Apparel – A fantastic British brand who've been so kind with their support and supplied a J501RP premium heated jacket and G701 Heated Motorcycle Gloves for the ride. Since its easily possible to experience all four seasons on any given day. It's reassuring to know that at the tap of a button my clothing can adapt to the conditions.
Comfort Air Seat Cushions, – Anyone who's ridden a motorcycle will know how a long day in the saddle can get uncomfortable in a hurry. So really grateful to have their 'Tourer' saddle. Which I've used for over a year now and has been a game changer for long ride comfort. Meaning more focus on the road and the ride. the same air saddle as used by Ewan and Charlie on their recent long way up series.
Enduristan – Having luggage that was water, dust and snow proof, without the faff of extra covers made sense to me. So appreciate the support  Enduristan UK have been able to offer with my luggage system. I'll be using their Sandstorm 4s tank bag, Tornado dry bag, tool roll and Lyndon Hydration pack on the ride.
Bennetts Motorcycle & Scooter – 'My local motorcycle dealer', has been simply incredible from the off. I can't thank Dan and his awesome team enough, the work they're selflessly put in to my bike to get it fully mechanically challenge fit has been beyond humbling. Even rebuilding my final drive which was on the brink of failure, just two weeks ago and sourcing Heidenau K60 scout 50/50 tyres for the ride.
Can you tell us about what bike and gear you'll be taking along with you?
The bike I'll be using is the one currently in the garage my 15 yr old 2007 BMW R1200GS, with 40,000 miles on the clock and 6 previous owners.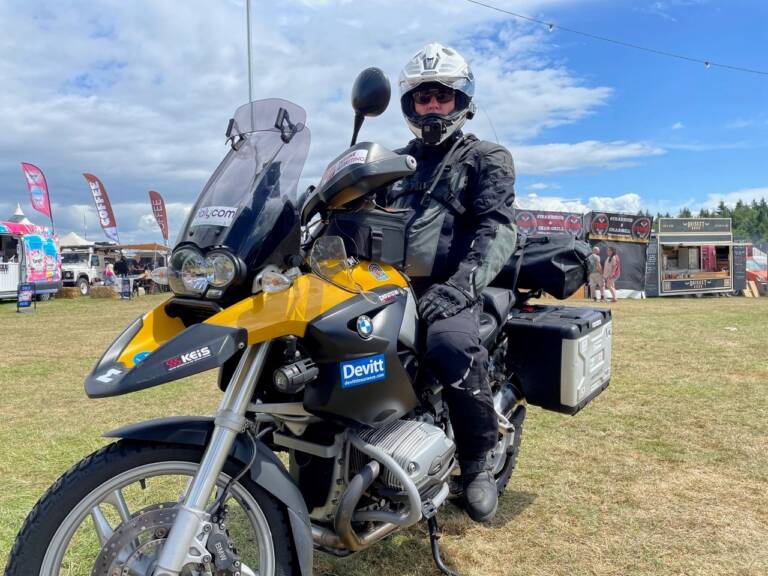 Rider Gear
Halvarssons Vansbro Jacket
Halvarssons Wish Pants
Halvarssons Ljusdal gloves
Halvarssons Base Layers
Shoei Hornet adv hemet
Sidi Adventure 2 boots
Keis J501RP premium heated jacket
Keis G701 Heated Motorcycle Gloves
Enduristan Lyndon Poskitt Hydro Pack
Bike Gear
Enduristan Sandstorm 4s expandable tank bag
Enduristan Tornado dry bags
Enduristan Rok Straps
Enduristan Tool Roll
BMW Vario Panniers
SW Motech Engine Bars
Comfort Air Tourer air saddle
SP Connect phone mount system
Garmin Zumo 345 GPS
What have you done in preparation for such a big challenge?
Especially after falling ill with Covid last year, I've spent a lot of focus getting myself as fit and healthy as can be. It took around 200hrs in the gym to feel human again, which was an uphill struggle for a really long time. I've been building on this ever since. Through support from many businesses mentioned above, my bike had a full very thorough service – and a good job that was as my final drive would have not made it very far!
I've got heated clothing and great thermals to withstand the cold and damp climate further north, soft luggage to maximise what I can pack, changed my tent to a smaller tent to make it more manageable now the challenge is solo.
Rider Training.. Off-road – Steph Jeavons / Motojunkies
With some roads being unpaved, it made sense to build off-road big bike skills.  I'm really fortunate to have Steph and Motojunkies as a sponsor, and was invited to spend a day on their train for trails course. This was during the filming of Steph's recent ITV bio, on one of their fleet of Royal Enfield Himalayans. A great day highly recommended for building core skills, then straight in at the deep end using them on some gnarly, but incredible welsh trails.
Safety has been a priority in planning my challenges, for myself and my family.
It made perfect sense to have a check up from the neck up while advancing my riding knowledge and skills. Much has changed since I first passed my test back in the early 90's, on a Honda cub 90, with Star Rider . Equally what habits good or bad had I picked up, where could I develop?
So glad I made the decision to join the IAM back in December. It's been a fantastic experience working with my observers, James and Bill.
The changes I've made to my own riding have 'for me' increased my enjoyment of riding, bike control and positioning, by incorporating advanced riding techniques and observation skills.
I've massively appreciated the feedback I've received, and lessons learned so far.
It's an ongoing journey of development, and one I look forward to continuing. One I'd highly recommend others, at least consider taking a look at for themselves.
The kind of knowledge that's better to have and not need, than need and not have.
With some area's being remote and first responders up to 90 mins away. So I spent a few days on a custom paramedic led course, covering everything from dealing with major trauma, to burns and tick bites.
Biker Down – It made sense to have another perspective on how to deal with an emergency. So I completed the Biker Down course at my local Fire & Rescue HQ, which was invaluable for so many things, including accident scene management.
You can donate to Alex's Wish here: https://justgiving.com/fundraising/epicnordicadventure
And you can keep up with Stan's Journey and Follow along on his social media:
Insta    – TheInspiredRider_Official
FB        – TheInspiredRider
Twitter – @Inspired_Rider
www   – TheInspiredRider.com