Billy's on the Road
A wonderful biker atmosphere greets all those who drop in at Billy's on the road cafe which is situated on the A29, on the outskirts of Billingshurst. On your next ride-out in West Sussex it definitely solicits a visit. From brunch to all day breakfasts to lunch or dinner, the food is great and is freshly cooked to order by the owner Billy and her team.
With a fine assortment of dishes all made from fresh local produce and a cheerful ambiance, it is the best place to spend an exciting afternoon, sharing and learning information about the latest and the best the biking world has to offer.
They offer a daily specials menu, lovely homemade cakes and an excellent cup of coffee. In fact the place is so popular that it was given top billing by TripAdvisor, as the number one spot in Billingshurst to hang out at.
If you are riding down to the South Coast or planning to camp at the Diesel Motorcycle Rally at The Wisborough this year, this is the ideal spot to grab a bite. With loads of free parking space, a great outdoor seating area and a Travelodge for the weary who want to spend a night's stopover, Billy's on the road is a biker's paradise!
Important Billy's on the Road information:
Opening hours: 7am – 7pm Monday to Friday, 7am – 4pm Saturdays, 8am – 4pm Sundays
Location: Stane Street, Five Oaks, Billinghurst, West Sussex, RH14 9AE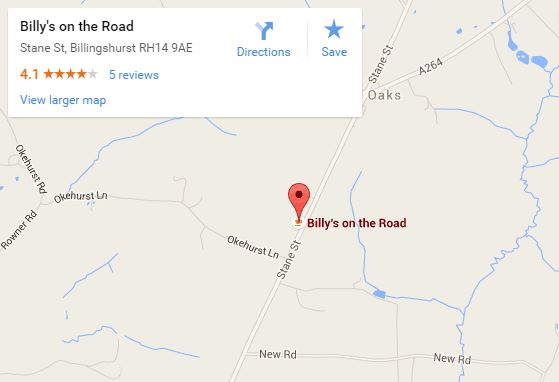 Billy's on the Road in action… 
Billy's on the Road Gallery
Gallery