The Green Welly Stop 
Based at Tyndrum, Scotland the Green Welly Stop is the 'perfect spot for a halfway stop' so it's no surprise that is an extremely popular hang-out for motorcyclists.
Weekends at The Green Welly Stop are flooded with bikers from all over Scotland making their way to their massive bike park for a bite to eat and catch up with old and new friends. The café goes out of their way to make sure that there is enough overflow space for your bikes, so in 2014 they decided to extend their bike park!
Originally the bike park was only due to be open on weekends but because of the roaring success it's now permanently open and used by local bikers.
Fresh food all day, every day
Don't worry, there's a fantastic selection of food on the menu that can cater for all, including a wide range of traditional Scottish meals too! Food allergies? Don't worry they've got that covered too! The Green Welly Stop has gained a reputation over the years for producing one of the most amazing filling soups in Scotland, with lots of different varieties available. On a busy day they can sell up to 75 litres of soup!!!
On holiday in Scotland? Don't forget to check out The Green Welly Stop gift shop before you leave. You can even buy freshly frozen pots of the infamous Green Welly soup to take home with you! 
Important Green Welly Stop information
Telephone: 01301 702088
Opening times: 7am – 10pm, 7 days a week
Location: Tyndrum, Crianlarich, Perthshire, FK20 8RY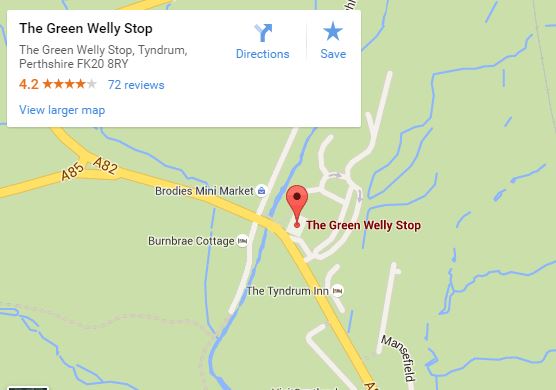 Green Welly Stop videos
Plenty of bikers take advantage of Green Welly during their ride out…
Green Welly Stop Gallery
Gallery